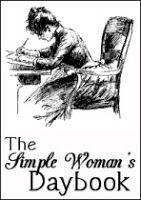 FOR TODAY, January 27th, 2015
Outside my window ...
It's cold and dark. I don't remember turning the heat on this morning, but it's on. I know I turned it off last night before we went to bed. Maybe Todd turned it back on, thinking he was turning it off.
I am thinking ...
Ariana starts another set of night shifts today. She worked four nights last week, then had two days off and is starting another set of four nights. This week they are broken up by one day off in the middle. I don't know how she does it. I would be totally exhuasted.
I am thankful ...
That I don't have to work nights!
In the kitchen ...
Sage Roasted Bangers with Mash and Onion Gravy
. This gravy is ab fab!
On my "to cook" list ...
Tartiflette from
January's Delicious Magazine
. In fact it was on the cover. It looks so good.
I am creating ...
First I want to show you what my sister made!
She has been needlefelting these toadstool mushrooms and . . .
She put them into a tiny spice jar terrarium! Aren't they adorable. She will be opening an Etsy Shop once she has enough stock. We were deciding on a name for it yesterday. Stay tuned!
I love this cardi/vest from
Garn Studio
. I haven't done any knitting in years. I would love to do some. We shall see.
I love this paper wreath. It's so cute. From
DCWV Diary
.
Crochet Bunting. It's so cute and there are hearts in the middle. From
Jam Made
.
I am going ...
I think I was supposed to go and get my hair cut last week. I think I need to make another appointment because I am pretty sure I missed it. I am torn between wanting to let my hair grow a bit longer and having it cut. My hair dresser always cuts it so short though . . . .
I am reading ...
Amy and Isabelle
, by Elizabeth Strout
Isabelle Goodrow has been living in self-imposed exile with her daughter Amy for 15 years. Shamed by her past and her affair with Amy's father she has submerged herself in the routine of her dead-end job and her unrequited love for her boss. But when Amy, frustrated by her quiet and unemotional mother, embarks on an illicit affair with her maths teacher, the disgrace intensifies the shame Isabelle feels about her own past. Throughout one long, sweltering summer as the events of the small town ebb and flow around them Amy and Isabelle exist in silent conflict until a final act leads ultimately to the understanding they both crave.
This is a book by the same author of Olive Kitteridge. I enjoyed that so I thought I would read another one of hers. Actually this is the first novel she had published. So far it is quite good. I want to pick another Inspector Gamache novel to read also. I really enjoyed the first one!
I am hoping ...
I am really hoping that one my sister gets her Etsy shop opened, she achieves some success with it. She could really use a lucky break.
Makes me smile ...
Oh, that it were that easy!
I am learning ...
How to needlefelt. It's a lot harder than it looks!
Around the house ...
Papered Floor Boards. Can you imagine? So beautiful. I would love this in the bedroom.
I love this antique looking post box. From
Dot and Bo
.
I love this fabric slip cover for a chair. The colours are so beautiful. From
grrl + dog
.
I have always wanted a stove like this. Mind you, you need a house big enough to keep it in. But a gal can dream can't she?
I have always loved blue and white china. These cannisters are gorgeous. I could live with these quite happily!
I am pondering ...
The Power of Positive Thinking . . . I know it works. I think I need to start a positive thinking journal, to help attract positivity/employment into my life.
A Favourite quote for the day ...
`*.¸.*✻ღϠ₡ღ¸.✻´´¯`✻.¸¸.Ƹ̴Ӂ̴Ʒ..
(¯`v´¯)
`*.¸.*´Ƹ̵̡Ӝ̵̨̄Ʒ
¸.•´¸.•~♥♥♥~•.~
ღϠ₡ღ¸.✻´´¯`✻.¸¸.Ƹ̴Ӂ̴Ʒ.
(¸.❀⁀⋱‿✿"
It is a great art to saunter.
~Thoreau
Today I will try sauntering.
One of my favourite things ...
Lace curtains. I just adore them.
A peek into my day ...
I write every day. Blogs, journals, letters . . . poetry, stories. I always have something making the journey from my brain to my fingertip . . .
And that's my day book for this week!
⋱ ⋮ ⋰
⋯ ◯ ⋯ Take time to enjoy the small*´¯`.¸¸.☆
⋰ ⋮ ⋱ blessings in life.*´¯`.¸¸.☆
✿¸.•*¨`*•..¸✿ ✿¸.•*¨`*•..¸✿
╬♥═╬╬═♥=╬╬═♥╬╬═♥╬╬═♥=╬╬♥═╬
░░░░░░░░░░░░░ ░░░░░░░░░░░░░

Wherever you go and whatever you do I hope there's a wonderful day planned for you!
Don't forget . . .
═══════════ ღೋƸ̵̡Ӝ̵̨̄Ʒღೋ ═══════════ ⊰✿░G
░O
░D
⊰✿⊰

L░O░V░E
░S

⊰✿⊰░Y░O░U░⊰✿
═══════════ ღೋƸ̵̡Ӝ̵̨̄Ʒღೋ ═══════════
And I do too!