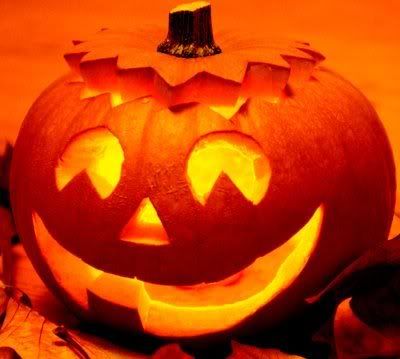 Jack-o-Lantern
Jack-o-lantern, Jack-o-lantern,
You are such a funny sight.
As you sit there by the window,
Looking out into the night.
You were once a sturdy pumpkin,
growing on a curly vine.
Now you are a Jack-o-lantern,
See your night lights shine.
~unknown
Ohhh, today is Halloween, the spookiest day of the year. The one day of the year when we give children, who have been told the other 364 days to not take candy from strangers, or even talk to strangers . . . the licence to go knock on strange people's doors and beg candy off of them!
I loved Halloween as a girl. I never had a store bought costume, always homemade, but my they were grand! When I was really small, my mother sewed them, perhaps a little red riding hood cape or a ballerina skirt . . . but as I got older I thought those things a bit too corny and I wanted to be famous people like Lily Munster. I remember in Grade Five my best friend dressed as Herman Munster and I was Lily. It was just perfect because I had the long dark hair and she had short blond hair. I wish I had a photo to show you, but my parents were not people to take photos very often in those days. (Now my mother has a whole album of photos just of her cat!)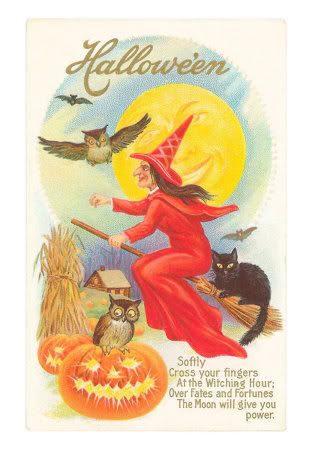 The whole of Halloween afternoon at school was given over to a Halloween Party and we would rush home at lunch time to bolt down some lunch and change into our costumes. Back at school there would be the Halloween Parade. We'd march, accompanied by music into each other's classrooms and do a tour around the perimeter of the room showing off our costumes. Every class visited every other class. It was great fun and I can remember always feeling very proud of my costume. Then there would be party food and games and lots of fun to be had! Oh, it was magical!
The air would be so full of excitement that you could cut it with a knife! Stuffing our faces with fairy cakes, sausage rolls and soda, not to mention as much candy as we could eat and then back home at the end to await for trick or treating, which was the highlight of the day.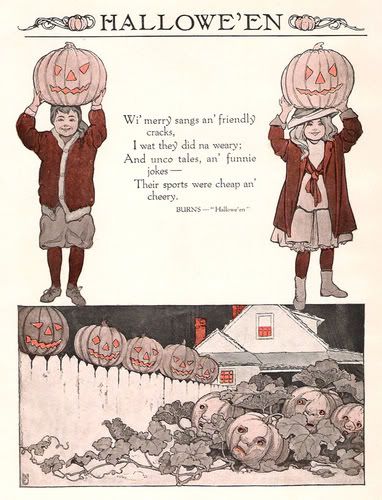 My mother always had a really hard time getting us to eat any supper at all on Halloween. Mind you we were probably stuffed still from all our treats at school and filled to the brim with the excitement and prospect of going out trick or treating. She would never let us go until it turned completely dark . . . and I can remember worrying as I saw the children beginning to go around door to door and me still not being allowed to start, worrying that by the time my mother let us out . . . there'd be nothing left! Inevitably . . . there would be houses that ran out of candy rather early on, but in truth, we always got more than we really needed.
Oh the smells of Halloween . . . burning wax and pumpkin . . . rotting leaves . . . the air crisp and cool and full of the sounds of excited children's voices ringing out the words . . . "Trick or Treat!" . . . not to mention the sound of a myriad of small feet scuffling through the grass as we moved from house to house, the rustling of bags and the odd spooky scream and creepy Halloween Music ringing through the air.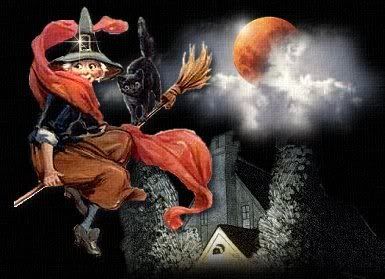 Some people went all out and had their yards all decked out in spooky attire, with spider's webs hanging from the trees and chairs filled with Jack-O-Lantern people here and there scattered across the yard . . . doorways all darkened and spooky music emanating from within . . . their own faces painted and decked out scarily in full Halloween make up as they handed out the treats to our excited little hands.
From house to house we'd race, arriving on the doorsteps breathless and full of excitement . . . we'd check our bags in between houses to see what we'd been given . . . was it the prize of all prizes . . . a miniature chocolate bar, or perhaps a packet of crisps . . . or was it the dreaded apple or molasses kiss . . . We'd race about until we were exhausted and our feet could not carry us another mile and then back home we'd trot, heavy bags filled with treats making our arms ache and dragging us down.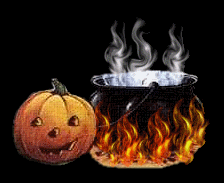 We always had to go through the whole lot before we were allowed to eat any of it with my mother . . . just in case there was anything in the bag that was poisoned or dangerous. I cannot remember ever finding anything suspicious, although we had all heard the tales of people putting razor blades in apples and pins in candy . . . We'd count up all the candy bars we had or packets of crisps and then my mother would allow us to have a few of the treats, but not many lest we be too hyper to fall asleep at the end of the evening.
As I got older of course, trick or treating lost it's appeal and there were neighbourhood bonfires to attend and just hanging out with my friends getting up to mischief of one sort or another . . . nothing more serious than soaping a few windows or spreading toilet paper about. One year we went mummering, which was really cool. We dressed up in costume and heavy masks . . . so that nobody could identify us and we went around to people's homes that we knew just to visit . . . and they tried to guess who we were and to trick us into revealing ourselves. That was so much fun. We wouldn't speak, all communication was done in signs and hand movements.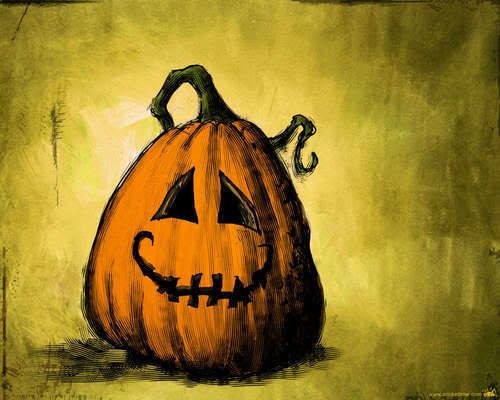 As an adult I loved taking my own children around trick or treating and feeling of their excitement, re-living the joys of my own childhood through them. Occasionally when they got older we would have a Halloween party at the house with apple bobbing and other fun games. The last time I went Trick or Treating was 9 years ago with my youngest son who was only 10 at the time. His father and I were newly separated and I remember it being an evening tinged with sadness and melancholy. . . the very next Halloween saw me alighting on Britain's green and verdant shores to take up permanent residency here . . . just goes to show you how much your life can change in a single year.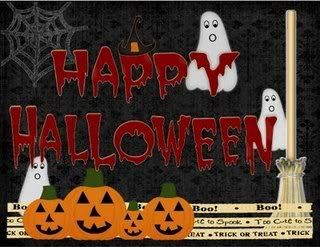 I got boo-ed yesterday by one of my favourite people, Holly of
My Kids Say I'm Silly
! Thanks so much Holly, what a cute and novel idea!!! I get to pass the boo along now, so watch your comments as I may be along to boo you in turn! Here's how it works:
Go to as many friends as you want and tell them they've been "B00-ed". Have them link back to your blog to pick up their Halloween Treat (picture) and tell them to Boo their friends. (Then put the pic in your side bar so everyone knows that you've already been boo-ed and to send the pic to someone else.) So be watching your comments to see if you get boo-ed!
I thought I'd share a little Halloween goodness with you today with a recipe that I used to make for my kids when they were growing up on Halloween night. It was always so very hard to get them interested in eating any supper they were so full of excitement so I had to be really creative! I found this recipe years ago in one of those little magazines that you can pick up at the grocery store tills and it was a real winner! They used to love this!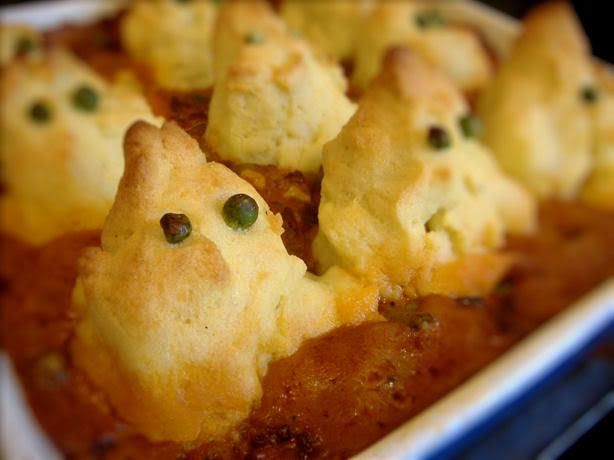 *Spooky Shepherd's Pie*
Serves 6
This tasty recipe is a real winner to make for the kids on Halloween. It looks
Spooktacular
and is very easy to put together. If your children are like mine were, it was a nightmare getting them to eat any supper at all that night. This should help!
1 pound extra lean ground beef
1 medium onion, coarsely chopped
2 1/2 cups frozen mixed vegetables
1 (14 1/2 ounce) tin of Italian Style chopped tomatoes, undrained
1 (12 ounce) jar of beef gravy
3 cups mashed potatoes
1/4 cup grated Parmesan cheese
1 egg slightly beaten
salt and pepper to taste
Heat the oven to 190*C/375*F. Spray a large skillet with some cooking spray and brown the ground beef and onions over medium high heat for 5 to 7 minutes, stirring occasionally until the onions are softened and the beef is no longer pink.
Set aside 12 of the peas from the mixed vegetables for a garnish.
Add the remaining frozen vegetables , tomatoes and gravy to the ground beef. Bring to the boil, then reduce the heat to medium low, cover and simmer for about 10 minutes, until the vegetables are crispy tender, stirring occasionally. Season with some salt and pepper to taste.
Spoon the hot ground beef mixture into an ungreased 8 inch square baking dish.
Put the mashed potatoes into a bowl and beat them together with the Parmesan Cheese and the egg. Spoon this mixture onto the hot beef mixture in upright mounds to resemble ghosts. Place two reserved peas on each mound to resemble eyes.
Bake in the heated oven for 20 to 25 minutes, or until the potatoes are set and the mixture is heated through and bubbly. Enjoy!!
Here's a few Halloween Photos of my own children and grandchildren that I wanted to share with you. Hope you don't mind!