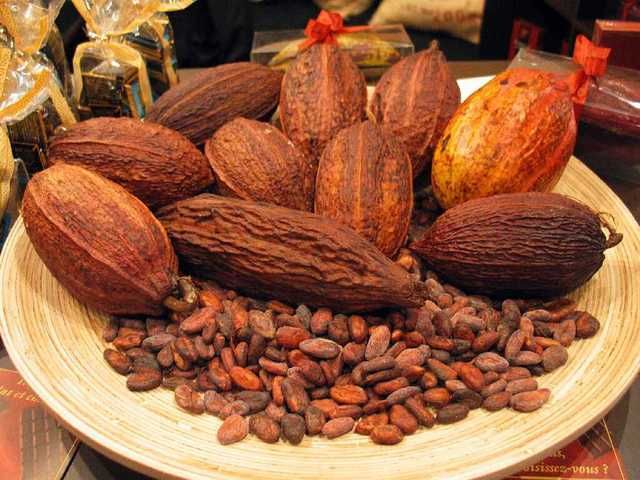 Did you know that Chocolate is a vegetable? It's derived from cocoa beans, and beans are vegetables, so eating chocolate must count as one of your daily five, doncha think? Well, it sounds good anyways!

Welcome to
Tuesdays with Dorie
, the Tuesday Baking club in which fans of
Dorie Greenspan's
lovely baking book,
Baking . . . from my home to yours
, all get together once a week and all bake the same recipe, revealing it in unison on the same day . . . Tuesday! (which would be today . . .whew!) The only pre-requisites for belong to the group are, one . . . you actually have the book, and two . . . you ask. You have to ask pretty soon though, because on October 31st they are putting a capper on the group. We have grown to become a very large group, so you only have a couple of days left to join. After that, unfortunately, you'll have to wait until there's an opening. I know, I
try
to get around each week and comment on as many entries as I can, but there's just so many participants now that is a formidable task! I have to say though, that it is a lovely group and everyone does a cracker jack job at completing and presenting the challenges!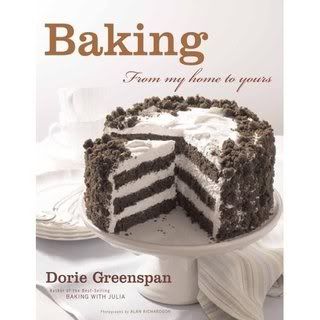 You would be right in guessing that this week's challenge involved chocolate! This week Clara of
I Heart Food4Thought
has chosen, Chocolate-Chocolate Cupcakes* on pages 215-217.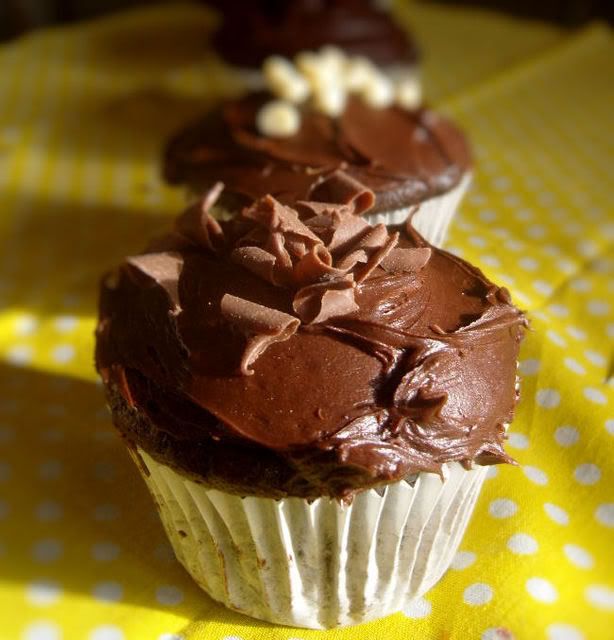 I have to admit that I toyed with the idea of not making these cupcakes. Todd hates chocolate, as you know, and I am trying to cut back on eating stuff that's bad for me, and with so many chocolate cupcakes hanging around and me being the only one who might indulge . . . well, it just didn't sound like a very good idea. Then I found some space in my freezer, so I thought, what the heck and plunged right in.
OH MY GOODNESS!!!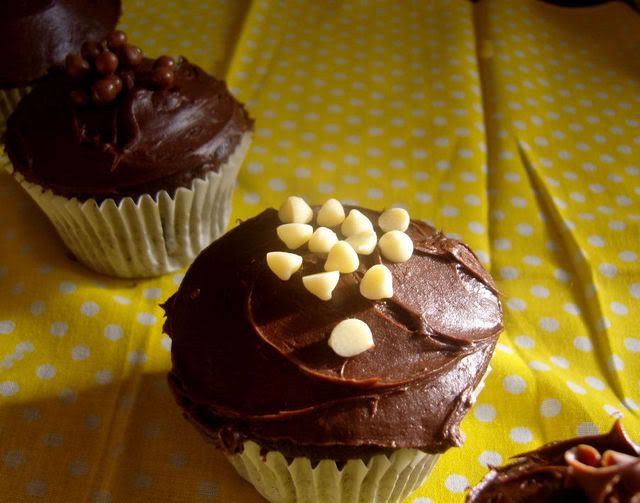 These are wonderful cupcakes. Thanks so much Clara for picking this recipe!!! I ended up with a dozen of the loveliest, most tastiest, moistest cupcakes ever!!!
Once they were cooled I popped half a dozen of them into a freezer bag and bundled them away for safe-keeping and a future binge . . . I mean date. What to do with the six I had though . . . hmmmm . . . Dorie mentioned filling them with marshmallow cream. So . . . I thought that's what I would do!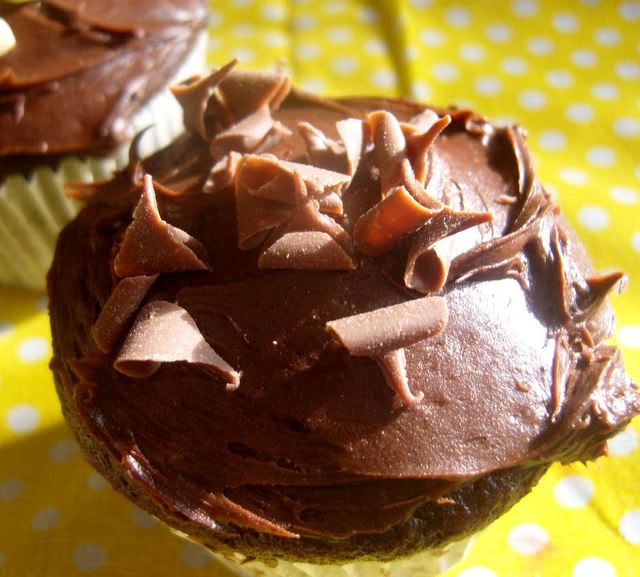 A lot easier said than done though. I managed to get two done that way, and not very successfully, but what the hey, I tried.
I also decided that I was going to top them all with my own Chocolate Buttercream icing though, coz, A. I like it and 2. It's my favourite.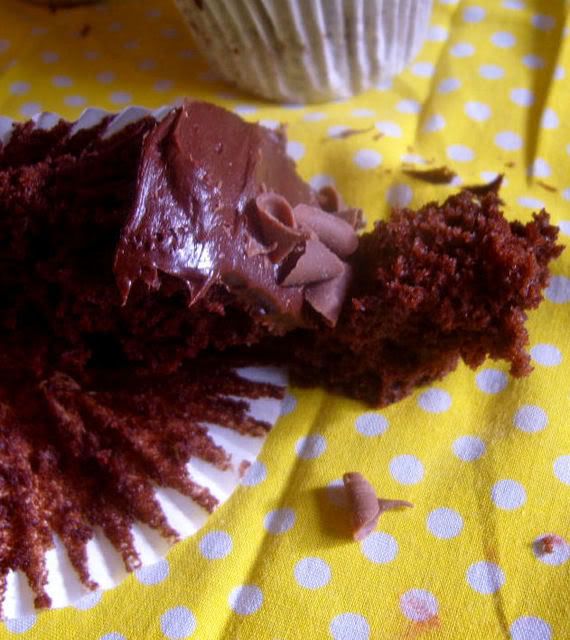 These are really, really, really good cupcakes. Mine were nice and moist. I didn't leave them in the oven quite as long as Dorie suggested as some people were complaining that theirs were dry. Mine rose quite a lot and came out beautifully dark and moist. I did use Dutch process cocoa and Belgian dark chocolate. Not sure if that makes a difference or not.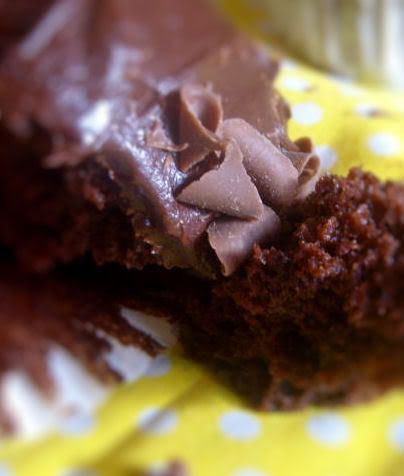 Once I got them all frosted and decorated (don't you like all my different chocolate sprinkle thingies!!!) I couldn't remember which two I had filled with marshmallow cream!!! DUH!! I should have put them aside right off the bat! I cut one open to see if it was one of them . . . nope! I cut another one open and checked that one too, NOPE! Then I thought I better wait until the next day. You have to eat cupcakes you have cut open you know, and I thought three cupcakes in one day was far too many . . . even for me.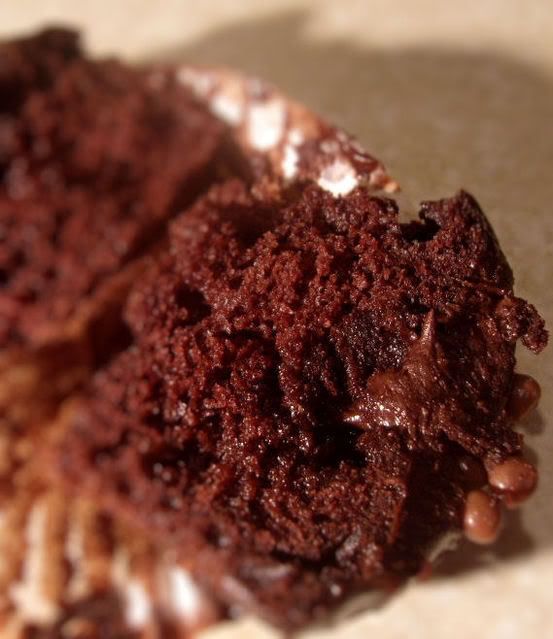 The next morning I decided that a chocolate cupcake would make the perfect breakfast, especially where they are a vegetable and all . . . cut one open (I was trying to get a picture of the marshmallow insides you know) . . . I never did find the marshmallow but I did notice that two of these cupcakes were extremely moist and yummy on the insides and I figure those were the ones with the marshmallow cream. It must have been absorbed into all that chocolate goodness!
All in all, I give these cupcakes two thumbs up!! They were gorgeous in my opinion and I would make them again. If you would like the recipe please hop on over to Clara's page where it will be posted at some point today. In the meantime I shall give you my recipe for the butter cream.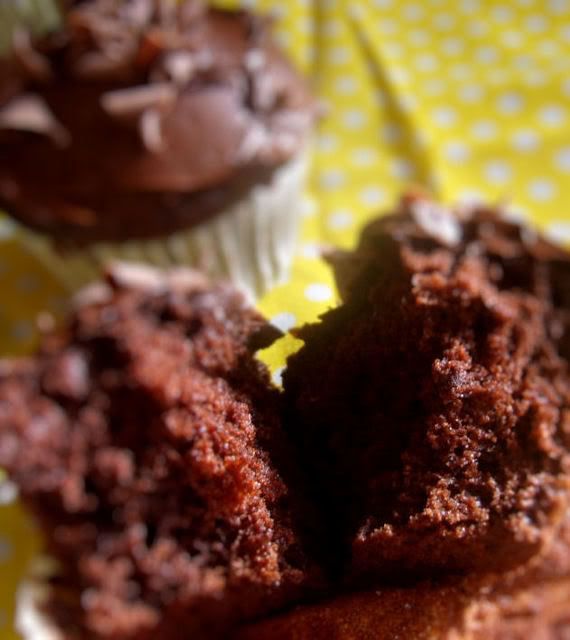 Don't forget to tune in next Tuesday when the group will all be baking Rugelach from pages 150-152, as chosen by Piggy of
Piggy's Cooking Journal
. Mmmm . . . I love Rugelach!!! Yummo! You know something??? This is a most delicious group to belong to! (And it has the best members too!)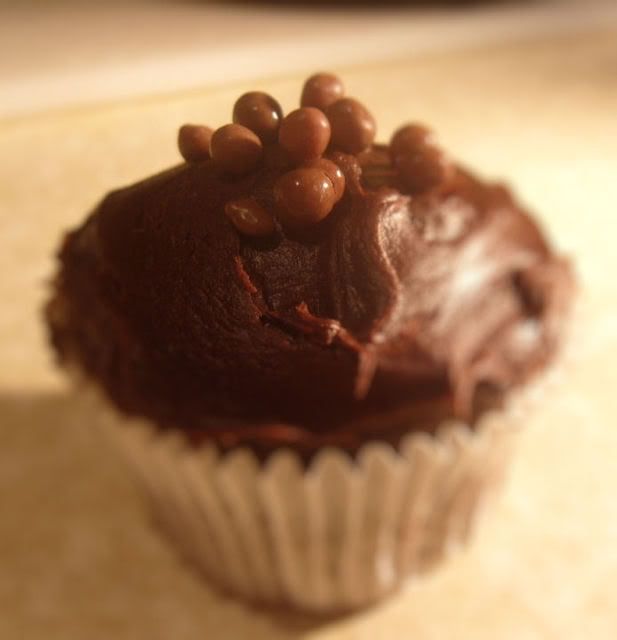 *Marie's Chocolate Buttercream Icing*
Makes about 4 ounces
2 ounces of softened sweet butter (unsalted)
3 1/4 ounces of sifted icing sugar
2 TBS sifted cocoa powder
Put all the ingredients into a large mixing bowl and beat together with an electric whisk until well mixed and fluffy. Use as required.
PS - Put "eat chocolate" at the top of your list of things to do for today!!! That way, at least you'll get one thing done.
PPS - Be sure to hop on over to the
blog roll
to see some of the other glorious creations. I am sure there will be some lovely Halloween versions, and be sure to check out
Clara's page
for the recipe!