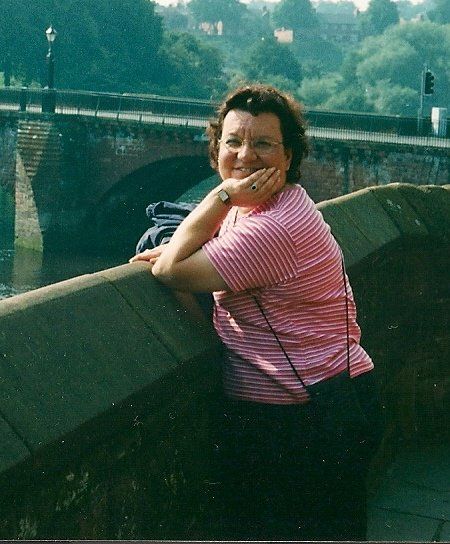 This is a photograph that Todd took of me almost 14 years ago now, when I had come over from Canada to meet him in person. This was down by the old Roman Bridge in Chester. I had a lovely three weeks here, so much so that we decided to make it permanent. It will be 14 years on the 31st of October that I arrived in the UK to take up residence here and our 14th wedding anniversary on the 11th of November. No regrets! I love it here and know I am where I am supposed to be!
Another five things about me . . .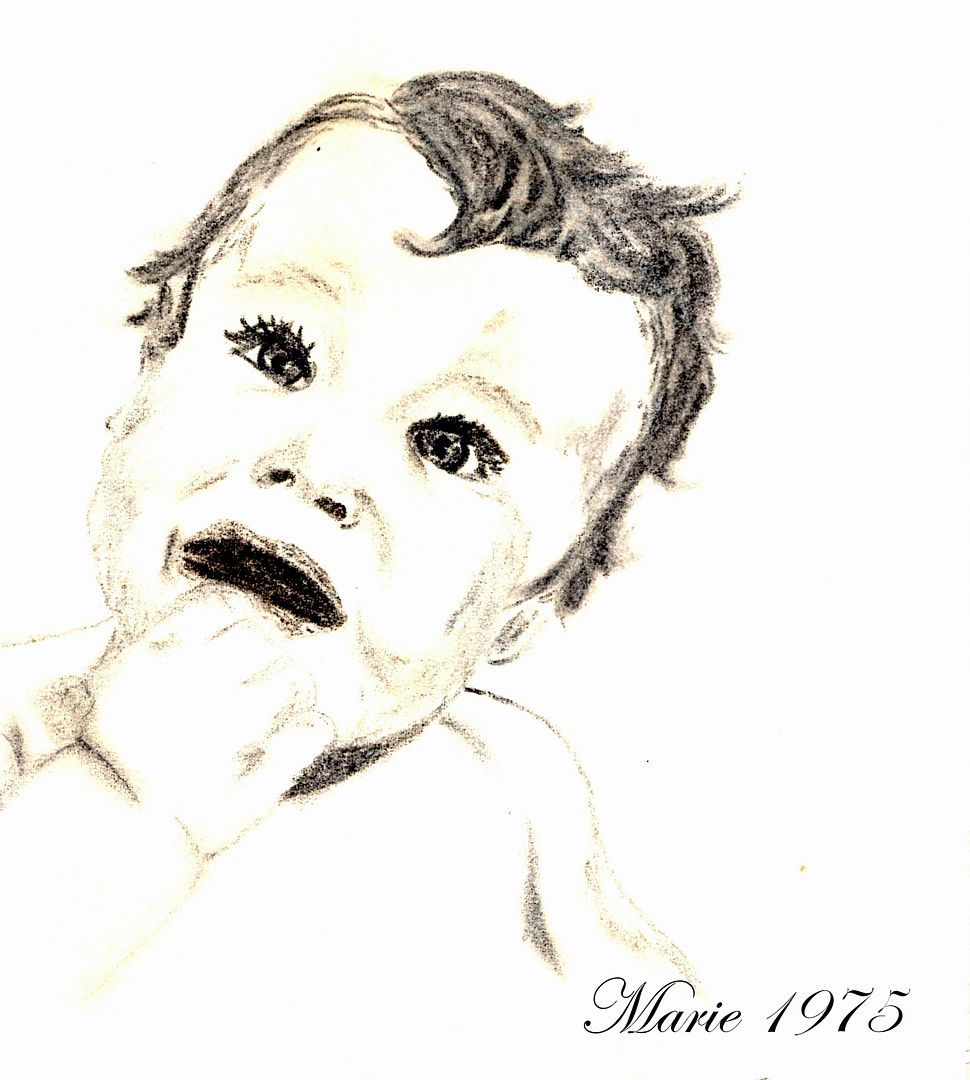 This is a pencil drawing I did when I was 19. I found it the other day when I was going through my artwork so that I could scan it all. Black and White don't scan very well on my computer. Todd had no idea at all that I could draw or colour until about 8 years or so after we were married. That was the year I was able to bring the rest of my things over from Canada and I began to paint again. Good paints, pencils, art supplies are expensive and all of my art stuff was in my belongings. I hadn't realised just how much I missed being creative until I was able to pick up a brush again.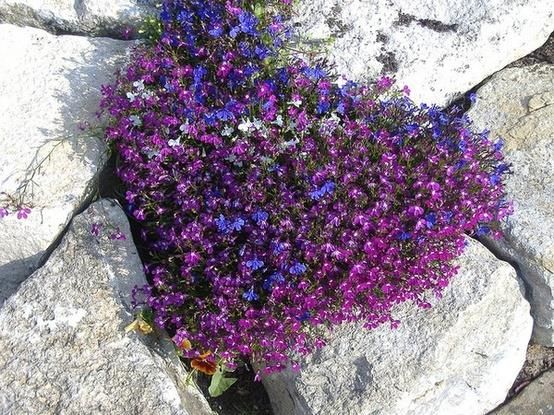 I have a fondness for anything that is heart shaped, and get very excited when I see hearts occurring naturally in nature . . . without a person manipulating them. Heart shaped stones, heart shaped sea glass, heart shaped potato chips . . . they
all
make my heart skip a beat! Small reminders to me . . . whenever and wherever I find them . . . that I am truly loved.
I cannot remember a time when I did not love the Saviour. My parents taught me about Him and to love Him from the time I was old enough to understand, which means He has always been a great example and influence in my life. I may not have always known or understood how very important I was to Him . . . but He has always been important to me. I am grateful for that and am also grateful that I
now
know that I have
always
been important to Him and that He has always loved me the same way I have loved Him. This is truly life changing knowledge and I wish that everyone had it. What a very different world we would live in!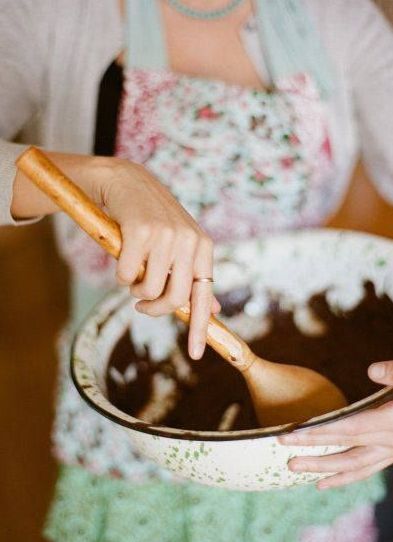 Although I love to eat and cook, I do not love to eat and cook everything. I have always been a bit squeamish about certain things and have things that I don't want to eat, could never eat, would rather die than eat. They include things like snails, snake, frogs legs, insects of any kind, eels, shark, any bird other than a turkey or a chicken, reptiles of any kind really, goat, prairie oysters, eye balls, squid and calamari, oysters, clams, mussels,etc. I basically only like mild fish, such as cod, or haddock. I will eat salmon, but only once in a while. I have only ever eaten tinned tuna and am not sure if I would like tuna steaks or not. I only eat really good minced beef, extra lean because I don't like finding gristle or anything yucky in my ground beef. It makes me gag. I have a texture thing with eating. There are certain textures that I cannot stand, and absolutely abhor together.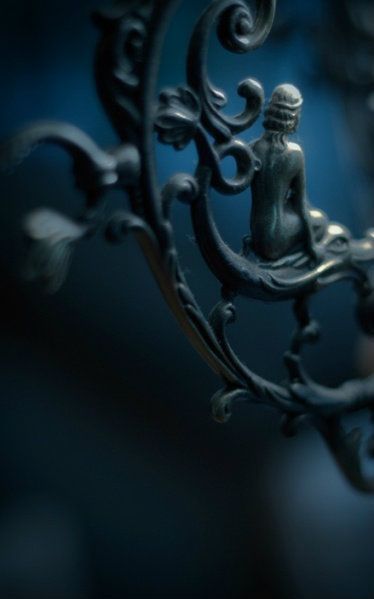 I believe in miracles, visions, fairies and happily forever after. I have experienced many miracles in my life and have had visions which have been life changing. I have never seen a fairy, but that doesn't mean that they aren't there. It took me three tries to find my happily forever after, but I always believed that I would find it one day. I thought I had it twice before, but knew very quickly that I did not. What makes this time different? When you know, you just know . . . I can't explain it, but I know that I am living it. Happily forever after is just . . .
happily
forever after. Miracles surround us and the seeking heart knows where to find them . . . and recognizes them when they find them. I . . . "Dwell in Possibility." I'm a half full and overfloweth kind of a gal!
And that's it for this week!
A thought to carry with you through today . . .
ᘘᘘᘘᘘᘘᘘᘘᘘᘘᘘᘘᘘᘘᘘᘘᘘ
If there were a secret garden,
What would it comprise? Fragrant flowers,
a babbling brook, butterflies?
Dragonflies, birds, and bees,
there would be all of these.
But most of all, within 'that place',
Tranquil peace and serenity await;
Ever there for me and you to relax and renew.
So every morning before you start,
Visit the 'secret garden' of your heart.
~Linda Wall Hall

* ჱܓ *
* ჱܓ *
* ჱܓ *
* ჱܓ *
* ჱܓ *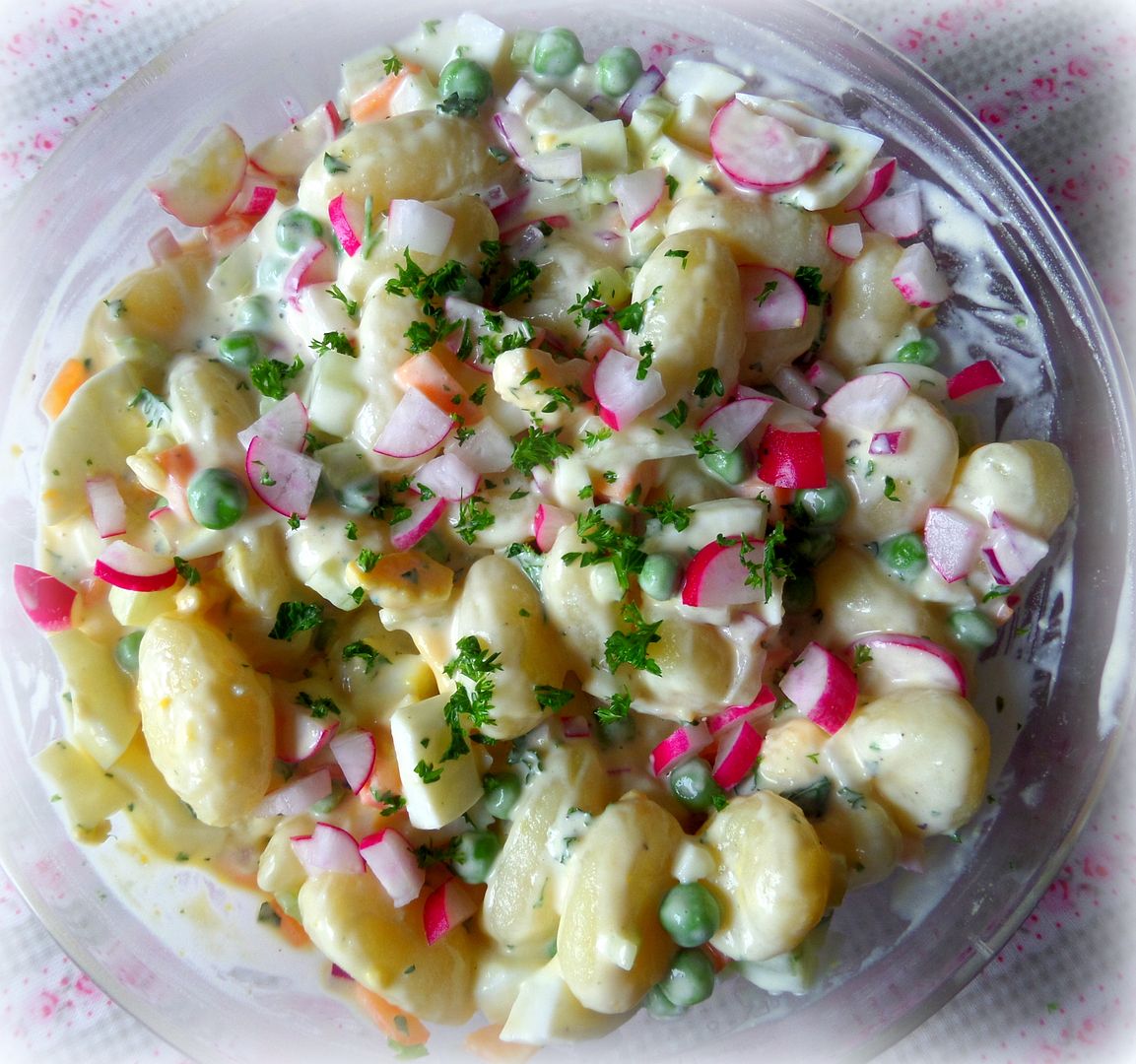 Cooking in The English Kitchen today . . .
Creamy Potato Gnocchi Salad.
Deliciously different!
═══════════ ღೋƸ̵̡Ӝ̵̨̄Ʒღೋ ═══════════ ⊰✿░L░O░V░E⊰✿⊰✿⊰✿⊰✿⊰✿⊰░Y░O░U░⊰✿
═══════════ ღೋƸ̵̡Ӝ̵̨̄Ʒღೋ ═══════════
Have a wonderful Thursday, no matter where no matter what!!