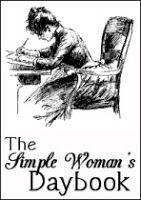 FOR TODAY, July 22nd, 2014
Outside my window ...
We're having a heat wave, a tropical heat wave . . . la da da da da, la da da da da, we're having a heat wave. Actually not that excited about it. I don't mind it being hot, but please, please cool down at night!
I am thinking ...
✻ღϠ₡ღ✻(¯`✻´¯)
✻ღϠ`*.¸.*₡ღ¸.✻
"Sometimes I need only to stand wherever I am, to be blessed."
~Mary Oliver
This is how I feel every day of my life. Yes, even the bad days. The bad makes the sweeter even sweeter.
I am thankful ...
Foreach and every one of you. You bless my days with your comments, love and support. Life is good.
In the kitchen ...
In the kitchen today, a
Superfoods Salad.
So tasty, and yet healthy and pretty too! Also very simple to make.
On my "To Cook" list ...
These Beignets look fabulous. I have always wanted to make Beignets. From
Project Foodie
.
I am creating ...
I love this quilted blanket from
Nana Company.
In fact I love Nana Company. Her work is so beautiful. The whole blog is a treat.
I love, LOVE this little star pin cushion. It's a complete tutorial from
Lots of Pink Here
. Don't you just love the names that people give their blogs? How could you not love a blog named Lots of Pink Here? Impossible!
I just love this daisy in the middle dish cloth from
Daisy Cottage Designs
. I love pretty things. I reckon I am a girlie kind of a girl! It's all pink and ruffles with me . . . and crocheted daisies!
I love this scrapbook page from the
iheartblog
, designs by Wilna Fursentburg. People are so very inventive with their creativity. This girl is very talented!
I am going ...
I am going Visiting Teaching on Thursday, but other than that no concrete plans. We may pop to the beach one day. We'll see how it all goes. Our friend Doreen isn't very well this week. She's had to come off some tablets and I think it's withdrawel. She's been on sleeping tablets for over 30 years and they have switched them around and it's thrown her balance off. We had wanted to take her to the beach one day, but may have to put that off for a while.
I am wondering ...
How much wood could a wood chuck chuck, if a wood chuck could chuck wood?
I am reading ...
Tapestry of Fortunes
, by Elizabeth Berg
In this book four very different women delve into their pasts in order to share their futures, fates and fortunes.
Cecilia Ross is a motivational speaker who encourages others to change their lives for the better. Why can't she take her own advice? Still reeling from the death of her best friend, and freshly aware of the need to live more fully now, Cece realizes that she has to make a move—all the portentous signs seem to point in that direction. She downsizes her life, sells her suburban Minnesota home and lets go of many of her possessions. She moves into a beautiful old house in Saint Paul, complete with a garden, chef's kitchen, and three housemates: Lise, the home's owner and a divorced mother at odds with her twenty-year-old daughter; Joni, a top-notch sous chef at a first-rate restaurant with a grade A jerk of a boss; and Renie, the youngest and most mercurial of the group, who is trying to rectify a teenage mistake. These women embark on a journey together in an attempt to connect with parts of themselves long denied. For Cece, that means finding Dennis Halsinger. Despite being "the one who got away," Dennis has never been far from Cece's thoughts.
I have only just started it, but you all know how much I love the writing of Elizabeth Berg.
I am hoping ...
I see some small improvements in my thumb. It's at least not hurting anymore, although it is still clicking and locking. I am hoping and praying that that improves. I do not want to have an operation.
Makes me smile ...
My DIL posted this on her facebook page and it made me smile. No matter how many times I
tell
advise Todd on how to load the dishwasher properly, he invariably does it wrong. I don't think men's brains are wired in quite the same way. lol
I am learning ...
Patience is something I am always working on. Also trying to not be so judgemental about certain things. Mostly on modern day parenting skills. I don't think I would have the patience to be a parent today. Or maybe children just behave a lot worse. I could take my children anywhere and they never acted up. They had manners and knew how to behave, at least in public. ;-) Maybe I am just hopelessly old school about certain things.
Around the house ...
I love the idea of these tiny little homes. Todd just laughs when I say that. Probably because I am the biggest hoarder on the planet.
Somehow the manage to make these small spaces look inviting and cosy and like places I would love to live. Mind you I would have to be a heck of a lot more organized. Organizing is not a skill I have in abundance.
I love this office space which appears to be in the dining room, or kitchen. Loving the door and drawer pulls oon the bottom half and the beaded wood wall look. From
The Decorated House
. Of course we have no budget for any of this, but it is nice to look at these things and admire them!
I am pondering ...
All of the conflict in the world makes me think. Why can't we all just get along? Why does there always have to be someone or some country trying to take over or cause problems. It has been ever so, and will probably never change until the Saviour's return. Sigh . . .
A favourite quote for the day ...
`*.¸.*✻ღϠ₡ღ¸.✻´´¯`✻.¸¸.Ƹ̴Ӂ̴Ʒ..
(¯`v´¯)
`*.¸.*´Ƹ̵̡Ӝ̵̨̄Ʒ
¸.•´¸.•~♥♥♥~•.~
"To get the full value of joy, you must have someone to divide it with."
~Mark Twain
So grateful I have plenty of people to divide it with.
One of my favourite things ...
(
source
)
I just adore Christmas. There I said it. The "C" word and it's only July. I can't help it. I love Christmas. Sigh . . . the music, the decorations, the spirit . . . ALL of it!
A peek into my day ...
There may be only two of us (and a dog) but it seems I am never caught up with the washing. Of course we don't have a clothes dryer so that means there is always wash hanging in the house on the drying rack. I don't miss having a clothes dryer, except for the towels . . . it takes a long time to do a wash over here. The cycles on the machines are ever so long. The very shortest cycle still takes over an hour to finish, and the drums are not very big. I wish we could afford a North American style washer and dryer, like they had in the big house down south, however we are not millionaires, nor do we have a house large enough to accomodate a set! One must be content with what one has.
⋱ ⋮ ⋰
⋯ ◯ ⋯ Take time to enjoy the small*´¯`.¸¸.☆
⋰ ⋮ ⋱ blessings in life.*´¯`.¸¸.☆
✿¸.•*¨`*•..¸✿ ✿¸.•*¨`*•..¸✿
╬♥═╬╬═♥=╬╬═♥╬╬═♥╬╬═♥=╬╬♥═╬
░░░░░░░░░░░░░ ░░░░░░░░░░░░░

Wherever you go and whatever you do I hope there's a wonderful day planned for you!
═══════════ ღೋƸ̵̡Ӝ̵̨̄Ʒღೋ ═══════════ ⊰✿░L░O░V░E⊰✿⊰✿⊰✿⊰✿⊰✿⊰░Y░O░U░⊰✿
═══════════ ღೋƸ̵̡Ӝ̵̨̄Ʒღೋ ═══════════
The Missionary sisters are coming for supper today. I have something special planned. (Of course!)
As you know I do so love to have the Missionaries around. We are blessed to have two sets here which means double the pleasure! If you want to bring joy into your house . . . feed a missionary or two!!!