(source)
WE had a busy day most of yesterday working on the spare room to get it ready for our Student who is coming to live with us in less than a month now! (Yikes!) It's a very small room and has been pretty much used for storage since we moved here so it's been a real chore deciding what to get rid of and what to find a storage spot for elsewhere in the house. We still are not finished. At the end of the day we decided to buy a wardrobe and a desk because we could not find any second hand ones. We did not buy expensive ones and we will figure out how we are going to pay for them later. (double yikes!)
Todd spend most of yesterday building the desk. Does nothing come ready built anymore? I don't think so. I think they charge you an arm and a leg for things and then save a bundle in having the customer put them together. We did not pay an arm and a leg for this desk, but it is a decent one. We got it at Argos, and in truth did not cost much more than the ones we had been looking at in the charity shops. At least it is new and does not smell like smoke! I did not supervise Todd in the building of the desk and it went a lot smoother. He did get me to help him figure out how to put the runners on for the drawers. Those can be complicated at times. The process went a lot smoother without me putting my two cents worth in!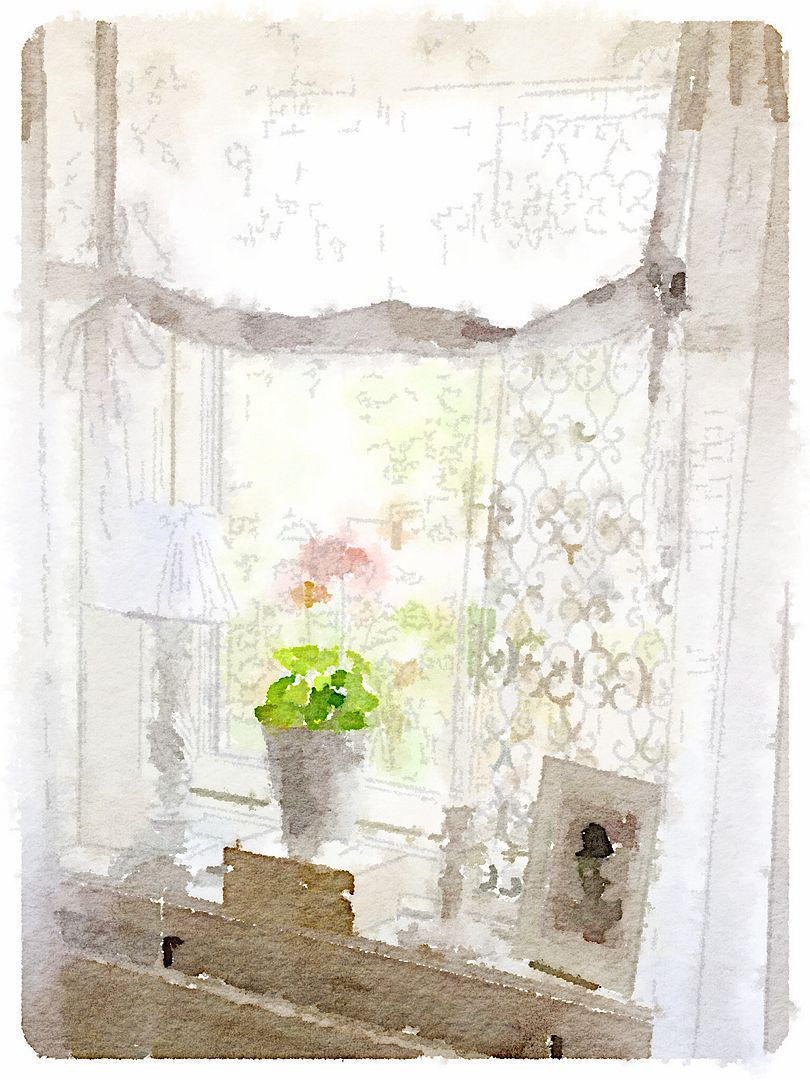 In any case I hope she will be comfortable in the room and in our home. Today I am sewing curtains for the room. I will have to take some photographs when we are all done so you can see what it is like!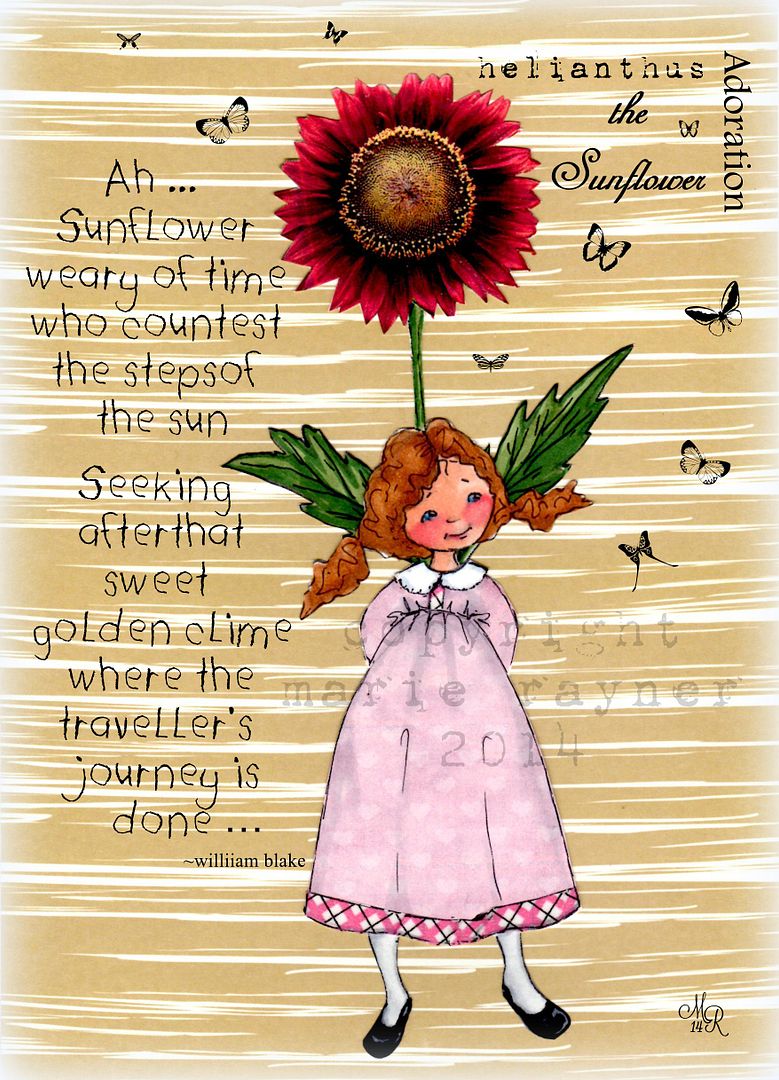 I wanted to show you my next "flower" girl. This one is the sunflower girl. I chose a red sunflower because they are unsual and eye catching. (Although I do love the yellow ones.) In each I am putting the botanical name of the flower, and the meaning in Victorian flower speak and of course a nice poem or quote to do with the flower. I think these would make super figurines.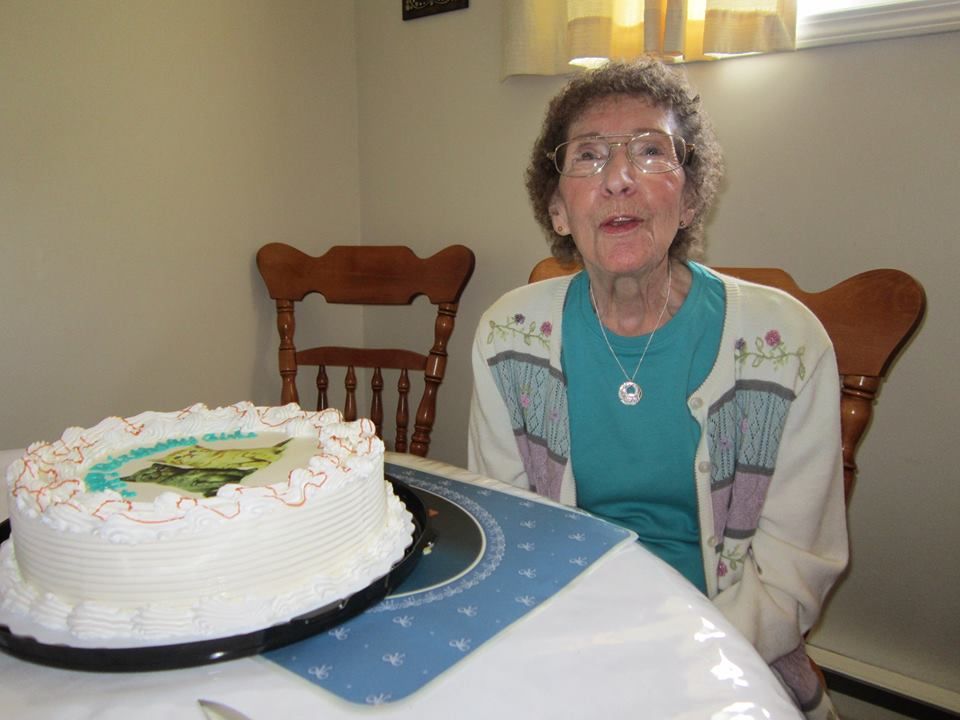 My sister shared a photograph with me of my mom on her Birthday. She looks very happy. She is always trying to say something when you try to take her picture for some reason. She is wearing the necklace I sent her. I sent one to my sister as well. They match but say different things. They are layered medallions. That ice cream cake sure looks big! My sister and mother's birthdays are only 3 days apart. My father got them a cake to share.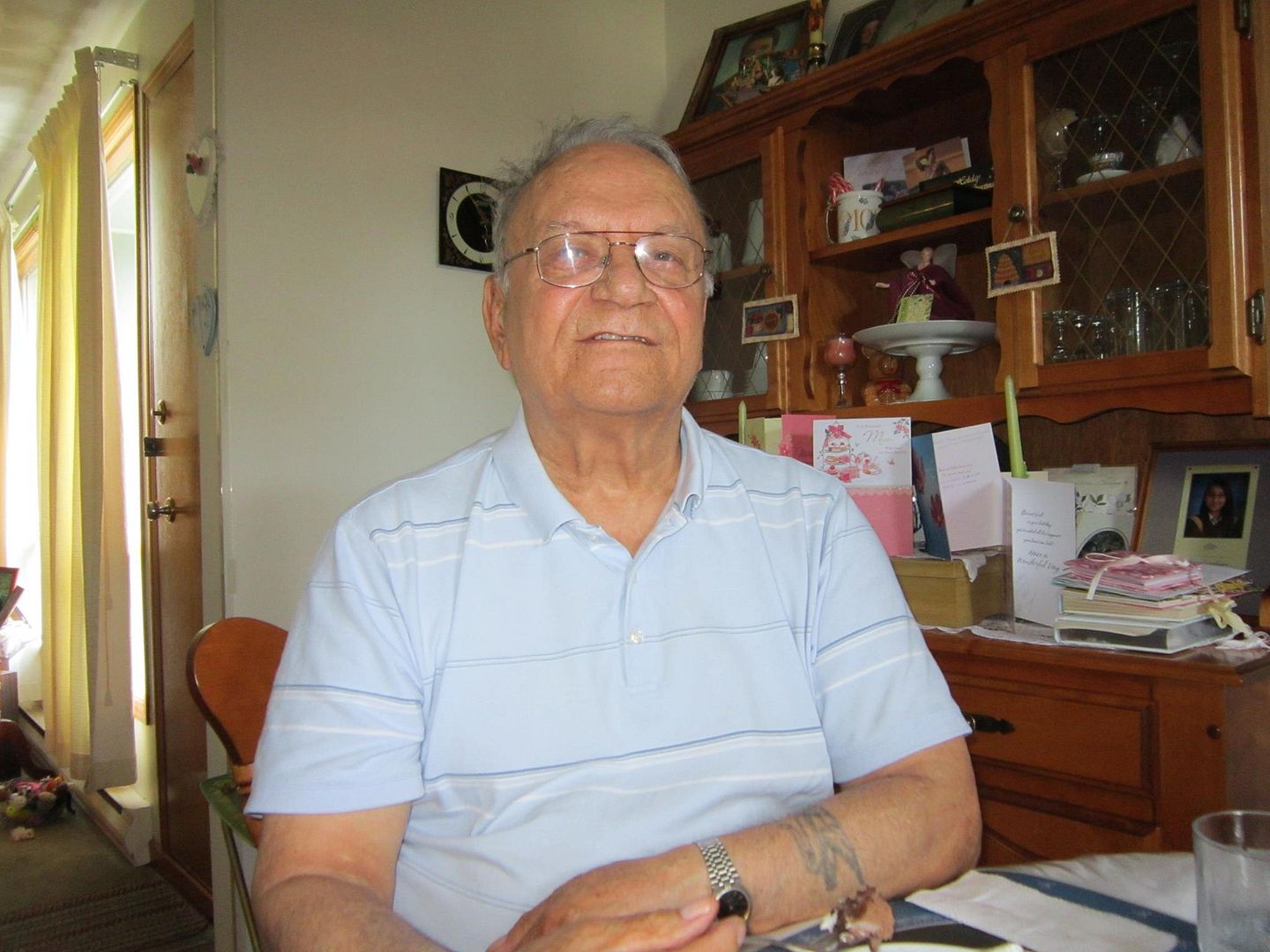 My father is looking very happy. I am glad that everyone has settled in well with each other. It makes me a bit homesick to see them, but that is to be expected I suppose! I am the type of person that can't sleep on a plane or in a car because I might miss something! That's also why I get up really early in the morning. Once I am awake I have to get out of bed because I might miss something if I don't! I don't want to waste one scrap of my life or experience! Seeing pictures of them all makes me feel like I am missing something!
I do believe that I have the cutest grand-doggie ever. Baxter is looking ever so suave with his hair all clipped off for the summer.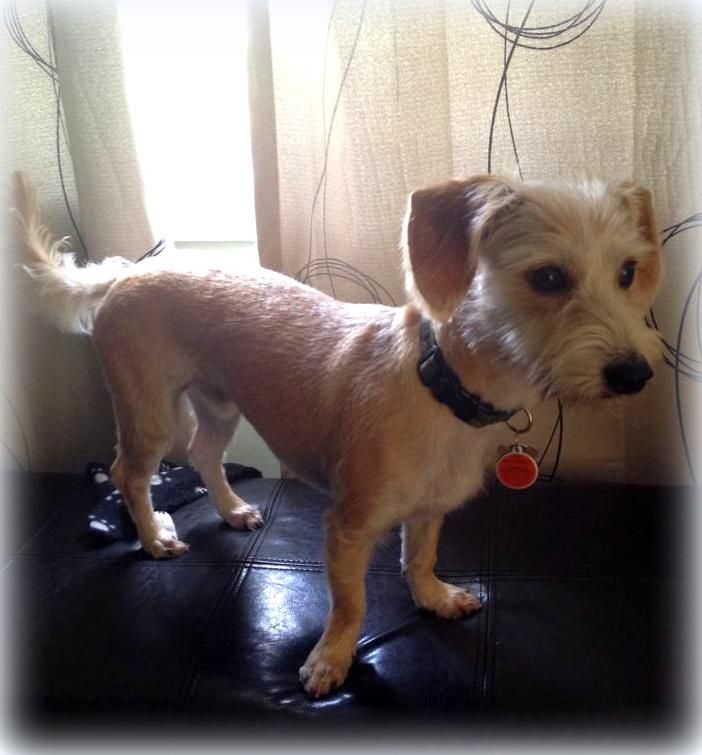 He is a daschund/terrier cross which makes for a pretty cute dog I think. Of course having a completely engaging personality doesn't hurt either!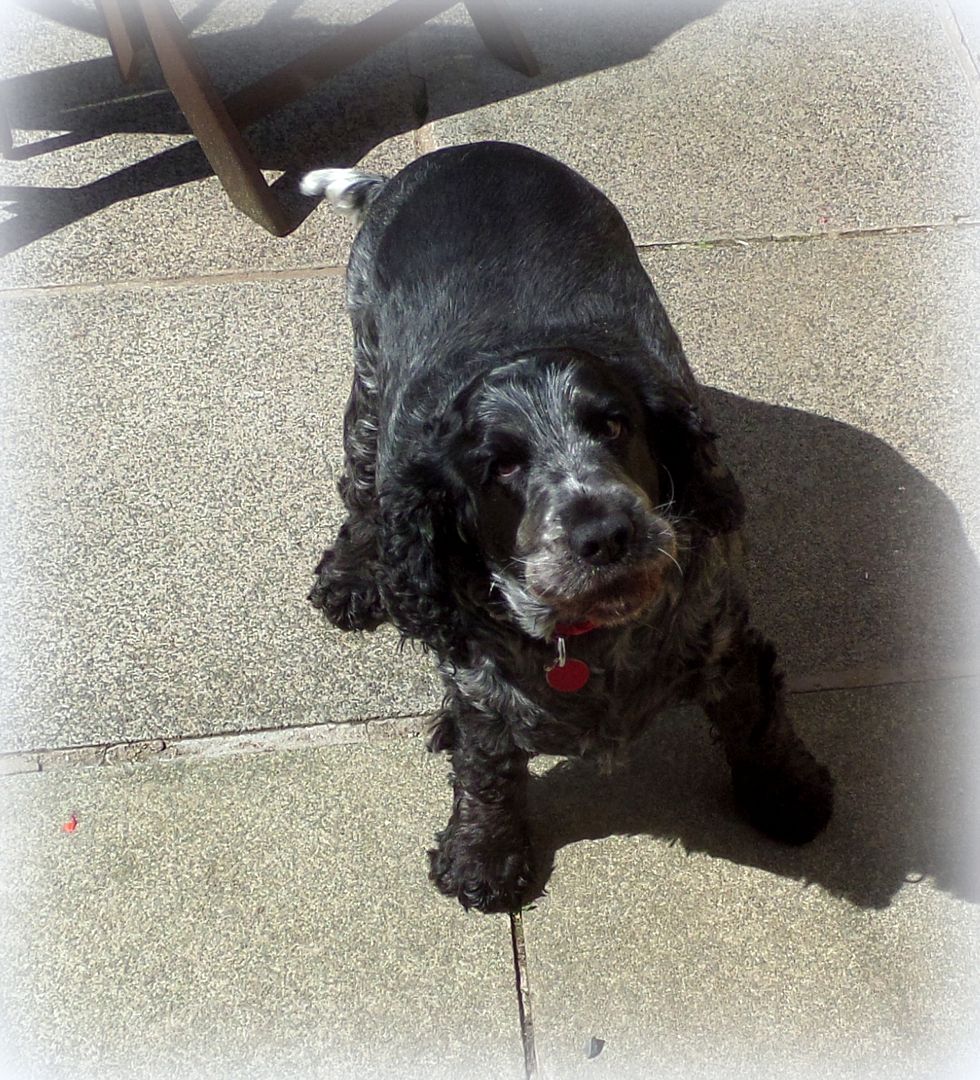 Mitzie is a digger. It really frustrates Todd as she keeps digging in the same place. He replants it with grass seed, and covers it with a net, and then once the grass has grown back he uncovers it and the next thing he looks and she has dug it up again. She doesn't dig in any other spot. Just that one. I looked it up online and Caesar says she could be bored. Todd has been saying he would like to get another dog . . . I have been saying no because of the expense, etc. Maybe I need to put some more thought into this. Caesar also said to strap a backpack onto the dog when you walk them so that half an hour's exercise seems like an hour. I don't know about that either! Watch this space!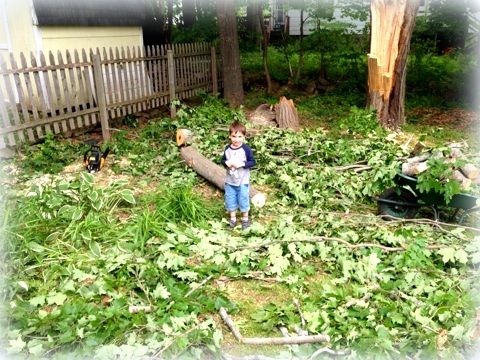 Someone had a great time the other day helping his father clean up the mess after the big storm of the summer, Arthur. One of the large trees in their garden had broken in half and so there was lots to clean up! Little Luke looks like the cutest yard helper ever don't you think?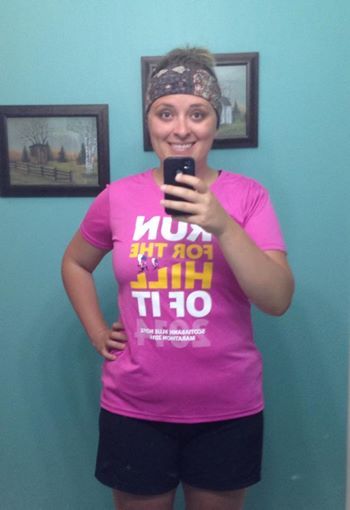 This is our Sara, getting ready to go on one of her runs. She just loves to run and not short runs either. She is into marathons. I think that she and our Amanda and Anne should get together and run a marathon together for charity. They all love to run and run marathons. I think it would be fun for them. I am so not a runner. I never have been. I tried it once, did not like it and that was that! I do admire those that can do it and enjoy it. That has never been me!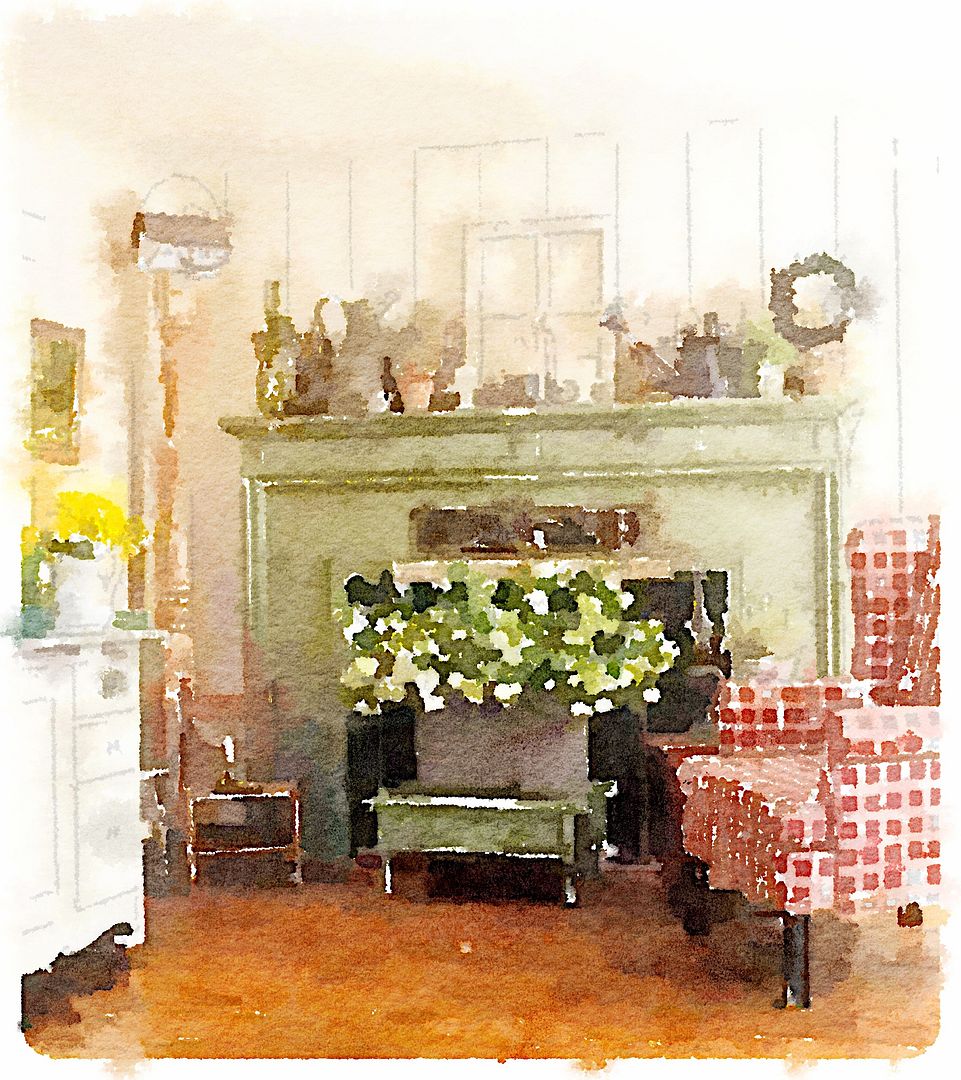 Todd and I have been trying to listen to one of the talks from our bi-annual church conferences every day. We really enjoy being inspired by the words of our leaders. Yesterday we listened to one by President Uchtdorf entitled "
Of Regrets and Resolutions
." I love President Uchtdorf's talks. I always get a lot out of them.
"We shouldn't wait to be happy until we reach some future point, only to discover that happiness was already available—all the time! Life is not meant to be appreciated only in retrospect. "This is the day which the Lord hath made … ," the Psalmist wrote. "Rejoice and be glad in it."
As I have gotten older and find that more of my life is stretched on the road behind me than on the road in front of me, I have come to realize that all the things I may have thought mattered in the past were really not very important at all. Life is short. Make the best of what you have been given because this day will never come again. Forever
is
composed of "nows." Make the nows count.
And with that I will leave you with a thought for today . . .
╔══ღ═════╗
✿ღℓ σ √ ε ღ✿ܓ
╚═════ღ══╝
I will greet this day with love in my heart.
And how will I do this?
Henceforth will I look on all things with love
and be born again.
I will love the sun for it warms my bones;
yet I will love the rain for it cleanses my spirit.
I will love the light for it shows me the way;
yet I will love the darkness for it shows me the stars.
I will welcome happiness as it enlarges my heart;
yet I will endure sadness for it opens my soul.
I will acknowledge rewards for they are my due;
yet I will welcome obstacles for they are my challenge.
~Og Mandino
═════════════ ღೋƸ̵̡Ӝ̵̨̄Ʒღೋ══════════════ ✿░Y░O░U✿░A░R░E░✿░A✿░B░L░E░S░S░I░N░G░✿
═════════════ ღೋƸ̵̡Ӝ̵̨̄Ʒღೋ══════════════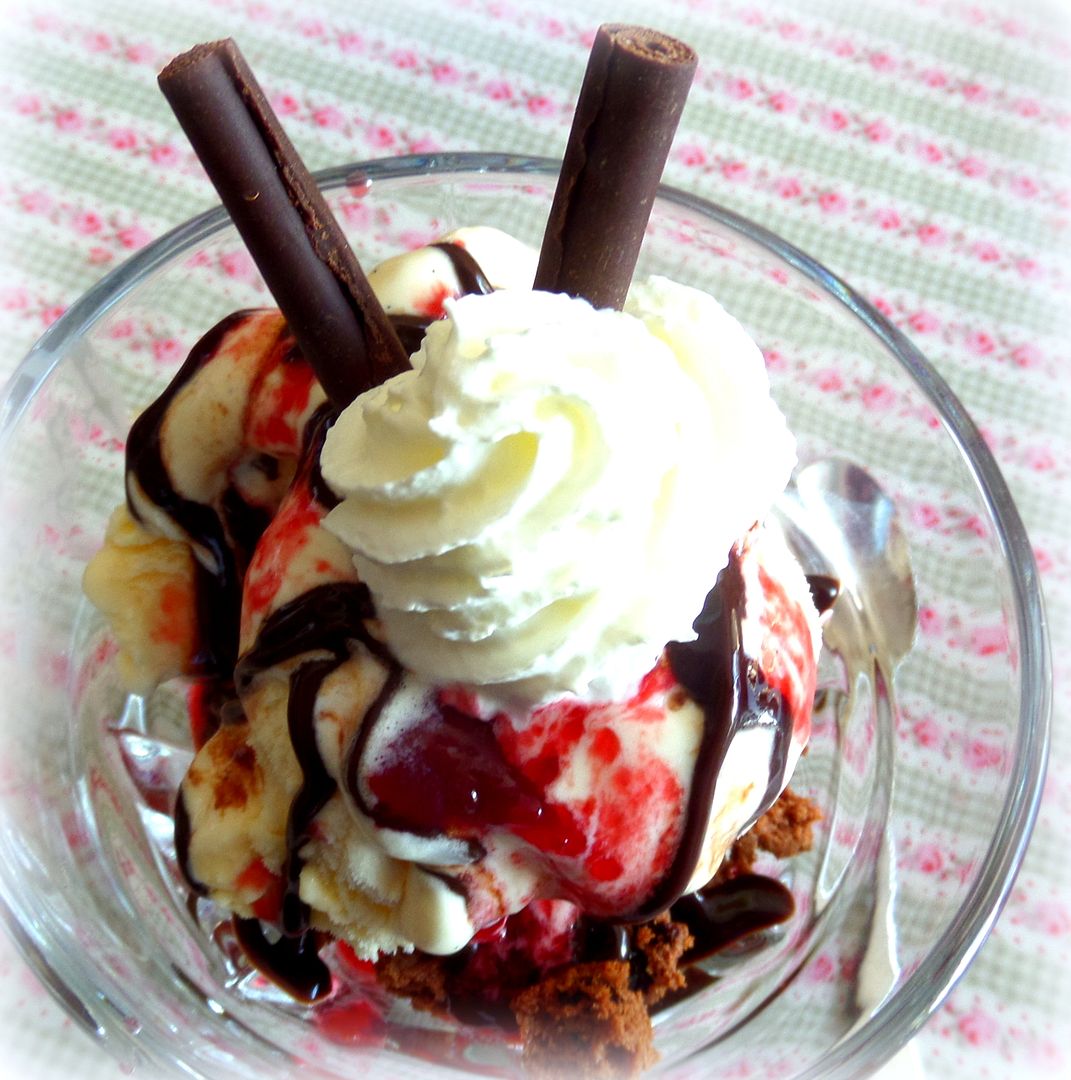 In the English Kitchen today . . .
Black Forest Cookies and Cream Sundaes
. Quick, easy and delicious!
Have a wonderful Saturday! Live and enjoy every moment of it!
═══════════ ღೋƸ̵̡Ӝ̵̨̄Ʒღೋ ═══════════ ⊰✿░L░O░V░E⊰✿⊰✿⊰✿⊰✿⊰✿⊰░Y░O░U░⊰✿
═══════════ ღೋƸ̵̡Ӝ̵̨̄Ʒღೋ ═══════════
'Til next time.