It rained off and on almost all of yesterday and today looks like we are going to get more of the same. I don't mind the rain really. Before I moved over here to the UK, rain meant I couldn't go anywhere or do anything, coz, well . . . it was raining. Now it doesn't bother me anymore. If you let the rain keep you from doing things over here . . . you'd never get much of anything done! I have learned that we don't melt in the rain. ☺
I hate spiders. There is only one thing I hate more than spiders and that is daddy long legs, or crane flies. They are like flying spiders to me. Todd was putting together the wardrobe for the students room yesterday and I went upstairs to check on how it was going and noticed that he had his drill case sitting on MY bed. I lifted it off and went to put it on the top of the low bookcase in the hall and noticed it had left all sorts of dirt on MY bedspread . . . ugh . . . but worse than that . . . I immediately saw a spider scrambling away from where it had been hiding underneath it, and a bunch of dead spiders that had fallen off it and were laying on MY bed!
Only a man would do something like this. Put a dirty drill box that lives in a dirty shed smack dab in the middle of a clean bed!! Argh!!
I had to change my bed completely, and not just mine, but his too, because . . . they have to match you know! Sigh . . . men ARE from Mars.
I don't know why I was surprised however . . . this is a man who in fourteen years has still not learned that any chocolate he finds tucked away in a cupboard isn't free for the taking. It's my stash and you don't mess with a woman's chocolate do you?
But . . . I forgive him. ☺ He does ever so many more lovely things, it is easy to overlook the things that irritate me. I know I do a lot of things that irritate him too. Numero uno being front seat back seat driving. He is always saying that he doesn't drive the car . . . he just steers it.
So I guess that kinda makes us even.
Pray for the love which allows you to see the good in your companion. Pray for the love that makes weaknesses and mistakes seem small. Pray for the love to make your companion's joy your own. Pray for the love to want to lessen the load and soften the sorrows of your companion.
~Henry B Eyring
I don't have a lot of time this morning. I have overslept and was later than usual getting up. Sunday mornings are usually a bit of a jumble for me because of church, so I do hope you will forgive me this short rambling post! Besides I brought cookies . . .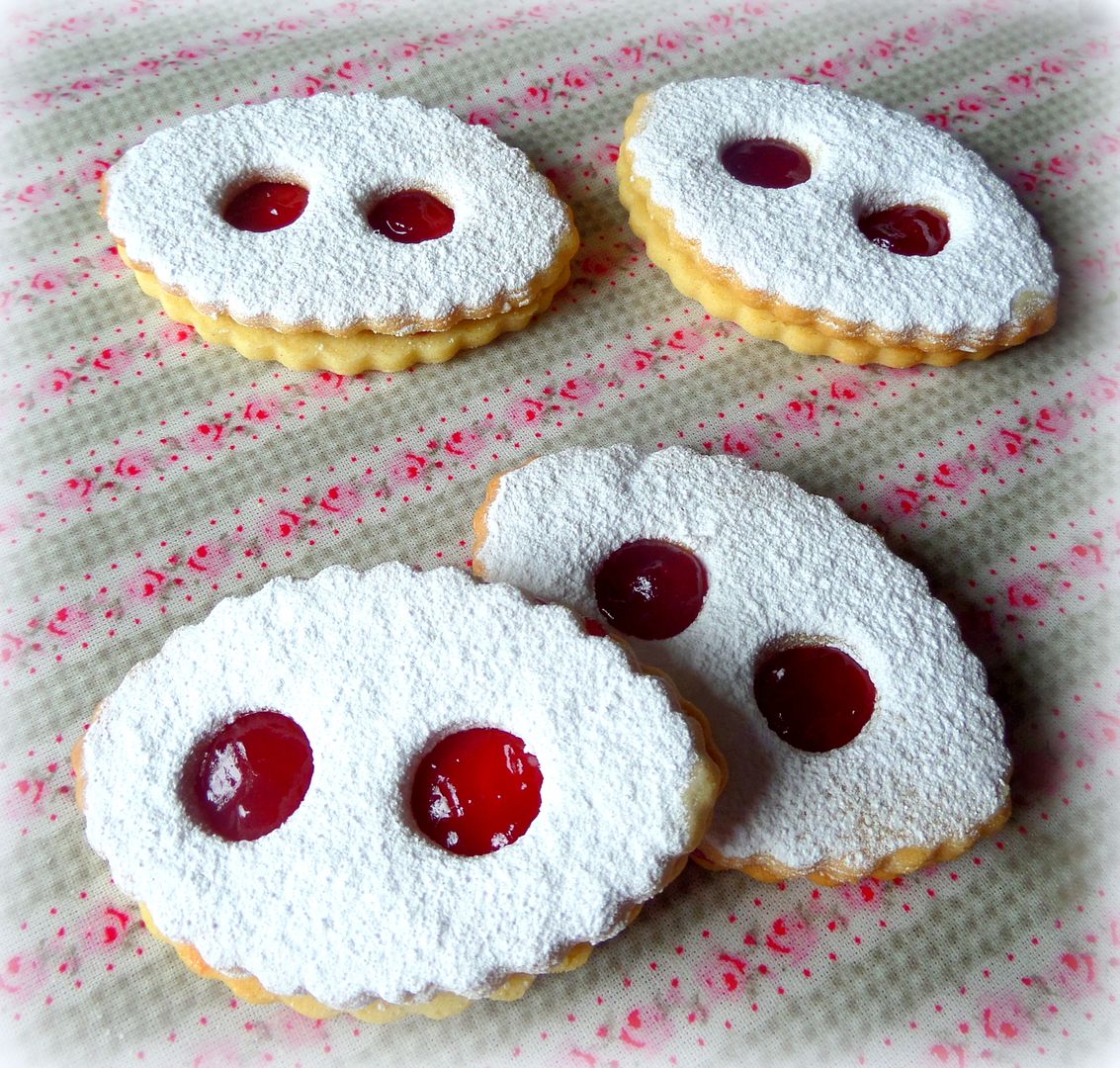 Baking in The English Kitchen today . . .
Lunettes
. Delicious shortbread cookies with two eyes cut out and jam sandwiched in the middle. Impossible to resist!
Have a wonderful Sabbath day!
═══════════ ღೋƸ̵̡Ӝ̵̨̄Ʒღೋ ═══════════ ⊰✿░L░O░V░E⊰✿⊰✿⊰✿⊰✿⊰✿⊰░Y░O░U░⊰✿
═══════════ ღೋƸ̵̡Ӝ̵̨̄Ʒღೋ ═══════════