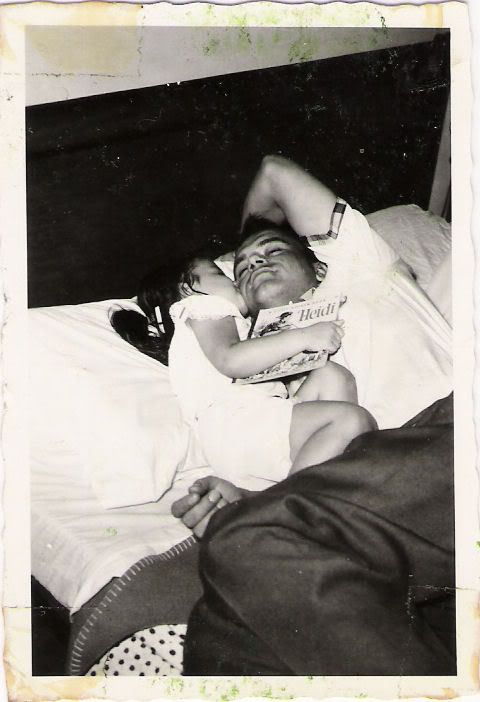 Five more things about me! I wonder if I will ever run out of new and interesting things to tell you about me??? I sure hope not! This is an old photograph of me with my dad. He had been reading one of my favourite books to me, Heidi and we had both fallen asleep. I cherish this photo so very much. It has captured a golden moment in time, which is what a good photograph should do.
One of my ancestors was Sir John Howard, the first Duke of Norfolk. He was a very close friend to King Richard the third and died with him at the Battle of Bosworth, during the Wars of the Roses. He was the great grandfather to Anne Bolyn, which makes him the great great grandfather to Queen Elizabeth. He was also an Uncle to Catherine Howard who was also married to Henry the Eighth. King Richard the third's remains were found beneath a car park. He was the last Yorkist King, being suceeded by the Tudor's. I never liked history at school, but have learned since leaving school that I actually love history. It is just my history teachers at school were not that great at making it interesting or exciting.
These are some sketches I found that I did when I was taking an art course via the London School of Art some four and a half years ago. They are from the series Cranford. I never got to finish my course. I lost my job and we had to move and it all got lost in the shuffle of both time and location. To be honest I wasn't really learning anything I didn't already know how to do anyways . . . as a teenager I used to do pencil portraiture. I did portraits of all my pop idols. There was one of Elton John which was really quite good. I gave my folder containing all of that art to my oldest son about 20 years ago. I think he lost it. Oh well . . .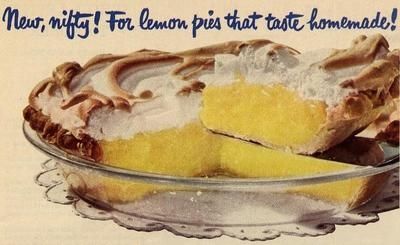 I love pie. I love any kind of pie. If it has a crust I am all over it. It doesn't have to be a sweet pie, a savoury one will do as well. My favourite has to be lemon pie. Ice cold from the fridge. So good. But then as soon as I said that I thought about a delicious raisin pie . . . sweet and stogged full of raisins . . . then there is rhubarb custard pie . . . CHERRY pie! Apple pie, warm with a slice of good cheddar cheese. Oh, steak and mushroom pie . . . chicken pot pie! Christmas Tortiere .... I just plain love PIE! I can't choose a favourite. Do you have a favourite?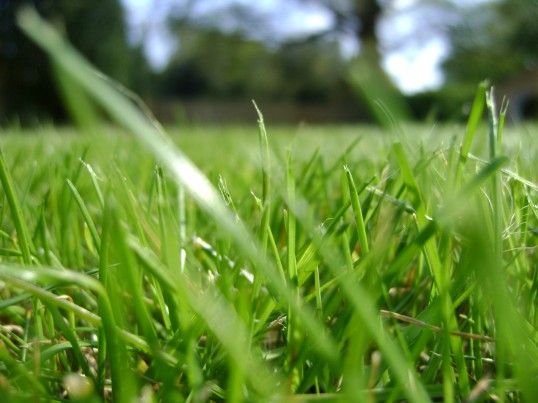 I love the smell of freshly cut grass. If there is a smell which epitomizes summer for me, it is that of freshly cut grass. It smells so green and somehow sweet. I do not however like the smell of hay being cut. It almost makes me feel sick. It reminds me of the smell of the old feed mill in Lawrencetown, Nova Scotia. I did not like that smell at all. I can remember taking messages to my Uncle Harold who worked in it. The summer I turned eleven, they were building an addition onto the feed mill. They had it all framed in and the floor done. My sister and I could see tons of empty pop bottles up on the floor. There was a bazillion of them. Our eyes saw dollar signs. We just knew we could take them into the Merry's Drug Store and get a fortune for them, maybe even enough for a whole bag of penny candy. My sister helped me to get up onto the second floor and then I lowered the bottles down to her. After I had lowered all the bottles we couldn't figure out how to get ME down. My sister eventually had to go get my father to help me down. We didn't get to keep the bottles and so our penny candy dreams disappeared in a puff of the reality which was my very angry father!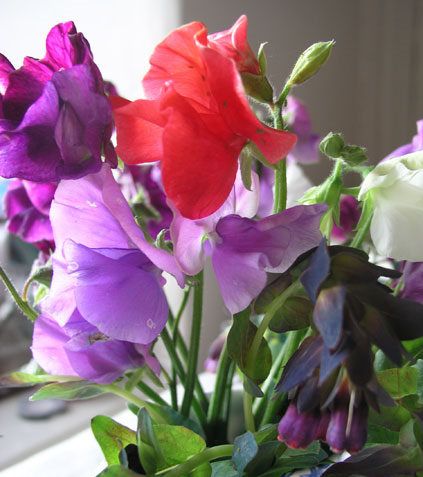 My absolute favourite flower of all time is the Sweet Pea. They smell beautiful. If you have a bouquet of sweet peas in the house you have something which is very special. One bouquet will scent practically the whole house. There is no sweeter scent on the earth. I have a Yankee candle which is scented of sweet peas and it is my favourite candle.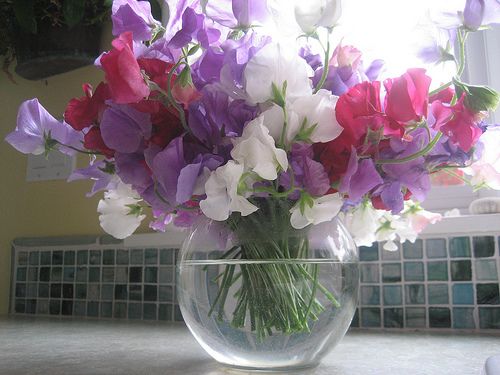 They are so beautiful, with each bloom resembling butterfly wings about to flutter away on a summer's breeze. What is your favourite flower?
And there it is five new things about me.
The first Doctor I saw yesterday was a new one. I had not seen her before. She said that the x-ray showed nothing more than ordinary osteo-arthritis. Then I showed her what my thumb was doing and she felt it all over and said that I probably needed a shot in it, but she didn't do shots. So I had to go to the reception and make a new appointment. Fortunately I was able to get one for about half an hour later. That Doctor thought it was quite severe and didn't think a shot would do much good, although he agreed to give me one just to see if it would work. He said it would be quite painful, and it was. If it is not better within 30 days I am to go back. He thinks it really requires surgery. Please pray for me that it does get better without surgery. Thank you so very much. I can see no improvement this morning, but I am remaining hopeful.
A thought to carry with you through today . . .
"As we light a path for others, we naturally light our own way."
~Mary Anne Radmacher
✿✿*كك✿✿*كك¥✿.، ✿
Cooking in The English Kitchen today . . .
Lemon French Toast with Fresh Strawberries and Maple Syrup
. So good!
═══════════ ღೋƸ̵̡Ӝ̵̨̄Ʒღೋ ═══════════ ⊰✿░L░O░V░E⊰✿⊰✿⊰✿⊰✿⊰✿⊰░Y░O░U░⊰✿
═══════════ ღೋƸ̵̡Ӝ̵̨̄Ʒღೋ ═══════════
Have a wonderful Thursday! 'Til next time . . .