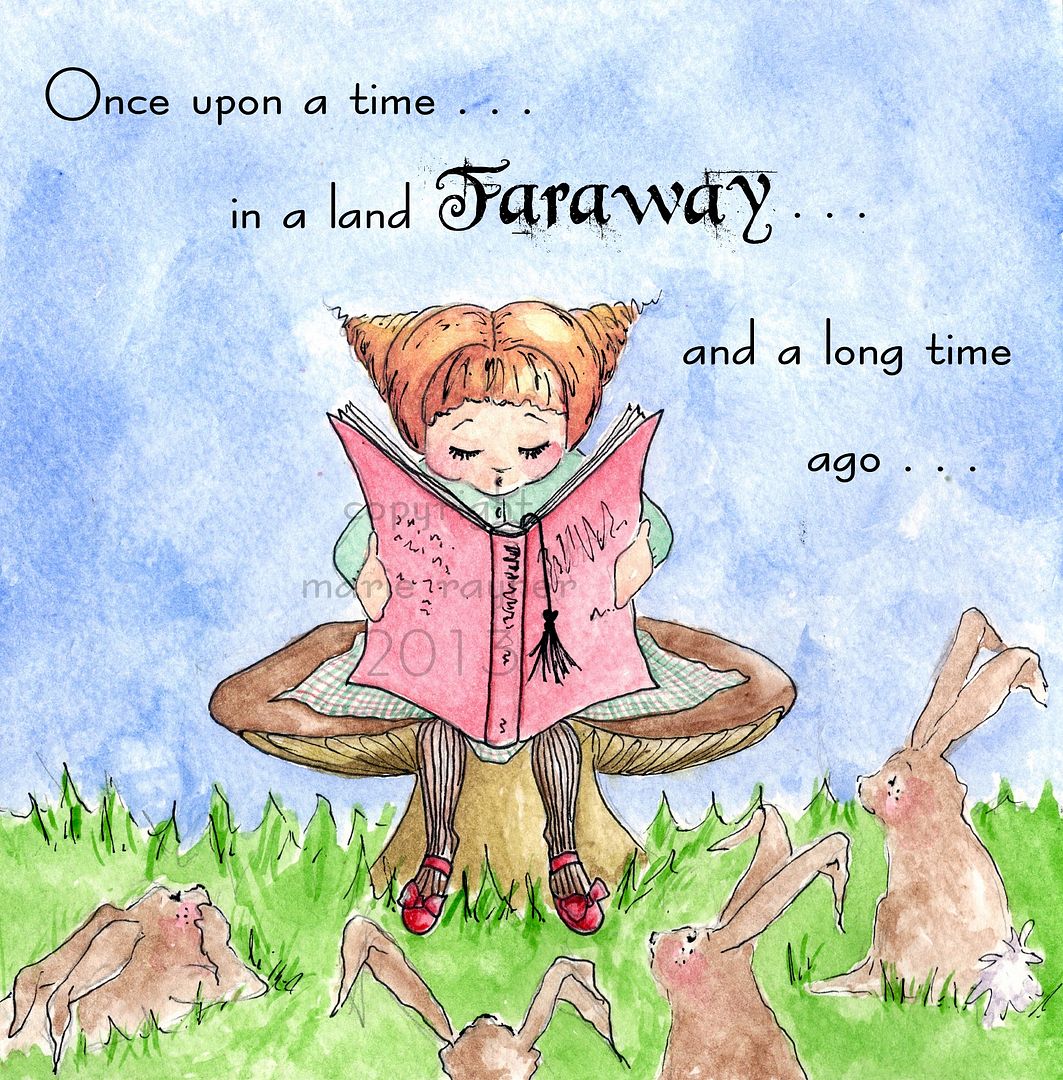 (One of my old illustrations from last year)
It's very overcast this morning . . . I don't know if it will burn off and the sun will pop out or not. It is the perfect reading day. I have not had one of those in a very long time. These days reading puts me to sleep . . .
When I was a child, however, reading was how I spent a lot of my summers. I do believe that I visited the library almost every day in the summer . . . unless it was absolutely pouring of rain . . . and even then sometimes I would hazard a visit to the library. Especially if I had run out of reading material. If I had run out of reading material, and it was bucketing down . . . I read the encyclopedia. Yes . . . I
was
a weird duck!
I read fiction. I read the classics. I read comic books. I read my mother's True Story magazines. I read the Star Weekly. I read the Bible. I read every printed word that I could get my hands on. In fact . . . when I think back on it, reading might be too mild of a word to use . . . I devoured and "feasted" on every printed word . . .
We did not watch television much in our house during the day time. The radio was often on, but the telly was only ever very rarely on. In fact we didn't even own a television until I was about five years old. Even now I do not like to watch it in the daytime if I can help it. It is only on a very rare occasion that I will. I am usually far too busy doing other things.
One year, as soon as school was finished for the year . . . I took my leftover scribblers and devised myself a study schedule for the summer, using our encyclopedia as a guide. I was going to study something from those volumes of wisdom every day during the summer months . . . and I did. I took notes too. I wish I still had those notebooks. I could tell you were everything was in that encyclopedia, and I can still remember how it smelled . . . like paper and leather . . . and ink. I was not so fond of the mathematical parts . . . or the chemistry bits . . . but I loved pretty much everything else.
Oh . . . and the classics. Walt Whitman's "Leaves of Grass." "The Scarlet Letter" by Nathaniel Hawthorne . . . "Moby Dick" . . . "Gulliver's Travels" . . . "Wuthering Heights" . . . Orwell's "Nineteen Eighty Four."
I read them all and more.
And I still had plenty of time for play and other things. Oh the adventures I went on through the pages of those books. Todd still spends much of his day reading. I don't. I only read at night for the most part nowadays. It puts me to sleep to sit still for very long. Todd says I get up too early in the morning. I can't help myself . . . if I am awake, I have to be up and about my business. I cannot bear to waste one scrap of the day, although I do seem to waste a fair amount of it trolling Pinterest or colouring, etc. But then, a bit of fun never hurt anyone I don't think.
Can you believe that Todd took some books to the charity shop the other day and was told that they no longer take books? Apparently they can't get rid of them. For shame . . . for shame . . .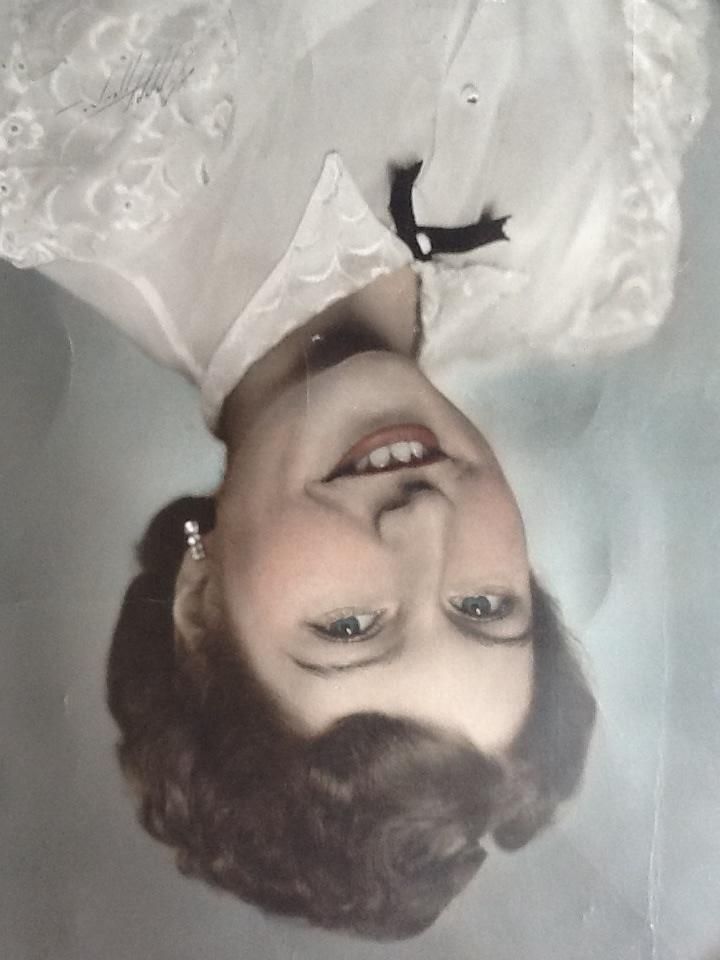 My beautiful mother turns 82 today. I will be calling her this afternoon. I missed being able to call her on Sunday this week because of the great summer storm of 2014 . . . Arthur. I am really looking forward to speaking to her. My sister's birthday was on Sunday. It was not much of a birthday for her I don't think with the power out and the storm and all . . . but my father did take them all out for a Chinese meal to the only Chinese restaurant in the area which had power . . . and today he is gifting them with an ice cream cake for the pair of them.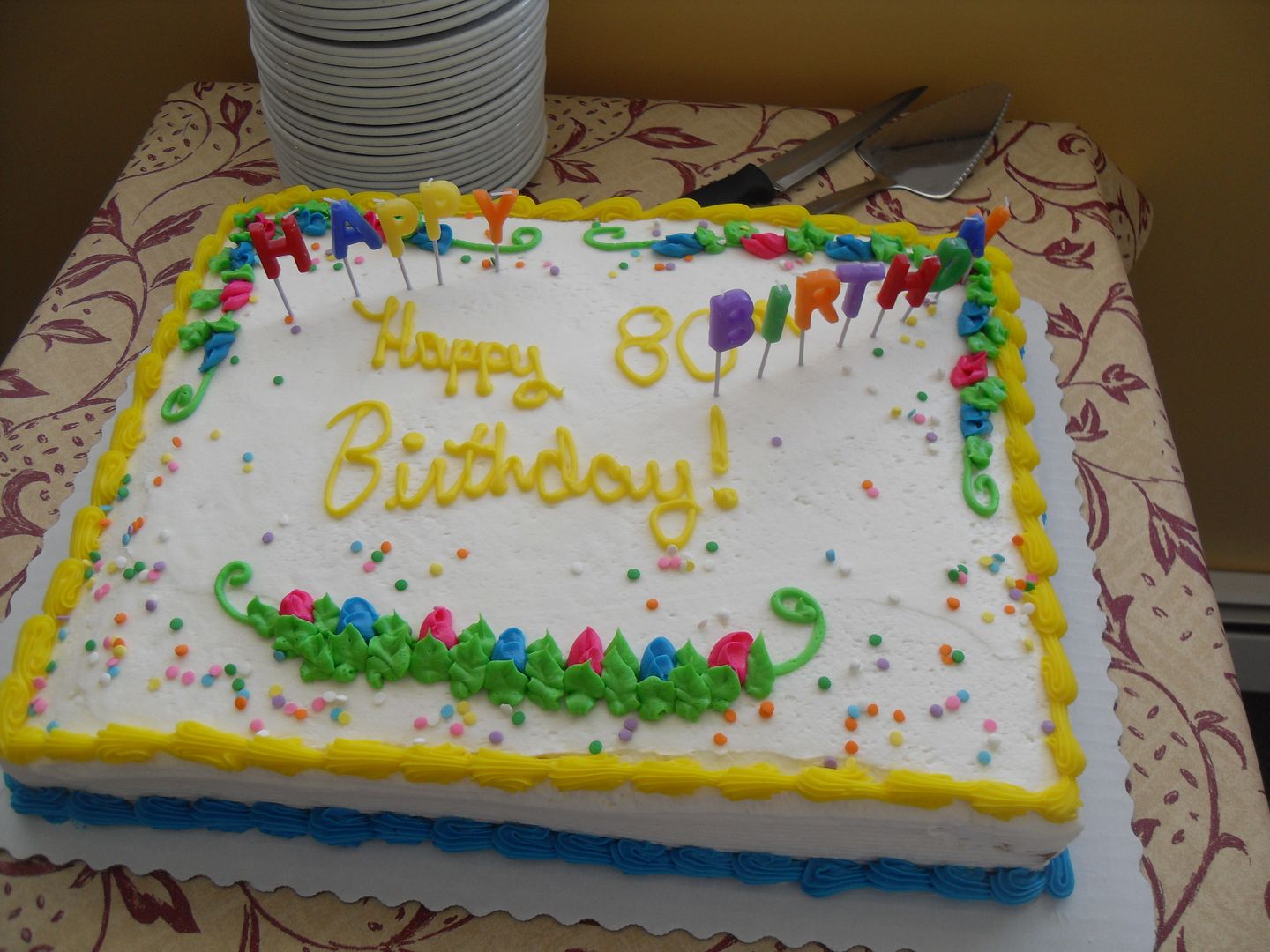 It's hard to believe that it has been two whole years since Eileen's wedding and our celebration of Mom's 80th at the Big Scoop in Wilmot. I think that was the last time all of my children and grandchildren were together, along with many cousins etc.. Even my ex husband and his wife were at the celebration. My mother counted more than twenty five people were there. It was a great day. The only ones missing were my sister and my father. Now this year the only ones missing are my brother and I.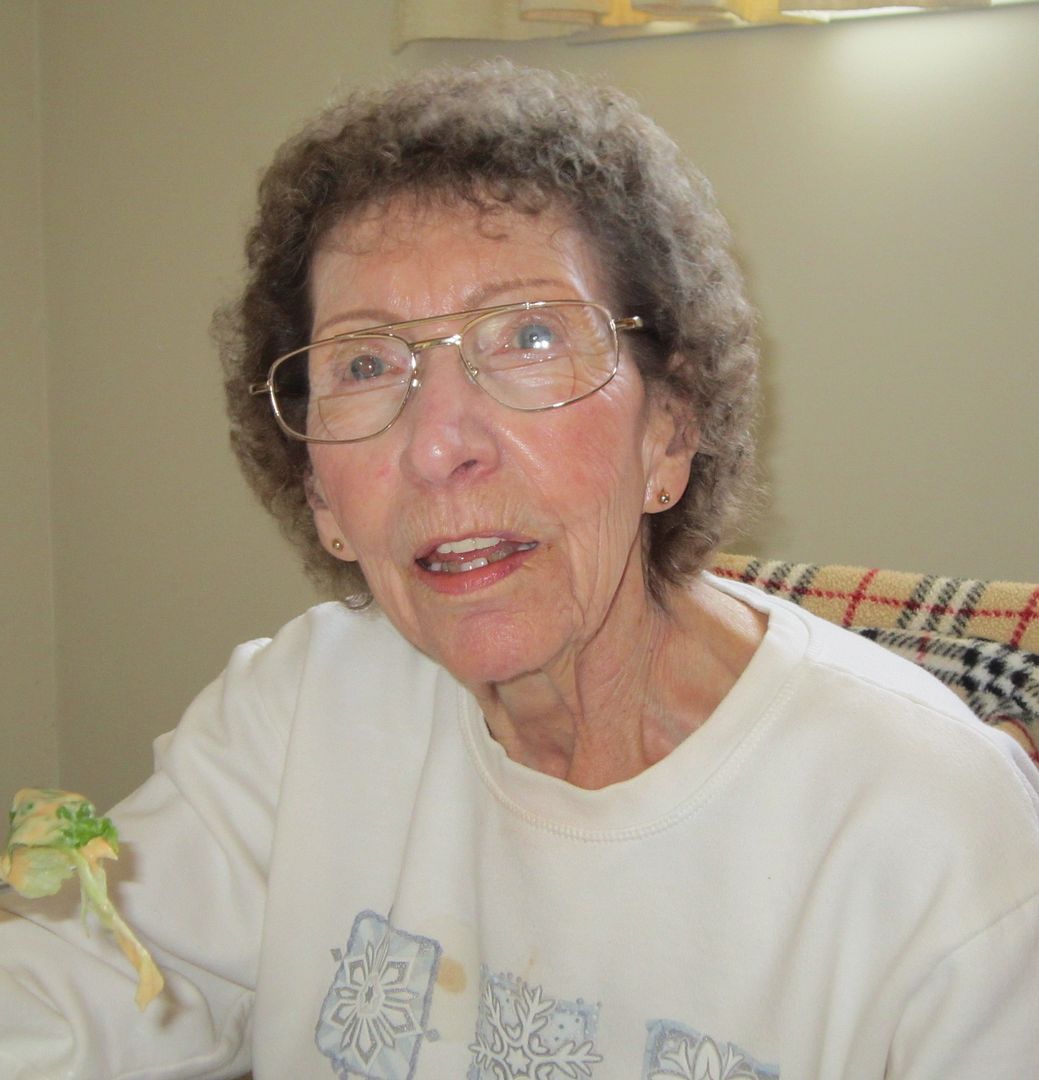 One year, God willing we will all be there to help her celebrate In the meantime . . .
Happy Birthday Mom!
We went out yesterday morning to try to find a single wardrobe and desk for the student's room and came back empty handed. We couldn't find anything. We only have a four weeks to go and all has to be in place. I sure hope that we are able to find them second hand. We don't have much money to spend. Keep your fingers crossed for us!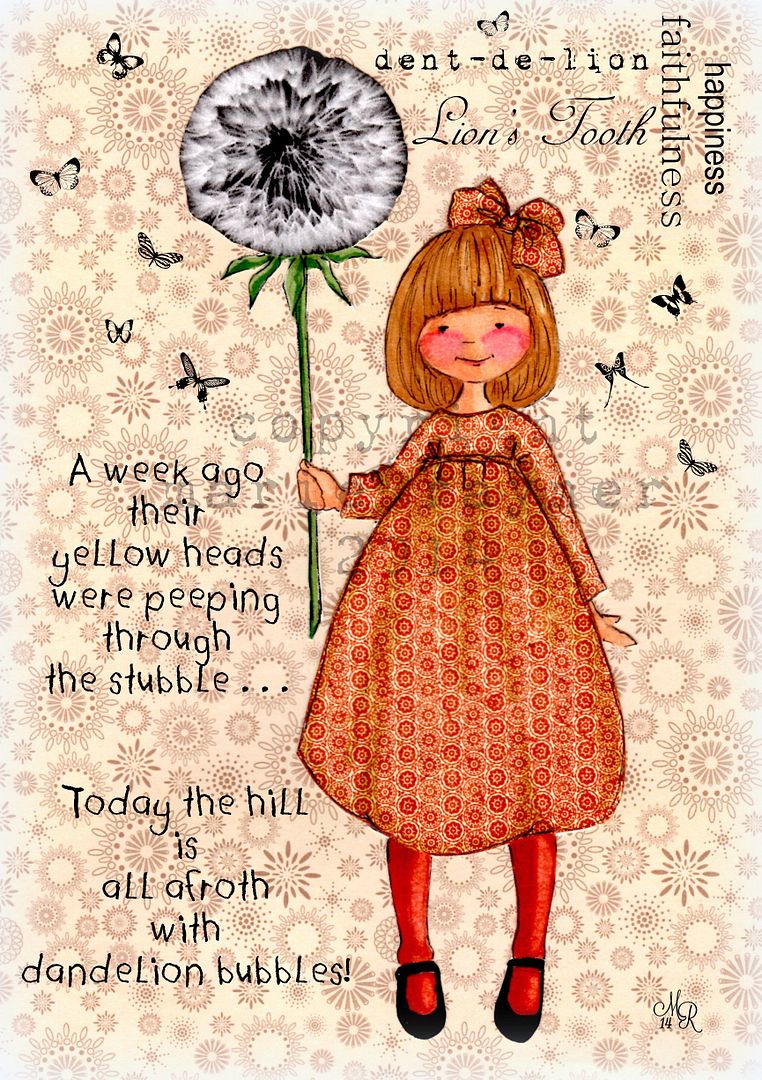 When we got home the day was mostly spent and so I decided that I would do a bit of drawing with what was left of it and this is what I came up with. I think I might do a whole series of "flower-girls." I quite like her. What do you think?
I have bored you long enough so will leave you with a thought for today . . .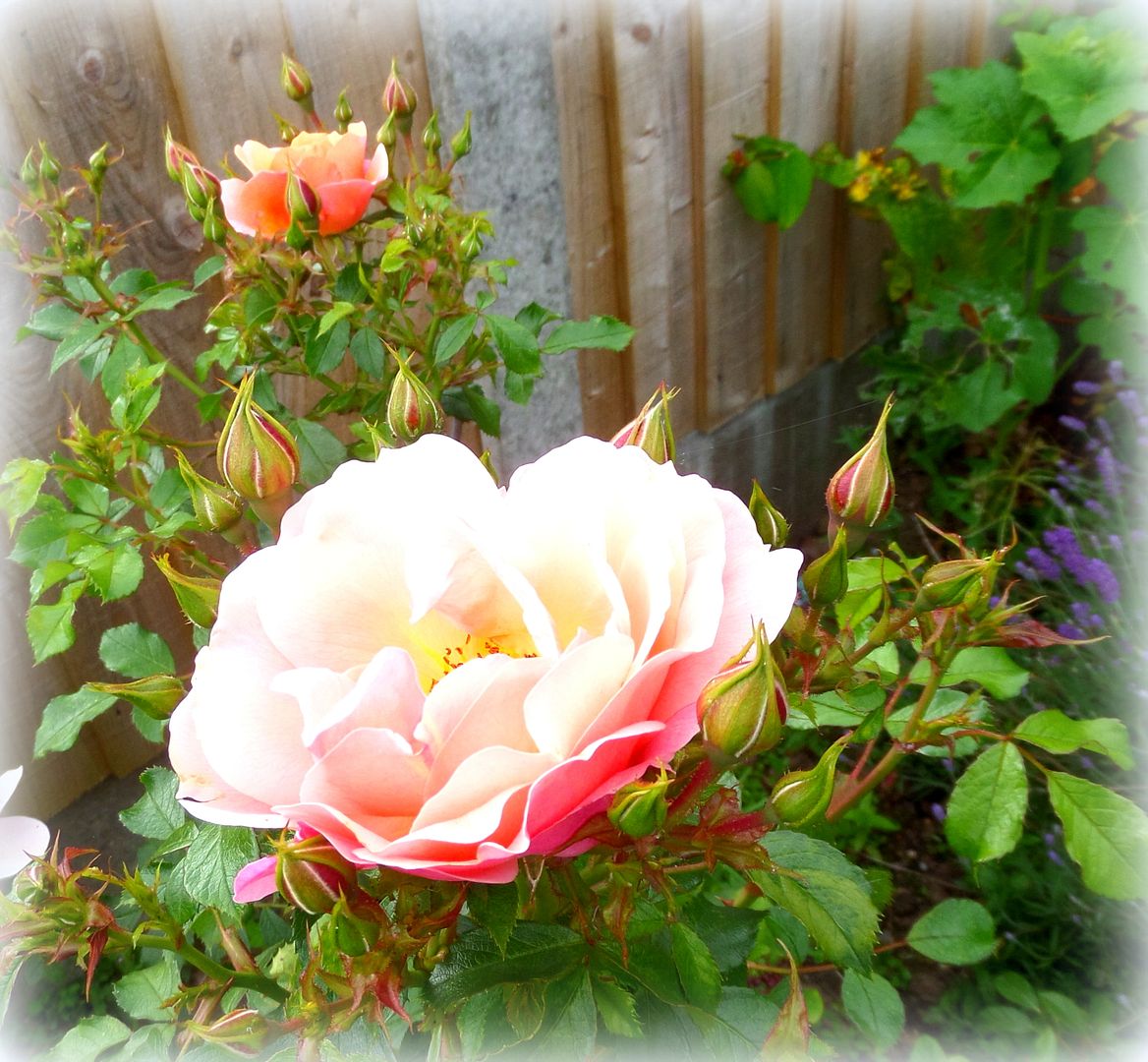 "I'd rather have roses on my table . . . than diamonds on my neck."
~Emma Goldman
Now that is a pleasant thought . . .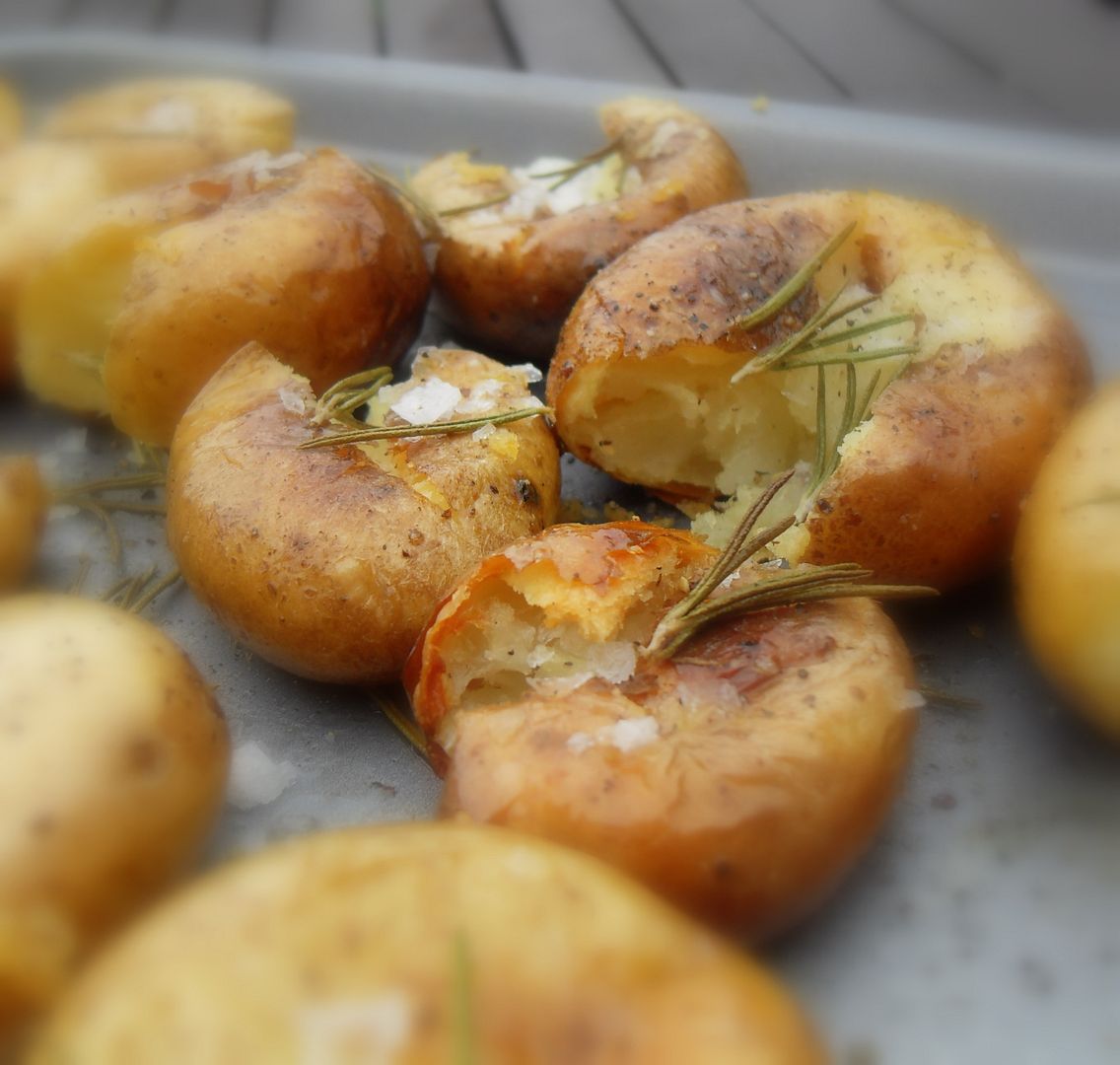 Cooking in The English Kitchen today . . .
Smashed Roasted New Potatoes
. Simply delish.
═══════════ ღೋƸ̵̡Ӝ̵̨̄Ʒღೋ ═══════════ ⊰✿░L░O░V░E⊰✿⊰✿⊰✿⊰✿⊰✿⊰░Y░O░U░⊰✿
═══════════ ღೋƸ̵̡Ӝ̵̨̄Ʒღೋ ═══════════
Have a lovely Wednesday! (Can't believe that the week is half over already! How does that happen??)
PS - I called yesterday to see if the results were back yet from my thumb x-ray and was told I must wait until at least two weeks have passed. At the hospital they told me seven to ten days. I wish they would make up their minds!