There is
pleasure
in the
wet
, wet clay,
When
the artist's
hand
is potting it.
There is
pleasure
in the
wet
, wet lay,
When
the
poet's
pad is blotting it.
There is pleasure in the
shine
of your
picture
on the line
At the
Royal
Acade-
my
But the pleasure
felt
in these is as
chalk
to
Cheddar Cheese
When it
comes
to a well made
Lie,
To a quite
unwreckable
Lie,
To a
most
impeccable Lie;
To a water-tight,
fire-proof
, angle-iron,
Sunk-hinge
, time-lock,
steel-faced
Lie:
Not a
private hansom
Lie,
But a
pair-and-brougham
Lie,
Not a
little-place-at-Tooting
, but a
country
-house-with-shooting
And a ring-fence-
deer
-park Lie.
~Rudyard Kipling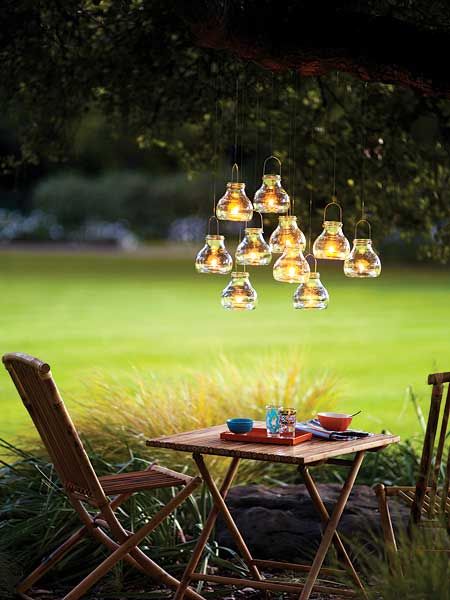 Oh my . . . that Rudyard Kipling has really made me think this morning. I can undertstand the pleasure that a Potter might feel as they put their hands to the clay . . . and the writer to the pen, and I know only too well the pleasure an artist feels when they put their brush to paper . . . but the pleasure one might get from a lie??? That is a bit different. If I were to tell a real whopper, such as the one he appears to be describing here, I think I would live the rest of my life in fear of being found out!! I don't think I would gather much pleasure from it as the fear would be overwhelming . . . but that's just me!
I know, Poetry Saturday a day early. Tis because we went on a lovely jaunt yesterday and I want to go through the photos before I can talk and post about it! You're in for a real treat tomorrow! I still have the Erddig photos to do as well! Here's a hint about yesterday though . . . it involves a very old chapel and a wood.
And now for some totally heart melting cuteness . . .
This is our little Maryn trying on her new headband. Isn't she a sweetheart? Or am I just a doting grandmother?
And here is something that I found quite, quite interesting!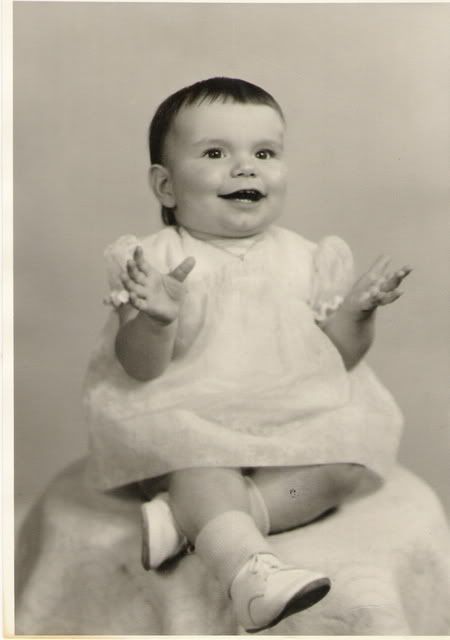 This is me at the same age. Can you see it? Or am I imagining the close family resemblance. Perhaps I am only seeing what I want to see??
We are off to take Mitzie to the dog groomers this morning and then I have a very special piece my fingers are just itching to work on, so I must off here now and get busy. I wish you all a very blessed and happy Friday, the last day in September for 2011. May your day be truly filled with lots of little pockets of joy!
I'll start it off for you with a little taster of chocolate and strawberries . . . yes, believe it or not there are still some British Strawberries to be had! I know, I found that quite amazing as well, when I discovered them the other day. They were from Hampshire. Enjoy!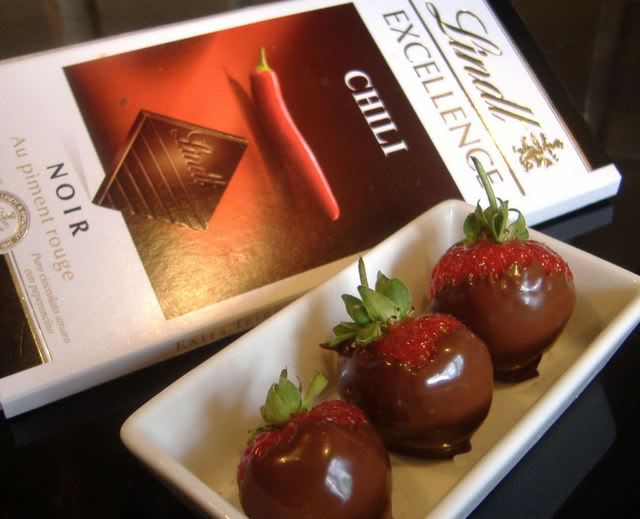 *Chili Chocolate Dipped Strawberries*
Serves 4
Printable Recipe
I suppose you could use plain dark chocolate for these, milk chocolate, or even white chocolate, but chili chocolate, well . . . you just died and went to heaven . . . simple, easy, delectable. Remember of course that you will have to eat all of these on the day that you make them. They aren't good keepers. However that should not be a problem as I cannot forsee anyone having any of these any longer than a day!
1 punnet of fresh strawberries (about 1 1/2 cups)
100g bar of Lindt Chili Chocolate (A scant 4 ounces)
Make sure your strawberries are clean, blemish free and completely dry and free of any surface moisture. Break the chili chocolate into small pieces and place in a microwaveable bowl. Zap on high for 30 second intervals, taking out and stirring it each time until it is completely smooth and melted.
Line a baking tray with greaseproof paper and set aside.
Take the strawberries and holding them by the stems dip them into the melted chocolate, swirling them and coating them to your desired amount, holding them over the bowl for a few seconds for the excess to drip off before placing them onto the lined baking tray to set and harden. Repeat with all the berries. Let sit until completely hard before tucking in and enjoying! I don't advise refrigerating them as it will make the chocolate go dull.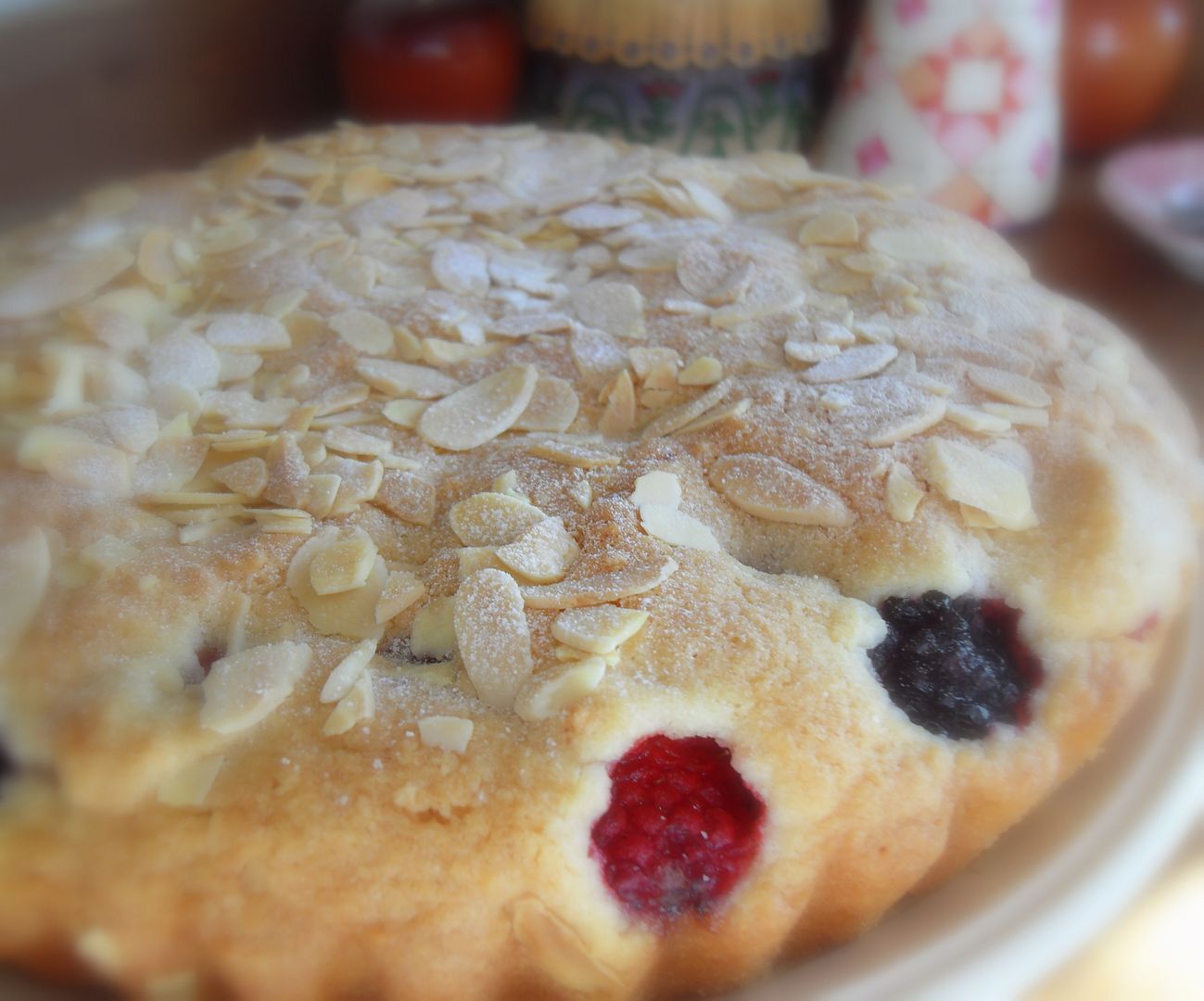 In
The English Kitchen
today a delicious Autumn Berry & Almond Cake.