Welcome to the Tuesday, October 14th, 2008 Edition of
Tuesdays With Dorie
. Yes, it's that fantastic online baking group who get together once a week and all bake the same recipe from that same glorious book . . .
Baking, from my home to yours
. . . by the creme de la creme baker of all time,
Ms Dorie Greenspan
. Whew! (that was a mouthful!)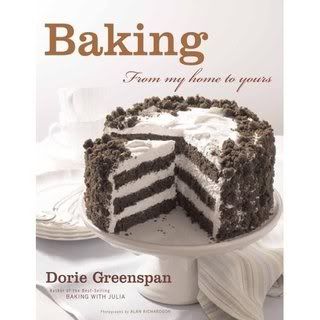 This weeks recipe was Lenox Almond Biscotti on page 141-143 as chosen by Gretchen of
Canela & Comino
. Thanks so much Gretchen! I was so excited when I saw that you had chosen this recipe!!
I love, Love, LOVE biscotti! Back in the old days, when I lived in Canada, and was married to my ex, we often used to go to Toronto to visit his sister at her luxury apartment on Young Street right in the downtown area. It was exciting and in a very classy building. They had their own private gym and pool and it was the same building that the famous Canadian Newscaster Keith Morrison lived in. (Yes, I
was
easily impressed!) One weekend, we even got to stay there by ourselves, which was quite special and almost like a honeymoon, which was somethng we had never had.
Right on the first floor of the apartment building was a coffee shop and they had the most wonderful cakes and cookies on offer, all at a very premium price of course! One time when we were there, my ex told me to choose one of the cookies to have with my coffee. I was so excited!!! There were so many kinds to choose from, and I almost could not make up my mind. I finally chose a biscotti and let me tell you I fell in love right then and there. It was wonderful . . . all crunchy and sweet, full of toasted almonds and a beautiful anise flavour, and, well, just delicious!
Since then, I have made biscotti at home many times, but, for all the different recipes and varieties I have made, not one of them has ever come up to the memory of that very first one I had at that Toronto Coffee shop all those years ago . . .
When I looked at Dorie's recipe and saw her ideas for variety I got really excited. From the outset I thought to myself . . . Hermit Biscotti . . . slender crisp biscotti full of the lovely flavours of hermit cookies . . . all spicy and studded with raisins and nuts . . . Sounds pretty wonderful eh?
Todd and I both love Hermit cookies and this was something I knew we would both enjoy, or so I thought . . .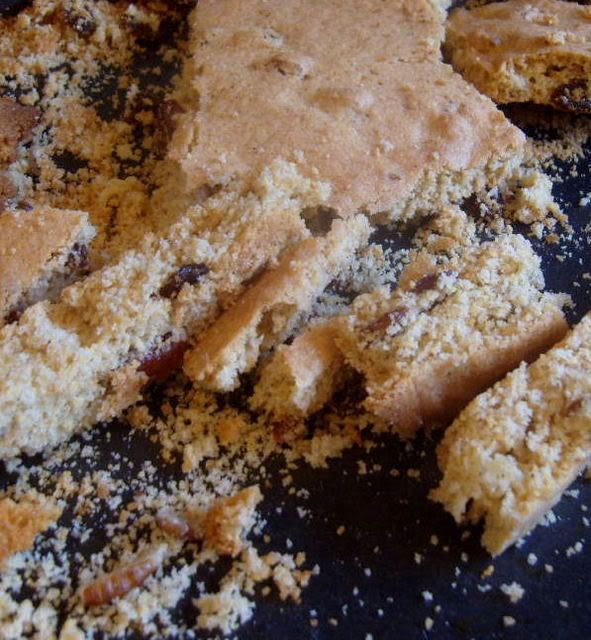 Well . . . if you are thinking that this doesn't look like biscotti, you are correct. This is what I got instead. A huge pile of crumbs. It's my fault, really. I had run out of baking parchment and so thought that if I greased the pan really, really well there would be no problem. That was my first mistake. I must have also made a mistake with the dough though, because . . . when I took them out of the oven . . . the dough had spread out to completely fill the pan . . . with both logs touching each other in the middle. I tried to lift them off of the cookie sheet to cool and they started to crack, so I thought I better wait until they cooled completely to move them. Once cooled, when I did try to remove them . . . they crumbled into a mass of crumbs. Gretchen and Dorie . . . the birds thank you!!!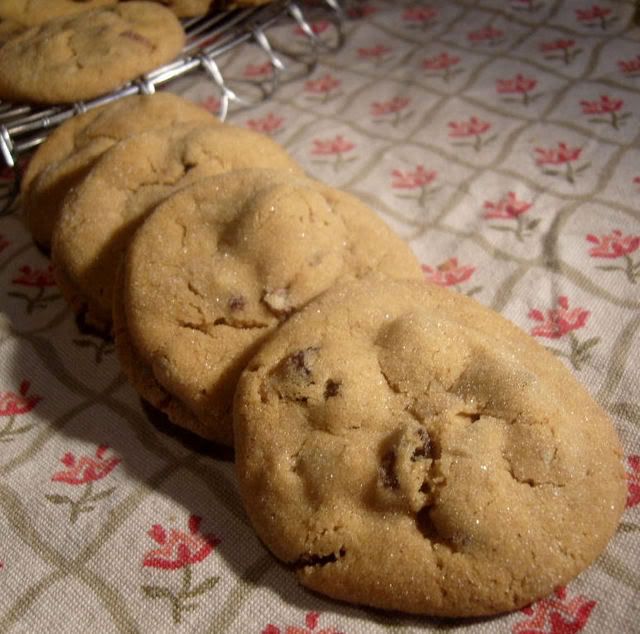 I was so disappointed. Todd was so disappointed. These had smelled so gorgeous when they were baking, we had both been drooling in anticipation. I decided to make some Hermit Cookies then and there to help make up for it, and s,o here today, instead of biscotti you are getting Hermit Cookies. I hope y'all don't mind. I will make the biscotti recipe again one day, and properly the next time, using parchment paper, but for now, we are eating Hermit Cookies . . . to help sooth the disappointment, you know how it goes.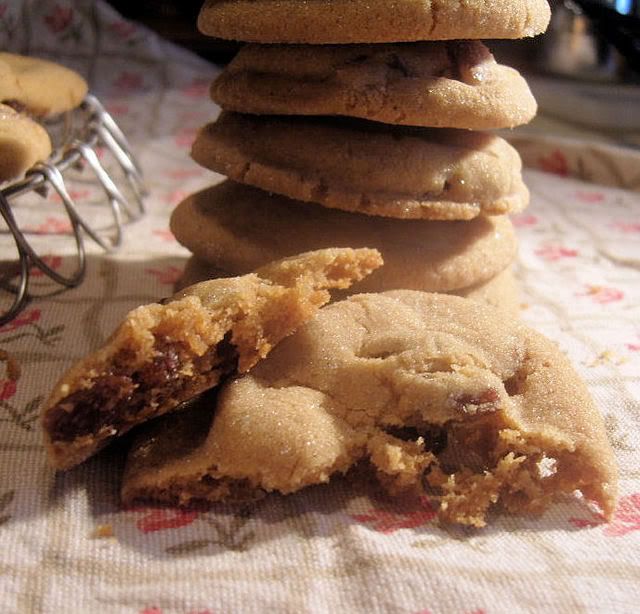 If you want to see some really delicious looking examples of Dorie's biscotti, please feel free to hop on over to the
Tuesdays With Dorie Blog Roll
and of course the recipe can be found on
Gretchen's page
!
In the meantime, here's my Hermit Cookie Recipe . . . Enjoy!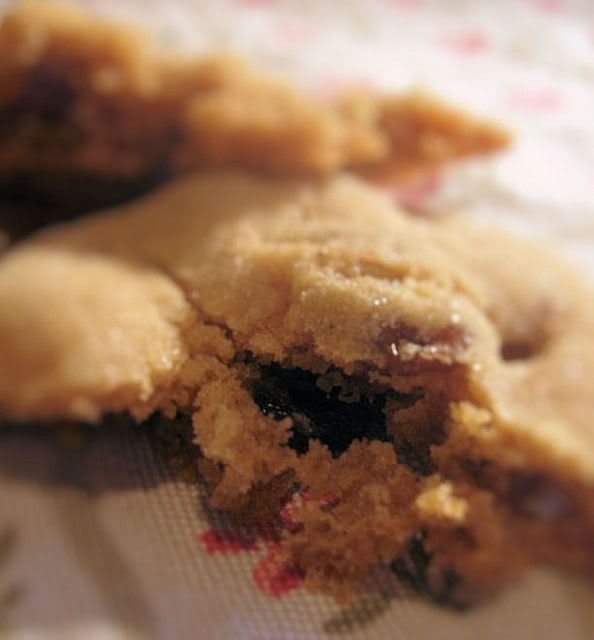 *Hermit Cookies*
Makes approx. 2 dozen
This version of the traditional Hermit Cookie is a bit different. These are rolled in sugar before baking. Crisp on the outside, chewy on the inside and chock full of spice, raisins and nuts, these please on many levels. It's Todd's favourite cookie!
2 1/4 cups self rising flour
1 tsp cinnamon
1 tsp ground ginger
1/2 tsp ground cloves
1/2 tsp ground nutmeg
1/2 tsp salt
1 cup raisins
1 cup chopped nuts
(pecans or walnuts. I like to toast them first)
1 cup sugar
3/4 cup butter or margarine, softened
1 large egg
1/4 cup molasses
more sugar for rolling
Pre-heat the oven to 160*C/325*F. Grease a baking sheet and set aside. Place about 1/4 cup of sugar into a small bowl and set aside.
Sift the flour, cinnamon, ginger, cloves, nutmeg and salt into a bowl. Set aside.
Cream together the butter and sugar until light and fluffy. Beat in the egg. Beat in the molasses. Stir in the flour mixture, mixing it in well. Stir in the raisins and walnuts.
Scoop out tablespoons of the dough and shape into 1 inch balls. Drop each ball into the bowl of sugar and roll around to coat. Arrange on the greased cookie sheet, leaving about 2 inches between each one.
Bake for 12 to 15 minutes until lightly browned on the bottom and slightly cracked looking on top. Remove from the oven and allow to cool on the baking sheet for several minutes before removing to a wire rack to finish cooling. Repeat with the remaining dough until it's all gone.
Enjoy with a nice glass of cold milk. Store in a tightly covered container.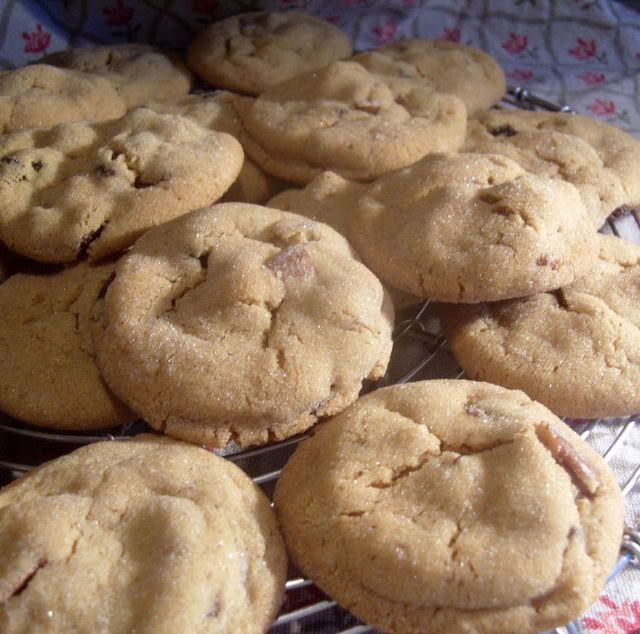 Next week, for October 21st, Kelly of
Sounding My Barbaric Gulp
has chosen, Pumpkin Muffins on page 13. Very seasonal!!!