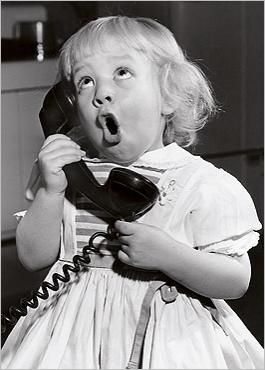 The television news stations have been filled with everything that has been going on in France with the terrorist activities over these past few days. It was a forgone conclusion that there would be no happy ending to all of this. It breaks my heart to see the kinds of things which happen in the world in the name of God. That God is very foreign to me. That is not my God. My God is kind, loving, just and merciful. I am not so naieve as to think this sort of thing is new. Thousands and thousands of Muslims were killed at the hands of Christians during the Crusades. That was wrong too. I don't understand this type of bigotry and hatred. It is all alien to me.
People would argue that radicalism doesn't do any favours to Islam, but I would counter that it doesn't do
any
favours to
any
religion or faith. There are people out there that paint
all
believers in Diety with the same brush and when things like this happen, it only strengthens
their
resolve to believe in nothing.
I would point out however that it isn't God doing the killing and the arguing etc. It is man. God cannot be blamed for what people choose to do in His name. That's all down to us. We have the agency to do as we wish here on this earth. We make wise choices. We make poor choices. WE. MAKE. CHOICES. Sometimes good people get in the way of the choices that bad people make.
It's not what happens that counts . . . it's how we deal with it that matters most. When we see bad things happening in the name of whatever God, or religion or cause . . . GOOD people need to stand up and be counted and say it's wrong, and we REFUSE to stand by and watch it continue. Good people come in every race, colour, faith, sex and walk of life. Good people doing nothing is what enabled the Nazi's to kill millions of Jews in WW2 for example. Good people cannot continue to stand by for whatever reasons . . . fear etc. . . . and do NOTHING. We must speak out and be counted, and yes . . . if need be . . . act to protect the innocent.
That is what God wants us to do. God is LOVE. End of. We are all His children. Christian, Jew, Muslim, Budhist, Athiest, etc. The Insanity must stop. His heart must break.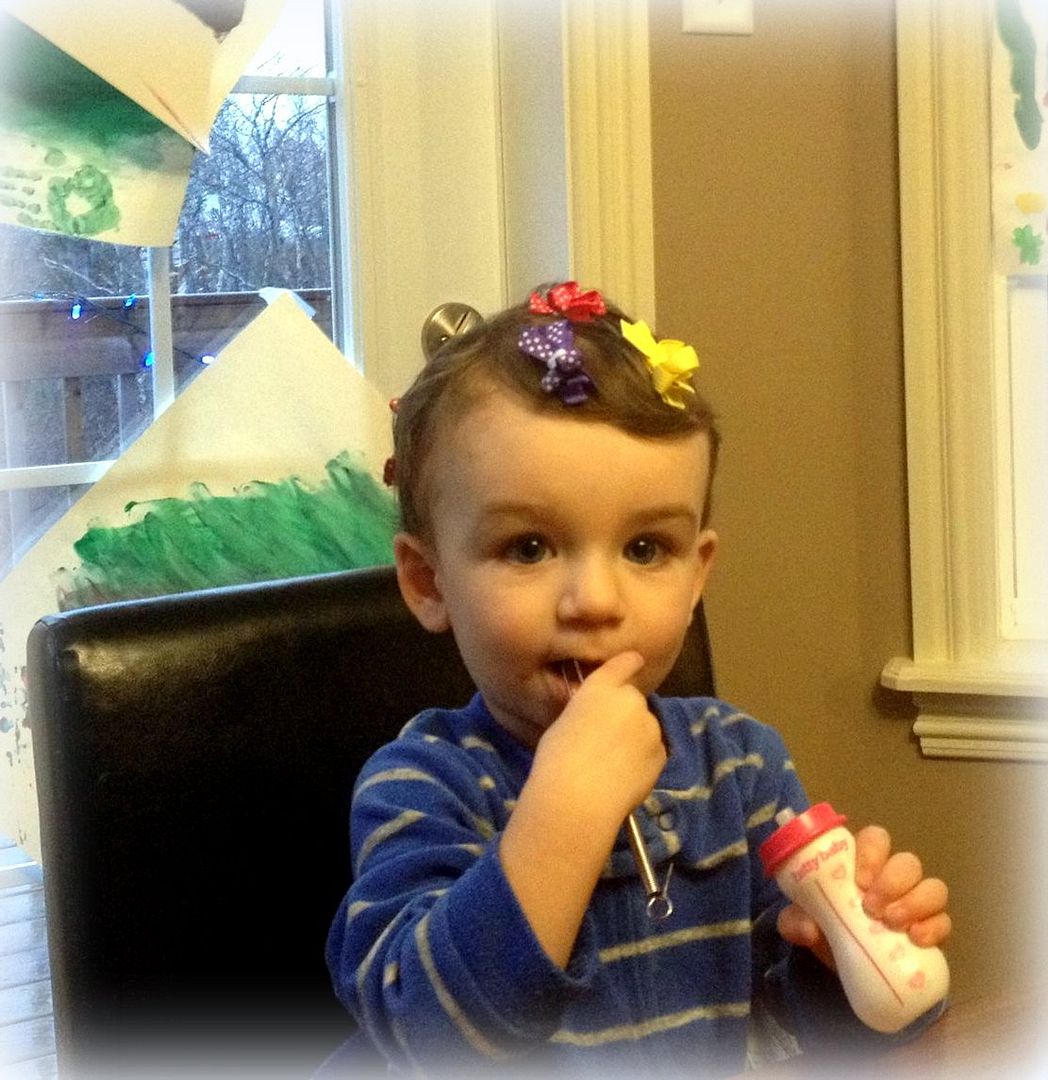 I can remember dressing my baby brother up in dresses when we were all small. He never minded. He was always happy to comply. I suspect he was only happy to be included in whatever game my sister and I were playing. Such things never change. They are eternal. Cameron was at the end of Maryn's beauty treatments yesterday as she prettified him up with hair accoutrements. Not Christmas photos, but a photo to be enjoyed nonetheless.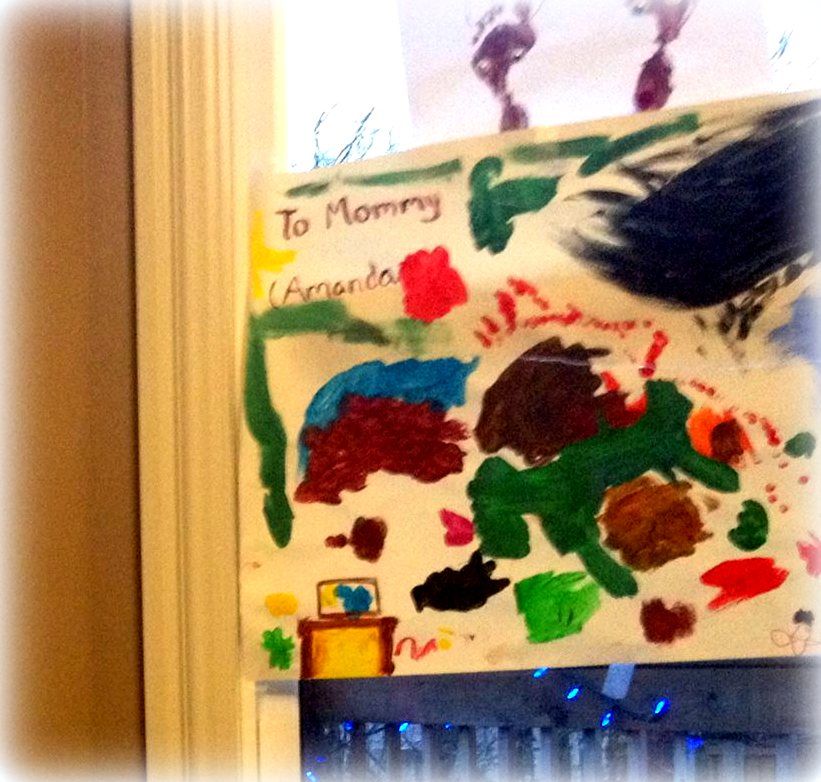 It does my heart good to see walls decorated with the artwork of big sister Maryn. I can recognize a few things there, although I could be wrong. I think I see a dog and a television on a table. Could that be Baxter? It just may be. And I love the bare feet in the picture above. Not sure whose they are, but I'll take it.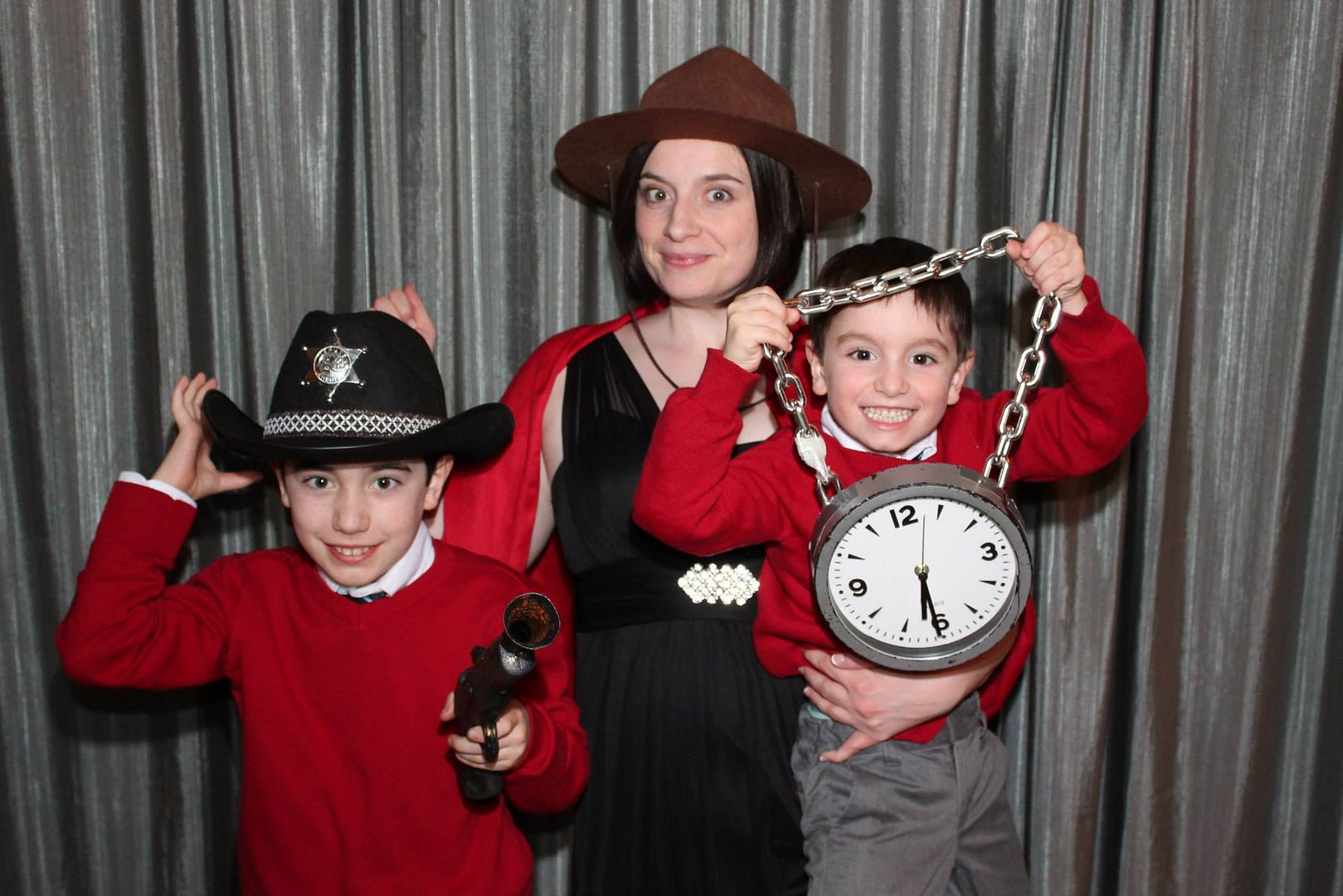 I love this beautiful photograph that I scooped of my DIL Anne with my grandsons Gabriel and Luke. It's nice to see those happy smiles. They had such a bad year in 2014. I am praying and hoping that 2015 is much kinder and gentler on them all.
"Forever is Composed of Nows." ~Emily Dickenson
I was finally able to get the scanner working. My latest piece. Not sure how I feel about it. Todd really likes it. Sometimes I feel like I am losing my mojo creatively. I get discouraged sometimes. Maybe it is the same with any creative person. I don't know. But I keep reminding myself of my word for the year. Possibility.
Nothing is possible if you don't stick with it.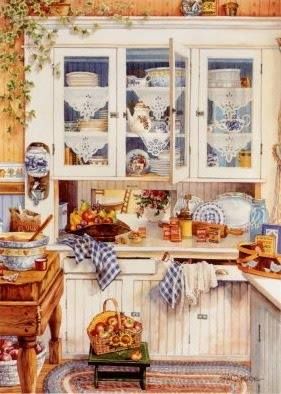 Had a lovely facetime with my son Doug and his son Jacob yesterday. The other two boys were in school. I am grateful for a son who takes the time to make the time to spend with me in this way. I don't know if he knows it or not, but it means the world to me.
Gratful this morning to wake up in the UK and not the land of Oz. We have had horrendous winds through the night and they continue this morning. I expect there will be a lot of repairs needed to the back garden and it remains to be seen if the roof to our shed is still there. Daylight will tell the story.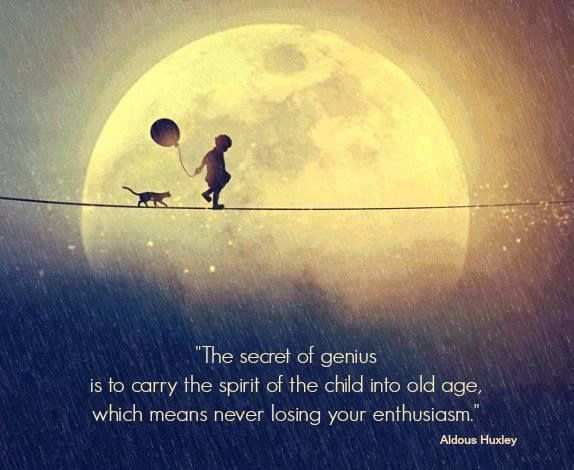 We were both really excited last night to discover how we could access Netflix on our television using our dvd/surround sound system. We've always been using the HTML cable to hook up the laptop to the television to watch conference, films etc. Last night a light bulb went on and I said to Todd why is the HTML cable hooked to the DVD player when we aren't using it. That must mean that we can access the internet with the DVD player and so we spent a little bit of time exploring our options and lo and behold! We've been doing it wrong all this time! Things could have been so much easier. WE may be old and grey, but we actually "get it" eventually! Yay!
And with that I will leave you with a thought for today . . .
❥✻❥.¸¸.✿¨¯`❥✻❥¸¸.✿¨¯`❥✻❥.¸¸.✿¨¯`❥✻❥
Courage doesn't always roar.
Sometimes courage
is the quiet voice at the end of the day saying,
"I will try again tomorrow."
~Mary Anne Radmacher
❥✻❥.¸¸.✿¨¯`❥✻❥¸¸.✿¨¯`❥✻❥.¸¸.✿¨¯`❥✻❥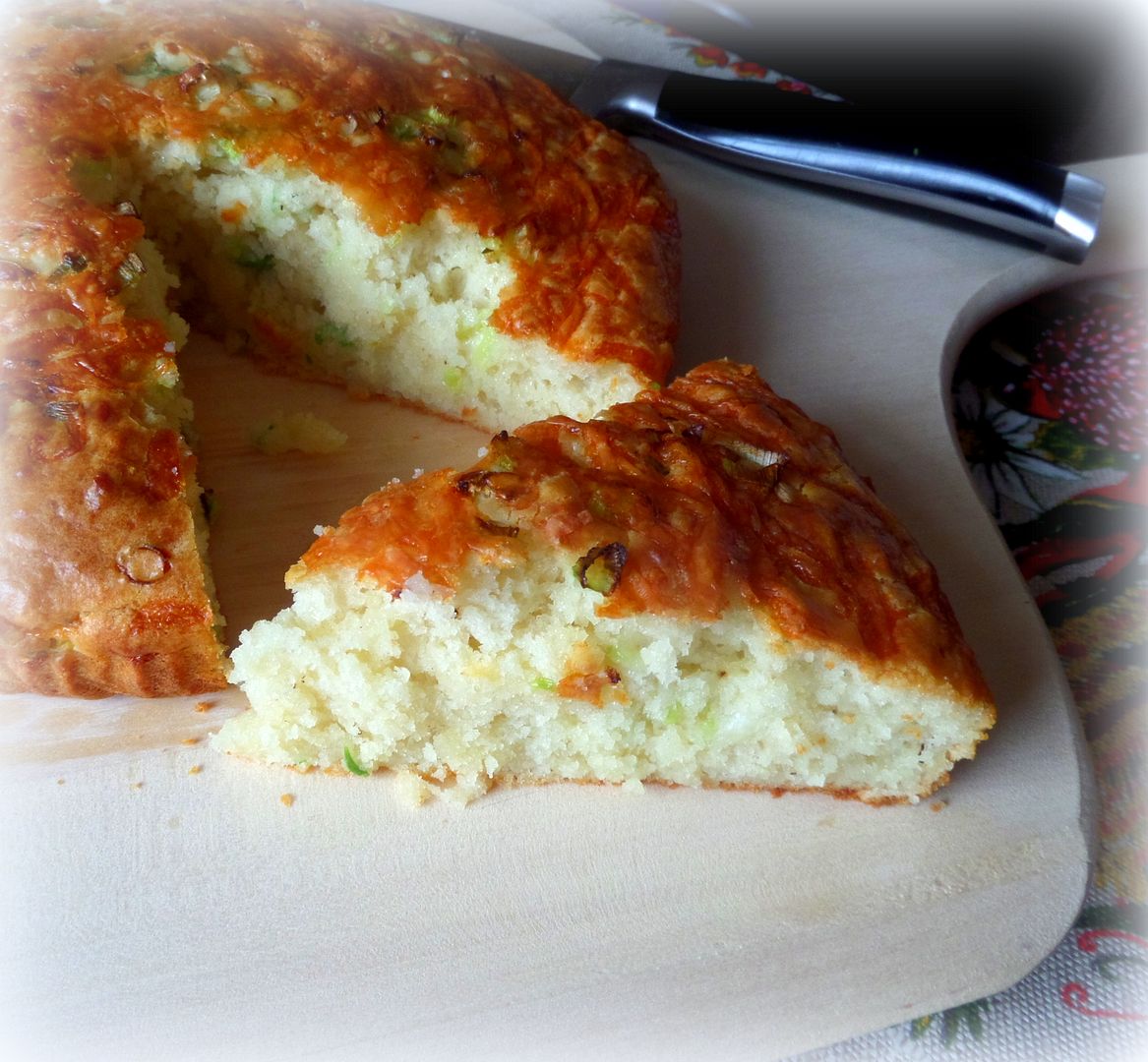 Cooking in The English Kitchen today . . .
Cheese and Onion Muffin Cake
.
Have a fabulous Saturday! Don't forget . . .
═══════════ ღೋƸ̵̡Ӝ̵̨̄Ʒღೋ ═══════════ ⊰✿░G
░O
░D
⊰✿⊰

L░O░V░E
░S

⊰✿⊰░Y░O░U░⊰✿
═══════════ ღೋƸ̵̡Ӝ̵̨̄Ʒღೋ ═══════════
And I do too!