A few of the wow moments, or things I discover each week that tickle my fancy. I hope that they may inspire or tickle yours too!
When I was a girl my mom had a little crocheted zebra that I always wanted to play with. I was so excited this morning to discover this really cute crochet zebra pattern. From
Janice Cyr
on Revelry. So cute!
Are you wanting to eat a bit healthier this month. These smoothies should help. I love smoothies! 67 smoothie recipes from
Mom on Time Out
. The Pear Ginger Cinnamon Oat is looking pretty good to me!
I am love, LOVING this As we Go stripey crochet blanket. What a great way to use up yarn scraps! So colourful and it would never get boring that's for sure. Found on
Not Your Average Crochet
.
Who knew? I didn't! I am so going to try this. Plus they will smell nice. I love the smell of nail polish remover.
How to have an always clean bathroom by spending only 2 minutes a day on it. How wonderful! I love a clean bathroom, but I hate spending a lot of time on it when I could be doing other things. I am going to be putting this to the test. From
The Complete Guide to Imperfect Homemaking
.
10 Tips for Cleaning with Salt. This is something I always have in my house. So easy to use too! found on
Self Sufficiency Home
.
How to make an emergency room heater to help keep a small room warm in a power cut. This is invaluable. I can remember telling my mom how to do this quite a while ago. We were taught this handy tip at church. You can find out all the directiosn on
Mom Prepares
. All you will need is some tea lights, two clay pots and a loaf dish/pan. Added bonus. You can also heat water or soup on top of the clay pots.
DIY Oil Lamp using a Mason Jar. Complete tutorial for indoors or outdoor use, from
Put It In A Jar
.
This is a brilliant idea for underbed storage. Repurpose old drawers by adding wheel casters on them You can just slide them in and out then. Paint them funky colours etc. Fun and easy to do!
How to make paper fortune cookies, for Chinese New Year Celebrations or your next fun Chinese Food Get-together or party. From
Unsophisticook
. So pretty and such a brilliant idea!
And those are my finds for this week. I hope you found something useful here. I do so enjoy finding these things to share!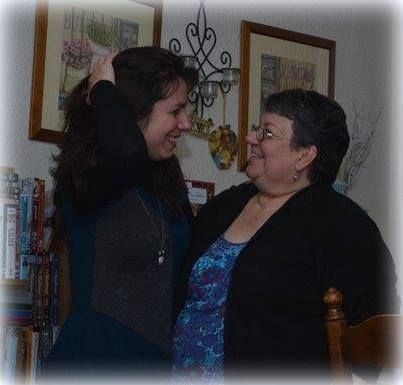 Loving this candid shot (even though I look so fat, lol) taken by Richard of Tatiana and I yesterday when Tatiana and Richard came to spend the day. Why does standing next to skinny people make fat people look even fatter? It's not fair! Yesterday realized a dream come true for two people. My friend Tatiana (from Greece) and I finally got to meet in person and spend some time together. It was so lovely! I was so excited to meet her finally, after about eight years or so of communicating with each other via e-mails, telephone calls etc. We were both so excited and tears were shed as we first laid eyes upon each other and hugged. She is such a sweet girl and the day passed far too quickly. I wish we had had a couple of days together. She is a dear friend, much beloved, so sweet and kind and gentle and lovely with the most beautiful spirit (and face). Gorgeous inside and out. And her English was wonderful. Much, MUCH better than my Greek! We never shut up the whole time. But that was okay because Richard and Todd got along like a house on fire also.
We broke bread over a simple early supper of homemade stew, mashed potatoes, salad, rolls and trifle for dessert. We talked and we talked and we talked and we laughed and we cried and we talked some more. WE are both hoping and wishing that we can do this again sometime. It is too bad Greece is so far away and we are both so poor. We will have to set up skype dates or something. That sounds like a fab plan!
It was the perfect start to my New Year . . . getting to spend it with a good friend who feels like family. Just brilliant! I can't think of any better way to spend a day! Dreams can and DO come true!
A thought to carry with you through today . . .
❥✻❥.¸¸.✿¨¯`❥✻❥¸¸.✿¨¯`❥✻❥.¸¸.✿¨¯`❥✻❥
"One of the secrets of a happy life
is continuous small treats."
~Iris Murdock
❥✻❥.¸¸.✿¨¯`❥✻❥¸¸.✿¨¯`❥✻❥.¸¸.✿¨¯`❥✻❥
Yesterday was surely one of those!
Cooking in The English Kitchen today . . . Marmalade Pudding with a Grand Marnier Custard .
═══════════ ღೋƸ̵̡Ӝ̵̨̄Ʒღೋ ═══════════ ⊰✿░L░O░V░E⊰✿⊰✿⊰✿⊰✿⊰✿⊰░Y░O░U░⊰✿
═══════════ ღೋƸ̵̡Ӝ̵̨̄Ʒღೋ ═══════════
Have a fabulous Friday!