FOR TODAY, August 30th, 2016
Outside my window ...
The sun is well up now. I am a bit later getting started this morning. After having had a week in which I did not sleep very well, last night I finally slept the sleep of the dead, only waking up three times and being able to fall back asleep easily after each. Straight from 9:30 pm until almost 6 am. Wow. Did I ever need that!
I am thinking ...
I hope that I get to play with my calligraphy today . . . I still need to take a picture for you.
In the kitchen ...
A delicious something to do with all those courgettes/zucchini that are available and clogging up our gardens at the moment.
Courgette Gratin
. It's really
really
good!
Easy Chicken Enchilada Skillet, from
Gimme Some Oven
. This looks fabulous! I love Tex Mex. I might have to adapt it a bit but hey ho!
Good to know ...
A sewing machine presser food guide from
Love Sewing
.
I am creating ...
Storage Cube Boxes made from fabric, from
The Sewing Directory.
A book shelf dollhouse. From
Love and Hot Glue
.
Crochet Slouch Hat tutorial from
Sewrella
.
Sewing Kit in a Jar from
Martha Stewart
.
Cute little Knitted Snowmen Ornaments from
Flutter By Patch
. These are soooo cute! I just may have found my grandchildren's Christmas ornie for this year!
This one is pretty cute too! (I know a litte girl who might like this.) A free pattern from
Alan Dart
.
I am reading ...
The Sister
, by Louise Jensen
Grace hasn't been the same since the death of her best friend Charlie. She is haunted by Charlie's last words, and in a bid for answers, opens an old memory box of Charlie's. It soon becomes clear there was a lot she didn't know about her best friend.
When Grace starts a campaign to find Charlie's father, Anna, a girl claiming to be Charlie's sister steps forward. For Grace, finding Anna is like finding a new family, and soon Anna has made herself very comfortable in Grace and boyfriend Dan's home.
But something isn't right. Things disappear, Dan's acting strangely and Grace is sure that someone is following her. Is it all in Grace's mind? Or as she gets closer to discovering the truth about both Charlie and Anna, is Grace in terrible danger?
I do so LOVE a good mystery!
I am looking forward to ...
Maybe going into town and doing some window shopping tomorrow. Todd doesn't get the idea that you can look and not buy. He goes, gets exactly what he wants, and then leaves. I like to browse and liking something doesn't mean that I will buy it. I think perhaps men and women are different in that way. What do you think?
I am learning to ...
Use my new phone. It's a learning curve, but I think I am coming to terms with it!
Dreaming about ...
A pretty roof over the front door . . .
Designer fabrics . . . source
Rebecca Vose Designs
(What can I say, I like pigs)
Flowers on a windowsil . . .
Welcoming Country hall ways . . .
Love this . . . minus the leather couch. I like a fabric couch.
A favourite quote for the day . . .
(¯`v´¯) `*.¸.*´Ƹ̵̡Ӝ̵̨̄Ʒ ¸.
•´¸.•~♥♥♥~•.~ ღϠ₡ღ¸. ✻´´¯`✻.¸¸.Ƹ̴Ӂ̴Ʒ.
( ¸. ❀⁀ ⋱‿✿"` * .¸.* ✻ღϠ₡ ღ¸.✻´´¯`✻.¸¸.Ƹ̴Ӂ̴Ʒ..
No work or love will flourish out of guilt, fear or hollowness of heart,
just as no valid plans for the future can be made by those who have no
capacity for living now.
~Alan Watts
Makes me smile ...
This photo of my son in law Tom, with Maryn when she was a wee baby makes me smile. Tom looks so happy. Tom is the perfect son in law. I don't know him very well, but what I do know of him makes me feel happy. He is a great husband to my daughter and a great father to Maryn and Cameron. He is kind and gentle and he brings out the best in my daughter. He loves the bones off her which is very obvious. Nobody could want more for a daughter of theirs than for them to have a husband like Tom.
One of my favourite things ...
S'mores! I found this kit for them at B&M. We have a fire pit. I am going to drag Todd out there some evening and we will make s'mores! It's a plan.
Corners of my kingdom ...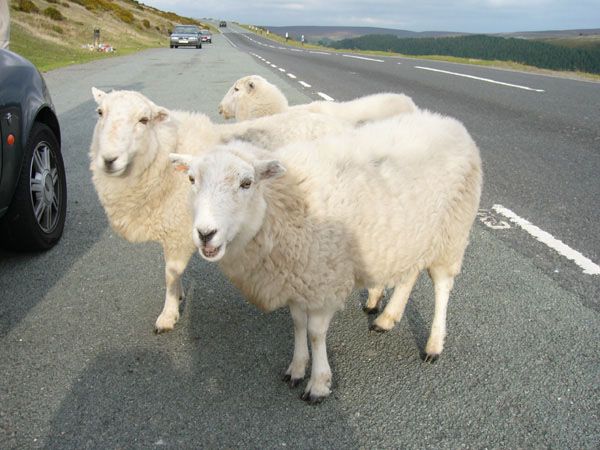 Sheep up at the Horseshoe Pass. They are literally everywhere. So cute.
And that's my daybook for this week!
⋱ ⋮ ⋰
⋯ ◯ ⋯ Take time to enjoy the small *´¯`.¸¸.☆
⋰ ⋮ ⋱ blessings in life.*´¯`.¸¸.☆
✿¸.•*¨`*•..¸✿ ✿¸.•*¨`*•..¸✿ ✿¸.•*¨`*•..¸✿
╬♥═╬╬═♥=╬╬═♥╬╬═♥╬╬═♥=╬╬♥═╬
░░░░░░░░░░░░░ ░░░░░░░░░░░░░
Wherever you go and whatever you do, I hope there's a great day ahead of you! Don't forget!
═══════════ ღೋƸ̵̡Ӝ̵̨̄Ʒღೋ ═══════════ ⊰✿░G░O░D⊰✿⊰L░O░V░E░S⊰✿⊰░Y░O░U░⊰✿
═══════════ ღೋƸ̵̡Ӝ̵̨̄Ʒღೋ ═══════════
And I do too!!