These are a few of my favourite things . . .
I much prefer to wear mittens in the wintertime than I do gloves. I don't know why that is. I had a lovely pair of brown tweedy ones that I had bought off of Etsy, but they seem to have disappeared. I will have to start saving to buy another pair, or else figure out how to knit my own. I once had a pair my mother had knit me. They also disappeared. What is it with mittens disappearing???
Snow which has never been touched . . . pristine and unbroken. Not that we get to see much snow over here anyways. It is a precious commodity! We got nary a flake last year. I do however like to see pristine snow with birdie foot prints in it. They are quite charming.
I have been loving Grace and Frankie on Netflix. It makes Todd cringe however. Its a good thing each episode is only half an hour long or I would have to listen to him grumbling. I let him watch his Shaka (which is an hour long) so I can have peace while I watch this He thinks he doesn't like it, but I catch him watching it out of the corner of my eye. I think it is quite humorous. I am Frankie.
Notebooks and stationary. I love, love, LOVE notebooks and stationary. I prefer my notebooks to be lined however as I cannot draw, write or do anything in a straight line. I can draw circles, squiggles, etc, but not straight lines. I love notebooks and stationary. There I said it again. I should start designing my own stationary. Good stationary is hard to find.
If I had my own line of stationary, all of my envelopes would be lined with pretty tissue paper linings, in pretty florals and designs to match the stationary. The stationary would be printed on one side and plain on the other..
Lined or not as you desired.
Autumn . . . it will soon be upon us. Believe it or not I have seen some leaves changing already. Autumn is my favourite season of all the seasons. Really. The changing colours, the cooler temps, the smell in the air. The sounds, sights, temps, smells . . . I love it all!
Old mirrors . . . and if they are etched and beveled . . . sigh . . . so much the better.
Vintage Baking Tins and the patterns they leave on the bottoms of your cakes and cookies. Somehow cake tastes better if the bottom is patterned with little dimples or swirls . . .
Avocado pears . . . I adore Avocado, and its so good for you as well. Its a super food and filled with healthy fats. I just wish they weren't so expensive.
Vintage Television. I love it all. Bonanza. Leave it to Beaver, I Love Lucy, Father Knows Best, Beverly Hillbillies, Andy Griffith, Donna Reed, The Honeymooners, My Three Sons, Bewitched (before it got all modern) etc. I could watch these types of shows every night and it doesn't matter how corny they are. It was a gentler simpler age. And everyone was a lot kinder.
I

♥

BLOGGING
I love, love blogging. My readers are some of my best friends, and whilst that may seem sad to some, its not really. As invisible as you may be, you all mean the world to me. I feel we connect on a very personal level and I truly care about each one of you and what is going on in your lives. If someone had told me once upon a time that I would feel this way about people I have never met, I don't think I would ever have believed them . . . mind you I couldn't foresee a time when everyone would want to have a computer or have any use for them in the home. DUH! wouldn't be without mine now. We cry together. We laugh together. We
do
care about each other. If someone hasn't posted in a while I worry about them and wonder if they are alright. I was a very shy person before blogging. Blogging has helped me to be braver and more confident. Funny how that works!
And those are my favourite things for this week. What are some of yours???
A thought to carry with you . . .
⊰✿⊰⊰✿⊰⊰✿⊰⊰✿⊰⊰✿⊰⊰✿⊰⊰✿⊰⊰✿⊰
If you must look back, do so forgivingly.
If you must look forward, do so prayerfully.
However, the wisest thing you can do
is be in the present . . . gratefully.
~Maya Angelou
⊰✿⊰⊰✿⊰⊰✿⊰⊰✿⊰⊰✿⊰⊰✿⊰⊰✿⊰⊰✿⊰
Spiritual Enlightenment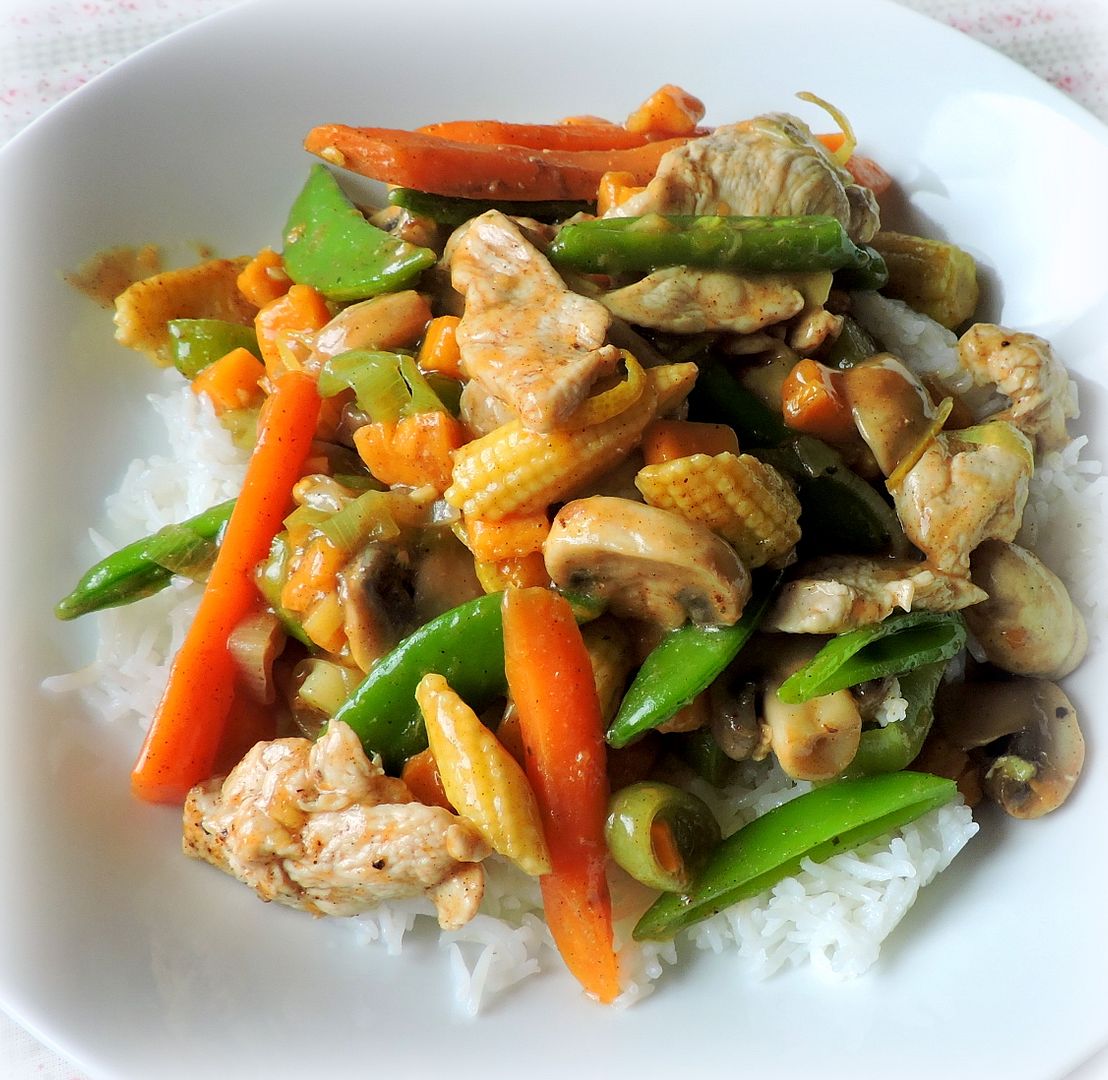 In The English Kitchen today . . .
Cardamon and Lemon Chicken Stir Fry.
I hope that you have a wonderful Thursday! Be happy and be blessed! Don't forget . . .
═══════════ ღೋƸ̵̡Ӝ̵̨̄Ʒღೋ ═══════════ ⊰✿░G░O░D⊰✿⊰L░O░V░E░S⊰✿⊰░Y░O░U░⊰✿
═══════════ ღೋƸ̵̡Ӝ̵̨̄Ʒღೋ ═══════════
And I do too!!