These are a few of my favourite things . . .
The Great British Bake Off. This years competition began last night. I haven't watched it yet. I was very late coming to the table with this show. I only really began watching it in earnest with the last season. Mostly because Todd doesn't like cooking shows. But we were both interested in that one and I was thrilled when Nadiya won! She really deserved it. I had been impressed all along with everything she had done! I wonder who will win this year. That remains to be seen, but I can promise you I won't be posting any spoilers! People always say I should try to go on it. I always tell them, I am too long in the tooth for that kind of thing now and I couldn't handle all the standing around with my arthritis. Nope, like armchair athletics I enjoy this show very much from the comfort of my armchair and its going to stay that way! ☺
Playing in the button box. I love LOVE buttons and the older the better. I could sit and play with them forever. As a child I loved to play with my mother's button box. I would look at all the buttons and imagine where they had been, what they had been worn on, who they had belonged to . . . things like that. Buttons have stories too!
Vintage toys, especially the old tin type ones. I used to love the little tin things which came in a packet of Cracker Jacks, especially the little tin snapper things. I especially loved the toy exhibition at the Victoria and Albert Museum in London. It was fascinating. There were sooooo many things to discover and look at. That is a fabulous museum! You can spend hours in it and still not see everything!
This fabulous Chihuly Chandelier is in the entry hall. It's beautiful. The whole museum is beautiful. Museums in the UK are free to go into, although you may have to pay to view certain exhibitions. When we were at the V&A there was a special fashion exhibition which you had to pay to view.
Hand blown glass. I find it to be very beautiful. There was a time when there were glass blowers in a lot of the shopping malls in Canada, or at least in some of the larger cities. I used to love watching them at work. I always wanted a blown glass figureine . . . a wishing well or some sort of thing. They are so lovely. Very fragile though.
I love glass anyways. Going to the Swarovski Crystal Museum in Austria was one of my favourite bits of the trip! It was totally fascinating!
Glass paperweights. I love them. If I could have only one collection of something on earth, it might be these . . . but then again I also love salt and pepper shakers, cream jugs, sugar dishes, cherubs, angels, fairies, china tea cups, chickens . . . oh heck. I could never make up my mind! I just love and appreciate all artsy craftsy stuff!
Matilda Mouse. I Love Matilda Mouse. She has been helping me in the kitchen. She helped me with these gammon steaks the other day.
Adding Maple Syrup to the sauce was her idea. You can take the mouse out of Vermont, but you can't take Vermont out of the mouse!
Speaking of Vermont . . .
Autumn, it will soon be upon us and it is my most favourite season of all. I love the changing colours, the cooler nights, the smells, the sights, the sounds and textures. It has always been my favourite of all the seasons, alhough I truly do love each season for what it brings to the table. I am with Anne Shirley when she said . . .
I cannot imagine living anyplace that they don't have remarkable differences in each of the four seasons. I am a "Season Loving" girl!
The smell of apple orchards and freshly baked apple pie in the autumn. I used to live in Meaford, which is a prime apple growing district in Ontario, Canada, as well as having lived in the beautiful Annapolis Valley of Nova Scotia. Apples are in my blood!
Farmer's Markets, especially at this time of year . . . the fresh fruit and vegetables are phenomenal!
My tomatoes are turning red! And . . . we have a flower on the one pumpkin seed that we planted. Our church Bishop gave each family a pumpkin seed to plant and we are all to bring our pumpkins to our Autumn get together. Fun, fun!
Which leads me to the last on my list of favourite things for today . . .
My church, my faith . . . The Gospel of Jesus Christ . . . and all that I get from it. It has been life changing for me and brings me untold joy and peace. I cannot imagine a life without it.
And that is my favourite things for this week. What are some of yours? I really want to know!
A thought to carry with you . . .
⊰✿⊰⊰✿⊰⊰✿⊰⊰✿⊰⊰✿⊰⊰✿⊰⊰✿⊰
Expect to have hope rekindled.
Expect your prayers to be answered
in wondrous ways.
The dry seasons in life do not last.
The Spring rains will come again,
~Sarah Ban Breathnach
⊰✿⊰⊰✿⊰⊰✿⊰⊰✿⊰⊰✿⊰⊰✿⊰⊰✿⊰
Spiritual Enlightenment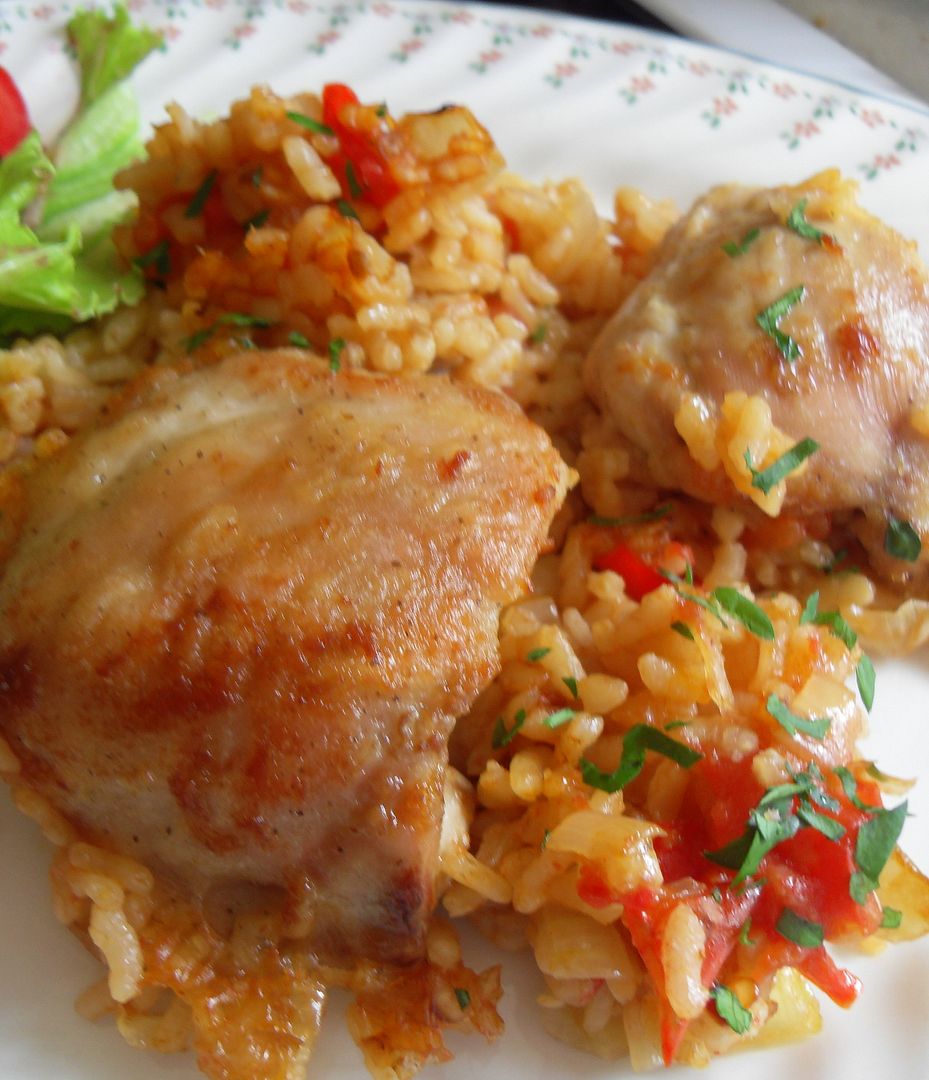 In The English Kitchen today . . .
Chicken and Pepper Rice.
Delish!
I hope that you have a wonderful Thursday! Be happy and be blessed! Don't forget . . .
═══════════ ღೋƸ̵̡Ӝ̵̨̄Ʒღೋ ═══════════ ⊰✿░G░O░D⊰✿⊰L░O░V░E░S⊰✿⊰░Y░O░U░⊰✿
═══════════ ღೋƸ̵̡Ӝ̵̨̄Ʒღೋ ═══════════
And I do too!!
We are off to the Vets with Mitzie this morning. She has a very sore paw and won't let us touch it to find out what's wrong. I hope it is nothing serious and that it doesn't cost us a lot of money, but what will be will be. We will pay whatever we have to pay. I only want her to get better. It hasn't affected her appetite, so that's good! Please pray it isn't too expensive and that it isn't anything too awful. Poor wee baby. It is at times like this I wish we could afford pet insurance!!!