August is like the Sunday of summer. Month of my birth . . . summer's golden hours . . .
The season of berries . . . blueberries, raspberries, early blackberries, tayberries . . . As a child, I spent many a back breaking hour in the blueberry bush picking berries for the family. We would fill ice cream buckets with them and my mother would freeze them for the winter months, but not before she had treated us to a delicious blueberry pie first.
Still when I go home, I treat myself to a wild blueberry pie . . .
Ripening fields of corn . . . freshly picked and steamed corn on the cob slathered in butter and salt, eaten until you can't eat anymore, chins dripping with melted butter and a sweet smile on your face from having just eaten summer. We used to buy it by the bagful from trucks at the edges of the cornfields, baker's dozens upon dozens. That was supper . . . just ear after ear of delicious sweet corn . . .
I miss sweet corn like that, but am grateful that I experienced it.
The last of the wildflowers before they go to seed . . . fields and meadows filled with daisies, red poppies, batchelor buttons, buttercups . . . soon they will be dry husks of what they once were, but filled with promise of next year . . .
Trips to the seaside . . . sandcastles, wading in the cool water, icecreams with flakes, Punch and Judy, fish and chips, walks along the pier . . . the smell of salt water and sea kelp . . . seagulls squawking . . . candy rock and cotton floss . . . winkles and welks . . . collecting shells . . . skimming stones . . . magical sunsets . . .
Summer Fetes with strawberries and cream, cups of tea and glasses of lemonade . . . book stalls, coconut shies, dunking tanks and games of chance . . .musical rides . . . the risk of showers . . . an air of gaiety . . . bunting . . . Morris Dancers . . . races and competitions . . . who has the biggest tomatoes, prettiest flowers, sweetest jams, etc. . . .
Country rambles along dirt roads, canals, through fields and across dale . . . fields of sheep . . . heather on the hillsides . . . impromptu picnics . . . babbling streams and brooks
I remember Todd and I discovering a small picnic area outside of Llangollen many moons ago and we sat at a picnic bench under a green canopy of leaves and enjoyed our sandwiches whilst we listened to the toots of the steam train echoing across the Welsh valleys . . . so quaint, and then afterwards a short ramble down to a very old church, and a poke through the stone garden of old gravestones . . .
An afternoon well spent and a beautiful memory to take with us through the years . . .
Enjoying the delights of fresh summer tomatoes, and cucumbers, beans, peas, courgettes, peppers . . . there is so much available in August. Fresh. Local. Delicious.
When I was a girl we could eat our fill of tomatoes and cucumbers, there was always too many and my mother didn't mind. Supper was often a huge plate of sliced tomatoes and cucumbers served with thick slices of bread and butter, and it was delicious.
Early potatoes . . . the smell of freshly mown hay . . . cut grass . . . and barbeque . . .
Its just a delightful month, and our last chance to have our fill of summer before the year starts to turn towards winter. We must enjoy it while we can. The lazy, hazy, crazy days of summer . . .
A thought to carry with you through today . . .
ღೋƸ̵̡Ӝ̵̨̄ƷღೋღೋƸ̵̡Ӝ̵̨̄Ʒღೋ
"And so with the sunshine
and the great bursts of leaves growing on the trees,
just as things grow in fast movies,
I had that familiar conviction that life
was beginning over again with the summer."
~F. Scott Fitzgerald, the Great Gatsby
ღೋƸ̵̡Ӝ̵̨̄ƷღೋღೋƸ̵̡Ӝ̵̨̄Ʒღೋ
Spiritual Enlightenment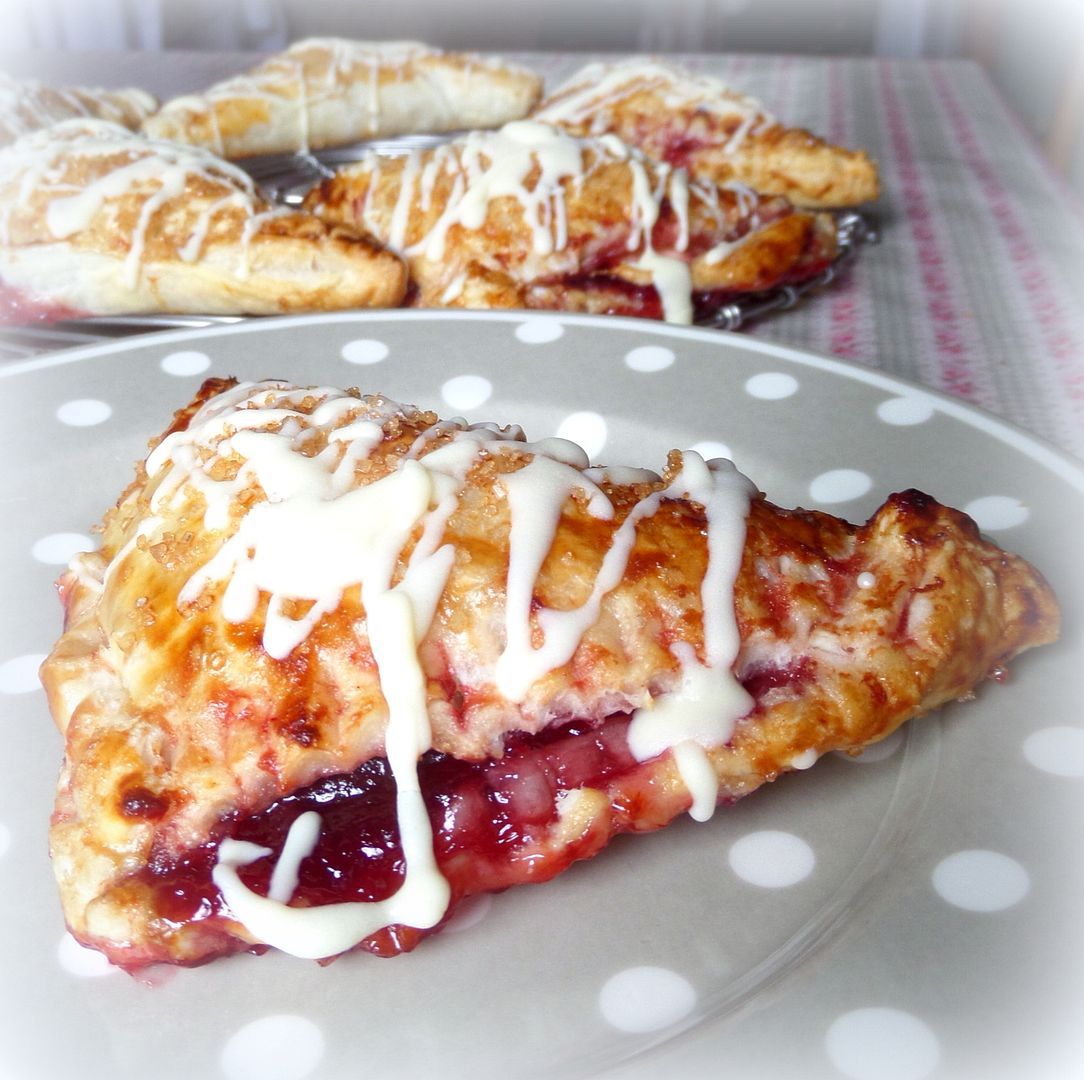 In The English Kitchen today . . .
Glazed Cherry Danish Turnovers.
I hope you have a brilliant day! Don't forget along the way that . . .
═══════════ ღೋƸ̵̡Ӝ̵̨̄Ʒღೋ ═══════════ ⊰✿░G░O░D⊰✿⊰L░O░V░E░S⊰✿⊰░Y░O░U░⊰✿
═══════════ ღೋƸ̵̡Ӝ̵̨̄Ʒღೋ ═══════════
And I do too!!