I've been on a bit of a learning curve this week. I decided that this Dinosaur needed to come into the 21st century and went shopping for a smartphone. I did get one six years ago, but could never come to terms with using it and so it ended up lanquishing in a box in a cupboard for most of that time, whilst I was locked into a contract and using a much simpler phone.
I decided though, that since I am quite versant now with my iPad and all the things that it can do, a smart phone actually could be a very helpful tool for me and I would now be able to figure out how to use one properly.
Taking a step like this is a really big deal for an older person. Young people, it seems, are born with technological know-how running through their veins. Us oldies on the other hand seem to really struggle with it, or at least I do at any rate. I can fix a vacuum cleaner but don't ask me how to get onto my e-mail using technology I am not familiar with!
I had done a bit of research online first, and so we decided to go to Carphone Warehouse. They seemed to have the best prices and deals. I have to say I was VERY impressed with the service we got. The girl who waited on me did everything she could for me as far as picking out the phone which would serve me the best. I told her I wanted a phone which was easy to use, but which also took really great photos because I wanted to start using Instagram and my iPad took really
crappy
bad photos, not to mention was awkward, bulky and not so easy to carry around. I thought she would say an iPhone but nope, she recommended a Samsung,which she said took great photos and was a lot cheaper than an iPhone, and actually she said took
better
photos than an iPhone. In fact she said it was the phone she used herself.
AND, she got me all set up with it, showed me how to use it, installed the programs for me that I wanted to use, and made sure that when I left the shop I was pretty conversant with it. The instruction books they put in with these phones/cameras, etc. are really pretty poor nowadays. I can never figure out anything from reading them, but then I am much more of a tactile learner. Having all the help that she gave me was a huge help and almost as good as having a young person in the house at home.
I have had it for several days now and I have only had to go back to the shop once to ask questions. I call that a result! I had clicked on a video on FB and couldn't get it to go off my screen. Every time I clicked on FB it was there and I couldn't look at anything else. Simple solution. I now know how to get rid of such things. There was a little return arrow down in the corner that you touch. I hadn't noticed it. It was the same with messenger. The people's faces that messaged me kept showing up with little circle faces and I didn't know how to get rid of those. She showed me how to do that. One other biggie was how to access the wifi at home so I didn't need to be using the wifi included with my phone plan. Again she showed me how to do that. All of these problems had very simple solutions and were sorted lickety split!
Yesterday I even managed to change my ring tone and download a game for free. WOW!! I even impressed myself!
Another thing I had worried about was that it would be expensive, but it has ended up being just as cheap as my old regular phone was,
and
I got the phone for free. I am in a contract for two years, but that's no biggie as I would have had a phone anyways for two years. My phone useage isn't over the top really. I am not attached at the hip to my phone. I don't go out and about a lot. So my wifi usuage will basically only be from the house, or church. Also I get unlimited texts and voice calls, which is a plus. With my old phone and plan I had to pay for each one.
I have even managed to take a photograph and upload it onto Instagram. I was impressed with myself. You can follow me on
Instagram here
. Who knows what I will get up to next!
Sometimes you
can
teach an old dinosaur new tricks! What's next? Self pouties? Nope, I don't think so. I may be a dinosaur but even I know that wouldn't be a good thing. LOL (It took me years to realise that didn't mean lots of love.)
A thought to carry with you through today . . .
⊰✿⊰⊰✿⊰⊰✿⊰⊰✿⊰⊰✿⊰
It's difficult to think anything
but pleasant thoughts
while eating a home-grown tomato.
~Lewis Grizzard
⊰✿⊰⊰✿⊰⊰✿⊰⊰✿⊰⊰✿⊰
Spiritual Enlightenment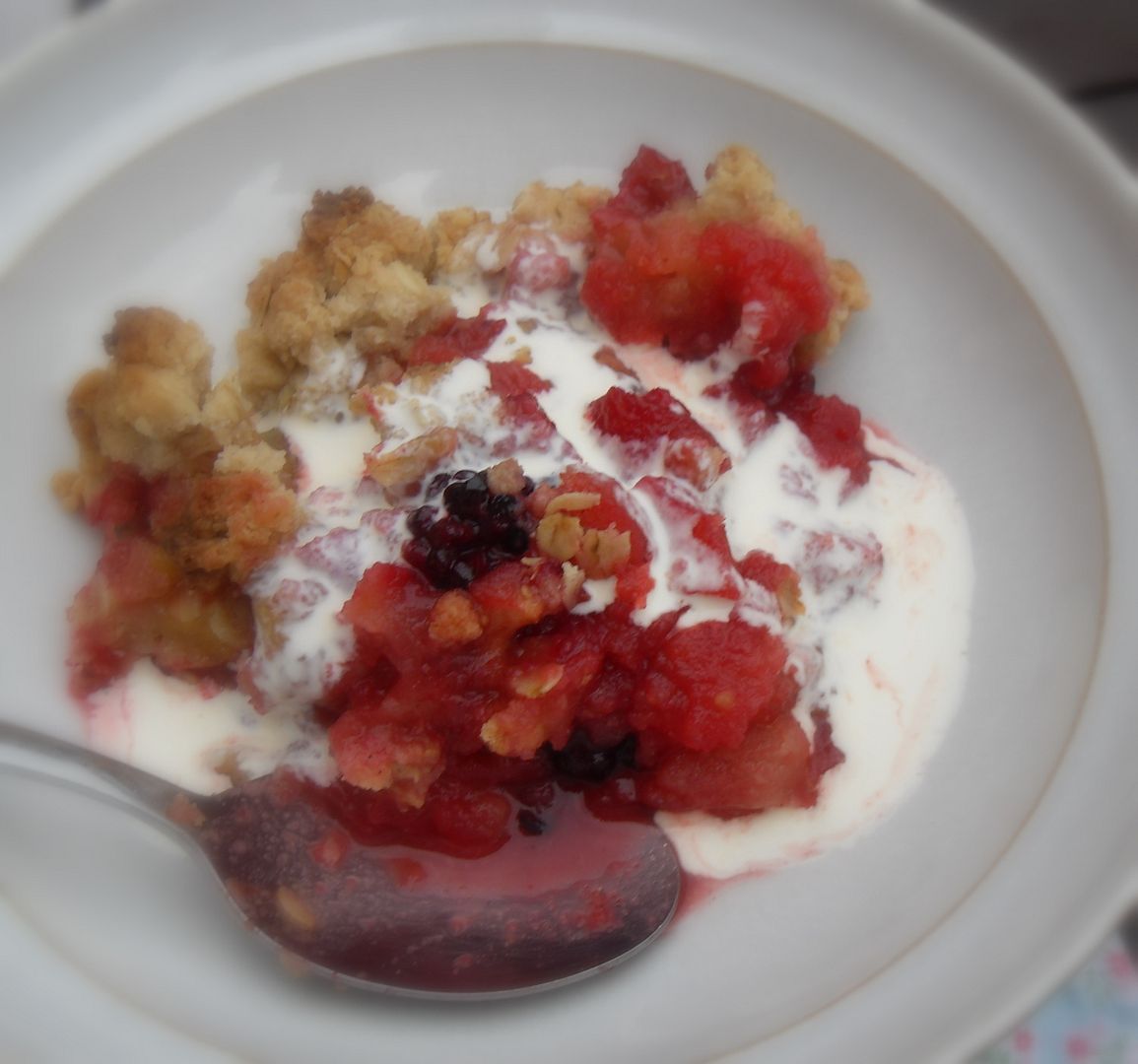 In The English Kitchen today . . . a very delicious
Blackberry, Apple and Almond Crumble
!
Have a great Saturday! Whatever you get up to today, be safe and don't forget . . .
═══════════ ღೋƸ̵̡Ӝ̵̨̄Ʒღೋ ═══════════ ⊰✿░G░O░D⊰✿⊰L░O░V░E░S⊰✿⊰░Y░O░U░⊰✿
═══════════ ღೋƸ̵̡Ӝ̵̨̄Ʒღೋ ═══════════
And I do too!!