"The world is fairly studded and strewn with pennies cast broadside from a generous hand. But who gets excited by a mere penny?...It is dire poverty indeed when a man is so malnourished and fatigued that he won't stoop to pick up a penny. But if you cultivate a healthy poverty and simplicity, so that finding a penny will literally make your day, then, since the world is in fact planted with pennies, you have with your poverty bought a lifetime of days. It is that simple. what you see is what you get." ~Anne Dillard
A few of the small and wonderful things which bring untold joy into my life. It's the small things in life which truly mean the most. Simple abundance . . . it's the best.
Nine sparrows at the feeders. I did a series of shots and counted them. The numbers of sparrows increased with each shot I took. See if you can find them. It's not easy! Oftimes there are even more!
We started watching "Highlands, Scotland's Wild Heart" as narrated by Ewan McGregor at the weekend. Its been on BBC3 I believe. It was shown on BBC 1 earlier in the year. We are both thoroughly enjoying it. (I love Red Squirrels, don't you?) Todd and I both find nature shows wonderfully interesting, along with documentaries, crime dramas, and historical dramas. Having a husband who shares similar tastes in television is a special blessing. I love that we share these interests together. I am also happy that we both love visiting historial homes and gardens. We are saving to take a trip to Scotland, hopefully next year. I have my fingers crossed.
Maryn enjoying some fun at the water park back home. That's Uncle Tim, Eileen's husband enjoying it also. There was also a video of her riding her bicycle on FB as well, but I couldn't download that. Just watch. I did enjoy seeing her in action. Eileen sent me this photo which I was grateful for. I am thankful for any glimpse at all of Maryn and Cam. Cam was also in the video.
He is also in this photo with his mum at the same park, which Eileen also sent me. Grateful for that as well.
Small blessings.
Being able to read. Our friend Billy cannot. I did try to teach him, but it never took. Being able to read is such a blessing in life. Your whole world opens up in untold ways. Billy can only ever go to places that he knows how to get there. He cannot read road signs. He cannot read letters he gets in the post. He has to bring them to us so that we can help him. I wonder what happens for those who don't have friends to help them. What important stuff do they not know about because they can't read the letters sent? I will never take my ability to read for granted. Its a treasure.
This is the key to a happy life. Gratitude. Focusing on what you have instead of what you don't have. Finding joy in the now. Every single day has a silver lining. Dwell on that. When you choose to be happy and live life seeking for the positive, life just gets better. It is better to appreciate what we have already been given. Why would anyone give us more if we can't find joy in what we already have?
Food for thought there methinks.
Summer's bounty . . .
The wisdom of Forest Gump. For a man who wasn't supposed to be very smart, he sure was smart. I may not be a smart man Jenny, but I know what love is. My favourite line from the movie.
Knowing this to be true . . .
Fabulous testimony meeting yesterday. I love listening to the testimonies of others. Hearing them always strengthens my own. I love that in my church you don't have to be "learned" or "special" or "important" to get up and be heard. Everyone has a voice and all are willing to listen to it. We are all seen as "special" and "learned" and "important." Every member is valued and appreciated, and given the opportunity to serve and to progress. I was looking at the young men waiting to pass the Sacrament yesterday. Some of them are only 12 years old. To be given such responsability as this young age . . . what a blessing for them and what a testimony to the faith that our Heavenly Father has in each of us and our capacity for growth. There used to be a young man with Downs Syndrome who came each week. He was able to bless the Sacrament and say the prayers. He had a helper to help him do this, but he was still able to do it. Those sacrament prayers were always some of the most touching and spiritual moments.
Every member is valued and encouraged and given opportunities for growth. I love that.
My life is filled to overflowing with so much to be grateful for . . . I hope yours is too.
A thought to carry with you through today . . .
Ƹ̵̡Ӝ̵̨̄ƷღೋღೋƸ̵̡Ӝ̵̨̄ƷღೋღೋƸ̵̡Ӝ̵̨̄Ʒ
What if you woke up today and the only things
you still had,
were the things you had thanked God for yesterday.
~unknown
Ƹ̵̡Ӝ̵̨̄ƷღೋღೋƸ̵̡Ӝ̵̨̄ƷღೋღೋƸ̵̡Ӝ̵̨̄Ʒ
Spiritual Enlightenment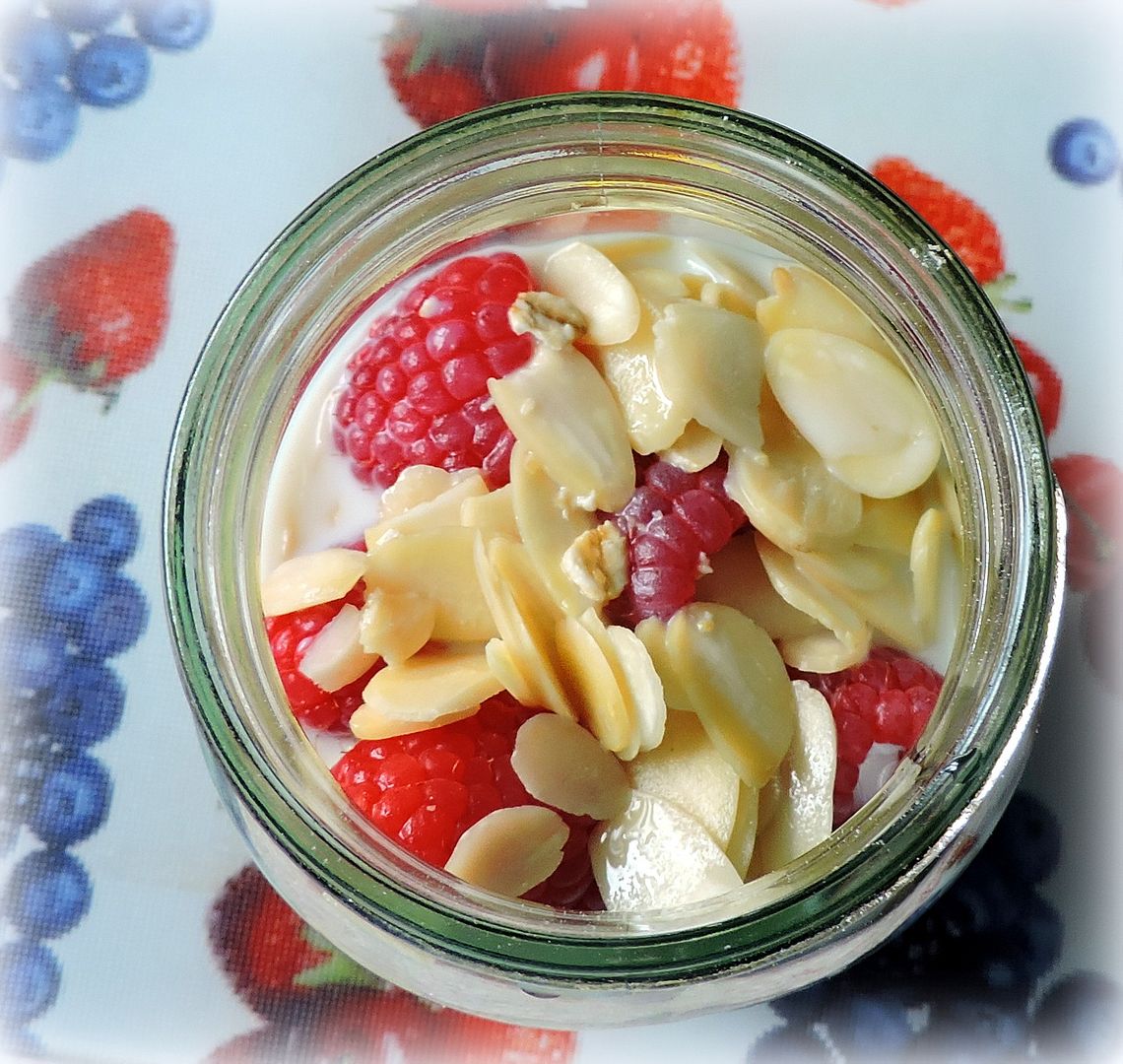 In The English Kitchen today . . .
Raspberry Bakewell Overnight Oats
. Delicious!
I wish for you a week filled to overflowing with small and wonderful things. Please know that . . .
═══════════ ღೋƸ̵̡Ӝ̵̨̄Ʒღೋ ═══════════ ⊰✿░G░O░D⊰✿⊰L░O░V░E░S⊰✿⊰░Y░O░U░⊰✿
═══════════ ღೋƸ̵̡Ӝ̵̨̄Ʒღೋ ═══════════
And I do too!