My daughter in law posted on facebook the other day/night that they were getting ready and packing the car up to take the boys to the Drive In down in Sussex to go see a family friendly double feature of Finding Dory and Pete's Dragon. It made my heart smile . . .
So did this picture she posted a while later of them getting ready for the film to start. It is so lovely when you see your children carrying on old traditions with their own children and it brought back many happy memories for me of those days when the kids were small and we would pack them all up into the car for a weekend film treat at the local Drive In theatre.
Going to the Drive In was also a really big treat when I was an older teenager. They had full car load nights where the whole car load could get in for one low price. Everyone who had a car used to fill them up with all of the gang and we would all trundle over to the Drive In. I don't think a lot of movie watching really went on, but it sure was fun meeting up with everyone else and gossiping in the bathrooms, etc. The trick for a great Drive In experience was to get the right parking space so that you could see the film properly, etc .
Remember those old speakers they had that you needed to hang on the edge of your window? I always used to be a bit afraid they might break the windows . . . and sometimes they didn't work, so you would have to change your "ultimate" parking spot for another one with a speaker that did. This wasn't a problem in later years as you could tune in the sound on the car radio. But of course the sound quality was never really great no matter it was from a speaker or a radio. It was always tinny. We never seemed to care however. It was a given that the sound would be crapola. Not like today.
Going to the Drive In was one of the cheapest ways we had to treat the children to a film when my kids were growing up and it was a top notch family experience. We would pack up sandwiches and drinks and snacks . . . blankets and pillows and head off usually on a Friday or a Saturday night. The kids loved it. Not only did they get to stay up much later than usual, but they loved to play on the swings and such that lay at the front of the parking area. We used to park up close to them so that they could wear themselves out a bit before the movies started and we could see where they were. (Safety first!)
As dusk started to descend people would begin honking their horns with impatence, wanting the movies to begin. It wasn't considered rude, it was all a part of the fun. Those first flickering images and ads would send the kids racing back to the car to settle in for the film viewing for the evening. There was always cartoons first and then the older film, an interlude and then the feature film. I doubt any of them were ever awake when the feature film started.
Even though we would have brought snacks and food with us, the dancing hot dogs were always so very tempting and of course you could smell french fries and the like in the air, so we would always, always end up buying them some chips/french fries.
And they always tasted sooooooo very good. Hot dogs always tasted really good as well, but that was a treat I only ever really enjoyed as a teen at the Drive In, never as an adult with a family. Far too cost prohibitive!
I remember this as being one of the last films we took them to see at the Drive In. It was in London, Ontario. The reason it stands out is because we all had a great laugh at the antics of this family and their road trip, never dreaming that less than 24 hours later we would all be piling into our car to make a quick and very unexpected trip to Nova Scotia, having gotten the call that my mum was in hospital.
I never ever see that movie without remembering the lovely evening we spent at the Drive In together as a family. Oh sure there would have been the inevitable "He's touching my space," "She's looking at me," "I need to go pee" annoyances, but for the most part I only have very happy memories of these times.
Sadly most Drive In Theatres look like this nowadays, having been abandoned and being no longer in use. Its kind of sad really. These were a part of the fabric of my youth and early family years. I know that it is much more convenient nowadays to just pop a dvd in and to pop some microwave popcorn in . . . but somehow I can't help feeling that there is something very special which has been lost.
I believe its called progress . . .
Yesterday when we went to go grocery shopping as we pulled our of our drive we noticed that our next door neighbors car had had its windscreen totally smashed in along with one of the passenger windows on the side closest to the road. The disgruntled boyfriend of her niece was to blame I later found out. When I first saw it my immediate thought was that she had been in an accident and I was concerned that she or her son might have been hurt. I was relieve that wasn't the case, but I was really saddened that someone could do this or would do this to someone else. She is a single mum who is doing an amazing job of bringing up her son and a really nice person. I spoke to her later on and she said sadly that there is no proof that he did it. Bricks don't hold fingerprints, etc. So she will have to bear whatever burden of cost there is apart from what the insurance pays out as well as feeling frightened that it might happen again. Shame on him. If I live to be a hundred I will never be able to understand the mentality of people who do things like this . . .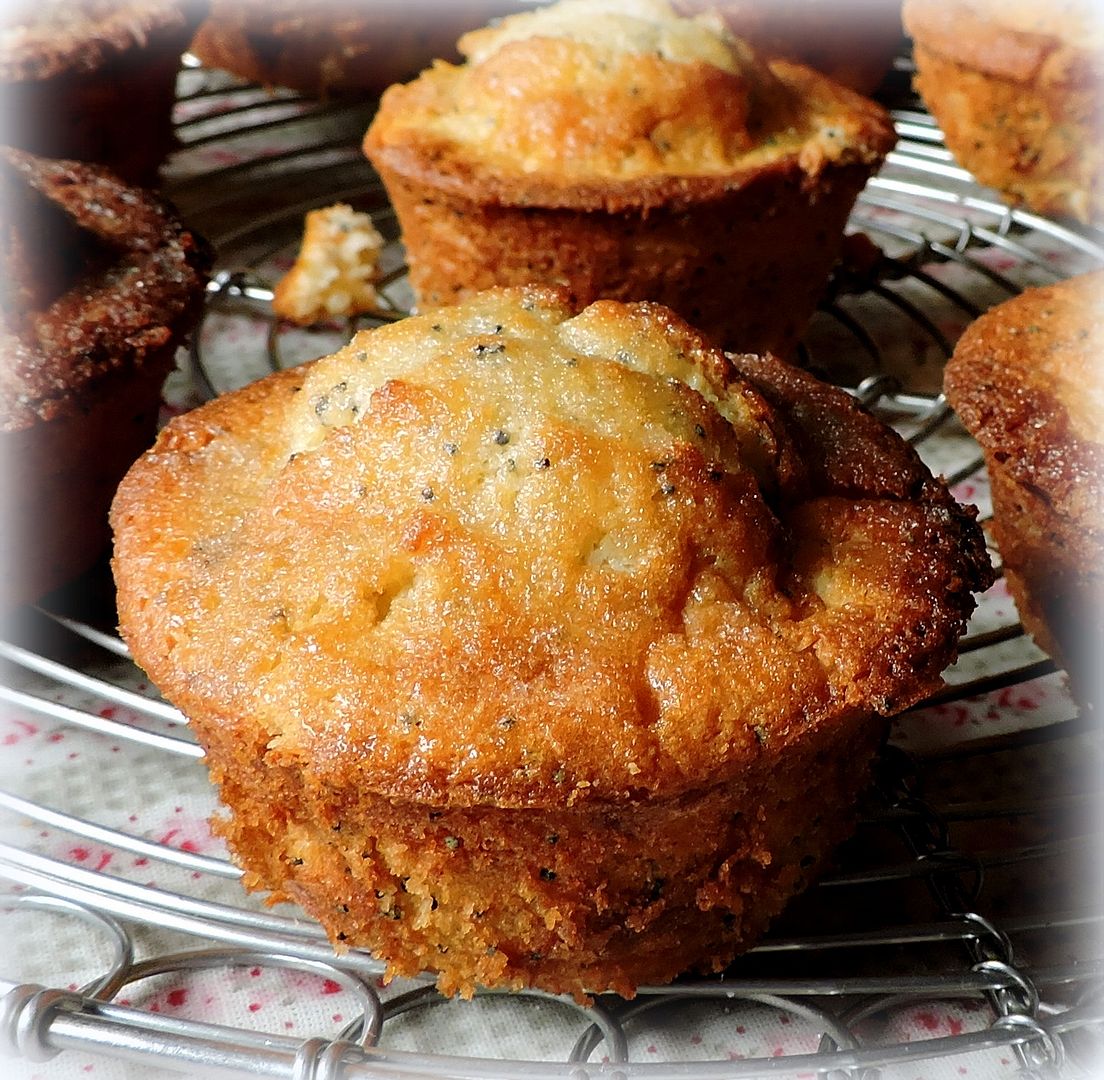 Baking in The English Kitchen today . . . some delicious
Orange and Poppyseed Muffins
!
A thought to carry with you through today . . .
⊰✿⊰⊰✿⊰⊰✿⊰⊰✿⊰⊰✿⊰
Live life in the present,
and make it so beautiful
it will be worth remembering.
~Ida Scott Taylor
⊰✿⊰⊰✿⊰⊰✿⊰⊰✿⊰⊰✿⊰
Have a wonderful and blessed Sabbath day! Whatever you get up to today, don't forget . . .
═══════════ ღೋƸ̵̡Ӝ̵̨̄Ʒღೋ ═══════════ ⊰✿░G░O░D⊰✿⊰L░O░V░E░S⊰✿⊰░Y░O░U░⊰✿
═══════════ ღೋƸ̵̡Ӝ̵̨̄Ʒღೋ ═══════════
And I do too!!