Hiraeth Hiraeth beckons with wordless call,
Hear, my soul, with heart enthrall'd.
Hiraeth whispers while earth I roam;
Here I wait the call "come home."

Like seagull cry, like sea borne wind,
That speak with words beyond my ken,
A longing deep with words unsaid,
Calls a wanderer home instead.

I heed your call, Hiraeth, I come
On westward path to hearth and home.
My path leads on to western shore,
My heart tells me there is yet more.

Within my ears the sea air sighs;
The sunset glow, it fills my eyes.
I stand at edge of sea and earth,
My bare feet washed in gentle surf.

Hiraeth's longing to call me on,
Here, on shore, in setting sun.
Hiraeth calls past sunset fire,
"Look beyond, come far higher!"
~Tim Davis, 2007
A friend of mine posted this on facebook yesterday and I was immensely touched by it. As the child of a Military man, and the ex spouse of one, home was a place I spent most of my life longing for. Home for me always was and is . . . quite simply . . . people
.
I suppose that is why I don't get "homesick" for places, but only for people.
Most of my childhood homes, or houses that we lived in do not exist any more. There is no place I can return to and see the house I grew up in. Except for one house which still stands, the rest are no longer in existance. There is no place to return to.
They exist only in my memories and old black and white photographs . . . and in conversations with people who lived in those same places and had similar experiences.
The place I lived the longest was a place called Greenwood in Nova Scotia. And even our time living there was broken up. We spent several years on one house, which was pulled down in the years since I moved over here to the UK, and a couple of years in a house in Middleton and then the remaining years in a house that still exists to this day. These are the only two houses of my growing up years that are still in existance and they both look very different than they did back then.
Even in my last marriage, I was pulled from pillar to post . . . forced to carry my home on my back like a turtle carries its shell. We moved 16 times in 22 years. All of my children, with one exception, have chosen careers and lifestyles which afford them the opportunity to stay in one place . . . places where they can put down roots. Of my own siblings, I was the only one who failed to find roots. Both my brother and sister spent most of their adult lives in one area. I am the only nomad.
So that is why home to me is people and not places. Home is where my mother lives, even though I have never lived there myself . . . it holds a huge chunk of my heart, a chunk which lives with her and my sister. Home is with my father and my brother and his family. Home is also contained in the small chunks of my heart which rest where each of my children and their families live. Home is here, in this little terraced house with Todd and Mitzie.
Yes . . . there is a piece of my soul that longs to go back to those shadowy halls which exist only in the channels of my memory . . . a special yearning to return to a place that is no longer there.
But I find myself wondering . . . it is a yearning to return to a place . . . or is it a yearning to return to a time. Perhaps I will never know.
A thought to carry with you through today . . .
⊰✿⊰⊰✿⊰⊰✿⊰⊰✿⊰⊰✿⊰✿⊰⊰✿⊰⊰✿⊰⊰✿⊰⊰✿⊰
If you find someone who makes you smile,
who checks on you often to see if you're okay,
who watches out for you and wants the very best for you,
don't let them go.
Keep them close to you,
and don't take them for granted.
People like that are hard to find.
~Unknown
⊰✿⊰⊰✿⊰⊰✿⊰⊰✿⊰⊰✿⊰✿⊰⊰✿⊰⊰✿⊰⊰✿⊰⊰✿⊰
Spiritual Enlightenment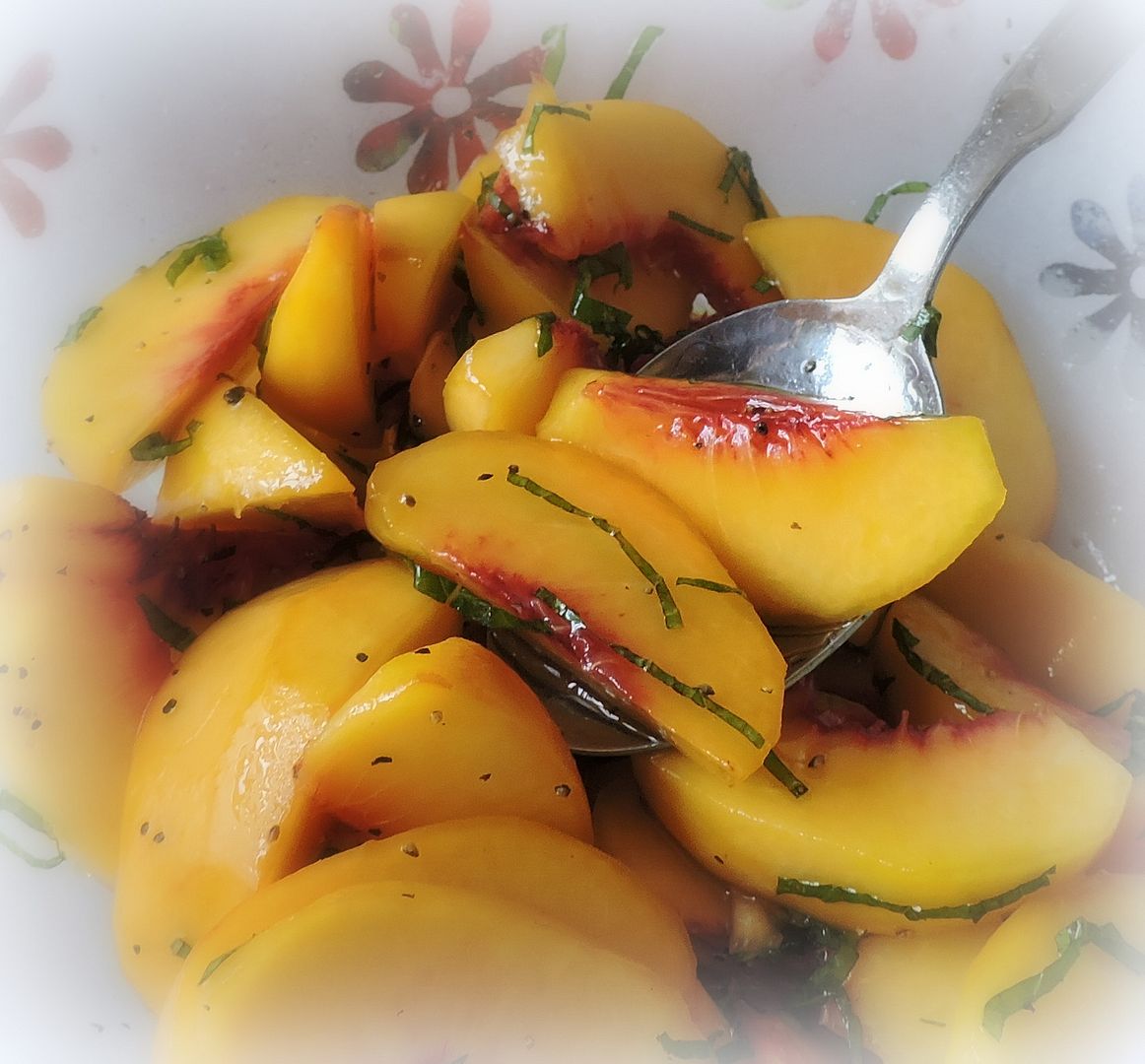 In The English Kitchen today . . . a delicious
"Green Peach Salad."
It's fabulous!
Have a wonderful day today! Wherever you go and whatever you get up to, don't forget . . .
═══════════ ღೋƸ̵̡Ӝ̵̨̄Ʒღೋ ═══════════ ⊰✿░G░O░D⊰✿⊰L░O░V░E░S⊰✿⊰░Y░O░U░⊰✿
═══════════ ღೋƸ̵̡Ӝ̵̨̄Ʒღೋ ═══════════
And I do too!!