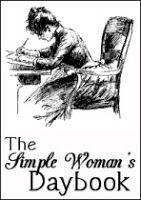 FOR TODAY, June 10, 2014
Outside my window ...
The skies are clear and it feels quite humid. We had to have the fan on in our bedroom last evening. Checking on the weather page it says the temperature right now at 6 am it is 13*C, with a high expected of 19*C. I don't know what that is in Fahrenheit, but it's warm. Humidity is 100%. UGH. I don't like that. Oh well, you got to take the good with the bad. They also say we are in for a showery day between sunny periods. We shall see! As Bob Hope once famously said about the UK, "Don't like the weather? Wait five minutes!"
I am thinking ...
✻ღϠ₡ღ✻(¯`✻´¯)
✻ღϠ`*.¸.*₡ღ¸.✻
"If we want to keep the blessings of life coming to us,
We have to be grateful for
Whatever is given."
~Harold Klemp
Gratitude, it should be a way of life.
I am thankful ...
For God given talents. I am under no illusions about where they come from. I know they aren't from me. It is up to me to use them wisely.
In the kitchen ...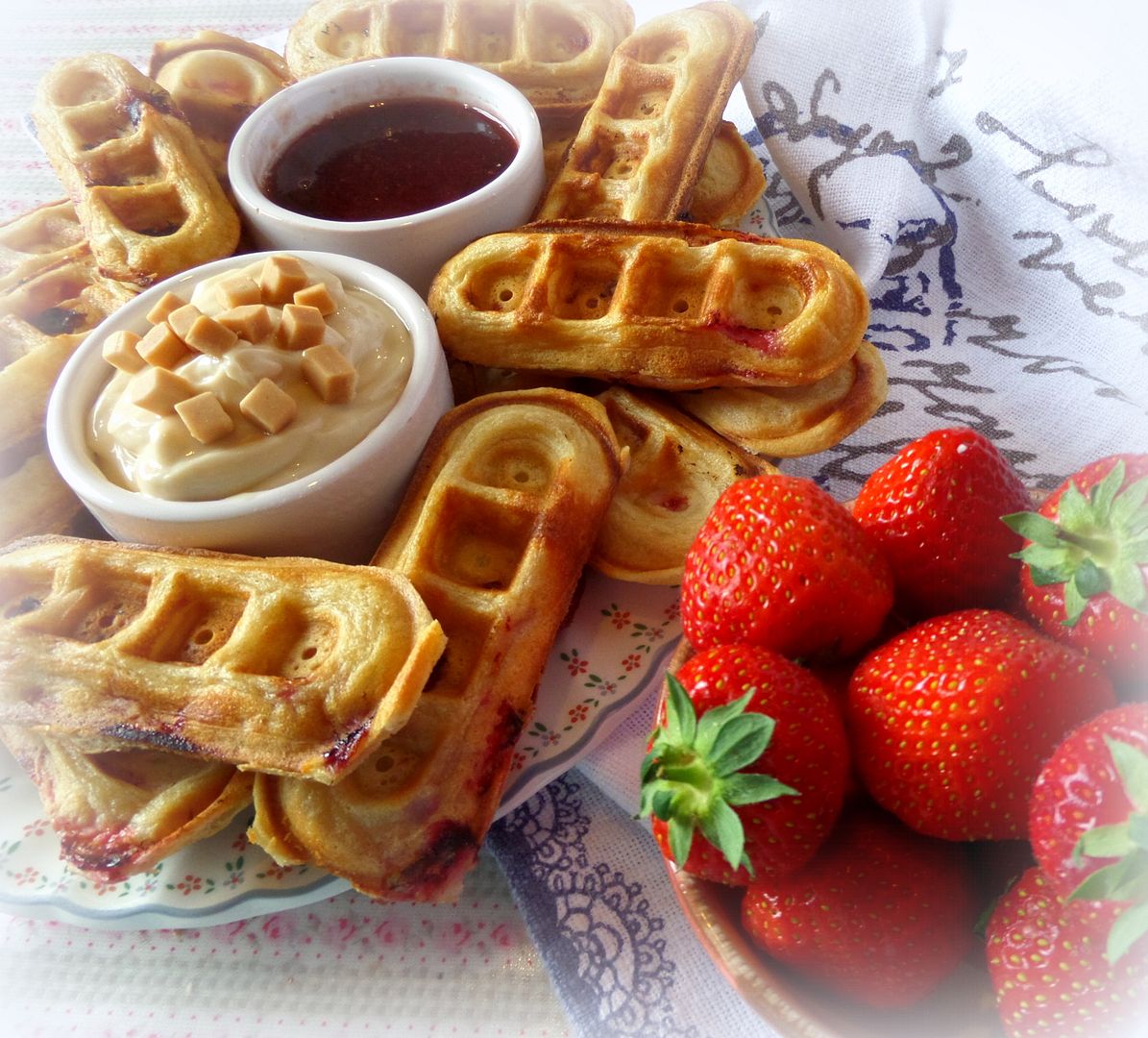 Fresh Strawberry Waffles with Caramel and Strawberry Dips.
This was sooooo good!
On my "To Cook" list ...
Dulce De Leche Brownies, from
David Lebovitz.
Like he says, who doesn't like swirling pockets of caramel in their brownies . . . sigh . . .
I am creating ...
From all accounts the craft cd did really well yesterday on Create and Craft. If you want to see a little clip of the show you can click
here
. I have to say I was moved to tears with some of the things they said about my work. Todd was quite gob-smacked he said. I really hope that this helps to get my work out there and noticed.
I quite like this paper patriotic banner tutorial I found on
"Oh Christmas Tree."
It's quite unusual! Not sure where I would put it, but it would be fun to make and hang on special patriotic days, or even using different papers on other special occasions, like birthdays etc.
DIY coasters featuring the places you have travelled to from. There is no source, but you just mod podge them onto tiles. You wouldn't necessarily have to do maps, you could do special photographs, etc. Sounds like a nice and easy idea!
DIY Outdoor Drink Holders! Using empty tin cans and embellishments. Brilliant! From
The Homes I Have Made
.
A brilliant tutorial on how to print on fabric. I have always wanted to know how to do that! I found this on
Polish the Stars
.
I am going ...
I have a hair appointment tomorrow. It seems like it was just yesterday that I had my hair cut. Eight weeks have passed by very quickly!
I am wondering ...
I still have my sore thumb. I foolishly haven't gone to the doctor. I think I better make an appointment now. I am wondering what has caused it however. Any ideas? I haven't been crocheting or anything since it developed, and it hasn't gotten any better . . . . sigh . . . .
I am reading ...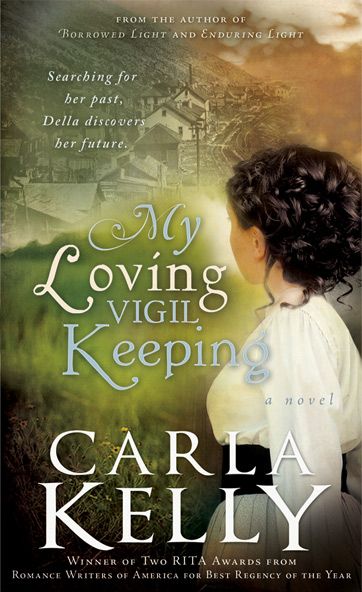 My Loving Vigil Keeping, by Carla Kelly
To Della Ander's relatives, it seems like an absurd whim when the young educator accepts a contract to teach in Winter Quarters, a coal mining camp near Scofield, Utah. After all, she lives with a socially prominent family in Salt Lake City. Why teach in a place as hard as a coal mining camp, even if the Winter Quarters mines have an enviable reputation for safety? It's no whim to Della. She yearns to reconnect with the life she knew as a child, before tragedy yanked her from a home equal parts ramshackle and loving. But when disaster strikes, what the teacher learns in Winter Quarters will change her life forever, and her heart.
Based around the true events of the Scofield Mine Disaster of 1900, this suspenseful romance from award-winning and bestselling author Carla Kelly is sure to please longtime fans and new readers alike. Thrilling and heartfelt, it's a must-read. This is the third novel I have read of hers and I am truly enjoying it. I love stories based on true events.
Looking for something new. Any ideas??
I am hoping ...
Still hoping that my sister and her partner can come up with jobs. Also hoping that my son can find a new job soon. They are scraping the bottom of the barrel now and in dire straights. I cannot help them because I am not much better off, except that at least we have Todd's pension.
Makes me smile ...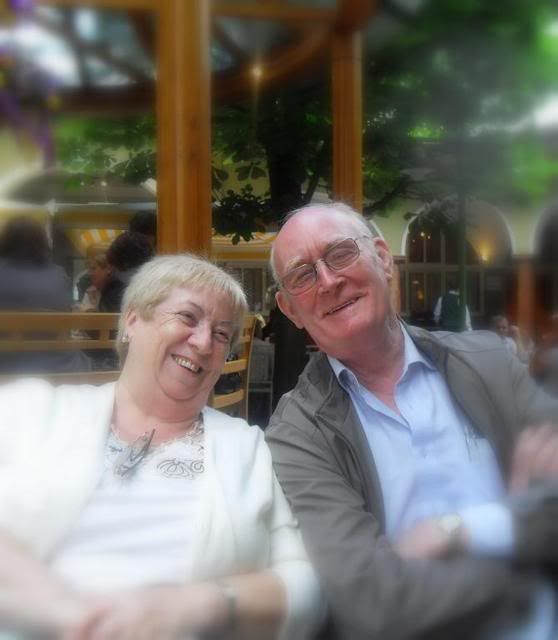 This photograph of the two "Phils" from our Austrian Holiday back in 2009 makes me smile. We really enjoyed them. They only live in Blackpool. We have not seen them in a while. I need to make a phone call I think. Loved these two special people. They are just lovely. Loved that holiday too. I would really like to go back to Austria one day . . .
I am learning ...
Still working on that workbook/course I have on how to write children's books, and get them ready for publication. I have several that I have written already and am using this to help to refine them.
You are never too old to stop learning.
Around the house ...
I love this idea of using two enamel bowls for hanging things. It could very easily be adapted to using other things in much the same way. Say old cake tins, or Chocolate tins.
From
SF Girl by Bay
, I just love the open shelves concept and the clean white cupboards with their sleek handles. You would have to be a real neat-nik though. Not sure I could handle that!
22 ways to arrange your shelves from
Real Simple
. Apparently it helps if you paint the insides of your shelves a darker colour.
Love this idea of a shelf with cafe curtains underneath. Wondering where I could incorporate that in our home. My thinking cap is on. From
Poppy Talk
.
I am pondering ...
Thinking about going to the Temple again soon, and wondering which day will be the best day to go .... which reminds me, I still need to hem my dress!
A favourite Quote for the day ...
`*.¸.*✻ღϠ₡ღ¸.✻´´¯`✻.¸¸.Ƹ̴Ӂ̴Ʒ..
(¯`v´¯)
`*.¸.*´Ƹ̵̡Ӝ̵̨̄Ʒ
¸.•´¸.•~♥♥♥~•.~
The sign of a beautiful person is that he always sees beauty in others.
~Omar Suleiman
One of my favourite things ...
Yes . . . I confess. I adore peanut butter. Especially Skippy Peanut Butter. I have to buy it from an American supplier over here, and it costs a bomb. I buy it in the 2 1/2 pound jar size. I use it for baking as well, but mostly I just eat it with bread, on toast, etc. That should be a photo of me there, not Yogi Bear!
A Peek into my day ...
Scripture reading and study. I do it every day. It helps to keep me grounded and feeds my soul.
⋱ ⋮ ⋰
⋯ ◯ ⋯ Take time to enjoy the small*´¯`.¸¸.☆
⋰ ⋮ ⋱ blessings in life.*´¯`.¸¸.☆
✿¸.•*¨`*•..¸✿ ✿¸.•*¨`*•..¸✿
╬♥═╬╬═♥=╬╬═♥╬╬═♥╬╬═♥=╬╬♥═╬
░░░░░░░░░░░░░ ░░░░░░░░░░░░░

Wherever you go and whatever you do I hope there's a wonderful day planned for you!

═══════════ ღೋƸ̵̡Ӝ̵̨̄Ʒღೋ ═══════════ ⊰✿░L░O░V░E⊰✿⊰✿⊰✿⊰✿⊰✿⊰░Y░O░U░⊰✿
═══════════ ღೋƸ̵̡Ӝ̵̨̄Ʒღೋ ═══════════