"The world is fairly studded and strewn with pennies cast broadside from a generous hand. But who gets excited by a mere penny?...It is dire poverty indeed when a man is so malnourished and fatigued that he won't stoop to pick up a penny. But if you cultivate a healthy poverty and simplicity, so that finding a penny will literally make your day, then, since the world is in fact planted with pennies, you have with your poverty bought a lifetime of days. It is that simple. what you see is what you get." ~Anne Dillard
A few of the small and wonderful things which bring untold joy into my life. It's the small things in life which truly mean the most. Simple abundance . . . it's the best.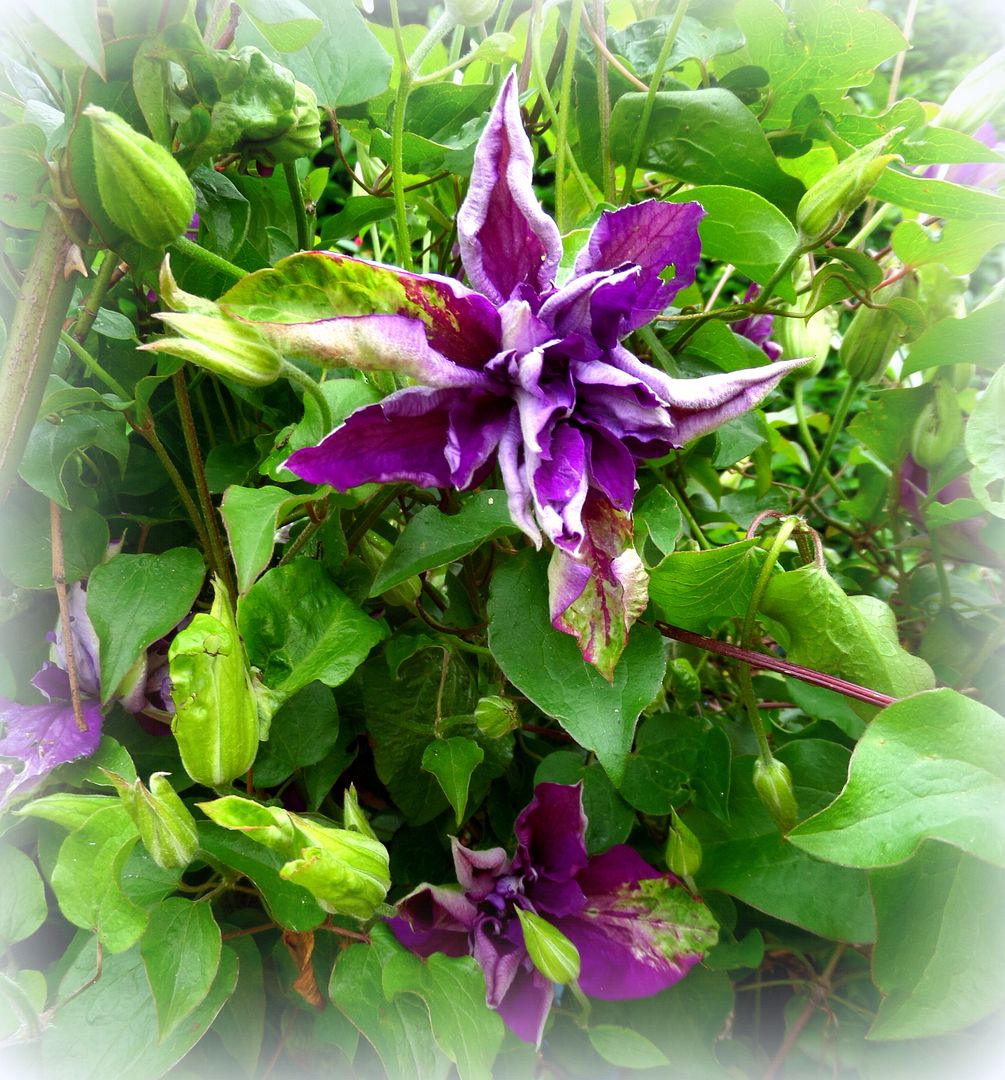 The Clematis in our garden which are putting on a particularly spectacular show at the moment. We have several varieties. A pink one and then these purple double ones. They're just gorgeous! I wish I knew what they are called, but I don't. I only know that they almost take my breath away!
These are some of the wild flowers. Don't ask me their names either, although I do recognize buttercups. The others are a mystery. That's the thing with wild flowers. They are a mystery and they delight the whole summer through. Wild flowers are exactly what they are . . . wild. You cannot control them, or say what will turn up . . . you just simply wait and then delight in each new surprise that appears. They're so good for the environment as well. We've lost many wild flower meadows due to the overuse of pesticides, etc. People are now encouraged to plant areas of their gardens with wild flowers. They are good for butterflies and bees and of course for birds as well. We have two large areas of wild flowers in our back garden and we love them.
England in all it's glory. All green and lush, with abundant flowers which totally delight your soul. I do not believe that there is any more beautiful place on earth than England on a sunny late Spring day. Mind you, I would say that no matter where I was. Sunny days are the best. Grateful for the sunshine. It's back to rain today. Blah . . . mind you, it is the rain which makes England so lush and green, so I suppose in a way I am grateful for that as well!!
'Patience is a willingness to watch the unfolding purposes of God with a sense of wonder and awe - rather than pacing up and down within the cell of our circumstance.'
~Elder Neil A Maxwell
I love this quote from Elder Maxwell. Patience is a beautiful thing. We are such impatient creatures wanting everything now, now . . . now. But we can have so much more if we will only wait and allow things to happen in the way that they are are supposed to. We don't have to control everything ourselves. Sometimes it's nice to just let be what will be. There is magic in that letting go letting God thing . . . it's amazingly empowering.
The tenacity of nature which gives us stone walls with beauty springing from out of the nooks and crannies. What a beautiful gift in such a surprising place. I love it! Without the flowers . . . it would be just a crack in the wall . . . a groove between the stones. We each have the ability to bloom where we are planted. Fear of failure stifles our creativity, our promise, our ability to grow beautiful in ugly spaces/circumstances. Instead of being afraid and asking ourselves what if this happens or that happens . . . we should be open to the possibility of turning the what if's into opportunities for growth and change. Growth and change is not necessarily a bad thing.
A thought to carry with you through today . . .
══════ ღೋƸ̵̡Ӝ̵̨̄Ʒღೋ══════
⊰✿░S░W░E░E░T░✿░B░L░E░S░S░I░N░G░S░⊰✿
Gratitude is one of the sweet short cuts
to finding peace of mind and happiness inside.
No matter what is going on outside of us,
there's always something we could be grateful for....
~ Barry Neil Kaufman
ღೋƸ̵̡Ӝ̵̨̄ƷღೋღೋƸ̵̡Ӝ̵̨̄ƷღೋღೋƸ̵̡Ӝ̵̨̄ƷღೋღೋƸ̵̡Ӝ̵̨̄Ʒღೋ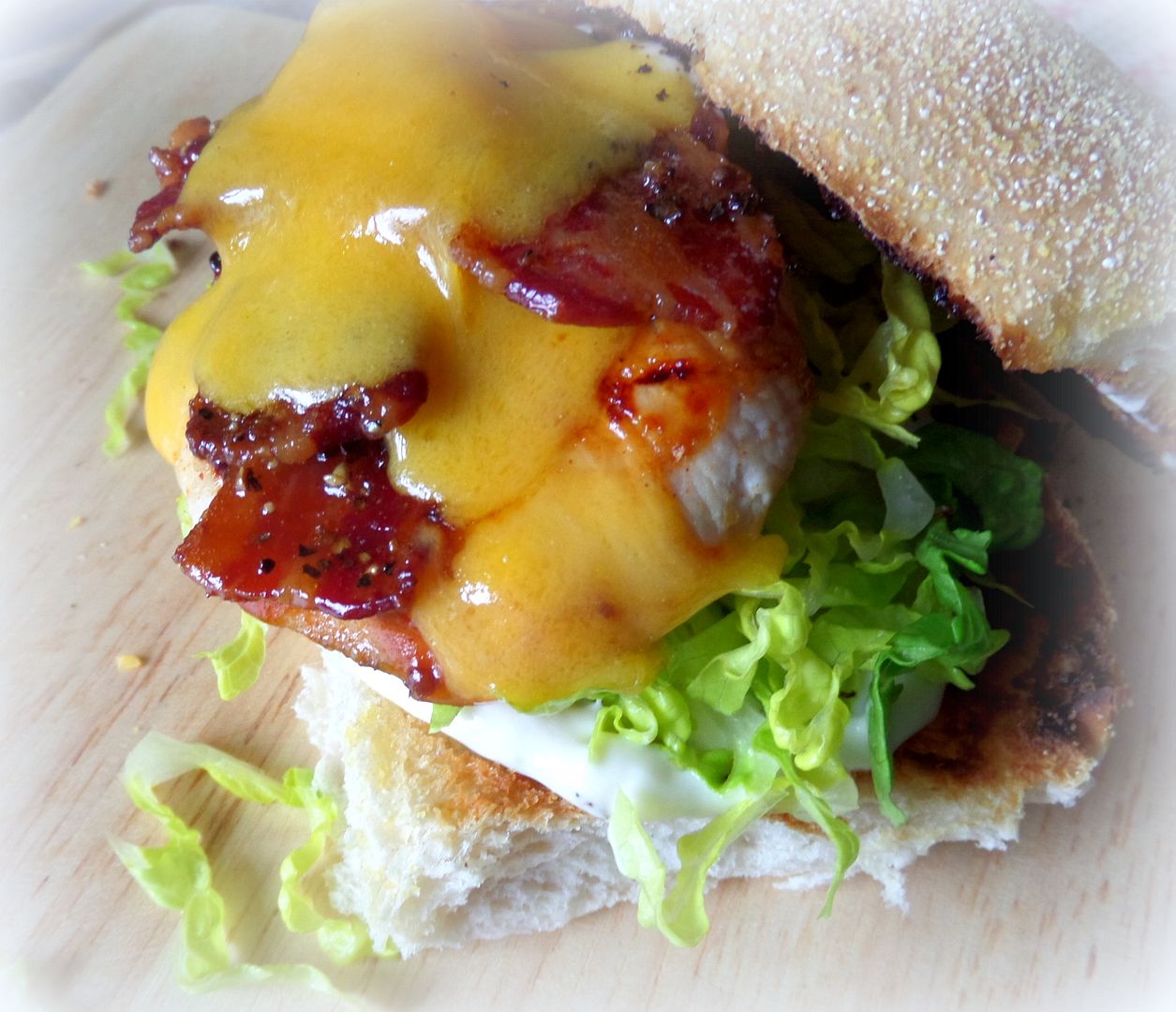 Cooking in The English Kitchen today . . . Grilled Chicken, Bacon and Ranch Sandwiches.
═══════════ ღೋƸ̵̡Ӝ̵̨̄Ʒღೋ ═══════════ ⊰✿░L░O░V░E⊰✿⊰✿⊰✿⊰✿⊰✿⊰░Y░O░U░⊰✿
═══════════ ღೋƸ̵̡Ӝ̵̨̄Ʒღೋ ═══════════
Happy Monday. Have a wonderful week!! May it be filled with lots of small and wonderful things to delight and fill your spirit!