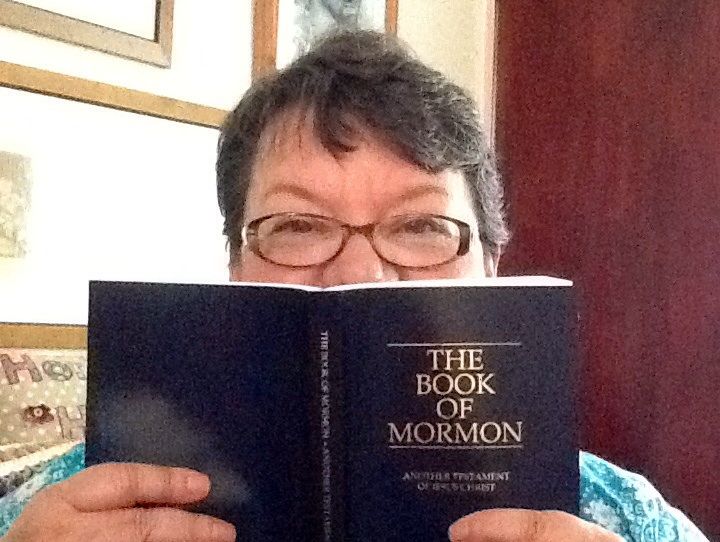 This is my Book of Mormon Selfie. Yesterday was post a photo of yourself reading the Book of Mormon on Facebook day and so this was mine. I know . . . I am not reading the book in the photo because I am looking at the camera, and it's not strictly a selfie, because Todd took the picture for me. It is too hard to take a photograph with an ipad and hold onto that as well as the BOM. It just doesn't work! So there you have it. It is what it is!
You know it has taken me years to appreciate this book for what it is. From the first time I read it, I thought that it was special and I had a feeling in my heart that this book was inspired, but after having studied it over and over again (along with the other scriptures) I have come to really appreciate the wealth between it's pages. Like Todd says, you cannot read it as if it were a book . . . you have to read it slowly bit by bit and ask yourself over and over again, how does this apply to me, here and now. When you do that it comes to life in a special way. I put a button on my sidebar the other day. You can see a Book of Mormon there, but if you click on the words beneath it something special happens. Go on. Try it. You may be pleasantly surprised. But then again, you may not. You'll just have to click it to find out!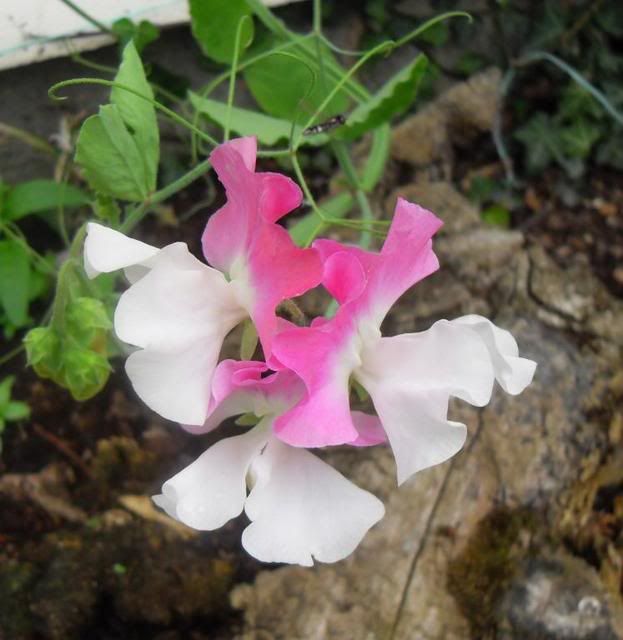 Delicate and beautiful
and vivid as the sunset skies . . .
a mass of sweetness,
like a cloud of pin and crimson butterflies.
Are they flowers,
these moth like things with brightly tinted wings of flame?
Sweet peas . . . that is what they're called . . .
but can such beauty have a name?
I think that my favourite of all the garden flowers is the sweet pea. They're so beautiful and their fragrance is like nothing else on earth. I wish that I could find a bottle of perfume that smells just like them. The closest I have come is a Yankee Candle, which yes . . . does smell quite a lot like them. I love it.
I am not sure when my love affair with them started . . . probably when I was a child. They're so delicately beautiful. Indeed they look like the wings of butterflies or moths. One can scarce breathe when taking in their beauty for fear that they will take flight and you might not see them again . . .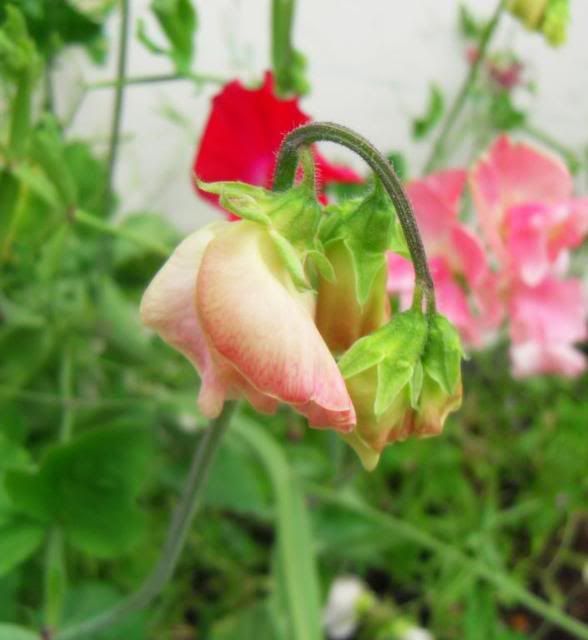 And even in their infancy they pluck at your heart strings. So tender . . . we had a little girl who stayed with us one summer when we lived down South. I caught her eating the peas from the sweet pea pods one day. She thought they were actual peas. We had to take her to the hospital to make sure she would be okay, as they are quite poisonous if eaten in large quantities and we were not sure how much she had eaten. Better safe than sorry I say! That little girl is now a beautiful young woman waiting to go on her mission. Time flies! Like the tender wings of sweet peas . . .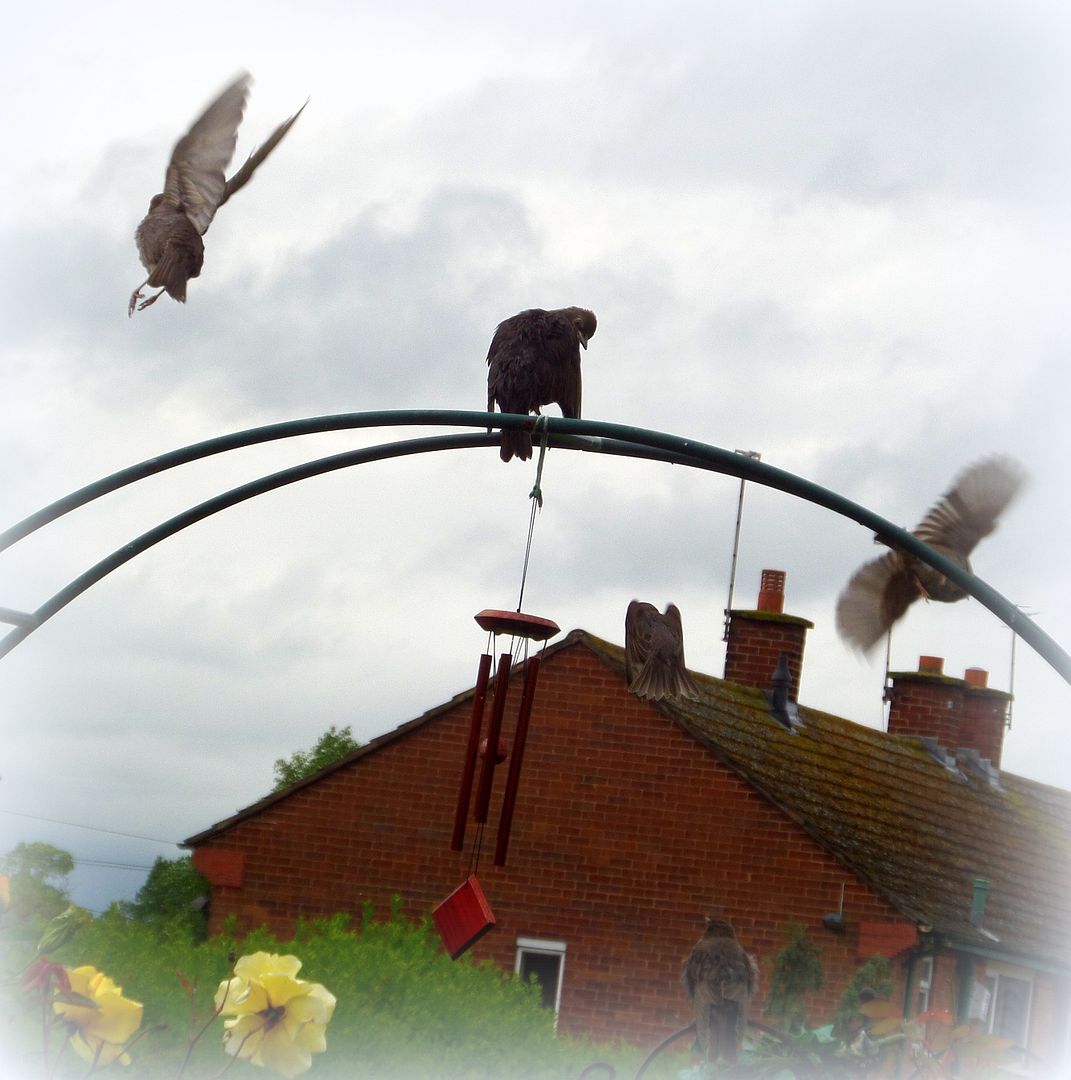 Shut not your mind against the joys of life.
Songbirds still call and sunlight gleams.
Send forth your questing thoughts
on wings of hope.
Open the casement of your dreams . . .
Live not in shuttered gloom of vain regrets.
I've seen a few photos recently of my ex and his new wife's trip back to the places we used to live together. Pictures of our old homes and places where I lived when I was bringing up my babies. I am not sure why but it makes me really sad to see them. We are going back 30 odd years with some of them. My babies are all grown up now and for the most part have babies of their own. I wonder sometimes if they have any thoughts or feelings about those days, or have they shut them out of their minds and hearts. Have they been erased . . . kinda like me.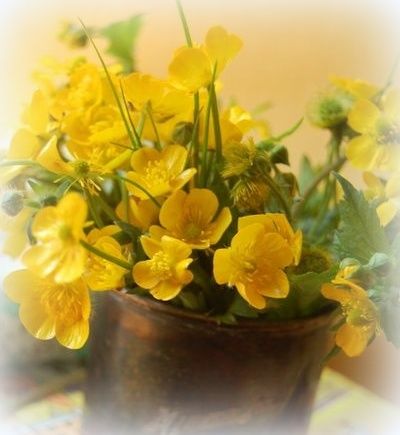 The wild flowers we planted are a mass of buttercups at the moment. I love buttercups. When you were a child did you play the game where you held a buttercup up to another's chin and asked, "Do you like butter?" If their chin glowed yellow, the answer was yes. Of course it always did glow yellow gold. The answer was always yes. I had never thought to gather them into a bouquet before. I am glad that I did. They delight en masse . . .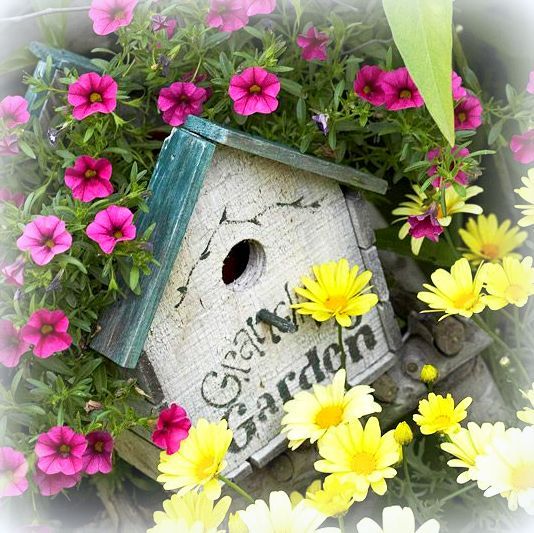 There is a woman at church whose husband makes beautiful birdhouses,and he doesn't charge a fortune for them either. I think they are worth a lot more than he charges. Birdhouses are such wonderful garden accents and they serve a dual purpose, or they should. I have never had any birds take up residence in ours. It seems they would rather live in the hedge instead of some place cosy and warm . . . not to mention dry. I wonder why that is??? I wish that I could record for you the lovely sounds from our garden. We have a robin that comes and sings. Robins have such a beautiful song. It's nothing however, when compared to the song of the blackbird which often sits atop the light pole which stands adjacent to our hedge in the alley. Oh my . . . when he sings (and he is a male) it is such an enchanting melody. I could sit and listen for hours. Nature's music . . . a beautiful symphony. When we lived down South, we walked through the orchards surrounding our cottage on a daily basis all the year through. The song changed with the months that passed. In spring it was full of excitement and the song of a thousand birds but as spring turned to summer turned to late summer, it would go quiet and all we would hear would be the sounds of insects buzzing in the summer heat . . . and the odd crack of a branch snapping. Nature is like that. Each season brings with it it's own melodies and colours.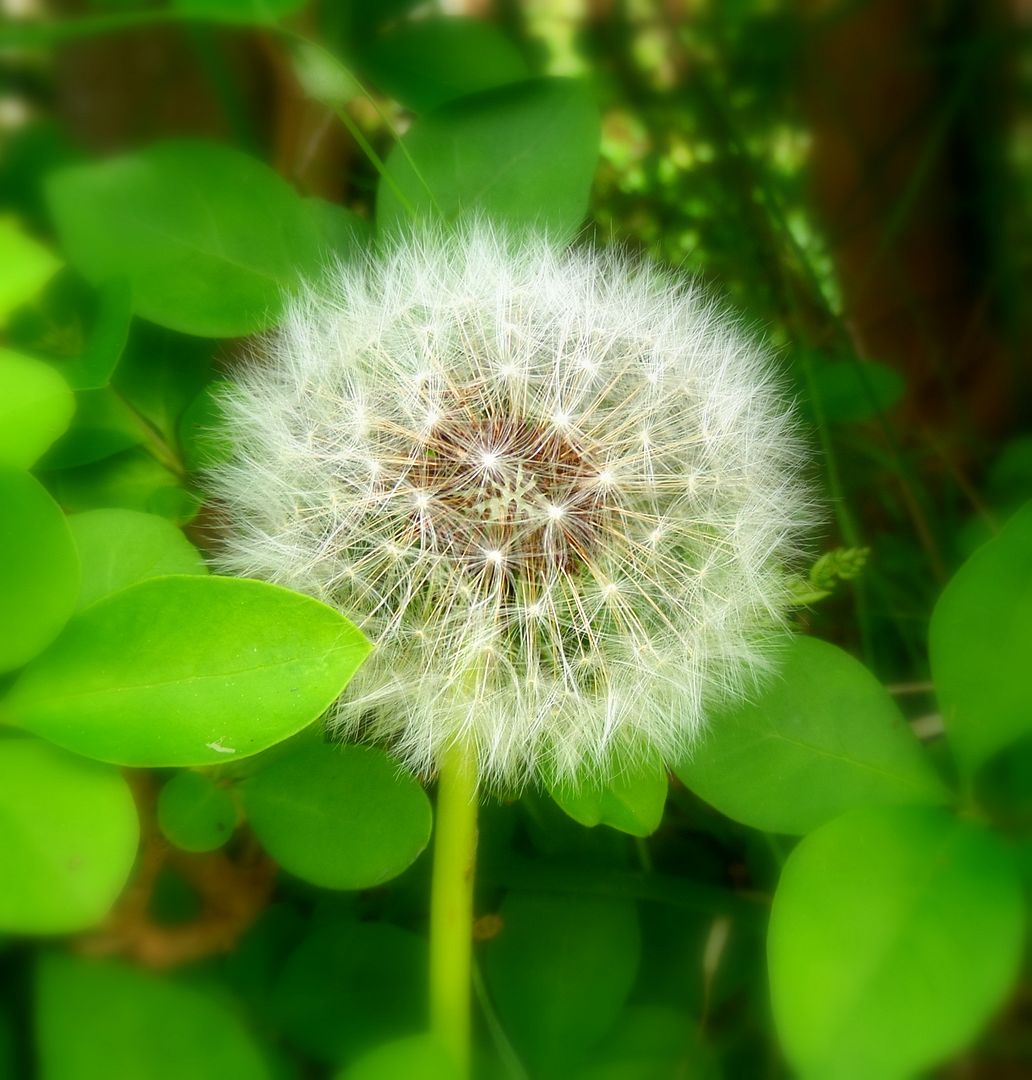 This is a photograph I took the other day of a dandelion gone to fluff . . . I thought it was quite beautiful. The intricacy of it all amazes me. Once golden petals . . . and now something quite ethereal . . . fanciful, magical . . . faerie-like. Oh to hold onto one silver strand and travel to where the wind takes you. What a magical journey that might be. That reminds me of a Donovan song I used to love to listen to . . .
When rain has hung the leaves with tears
I want you near to kill my fears
To help me to leave all my blues behind
For standing in your heart
Is where I want to be and long to be
Ah, but I may as well try and catch the wind
You can catch the wind I think . . . you just have to stand really still and close your eyes . . .
Has anyone been watching this program on the telly??? We have caught two episodes now, and it is strangely compelling viewing. The programme sees 12 American women trying to earn a date with a man who they think is our very own Prince Harry. But in a very cruel twist, the royal is actually an impostor (obviously), with Matthew Hicks posing as the red-headed bachelor. Normally we don't watch programs like this, but I was intrigued as to how they could pull this off and make 12 seemingly intelligent women think this imposter was actually Prince Harry.
There is only the slightest resemblance between the two men . . . but I suppose it is enough to make someone think that it just
might
be the Prince . . . but
really
. . . would a Royal stoop so low as to appear on a Television reality show like that?? Simple intelligence says . . . NO. They spend oodles trying to stay out of the public eye. There is no way on earth they would do something like this and if they even attempted to do something like this, the Press would "out" them in a New York minute! But it is fun viewing, or at least it has been so far. I'll let you know if I get bored.
And with that I will leave you with a thought to carry through today . . .
✻ღϠ₡ღ✻(¯`✻´¯)
✻ღϠ`*.¸.*₡ღ¸.✻
"Character is what you are in the dark."
~Dwight L. Moody
✻ღϠ`*.¸.*₡ღ¸.✻
✻ღϠ`*.¸.*₡ღ¸.✻
✻ღϠ`*.¸.*₡ღ¸.✻
In The English Kitchen today . . . a seriously quick, simple and delicious supper . . . one pan
Curried Chicken Broccoli and Rice.
═══════════ ღೋƸ̵̡Ӝ̵̨̄Ʒღೋ ═══════════ ⊰✿░L░O░V░E⊰✿⊰✿⊰✿⊰✿⊰✿⊰░Y░O░U░⊰✿
═══════════ ღೋƸ̵̡Ӝ̵̨̄Ʒღೋ ═══════════
Have a fab Wednesday!