I think of June as the singing month. This is the month where rambling roses begin to climb every where . . . over pergolas and old grey stone walls . . . lattices and arbours . . . wooden sheds and cottage walls. There is nothing so charming as a rose covered cottage, don't you think? It seems that in June the whole countryside is covered in a lush green blanket laced with rose reds, shell pinks and ivory whites as the gardens truly come alive and come into their own.
And yet, there is still so much to look forward to. On a sunny day the sky sings too, with tranquil blues and ethereal white clouds which drift in a slow moving symphony across the horizon. One can almost hear the horns of fairy kingdoms calling in their subjects . . . so they will be ready to bow down to the Queen of Summer who is about to arrive in all her majesty. I think of such things as I wander in the garden . . . drinking in the delicate bell like flower petals of the foxglove . . . the snapping red and golden mouths of the snap dragons which have decided this year they are going to bloom against the hedge, such a delight to discover!
The wild roses which lay beneath our bird feeders are about to shout out in a riot of colour and song which will keep us entertained throughout the coming months, their music is just beginning, but at the tip of every branch is the promise of a beautiful melody.
"June comes again to place on earth's warm breast
her sweetest gift, the fairest and the best.
Roses their velvet hearted blooms unfold . . .
crimson and apricot . . .
ivory and gold.
In stately grounds and in cottage beds.
In park and plot,
they lift their lovely heads.
Yet when they come
my heart remembers Time.
Is not the year already
near it's prime?
~Patience Strong
There came a knock upon the door yesterday afternoon and I opened it to find a gypsy on my doorstep. An older woman with a little basket filled with charms. She asked did I not want to buy a charm. Of course I didn't and I told her so. She said . . . not even for good luck? No, not even for good luck. I have all the luck I need and I didn't want to encourage such things. I am a bit afraid of gypsies. I think it goes back to a childhood where we were fed stories about gypsies stealing children away . . . I do admit that I was a tad bit afraid turning her away . . . I hope she didn't leave a curse upon our gate.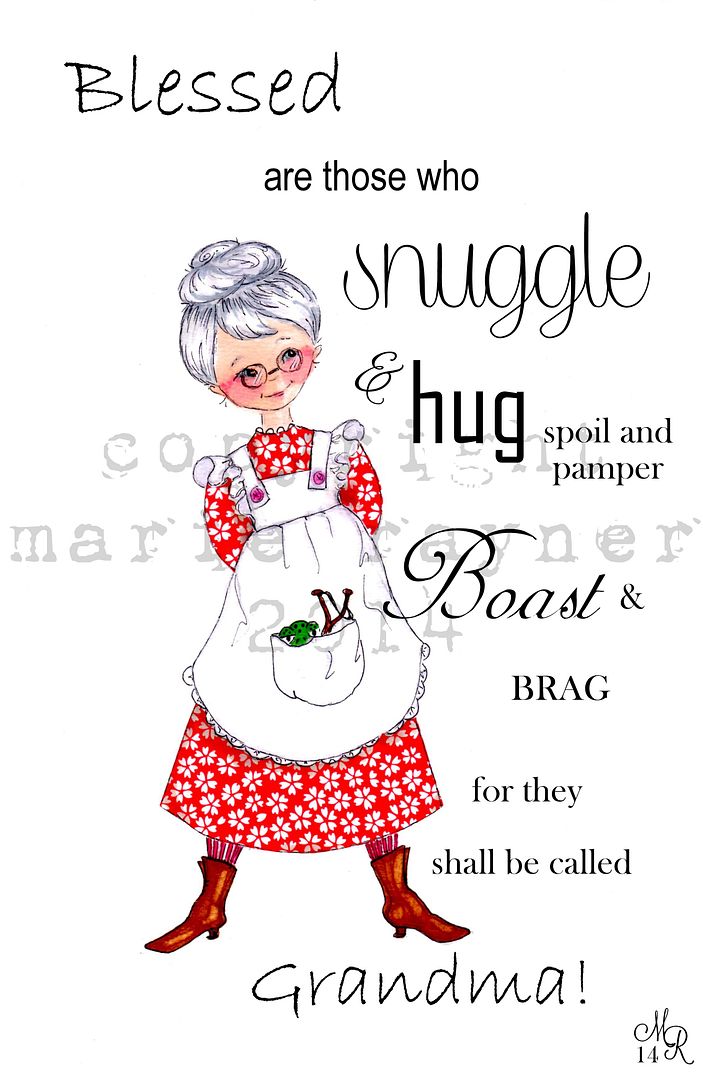 One of my dearest friends became a Grandmother this week for the first time. Kathy was my next door neighbor when I lived in London, Ontario some 30 odd years ago. We used to do everything together and she was truly one of those people I could tell my secrets too. Her youngest son Robert was born in London and this week, he and his wife had a baby boy. I wanted to commemorate this wonderful new stage in life for my friend in a special way and so yesterday afternoon, I sat down (in between wanderings in the garden and gypsies at the door) and did this little painting for her. I hope that she likes it. I know that there are not many Grandmother's these days who look like this. We are much more glamorous I think! In any case I hope that she likes this. This is a feisty Grandmother, complete with catapult and frog in her apron pocket!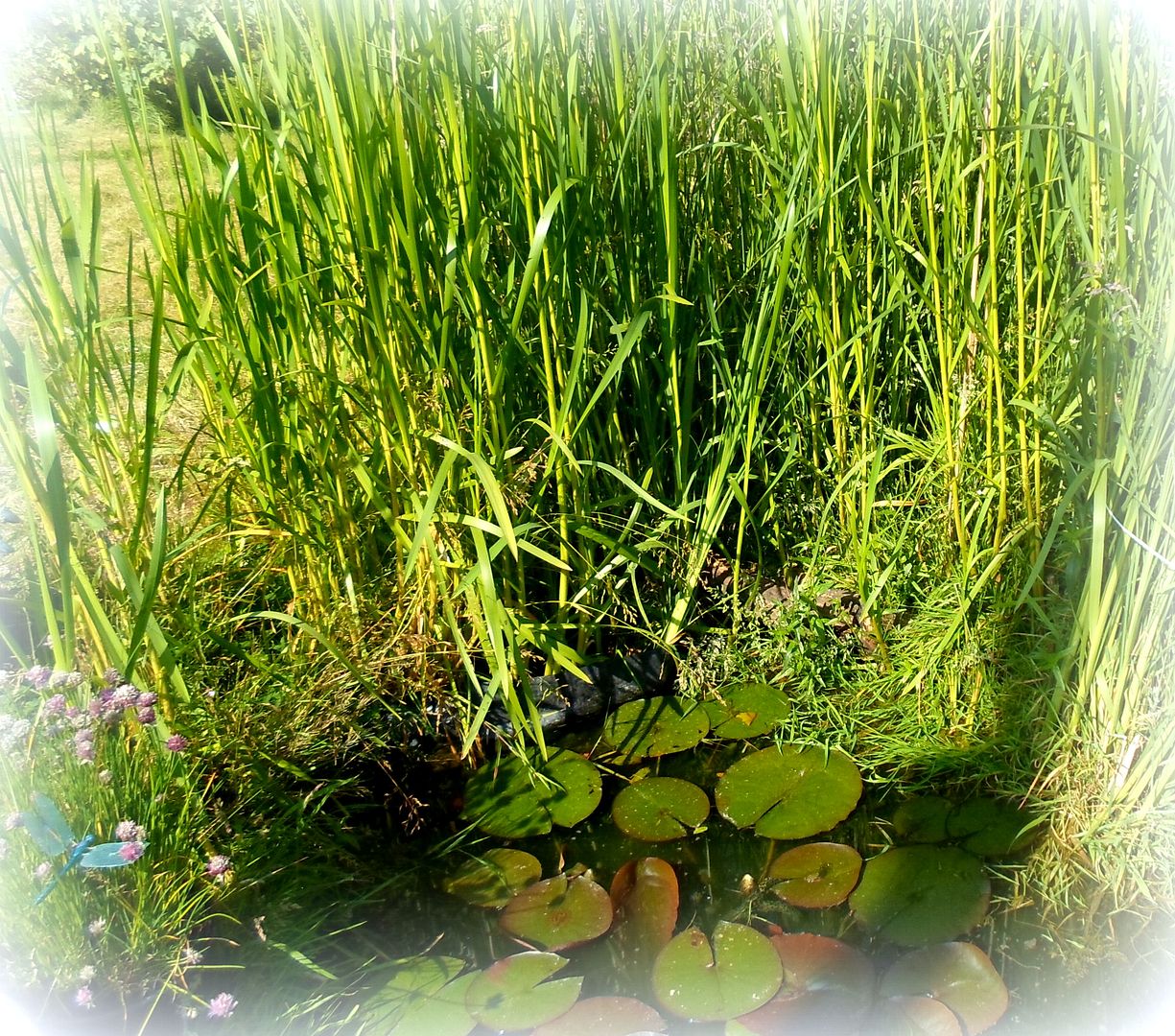 We had the rather distressing discovery yesterday that our oldest fish had been "fished" out of our pond by one of the neighborhood cats, alas. Spotty (yes, I name my fish) was about four years old and a tri-colour goldfish, being orange, white and black. She had given us babies several years in a row and was quite a size now, being about six inches long. Todd discovered her over by the hedge and she had obviously been much played with. It's sad when something like this happens. I know that cats are only acting upon instinct. It is in their nature to hunt and play with their prey . . . but I was upset to see yet another one of our dear creatures lost. I am sure were it a large bird they would have eaten it. In any case, Todd has affixed a net around the perimeter of the pond so as to prevent furry paws from lurking there and reaching in to scoop out yet another one.
The sun is shining gloriously here today and so without further adieu I shall leave you with a thought to carry with you through this beautiful day, and I do so hope that it is beautiful for you . . .
*╰╮. ≀ .╭╯
. ⌣⌢ (ˆ◡ˆ) ⌢⌣
. ☾ ╭╯˙≀˙╰╮~~~
There are souls in this world
which have the gift of finding joy everywhere
and leaving it behind them when they go.
~Frederick Faber
(¯`•.•´¯) (¯`•.•´¯)☆__
☆ *`•.¸(¯`•.•´¯)¸.•´
Have a blissful Sunday
. . .
¤ ؛° ¤`•.¸.•´ ¤ ☆__☆***☆__☆..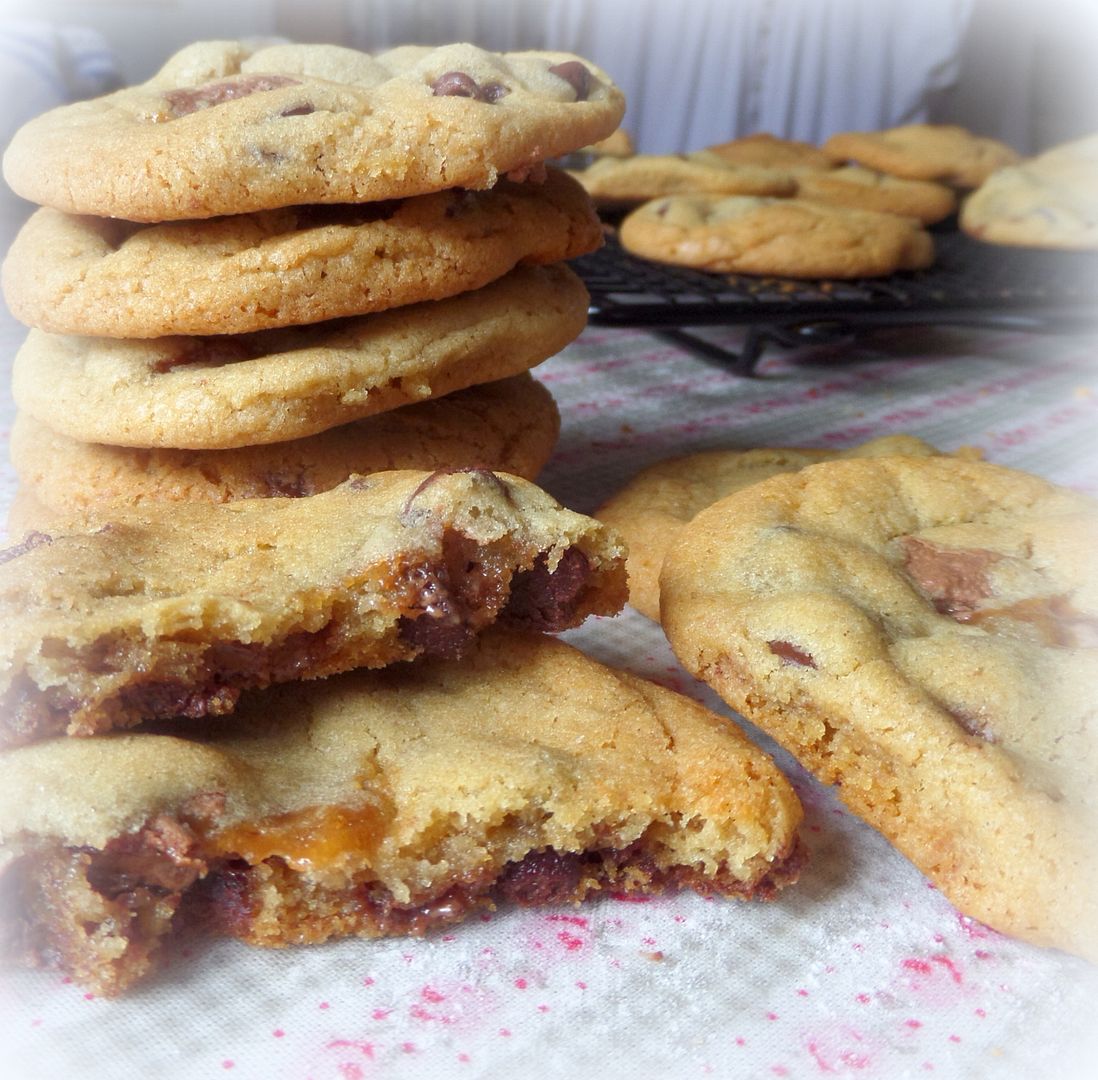 Baking in The English Kitchen today . . .
Big Soft Chewy Mars Bar and Chocolate Chip Cookies
!
═══════════ ღೋƸ̵̡Ӝ̵̨̄Ʒღೋ ═══════════ ⊰✿░L░O░V░E⊰✿⊰✿⊰✿⊰✿⊰✿⊰░Y░O░U░⊰✿
═══════════ ღೋƸ̵̡Ӝ̵̨̄Ʒღೋ ═══════════
Happy Sunday and first of June! Pinch Punch!