Today I want to talk about something which I have loved since I discovered it about two years ago. Pinterest. If you don't already pin you should. It's so much fun! You collect photos from all over the web and curate them into one place on separate "Boards." These "Boards" are like virtual bulletin boards, except there's no mess, they don't take up any space and they are yours to do what you want with. It's a way of fueling your passions that doesn't cost any money or occupy any space in your home . . . downside being, it's also a great time waster, and quite addictive.
It's a great insight to people personalities I think. The boards they choose say a lot about someone . . . their loves and interests and passions. As usual I am over the top with mine. I have 186 boards, with over 30,000 pins and almost 15,000 followers. (Yes you can get followers on Pinterest as well.) In contrast I only follow 263 people. I am very discerning I guess. If I follow you, you just know I think that you're the best! If I don't, I just may not have discovered you yet! One day I will, I am sure.
I have one board on there that is totally dedicated to things both
red and white
. I have always loved that colour combination and now I have a whole little collection of red and white things to look at and to love. There is everything on that board from the picture here today to red and white china, and everything in between. And I haven't spent a penny. (That makes Todd happy.)
I love,
LOVE brooches
. I only have a few in real life, but on Pinterest I have collected no less than 128, with a new one being found every so often. I only pin brooches I would want to wear. Not just any old brooch will do. I am partial to antique looking ones and ones with a bit of glitter attached, like this pretty blue bird. I am a bit like a crow. If it sparkles I love it!
I am also slightly obsessed with
angels
, and I have a board which is filled with them. Angels such as this one here, but mostly stone angels which reside in church yards and cemetaries around the world. Most are so beautiful . . . frozen in time . . . God's messengers . . . they speak to me in a special way. They touch my heart. I'm also obsessed with
fairies
. . . but I am sure you already knew that.
(source)
You might think that this folder lies under the heading ot cookies or pastry, but it doesn't. It's all a part of my obsession with
hearts
. Yes, it is all things heart shaped. There are cookie hearts, and felted hearts . . . bejeweled hearts and naturally formed hearts. Mosaic hearts, embroidered hearts, any kind of heart at all. If it is even remotely shaped like a heart, its in that board, and beloved by me.
(source)
You know
my faith
is a big part of who I am and so it goes without saying that I would have a board dedicated to that as well, with quotes which inspire from the different conferences, special crafts and lesson helps that I might one day need to use in Relief Society, or Primary or Young Womens. . . . words from the scriptures and the prophets. I am an open book, and I
love
live by the book.
(source)
I may only have ever had one or two dolls when I was growing up and I may only have one or two now, but on Pinterest I have
324 dolls
. Each one interesting and beautiful to me. Antique, and rag, and designer . . . and, yes . . . I finally DO have my Chatty Cathy! And don't get me started on Blythe. I wish!
(
source
)
I can't remember when I last looked for a recipe on food.com or FoodTV. I look on Pinterest now. I've discovered a lot fo really good food blogs that way, and some not so good. I have about a bazillion food boards, for everything from soup to nuts to snacks and tea parties. At first I just pinned to a general recipe book, but after a time it became clear that I would never be able to find anything that way and so I categorized them according to the meal, the type of food, the occasion. Much, much easier, and a wealth of information.
I have household tips and cleaning tips, beauty tips, etc. In short I have almost everything about anything that I could ever want to know at my fingertips. I love Pinterest. I don't spend as much time on it as some people do, but I do love to peruse it at least once a day to see if something new is happening. I love also being able to "pin" things to my boards as I surf the net. Much better than bookmarks in my opinion. Do you Pin? If so I would love to follow you. Leave me a link below!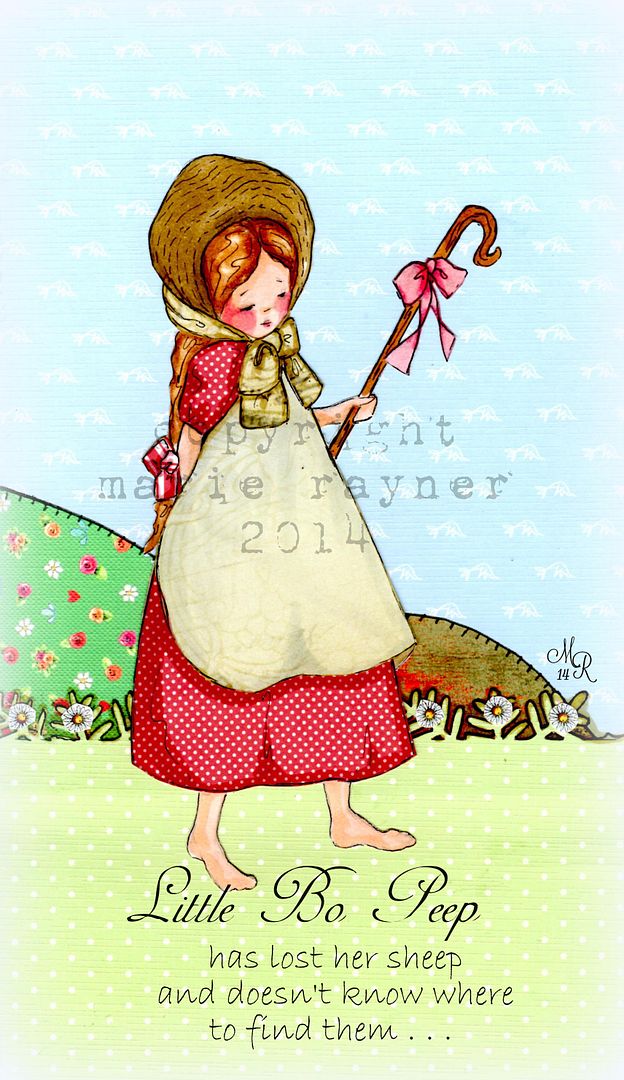 In keeping with the Nursery Rhyme theme, I did this yesterday afternoon. Not sure what I think of it yet. I think I need to add some sheep. Sometimes doing art is a bit like owning your own homw. You are never quite finished with it, always wanting to add this or to add that. The trick is to knw when to stop.
A thought to carry with you through today . . .
✻ღϠ₡ღ✻(¯`✻´¯)
✻ღϠ`*.¸.*₡ღ¸.✻
"Don't postpone joy until you have learned all of
your lessons . . .
Joy is the lesson."
~Alan Cohen
✻ღϠ₡ღ✻
✻ღϠ₡ღ✻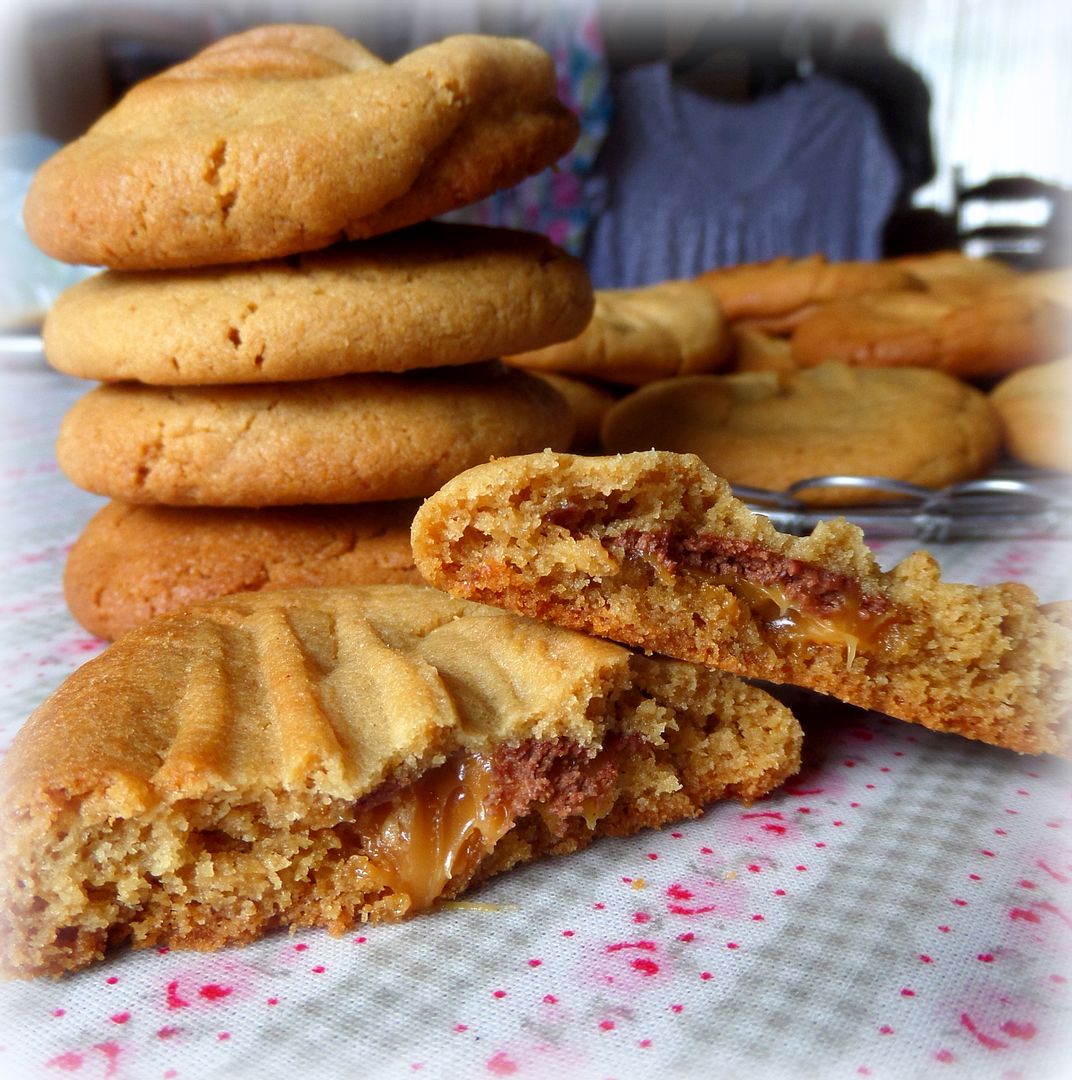 Baking in The English Kitchen today . . .
Snickers Stuffed Peanut Butter Cookies
. Seriously addictive. Naughty naughty things they are . . .
Have a wonderful and a blessed Sabbath! May it be filled with light and love!
═══════════ ღೋƸ̵̡Ӝ̵̨̄Ʒღೋ ═══════════ ⊰✿░L░O░V░E⊰✿⊰✿⊰✿⊰✿⊰✿⊰░Y░O░U░⊰✿
═══════════ ღೋƸ̵̡Ӝ̵̨̄Ʒღೋ ═══════════