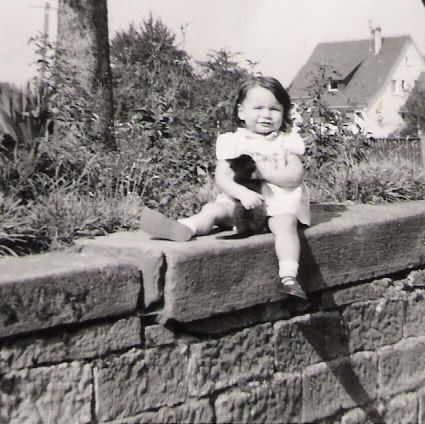 Not that this blog is all about me or anything, but you're getting five more things about me this week, again . . . hope you don't mind! I don't think a little self examination is ever a bad thing. I was about 16 months old or so in the photograph up there. I feel sorry for that kitten . . . looks like I have somewhat of a stranglehold on it. ☺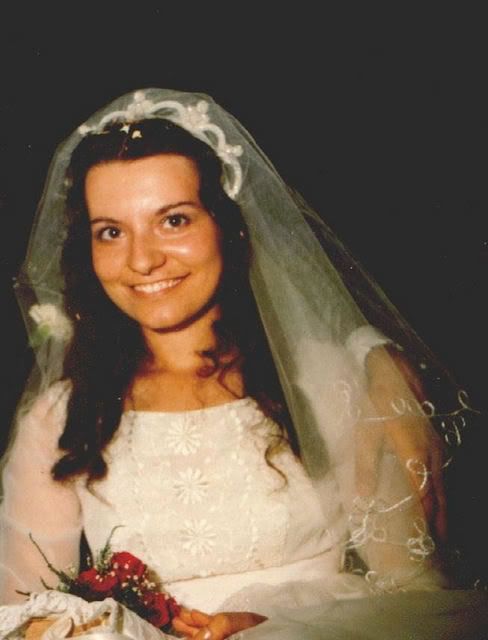 This is me on my wedding day on the 24th of August 1974. I had just turned nineteen eleven days prior to this, and I think I weighed about ninety five pounds, about 6 3/4 stone. I never ever thought I was pretty when I was younger. My hair was always too curly. I had a mole on my upper lip that I hated. (You can just barely see it in the photo) My lips were too thin, my nose too big . . . I had no dimples except for the one in the middle of my chin, etc. etc. I look at this photo now and I think. Wow. How could I have not seen that I was attractive? I sure wish I still looked like that, not to mention was still that size! Actually I was probably a bit too skinny. My dress was borrowed. It had been my ex sister in law's dress and veil for that matter. It had been ballerina length on her. It went to the floor on me. It had a huge hoop crinoline underneath. It really was a beautiful dress.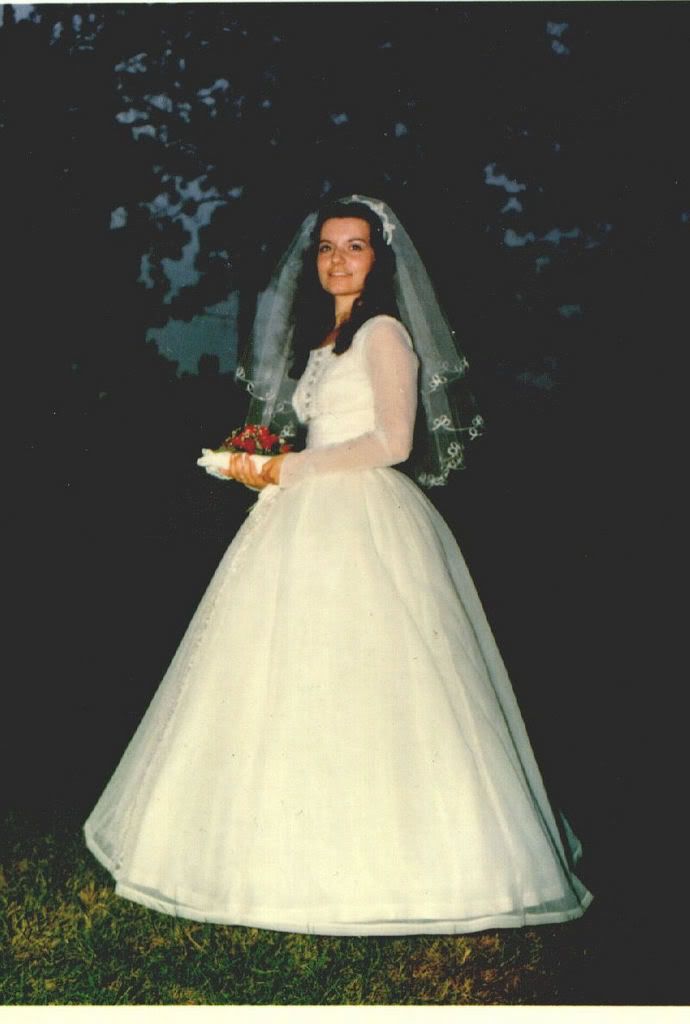 My bouquet was a spray of red roses that my ex mother-in-law put together that I carried on the bible which my father had given me for Easter when I was four years old. That bible disappeared in the divorce. I strongly suspect it was burnt because it meant so much to me, but I can't prove anything, and I try not to think about it. The whole wedding was done on the cheap because I knew my parents didn't have a lot of money. I think the most expensive thing was the reception and DJ for the dance. My ex mother-in-law did all of the flowers from her gardens. We made all of the church decorations ourselves, etc. Sometimes I think back and wonder what advice I could give that young girl from almost 40 years in the future and that line from that film "The Help" comes to mind . . .
"You is kind. You is smart. You is important."
Except I would add . . .
"You is beautiful and there is nothing you can't do."
I've secretly always wanted to be an American and to live in America. It is a country I have greatly admired since I was a little girl. We had family who lived in America that we visited several times, in New England (Vermont, Connecticut and Massachusetts). I loved their way of life. I have always loved their patriotism, and the way they celebrate everything. The fourth of July, Halloween, Thanksgiving . . . they don't do anything small. I like to do things big myself. I would fit right in!
(
source
)
Red and white and blue and white are my two favourite colour combinations. And I totally adore gingham, stripes and polka dots. I could quite happily live in a house that was all red and white, or all blue and white . . . not to mention covered in polka dots, gingham and stripes. Not sure what it would look like and people would probably think I was crazy, but . . . I'd be quite content!
When I was a girl I wanted to be Aunt Bea. To those of you who wouldn't know, Aunt Bea was a much beloved character in an American Sitcom called the Andy Griffith Show. Andy was the sheriff in a make believe town in North Carolina called Mayberry. He had a young son (Ron Howard) and he was a widower. His Aunt Bea came to live with them to help care for the house and them. She was the perfect picture of domesticity. She was a great home-maker and cook. She sang in the church choir. She wasn't perfect like June Cleaver, with nary a hair out of place. She was a bit more real than that. She was sweet and loveable and human. She was quite
overweight
fluffy. She loved Andy and Opie (Ron Howard) and they knew it. She was loyal and kind and generous. She was a character I looked up to and who I wanted to emulate. I think I'm almost there . . .
I love buttons. I ADORE buttons, but white buttons are my most favourite buttons of all. Especially pearlized white buttons. I think they are all so beautiful. I love old buttons and old lace. I actually really do have a thing for white toilet paper, white sheets, white towels, white underwear, white night clothes and . . . white buttons. (With a bit of red and blue thrown in for good measure. See it's that
American
thing . . . again! Red, WHITE and blue!)
What can I say??? It's just me!
A thought to carry with you through today . . .
✻ღϠ₡ღ✻(¯`✻´¯)
✻ღϠ`*.¸.*₡ღ¸.✻
"Always serve letters with a cup of tea and a footstool."
~Macrina Wiederkehr
✻ღϠ₡ღ✻
✻ღϠ₡ღ✻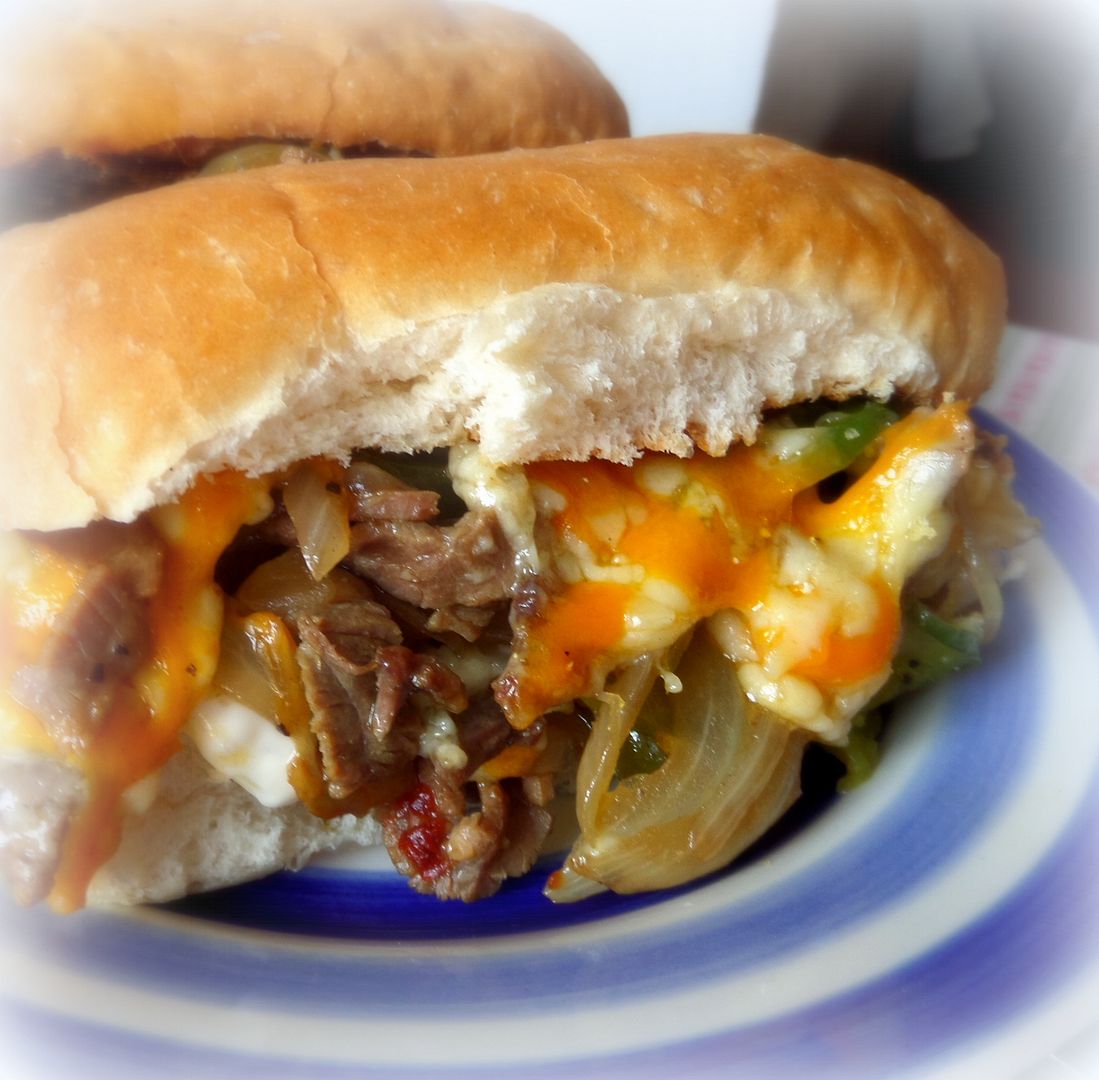 Cooking in The English Kitchen today . . . delicious
Beef and Cheese Sarnies
! Oh boy were these ever tasty. I'm afraid I made a big pig of myself with them. Sigh . . . when will I
ever
learn!
I wanted to thank you all again for your love and support. I DO have the best readers in the world. Ignoring the not so nice. That's the way to be.
═══════════ ღೋƸ̵̡Ӝ̵̨̄Ʒღೋ ═══════════ ⊰✿░L░O░V░E⊰✿⊰✿⊰✿⊰✿⊰✿⊰░Y░O░U░⊰✿
═══════════ ღೋƸ̵̡Ӝ̵̨̄Ʒღೋ ═══════════