FOR TODAY, June 14th, 2016
Outside my window ...
Its very overcast and looks like we will be having another rainy day today. I think we are going to be making up for all the sunshine we had the past two weeks with having a week of rain this weel. Oh well, that's how the cookie crumbles and it is all a part of what makes this country so lush and so green. I better dig out the slug pellets however, or my beans, peas and tomatoes will be toast!
I am thinking ...
I found some old poems I had written the other day. I am thinking I need to put them all in ONE book so that they are all together.
I am thankful for ...
The gift of discernment, which helps me to know right from wrong, good from evil, etc.
In the kitchen ...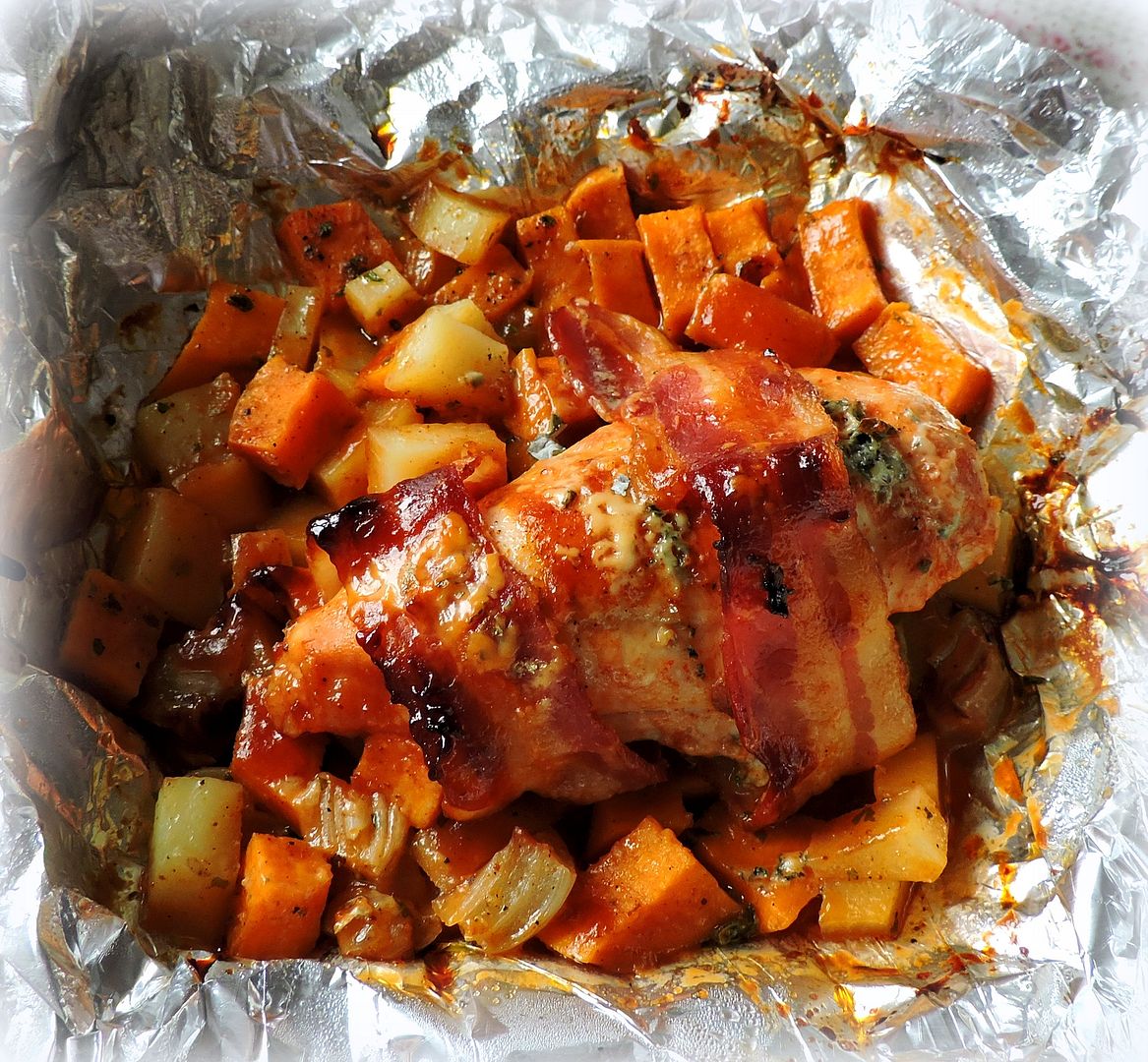 Foil cooking with
BBQ Chicken Packets
. Seriously delish, and NO clean up!!! Bonus!
On my "To Cook" list ...
Garlic Butter Asparagus Pasta. 20 minutes to make. From
Diethood
.
I am creating ...
Still working on a wedding painting for a friend.
A beautifully embroidered Bee from
Sublime Stitching
. What a wonderful example of pretty handiwork. I love bees.
A really cute Tooth Fairy Pouch from
Embroidery Garden
. This pattern is for sale, but I don't think it would be all that hard to make anyways, and you could do the embroider by hand, not necessarily by machine. Its cute, but I'd like that toothfairy. Looks like that tooth got five buckaroos! We've come a long ways from a nickle!
Apple Oven Mitts from
Jolijou
. Cute! This is the type of potholder I like best of all.
A free tutorial for a Messenger Bag. From
The Blue Chair.
How to paint Poppies and Roses in Water Colour and Mixed Media. From
Sandrine Pelissier
.
I am reading ...
While My Eye Were Closed
, by Linda Green
Linda Green's psychological thriller, While My Eyes Were Closed, focuses on every parent's worst nightmare. Switching perspectives between a young mother who's lost her youngest daughter and an elderly lady who believes she's doing the right thing, it's a chilling, uncomfortable story about what people are capable of when they lose the ones they love.
During a game of hide-and-seek in the park, mother-of-three Lisa takes a phone call. At first she believes small, four-year-old Ella has found a new, obscure place to hide, but she quickly realises that Ella is no longer in the park and calls the police. Meanwhile, Muriel, an elderly piano teacher, sees a four-year-old child stumble in the park. After watching the mother quickly brush dirt off her hands and then turn to answer her phone, she concludes that the parent is unfit and negligent and takes matters into her own hands.
While My Eyes Were Closed shows Lisa struggling to come to terms with Ella's disappearance. She's overwhelmed by guilt at receiving the phone call and despises the attempts those around her make to restore some normality. Everything she sees reminds her that Ella is gone, and she blames herself completely. Her background doesn't help matters, as the tabloids pounce on the fact that her brother has a criminal record as her family members are taken in for routine questioning. Comments on social media about Lisa's behaviour at press conferences only make things worse.
Muriel is determined to give Ella the care she believes she needs. Divorced, with a grown-up son Matthew, she lives alone and mostly in the past. As Ella knows Muriel as the nice lady with the cat who gives her elder brother piano lessons, she's more or less content to stay in her house until Mummy comes to pick her up. However, it isn't long before even Ella can sense something's wrong, and she starts to question why she's being given Matthew's haircut, Matthew's clothes, and Matthew's memories. As the lines between memory and reality blur for Muriel, Ella's constant questions about where Matthew is now and when Mummy will come to pick her up drive her closer to the edge.
Its a cracker of a read! Loving it!
I am looking forward to ...
District meeting this morning at the chapel. It will be the first one with all of the new District.
I am learning to ...
Forgive AND forget. The forget part is the hard part.
Dreaming about ...
Getting a new refrigerator. Preferably one that is large enough to hold everything . . .
Secret gardens . . .
A vintage rocking chair . . .
Palm trees and beach swings . . .
Oops . . . now how did he get there . . . . ;-)
Love me some Bruce Springsteen.
A favourite quote for the day ...
(¯`v´¯)
`*.¸.*´Ƹ̵̡Ӝ̵̨̄Ʒ ¸. •´¸.•~♥♥♥~•.~
ღϠ₡ღ¸. ✻´´¯`✻.¸¸.Ƹ̴Ӂ̴Ʒ. ( ¸.
❀⁀ ⋱‿✿"` * .¸.* ✻ღϠ₡ ღ¸.✻´´¯`✻.¸¸.Ƹ̴Ӂ̴Ʒ..
Life is like the ocean. It can be calm or still, and rough or rigid, but in the end . . .
it is always beautiful.
~Unknown
Makes me smile ...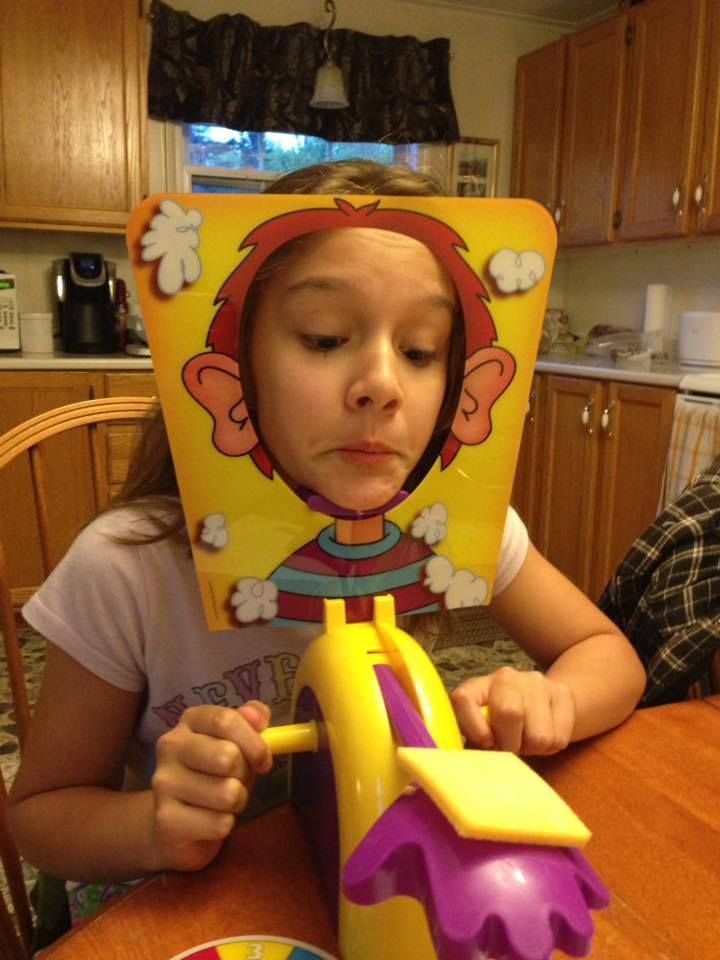 My cousin's daughter playing Pie Face. Where's the whipped cream Odessa!
One of my favourite things ...
The early morning . . .
Corners of my kingdom ...
Magpie sitting on top of the power pole in the alley next to our back garden . . . master of all he surveys . . .
And that's my daybook for this week!
⋱ ⋮ ⋰
⋯ ◯ ⋯ Take time to enjoy the small *´¯`.¸¸.☆
⋰ ⋮ ⋱ blessings in life.*´¯`.¸¸.☆
✿¸.•*¨`*•..¸✿ ✿¸.•*¨`*•..¸✿ ✿¸.•*¨`*•..¸✿
╬♥═╬╬═♥=╬╬═♥╬╬═♥╬╬═♥=╬╬♥═╬
░░░░░░░░░░░░░ ░░░░░░░░░░░░░
Wherever you go and whatever you do, I hope there's a great day ahead of you! Don't forget!
═══════════ ღೋƸ̵̡Ӝ̵̨̄Ʒღೋ ═══════════ ⊰✿░G░O░D⊰✿⊰L░O░V░E░S⊰✿⊰░Y░O░U░⊰✿
═══════════ ღೋƸ̵̡Ӝ̵̨̄Ʒღೋ ═══════════
And I do too!!