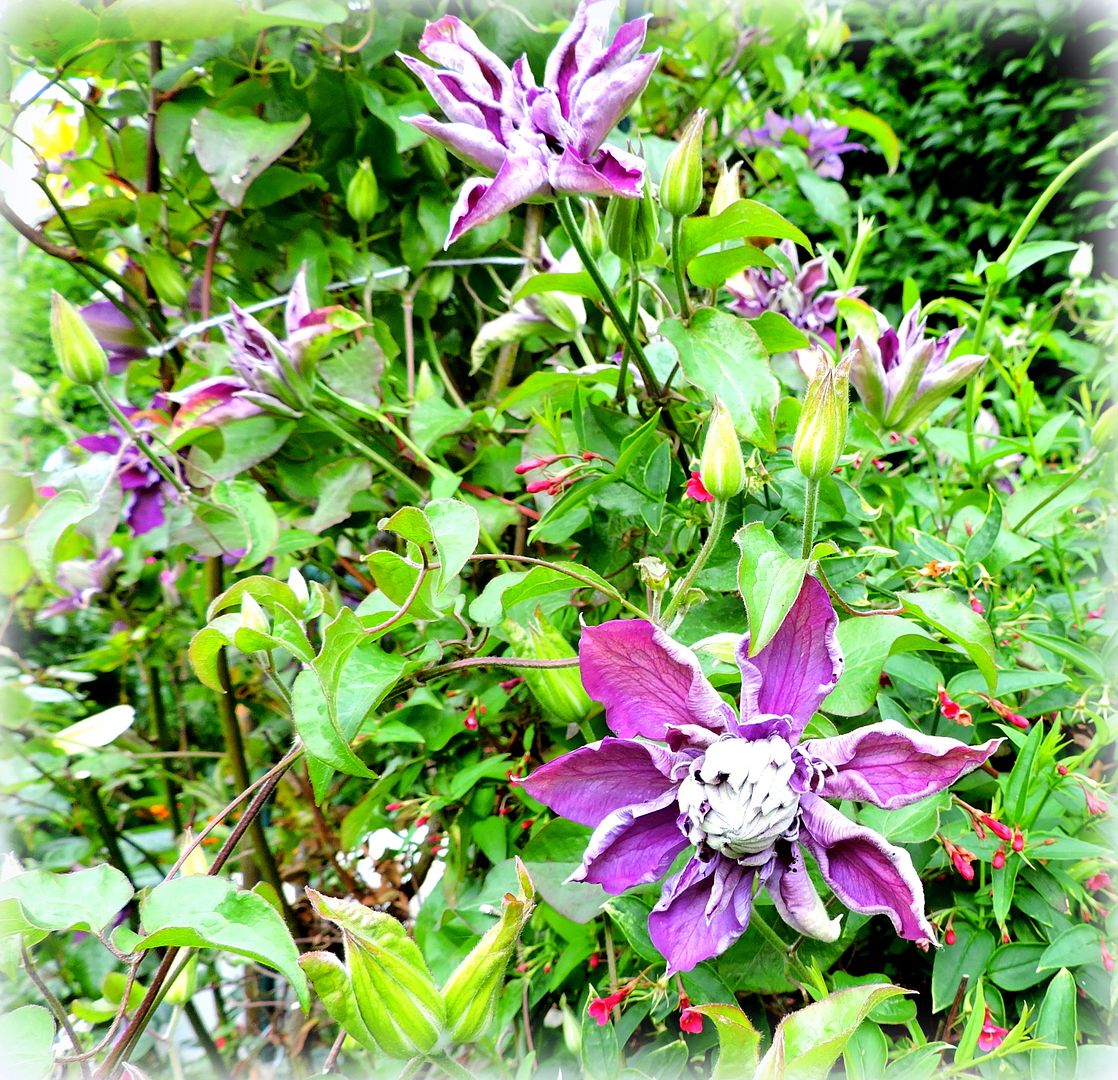 The gardens are starting to look pretty amazing at the moment. The fence in the back garden which seperates the grassed area from the pation is loaded with purple blooms and honey suckle in bloom. Small pink flowers that fill the air with such a beautiful scent and which the bees just love. It has been such a beautiful week weatherwise, that the garden has just taken off in leaps and bounds.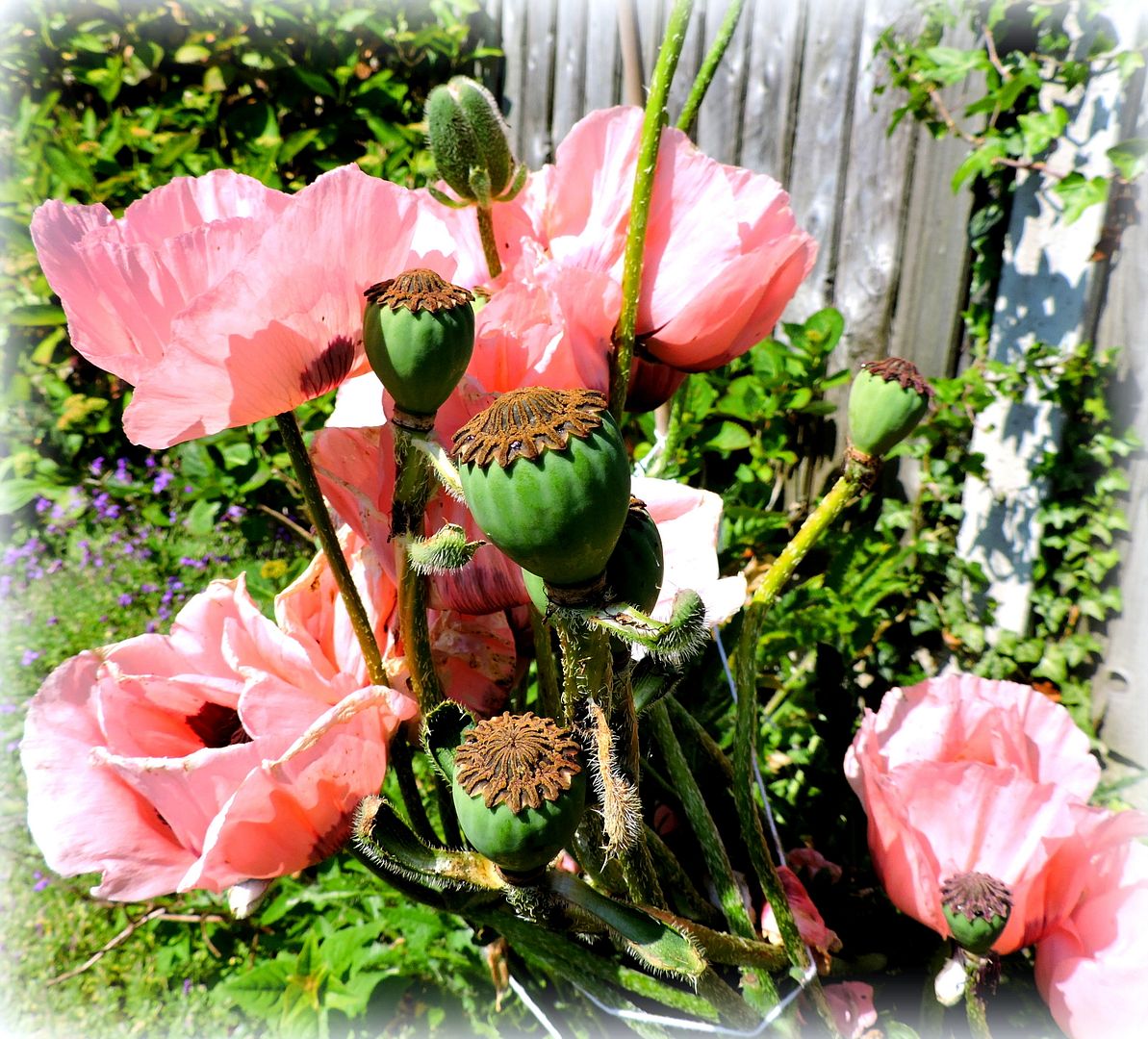 Our Oriental poppies are once again putting on a beautiful show . . .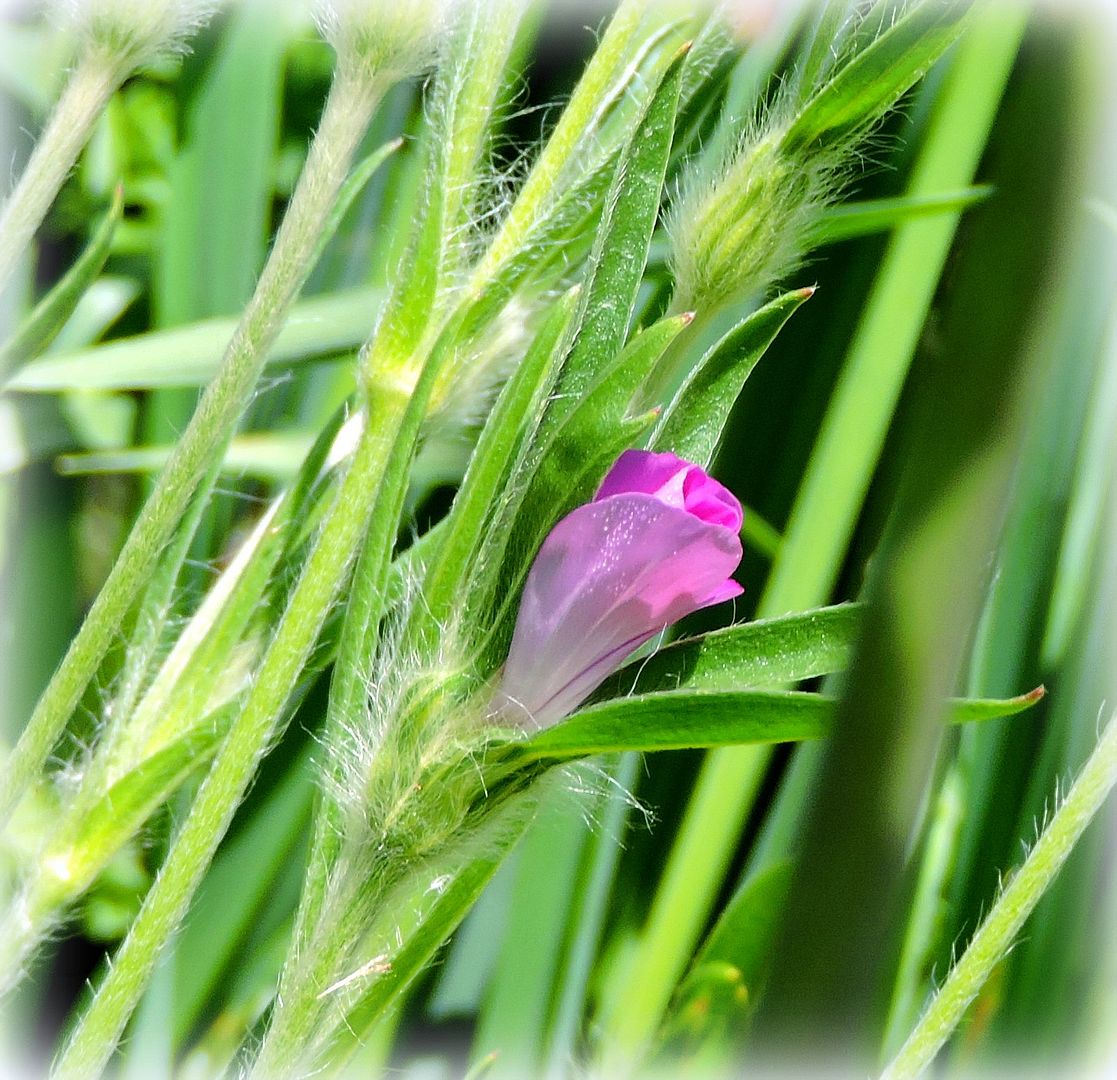 Wildflowers are blooming . . .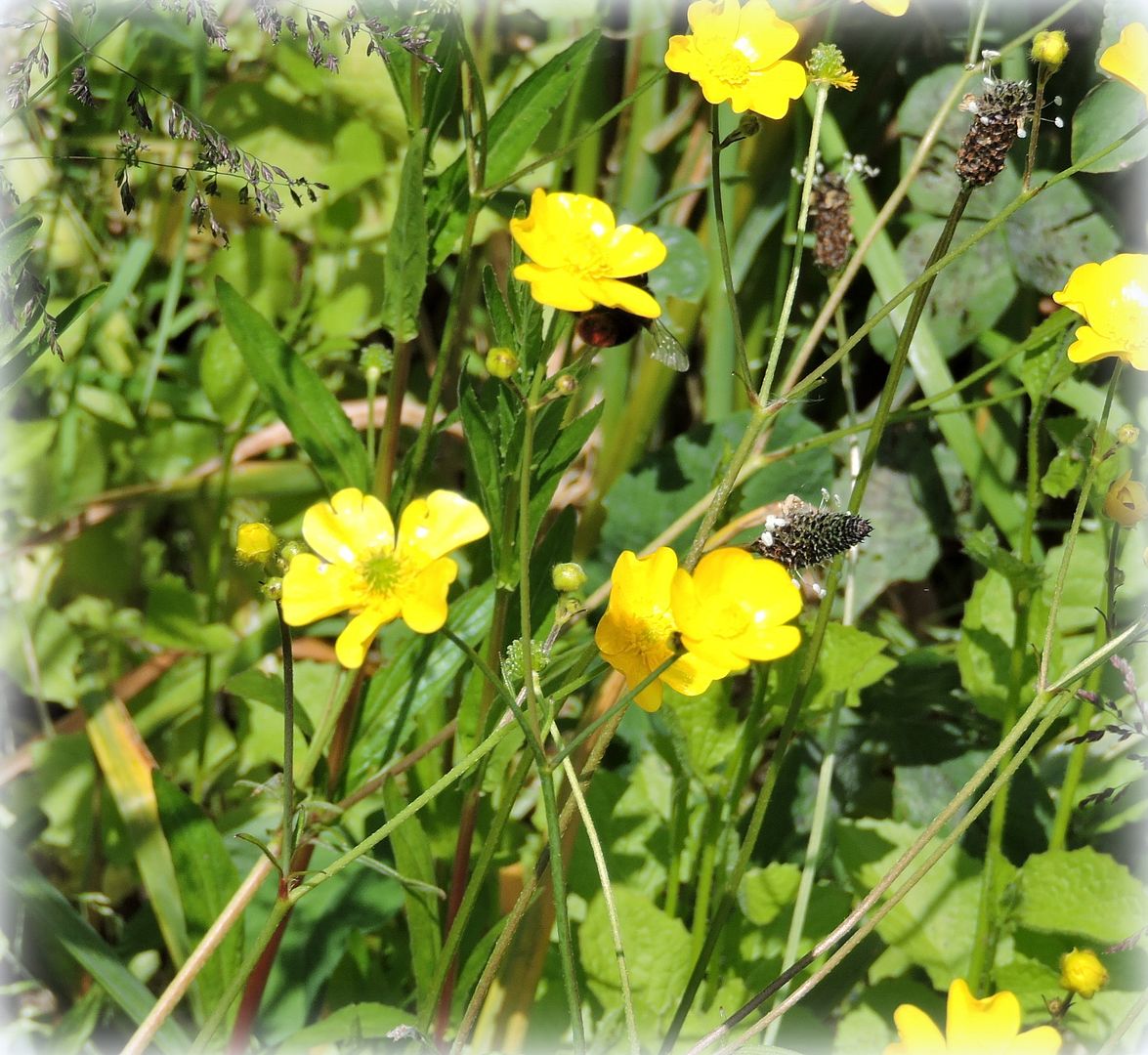 We keep a section of the garden just for wildflowers. The bees and butterflies love them . . .
The gooseberry bushes have plenty of berries coming on them . . . as does the black currant bush.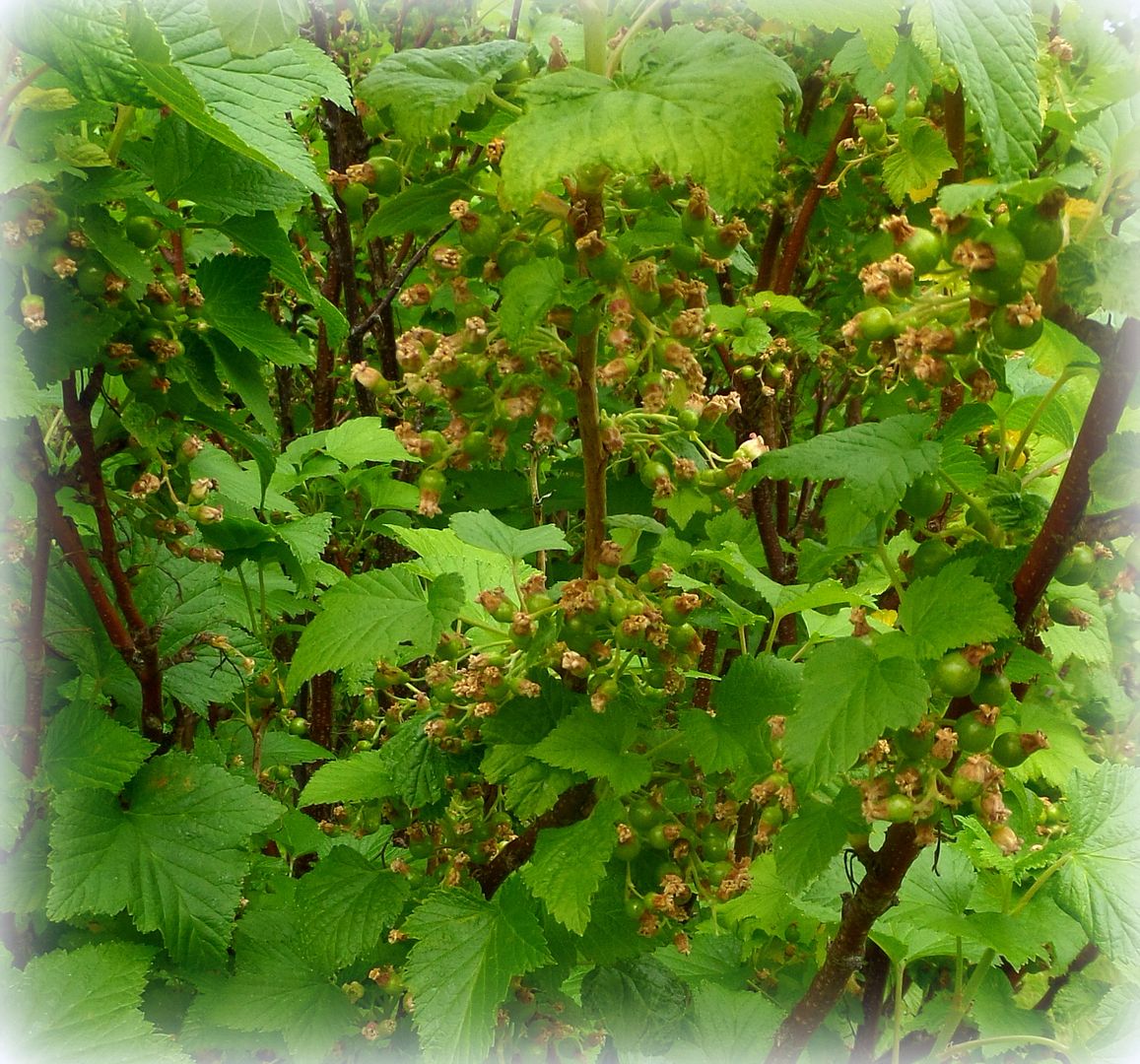 So much deliciousness to look forward to . . .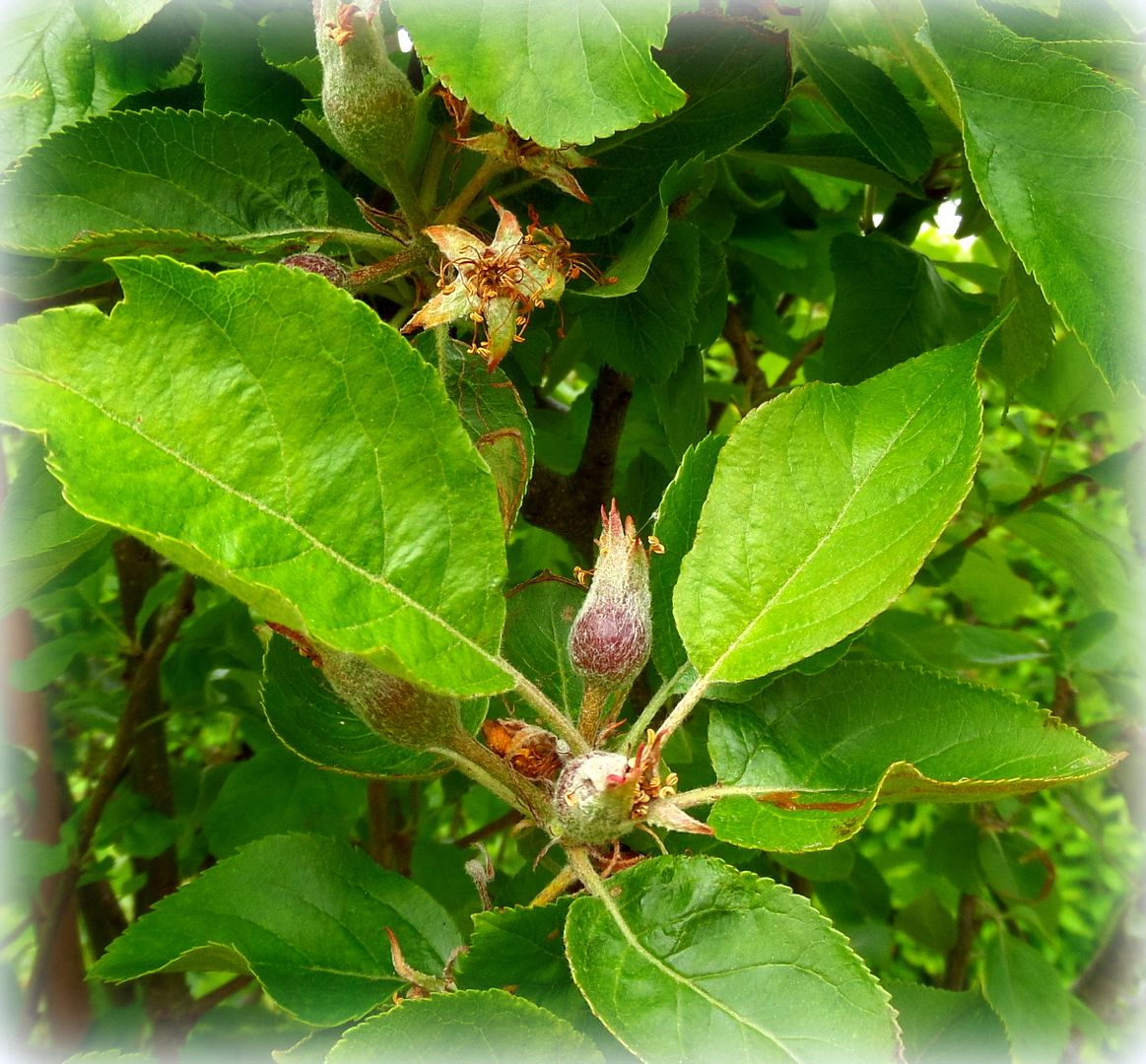 We have pears coming along . . . .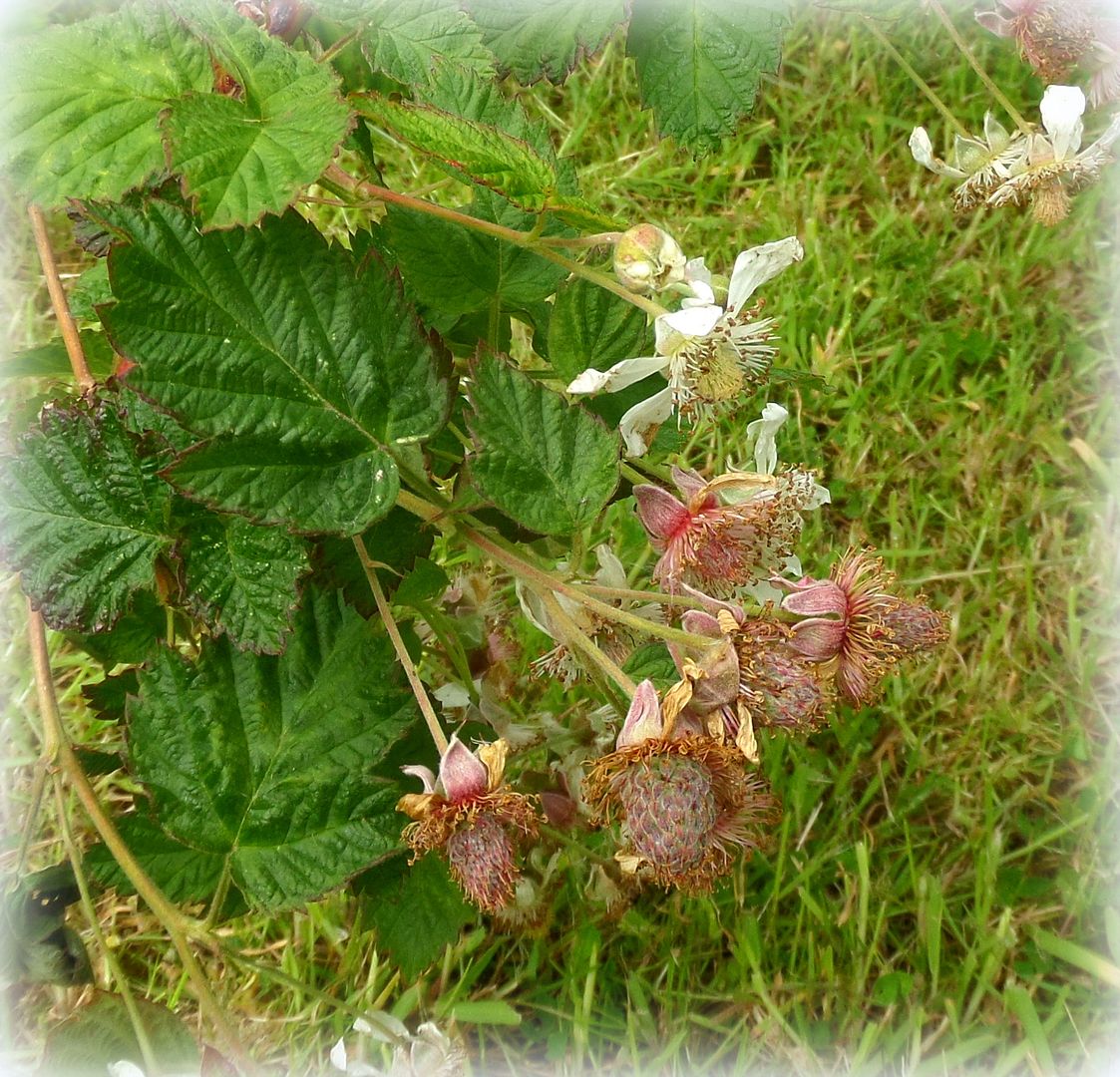 loganberries and plenty of plums so far . . . but oddly enough I can only see two apples. I am not sure what is up with that!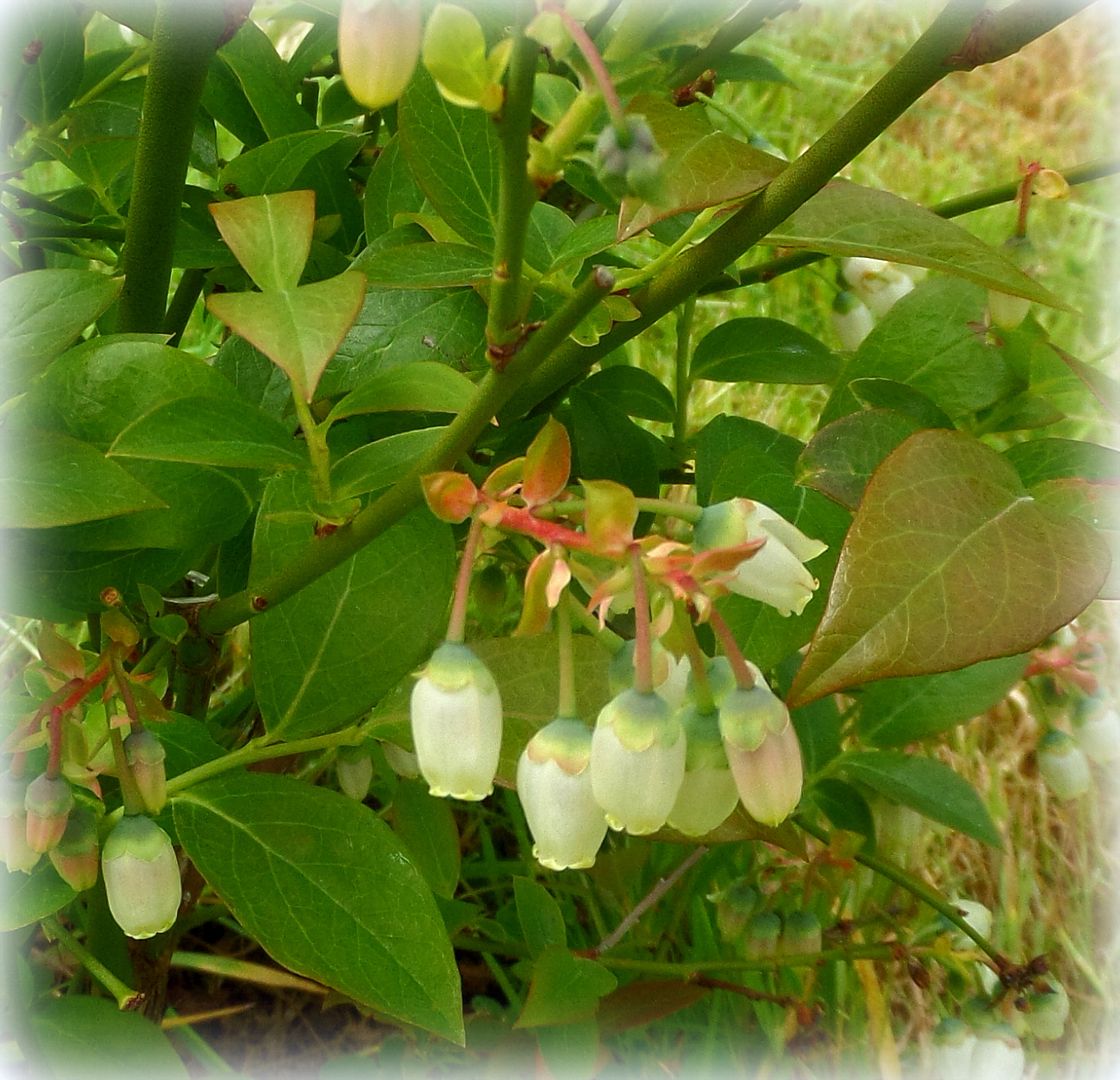 We will be enjoying a great harvest of blueberries again this year. Yay!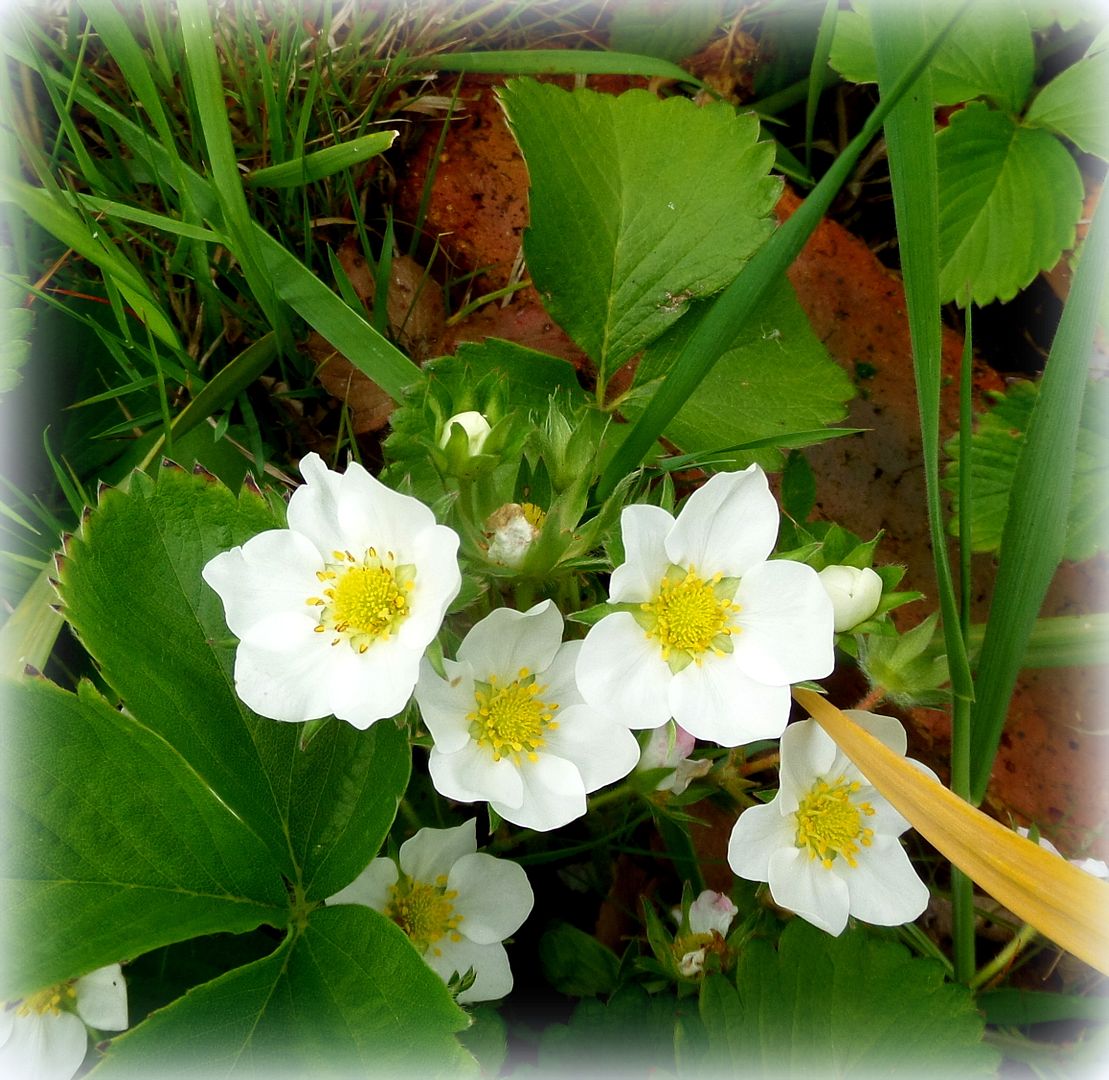 The strawberries are thriving, but once again . . . no rhubarb! Just a few spindly stalks. Again, I am not sure what the problem is. It never seems to do very much . . .
My beans have all sprouted and the peas are going crazy along with the tomato plants! I am so pleased! I carefully water them each day. They are my babies. I will need to get some epson salts soon.
She is my constant companion as I wander among the berries and plants . . . she likes to be a part of everything that is going on. Oh, how I love her . . .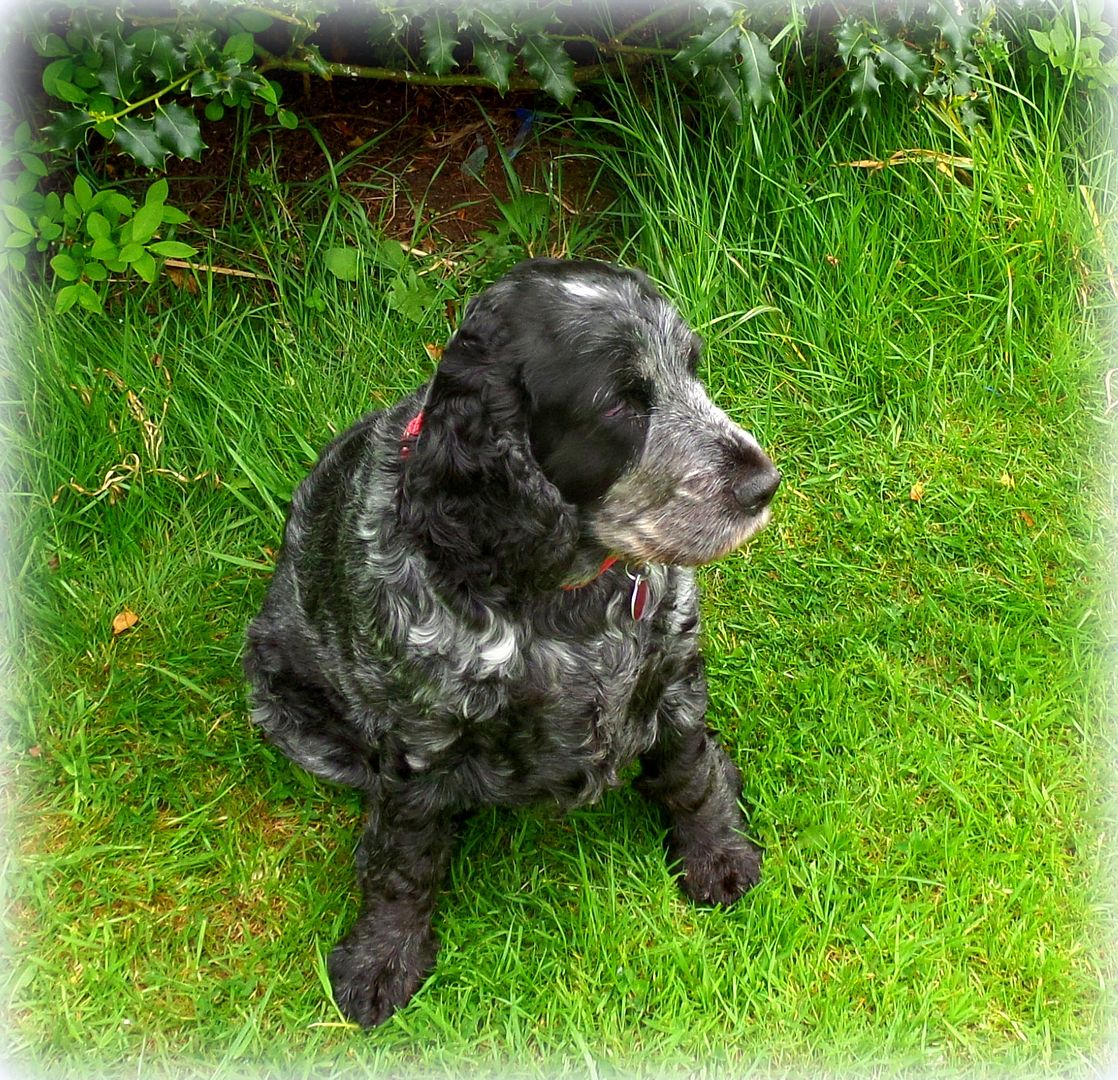 She is such a dear sweet friend and companion . . .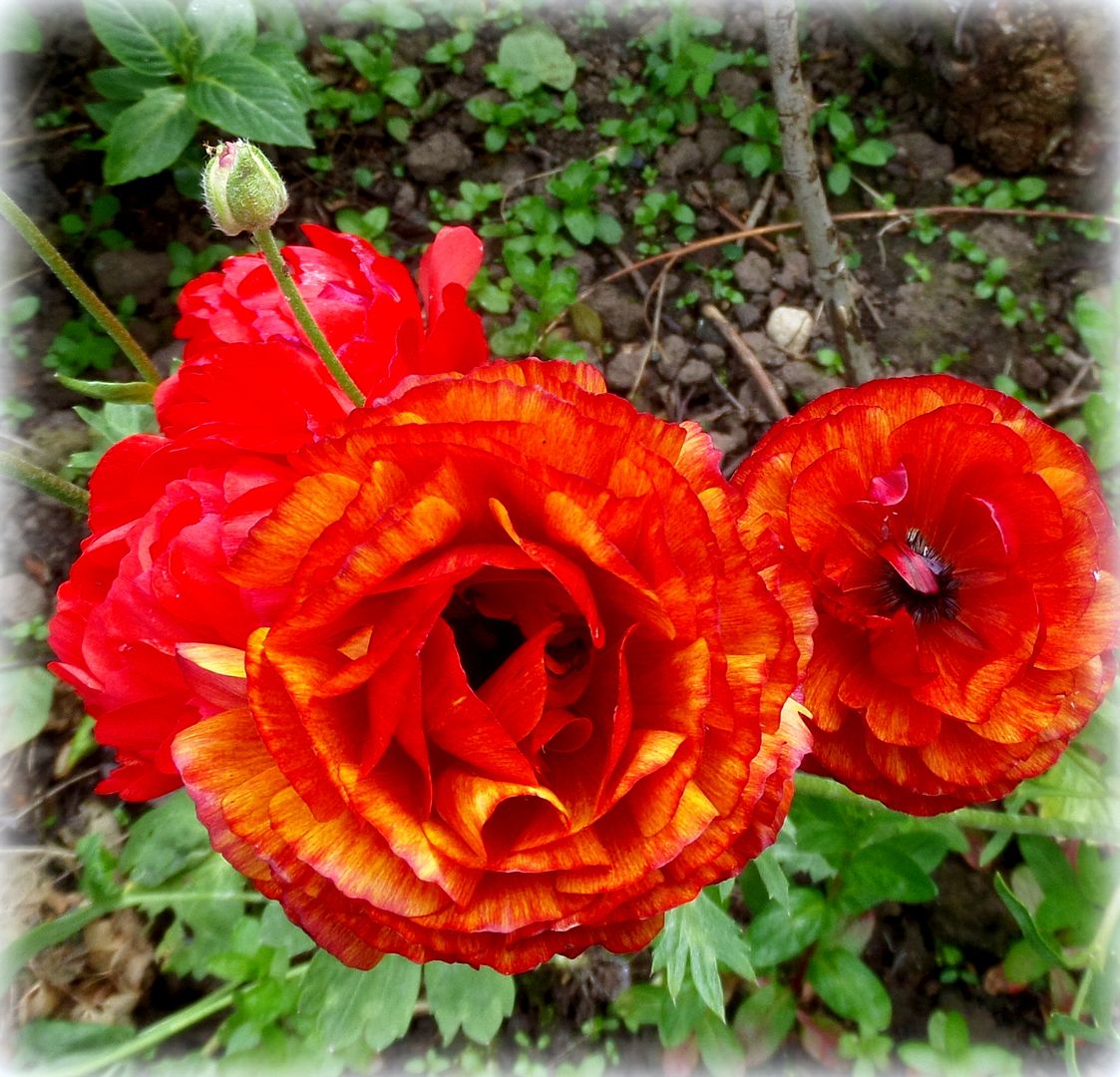 These beauties are making us smile once again, although I have forgotten now what they are . . . a rose by any other name . . .
And these beautiful little faces bob and dance each time I walk out into the garden . . . pansies and sweet peas . . . love them both . . . the sweet peas are not yet in bloom, but they are coming along beautifully . . .
Snap dragons thrill us. They come back each year to visit. We don't mind at all.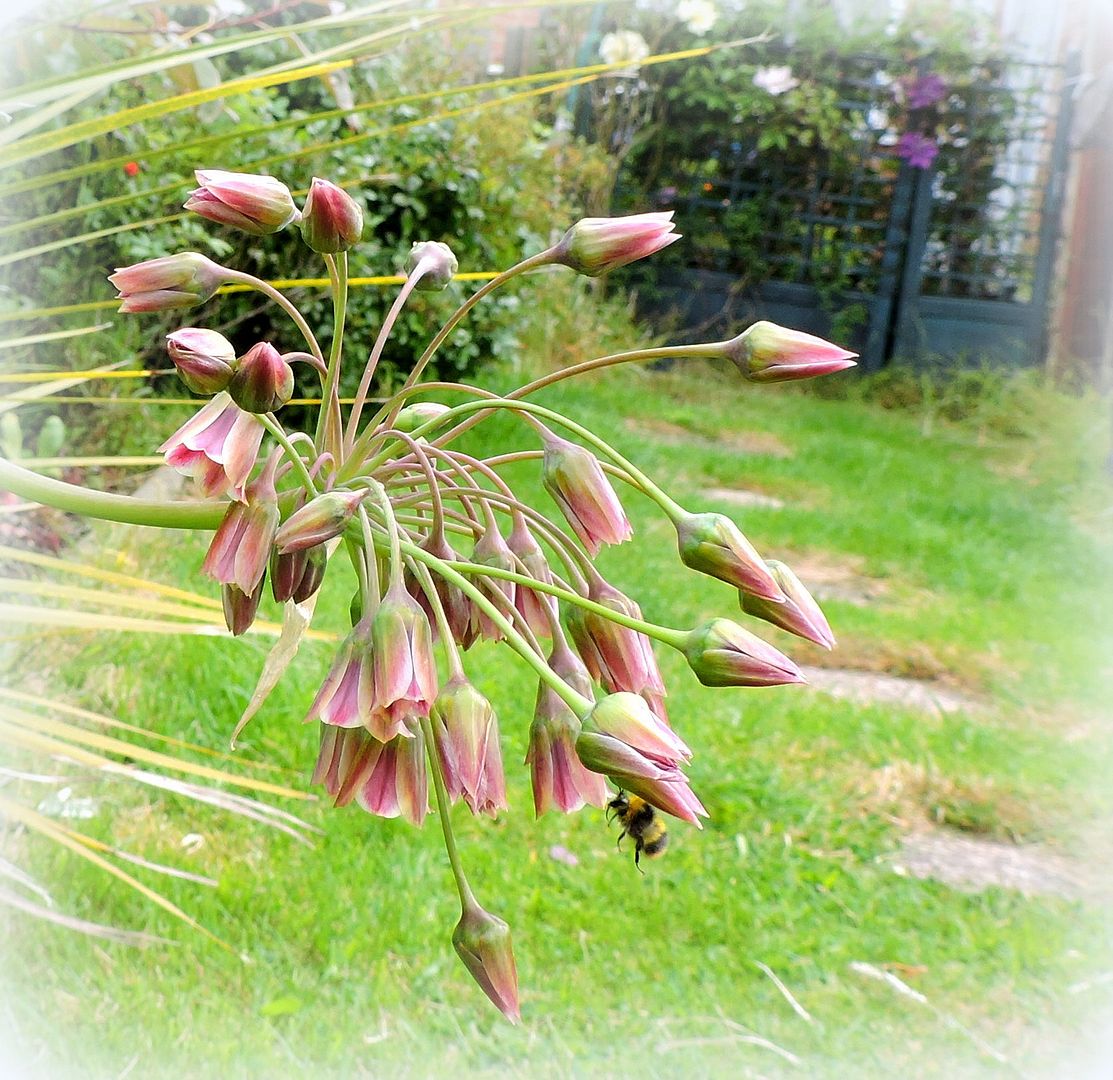 And this is just the beginning of the season . . . there is still so very, very much to look forward to!
I made some granola earlier this week and it got over done. The birds have been enjoying it. This blackbird in particular. I put a small dish of it on our patio table and he's been a frequent visitor . . .
Its been hard to get a photograph of him without spooking him off, but I finally managed to snap a couple.
Oh I do love nature.
Although earlier this week I was really dismayed and horrified about that baby who fell into the Gorilla enclosure I can't even bring myself to watch any of the filming. Those poor parents and now they are being vilified. How utterly terrible. Of course the gorilla had to be shot. Its sad, yes, but that poor child, and his parents. There was no other way. There was a hole in the brush along the enclosure. Surely that was partially to blame . . . I do not blame the parents. I have had five children and I know . . . kids do the darndest things despite your best efforts. My youngest son when he was three years old drove his fathers truck into a car which was parked in front of it. He got in and put it out of gear and it rolled forward. These things happen. It was parked in the front of the house. Didn't make me a bad mum. Just proved he was a curious boy. Sad for the gorilla, but happy that the little boy is safe and unharmed.
And we lost another legend yesterday . . . .
There is flooding in Paris and all across Europe into Germany and Austria . . .
Its been raining buckets in the South . . . .
But . . . here the sun shines. Happy to say. Life . . . it is filled with ebs and flows . . .
They say we will get rain today . . . so far so good . . .
A thought to carry with you through today . . .
~•~♥♥♥~•.~•~♥♥♥~• ~
When I stand before God
at the end of my life,
I would hope that I would
have not a single bit of talent left
and I could say . . .
I used everything you gave me.
~Erma Bombeck
~•~♥♥♥~•.~•~♥♥♥~• ~
Spiritual Enlightenment
Baking in The English Kitchen today . . .
Orange Layer Cake
. Baked for a Missionary Birthday. Sooo good!
Have a wonderful Satuday. Please know that . . .
═══════════ ღೋƸ̵̡Ӝ̵̨̄Ʒღೋ ═══════════ ⊰✿░G░O░D⊰✿⊰L░O░V░E░S⊰✿⊰░Y░O░U░⊰✿
═══════════ ღೋƸ̵̡Ӝ̵̨̄Ʒღೋ ═══════════
And I do too!