These are a few of my favourite things . . .
Next to Sweet Peas and Snap Dragons, my favourite flower is the Pansy. I actually love all three equally. One of the first flowers anyone ever gave me was a pansy given to me by my ex husband when we were teenagers and just beginning to date. It was from my mother's garden. I pressed it between the pages of my bible and I still have it. Weird that, I know. But I would be lying if I said I hadn't loved him very deeply at one time. There is probably a part of me that still loves who he was then. I just don't happen to like who he became very much. He would probably say the same. I don't hate him, but I don't love him anymore either. But still I keep the flower.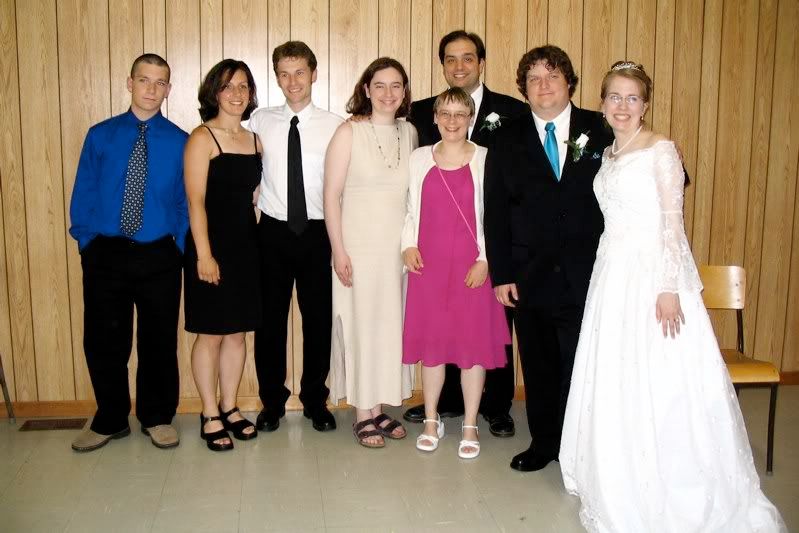 I love this photograph because it is the ONLY photograph that I have of all my children together. When my marriage broke up I was not allow to have any photos so any that I do have are post breakup or ones that people were kind enough to share with me. I cherish this one. I took it at my son Doug's wedding to Kayla.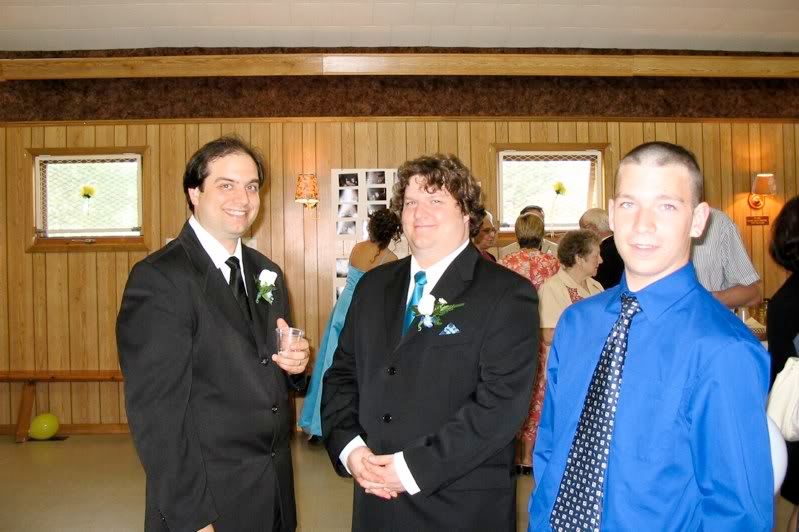 I love this one too . . . my three sons. Taken on the same occasion. Its hard to believe that my baby (the one in blue) is getting married one month from today . . . time sure flies!
Bluebird Ceramics. Anything with bluebirds tickles my fancy something awful! I had a bluebird cream and sugar set once upon a time. I had bought them at a yard sale way back when for about $2. He who shall remain nameless broke the sugar dish. Now all I have is the creamer and it lives in my craft room for safe keeping.
Vintage Illustrations . . . in books, on greeting cards, old calendars, etc. I love all of it.
A well made bed. That's probably why I like staying in hotels. The beds are always so well made, with crisp new sheets, no wrinkles, etc. I must have been a princess in a previous life because I can find even the most minute crumb or grain of sand in a bed and it feels like a rock. I must get it out or it will bother me all night. I love the way it feels when you get into bed at the end of the days. I always stretch out and sigh and enjoy the feeling for several minutes. It just feels to darned good.
Inspirational quotes. I collect them in a special notebook I have just for that. I have always loved quotes.
East of the Sun, West of the Moon. This was a tale I loved as a child and still love. I first discovered this story in our Book of Knowledge Encyclopedia. It is a tale I read many, many times when I was a child and even now I will visit it again, from time to time. I am fascinated by it.
Once upon a time there was a poor peasant who had so many children that he did not have enough of either food or clothing to give them. Pretty children they all were, but the prettiest was the youngest daughter, who was so lovely there was no end to her loveliness.
One day -- it was on a Thursday evening late in the fall -- the weather was wild and rough outside, and it was cruelly dark. The rain was falling and the wind blowing, until the walls of the cottage shook. They were all sitting around the fire busy with this thing and that. Then all at once something gave three taps on the window. The father went out to see what was the matter. Outside, what should he see but a great big white bear.
You can read it in its entirety
here
. . .
Out of all the cookbooks I have. This is THE one. My favourite one of all time. I have worn out three copies with use. I purchased my very firs one, identical to this, when I was a teenager still in highschool. I still have it although it is falling apart. It is one of my treasures.
Melons of any kind. I am happy with all of them. No favourites here, although watermelon certainly has a slight edge over the others. But really if you gave me any type of melon, I would be thrilled.
Picnics. I love picnics. No matter how, where or when. There is something delightful about having a picnic. Some of my most favourite picnics have been eaten on the floor in the middle of my lounge whilst sitting on the carpet, while the rain buckets down out of doors. All you have to do is call a meal a picnic and I am thrilled. Picnics turn even the eating of peanut butter sandwiches into a special occasion!
And that is my favourite things for this week. What are some of yours??
A thought to carry with you through today . . .
`*.¸.*´Ƹ̵̡Ӝ̵̨̄Ʒ`*.¸.*´Ƹ̵̡Ӝ̵̨̄Ʒ`*.¸.*´
"An old proverb says,
"The best time to plant a tree
is 20 years ago.
The second-best time is now."
Now is the best time to start
becoming the person we eventually
want to be . . .
not only 20 years from now
but also for all eternity."
~Dieter F Uchtdorf
`*.¸.*´Ƹ̵̡Ӝ̵̨̄Ʒ`*.¸.*´Ƹ̵̡Ӝ̵̨̄Ʒ`*.¸.*´
Spiritual Enlightenment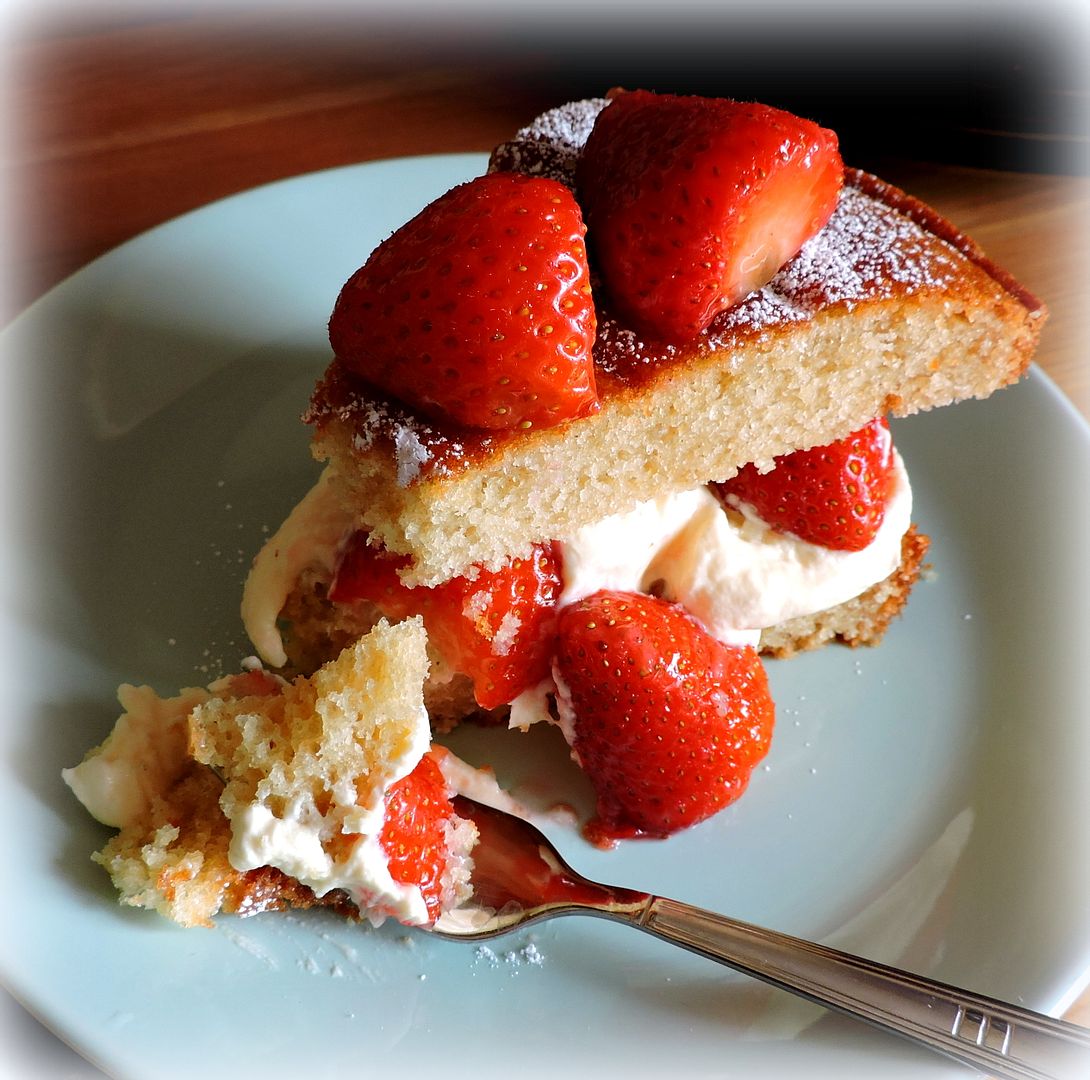 In The English Kitchen, today . . .
Buttermilk Cake.
Deliciously simple.
Have a great Thursday!! Don't forget . . .
═══════════ ღೋƸ̵̡Ӝ̵̨̄Ʒღೋ ═══════════ ⊰✿░G░O░D⊰✿⊰L░O░V░E░S⊰✿⊰░Y░O░U░⊰✿
═══════════ ღೋƸ̵̡Ӝ̵̨̄Ʒღೋ ═══════════
and I do too!