I lost a friend yesterday. Well, a facebook friend. Actually I hadn't even known she was my friend. I have friends on my facebook that I don't even know how they got there. I keep thinking I need to have a cull and to delete everyone I don't actually know and then I think that I don't want to hurt anyone's feelings and so I just leave it. But I may rethink that.
Anyways, I had posted something which resonated with me. It was NOT about the recent election in America at all. It was not intended to be about the recent election in America either. But this person came onto my page and immediately, obnoxiously turned it into such. I don't know if my feelings are a bit raw at the moment or what, but I responded in kind and then I deleted my post because I don't want that type of thing on my wall, but I didn't delete it before she had then copied my post and put it onto her wall with more obnoxiousness. So I commented on hers and she took offense, and before I know it her husband is messaging me, swearing and telling me that I am not even an American but a Canadian living in the UK so am not entitled to an opinion.
I should have just ignored her initial response, but I didn't. Me bad. In any case. I lost a friend, but I strongly suspect it wasn't a real friend anyways because any real friend of mine would know that I don't have a contentious bone in my body!
In any case, I think I am due for a huge cull. I don't need or want stuff like that in my life right now, or indeed ever.
This American election has been so very divisive, and I know that as a Canadian Brit I am not really entitled to an opinion one way or the other, but as an outsider looking in and as an older experienced person that has just been through Brexit here in the UK, I am totally, totally appalled at the behaviour and action of a great many people. Nobody should have ever had to choose between two such people who neither one were (in my opinion) fit for purpose. It should never have come down to the choice between those two. In a nation as great as America, it is mind boggling that this is what happened. And I think that no matter which side won, America lost. Just my opinion and again . . . I know I am not truly entitled to an opinion.
But what is really appalling is the lack of respect that I have seen over these past six or so months for the democratic process, both here in the UK and over in North America and not just in the US, but Canada as well. Democracy is what sets the Western World apart from the rest of the world. We are not led by dictators or despots. We are led by duly elected officials that are put into their positions by the people they have pledged to serve. There is always a winner and there is always a loser, but as a democracy we recognise that. Sometimes we win, and sometimes we lose. We are not always happy if we lose, but we know that we will have another chance in the not too distant future to change it, and yes, maybe we will lose again, but hey, that's how Democracy works.
And this is a Democracy which was paid for in blood. The blood hundreds of thousands of men and women here in the UK, Canada, USA, the Commonwealth and other good nations who fought to uphold our freedom . . . who felt these freedoms we take so for granted were worth fighting for, and that these countries we love so very much were worth fighting to protect.
And in my mind . . . when we disrespect the Democratic process, no matter how disappointed we are that our side didn't win . . . we are disrespecting their sacrifice.
Just my two cents worth.
I was working on this yesterday. She is standing next to the piles of stars I have punched which are sitting there waiting to be made into garlands. I am not totally happy with her clothes, or completely finished with her face/hair. I have more work to do and I am going to rip her clothes off and begin again but I thought you would enjoy seeing my progression!
I've also been making pompoms of various sizes. It is mindless work. You just sit and wind, cut, etc. I want to turn them into garlands also. We'll see. I am not sure if I am going to stick with red, white and green or if I am going to do multi-coloured ones.
I am such a ditherer. You should see me with a restaurant menu! I am sure I change my mind a bazillion times before I always go back to my initial choice. I don't know why I even bother to look at the menu. Because the winner is always fish and chips.
My friend Valerie posted this on her FB page. I love it. She posts the best things. You can always be guaranteed a smile or two or three when you look at her page. We should all be so kind . . .
It was a busy morning, about 8:30, when an elderly gentleman in his 80's arrived at the hospital to have stitches removed from his thumb. He said he was in a hurry as he had an appointment at 9:00 am. The nurse took his vital signs and told him take a seat, knowing it would be over an hour before someone would able to see him. I saw him looking at his watch and decided, since I was not busy with another patient, I would evaluate his wound.
On exam, it was well healed, so I talked to one of the doctors, got the needed supplies to remove his sutures and redress his wound. While taking care of his wound, I asked him if he had another doctor's appointment this morning, as he was in such a hurry. The gentleman told me no, that he needed to go to the nursing home to eat breakfast with his wife.
I inquired as to her health. He told me that she had been there for a while and that she was a victim of Alzheimer's Disease. As we talked, I asked if she would be upset if he was a bit late.
He replied that she no longer knew who he was, that she had not recognized him in five years now. I was surprised, and asked him, 'And you still go every morning, even though she doesn't know who you are?'
He smiled as he patted my hand and said, 'She doesn't know me, but I still know who she is.'
On the surface this is a lovely story of a man and the love he holds for his wife. Upon reflection however, I am reminded of our Heavenly Father who loves us so very much, even though we often choose not to remember Him or pay any heed to Him, and yet . . . He is always there. We
may
forget Him, but He
never
forgets us.
So grateful for that.
Have a wonderfully blessed Sunday! Be kind.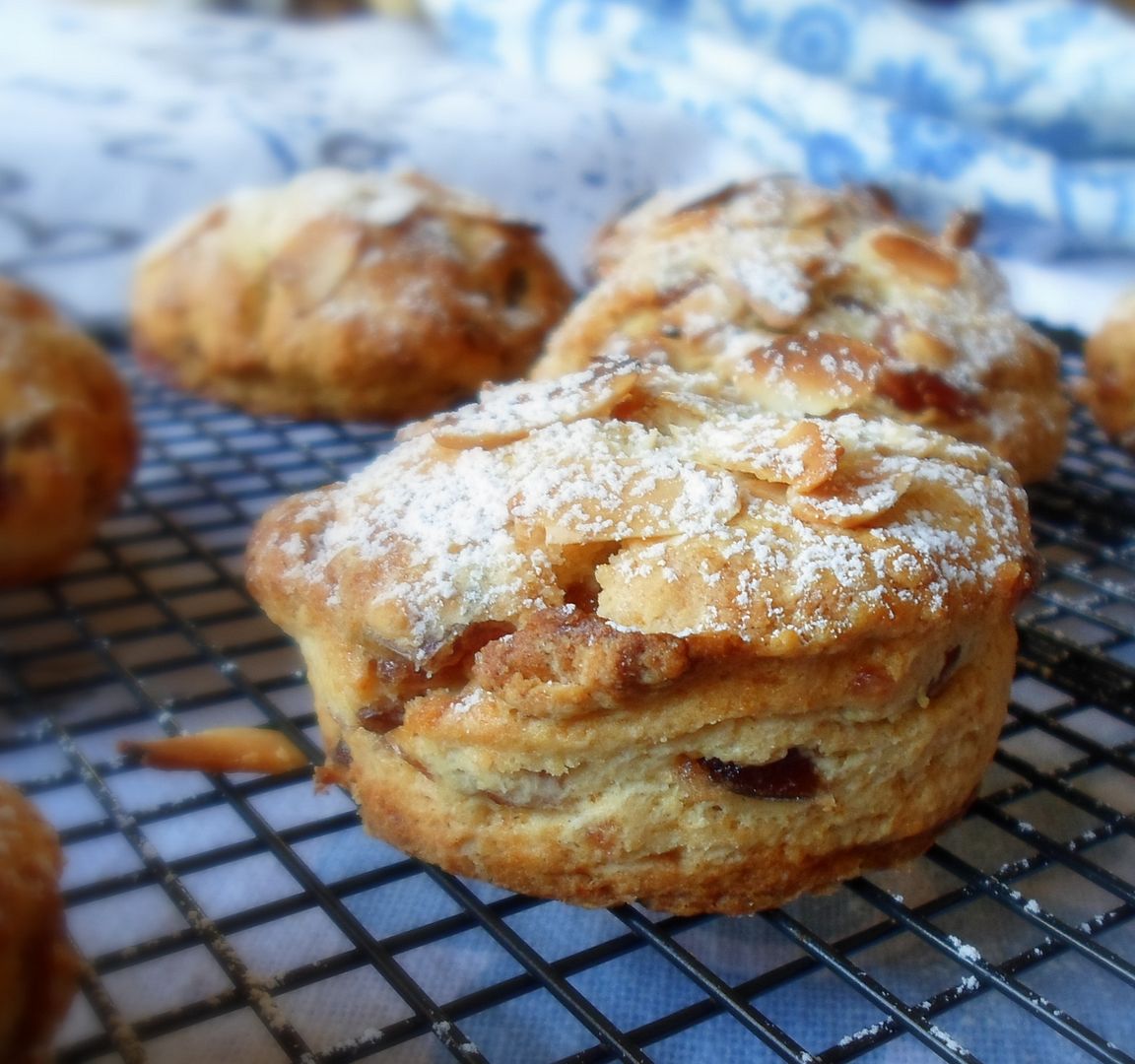 In The English Kitchen today . . .
Cherry and Almond Scones
. Delish!
Have a great day and don't forget . . .
═══════════ ღೋƸ̵̡Ӝ̵̨̄Ʒღೋ ═══════════ ⊰✿░G░O░D⊰✿⊰L░O░V░E░S⊰✿⊰░Y░O░U░⊰✿
═══════════ ღೋƸ̵̡Ӝ̵̨̄Ʒღೋ ═══════════
And I do too!