via GIPHY
This little guy made me smile big time this morning. He's knitting up love and from where I am sitting this is something there needs to be a lot more of . . . smiles and love. There can never be too much of smiles and love. Thanks for posting this on FB Suzan!
What the world needs now is love, sweet love. And lots of smiles.
Yesterday I had my appointment at the hospital with the Gastroenterologist. I have been discharged from hospital care now. Yay! A year of worrying about what was wrong is finished! They couldn't find anything. I do have to keep having blood tests but what the hey, that is nothing. Smile number two!
Yesterday we celebrated our sixteenth Wedding Anniversary. Sixteen years have just flown by. It doesn't seem like yesterday that we were getting married. We were both too tired to go out and so we just celebrated it here at home after spending the day in the hospital what with my appointment and blood tests, etc. We stopped at the grocery store on the way home and I picked up two ready meals for us to enjoy. Beef stew with suet dumplings and a couple of really nice yogurts, and two custard tarts for Todd. He loves those. It was all delicious so we were happy with that. We also had to go to the pet store and pick up some low fat dog food for Mitzie. Her chicken and rice days are over for now. The Vet says we really need to get her weight off.
We picked up a bag of dry 25% less fat food and a deer antler. I had my doubts as to whether she would eat the food or not. Smile number three, she gobbled it up, both last night and this morning. Whew! Oh she has chosen to totally ignore the deer antler, but maybe one day she will enjoy it. I was really pleased however that she is eating the food. Salmon and Sweet Potato, Dr BeWell. Hooray!
Another smile came in the shape of a conversation I had last evening with my daughter Eileen and my sister Cindy. Eileen is trying hard to raise money so that she and Tim can come over here next year. She has been wanting ideas on how to do that. I posted her one of my calendars and some prints for her to raffle off and my sister is going to help get her started on making some of these simple Christmas Ornaments to sell, etc. and she will make sure that Eileen charges a fair price for them and doesn't just give them away. If we had thought of this earlier, she could have booked a table at a craft show, but we didn't and it is too late for this year. But I am very happy that Eileen and Cindy are going to do this. It is hard with me being so far away for me to do much to help. I am so grateful for a sister who is so willing to take an interest in this. Thank you so much Cindy! What a blessing!
On the way home yesterday we also stopped off to tell Doreen about Todd. She is one of his oldest friends and we did not want her to hear the news from anyone else. She was upset of course. But I think we had her smiling by the time we left. We got home to the drive and were getting out of the car when I realized I had left my purse at Doreens. Todd was so tired he didn't want to drive back and so I started to walk back, and yay, there was Billy in his car with my purse! I was very grateful for that! It saved me a long walk. God is good.
We were both so tired at the end of the day yesterday that we were in bed by 8:30 last night. Todd had not slept well for a couple of nights and one of the side effects of the Hormone treatments is that he will feel more tired. I think too, the emotional strain of the past few days was catching up with us. I slept like a top and I am hoping that he did also. Now today he has to go into town to have his eyes tested. He says they are getting blurrier and it is not long since he had new glasses, but he did have the start of a cataract so maybe it has gotten worse. It is miserable out there this morning . . . windy and rainy . . . thankfully the Spec Savers is not far from the bus stop. With any luck it will have stopped raining by then anyways.
Oh, and the Winter Fuel Payment is in from the Goverment. Yay! I think we are going to need it this year as they say we are in for a very cold winter!
Oh and another smile . . . this years Christmas Adverts for all the major chains are up.
John Lewis for the win! Love this. Makes me smile.
Have a great Saturday people! Be happy and . . .
Smile!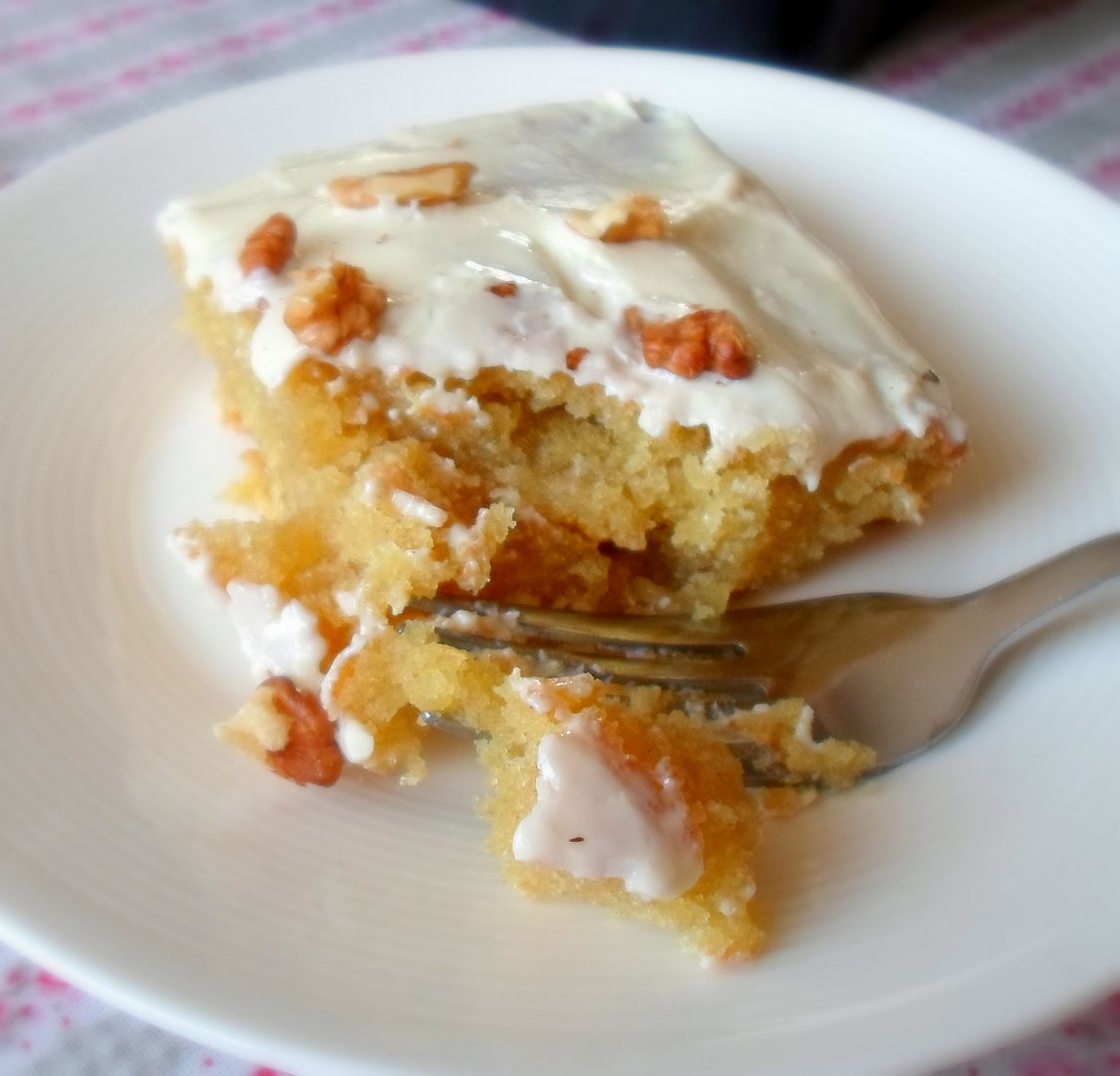 In the English Kitchen today . . .
Fudgy Vanilla Tray Bake
.
Have a great Saturday. Whatever you get up to don't forget . . .
═══════════ ღೋƸ̵̡Ӝ̵̨̄Ʒღೋ ═══════════ ⊰✿░G░O░D⊰✿⊰L░O░V░E░S⊰✿⊰░Y░O░U░⊰✿
═══════════ ღೋƸ̵̡Ӝ̵̨̄Ʒღೋ ═══════════
And I do too!