"The world is fairly studded and strewn with pennies cast broadside from a generous hand. But who gets excited by a mere penny?...It is dire poverty indeed when a man is so malnourished and fatigued that he won't stoop to pick up a penny. But if you cultivate a healthy poverty and simplicity, so that finding a penny will literally make your day, then, since the world is in fact planted with pennies, you have with your poverty bought a lifetime of days. It is that simple. what you see is what you get." ~Anne Dillard
A few of the small and wonderful things which bring untold joy into my life. It's the small things in life which truly mean the most. Simple abundance . . . it's the best.
Although it has been very cold, the last few nights have been very clear and we have been able to enjoy star lit skies. Not quite like this, but I have been able to identify several constellations. I am reminded of cold evenings walking home from Brownies when I was a child and the incredible star filled skies of my childhood, and the magical wonder of gazing up at them.
We are not alone.
My niece Lisa and her long-time boyfriend are now engaged. Congratulations to Lisa and Patrick.
They are a cute couple and have been dating for quite a while now. We wish them all the happiness in the world together!
Being able to sit on our sofa together and watch the fireworks across the way with Mitzie cuddled up safe and sound between us. All in the warm comfort of our own home. No need to go out and freeze.
Having a roof over our heads to keep us warm and safe and dry. So many in the world do not.
Being able to partake of the Sacrament worthily each week. The last few conferences of the church have had some brilliant talks about the Sacrament which have helped me to bring more meaning into my weekly renewing of my covenants with the Saviour and my Heavenly Father as I partake of the Sacrament each Sunday. I am more focused and this has been a very beautiful part of my Sunday mornings. As I think about the meaning and spirit behind the sacramental prayers I have been able to not only partake of the Sacrament, but also the Atonement of the Saviour and I have felt a deep gratitude for Him. In those few moments I am with Him and He is with me and I have felt of His love in a very meaningful way, which brings tears to my eyes and hope to my heart. I am not just partaking of the bread and the water, but I am partaking of His great gift to us, of His great love for us . . . I am with Him in the Garden and on the Cross and I have felt of His spirit. I have been able to partake of a solemn, sacred and spiritual moment, truly separate from the things of this world.
It has also been a special blessing being able to go with Todd and bring the sacrament to our friend Doreen so that she too can feel of the Saviour's love and blessings.
I was saying to Todd in the car the other day that the one greatest blessing I have been able to take from being able to serve a mission is to discover and have a deeper understanding and appreciation of the Atonement of Jesus Christ. I have learned what it means to live the Atonement and to partake of its blessings every day. I know that might not seem like a big deal to some people, but it is a very big deal to me. I have been able to press my fingers into the wounds in His hands and to thrust my hand into His side. I have found an even deeper love for Him, even though I never thought that possible. All that I do can never be enough, and yet . . . somehow it is.
The blessing of service. Being able to visit those who needed a visit and to sit with them for a while. To help them know that they are loved and cared for.
We had a beautiful lesson in Relief Society yesterday based on
this talk
on faith which President Uchtdorf gave at the last RS conference. I highly recommend reading it. I learned a lot about faith. Funny how this goes . . . you think you know all that there is to know about something and then you read or hear something and you magically know even more and gain a deeper understanding.
I am grateful for a heart that yearns and learns.
Call the Midwife Sundays. No, the new season is not yet on, but thanks to the miracles of DVD's and modern technology Sunday evenings can always be Call the Midwife Sundays. We love this series and never tire of watching it. It is the same with Downton or the Waltons, Christie, Little House, etc. These shows never get old.
I may not have the blessing of seeing them very often but I visit my grandchildren daily in my prayers and keep them always in my heart. I am so grateful that they are all healthy and safe and happy.
I love them. Its as simple as that.
The gift of prayer . . .
I use it multiple times a day. He is always listening.
And those are my small and wonderfuls for this week. My days are filled with an abundance of blessings. Maybe that is because I have a heart and eyes that look for them. At the end of the day it is the small things in life which truly matter the most . . .
A thought to carry with you . . .
⊰✿⊰⊰✿⊰⊰✿⊰⊰✿⊰⊰✿⊰
The purpose of life is to live it,
to taste experience to the utmost,
to reach out eagerly and without fear,
to the newer and richer experience.
~Eleanor Roosevelt
⊰✿⊰⊰✿⊰⊰✿⊰⊰✿⊰⊰✿⊰
Spiritual Enlightenment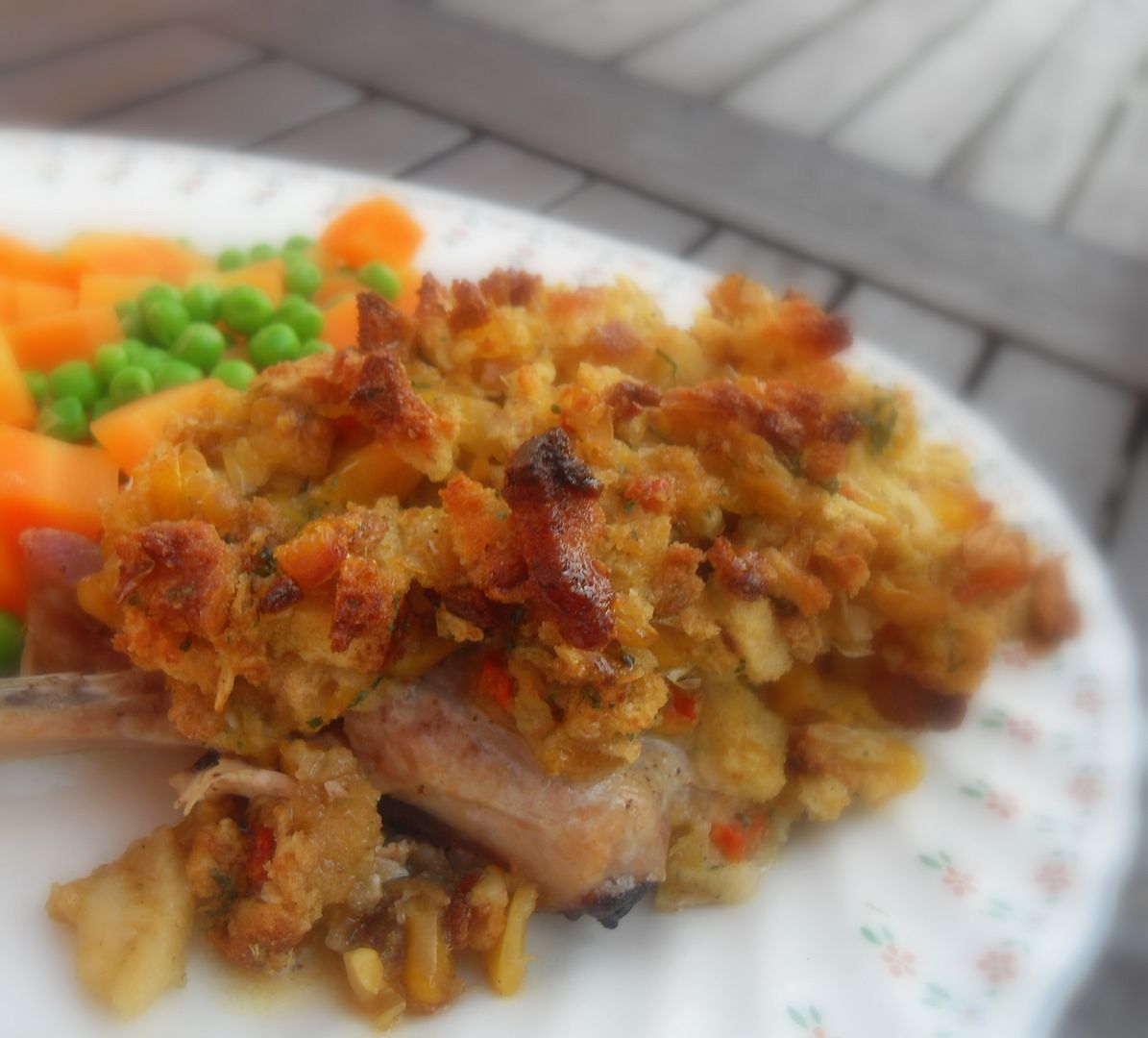 In the English Kitchen today . . .
Baked Top Hat Pork Chops
. Deliciously moist chops baked beneath a corn stuffing. Fabulously tasty!
May the week ahead of you be filled with many small and wonderful things. Along the way don't forget . . .
═══════════ ღೋƸ̵̡Ӝ̵̨̄Ʒღೋ ═══════════ ⊰✿░G░O░D⊰✿⊰L░O░V░E░S⊰✿⊰░Y░O░U░⊰✿
═══════════ ღೋƸ̵̡Ӝ̵̨̄Ʒღೋ ═══════════
And I do too!