These are a few of my favourite things . . .
Penguins. Especially baby penguins. I had no idea there were so many kinds in so many sizes. Have you seen The March of the Penguins? Amazing film about Emperor Penguins. All instinctual, everything they do. Amazing creatures. British Gas uses a very cute little penguin in their advertisements.
We don't use British Gas, but I sure like their penguin! His name is Wilbur by the way.
Speculaas, or Windmill Cookies as we have always called them. I love, Love, LOVE them!
I have made my own, but had to cut them out with a star cutter because I don't have speculaas molds. These were very VERY good. You can find the
recipe here
. If anything they were better than the real deal and that is saying a lot.
Kleenex Tissues. I have tried other kinds but I always come back to Kleenex. The others just never measure up. I hate rough tissues that are scratchy. Kleenex tissues just feel better to me than any other kind.
While I am at it . . . I like Andrex toilet tissue. I have tried all sorts of pretenders. But I don't like them. It's Andrex classic white for me. I don't like the quilted or anything else, just the plain white. Simple.
And finally, I like these paper towels. One sheet does the job of ten of another brand. These are the best and their rolls are bigger. I know they cost a bit more but one of these rolls lasts me as long as two or three of other cheaper kinds. I like what I like.
Lego. I love it. I love playing with it. It really is a new toy every day. My kids had a HUGE box of the stuff that they played with all the time. I have decided next year I am going to indulge myself in some lego. Just because we are adults that doesn't mean we cannot enjoy playing with Lego. In 2017 I am going to play with Lego. I like doing puzzles and I like doing Lego. A puzzle on paper with a pencil is fun, but Lego is like a 3D puzzle.
Baking Christmas Cookies. In fact I am going to bake some today. I think I will do my whipped shortbreads for one.
The recipe
comes from a very old Robin Hood Cookbook from the early 1960's. You can't beat those old recipes. These are so simple. You just whip them up and drop them onto the baking sheet and bake. You can decorate them with bits of cherry before baking or sanding sugar, etc. They are always spectacular. I am also going to make my date slices today, and the filling for my
Tourtiere
. I am late getting it done this year. No excuse, except that I have been uber busy. I will do my
Feather Squares
on Saturday. It would not be Christmas without them.
I know . . . there are only two of us. What will we do with it all. People are always dropping in, so it's nice to have something to share. SHARING, another one of my favourite things!
Having the house all spic and span for Christmas. Yesterday I did the house from top to bottom. the bathroom has been scrubbed within an inch of its life, the beds have all been changed and the bedding all washed. Everything has been dusted and hoovered and is in Bristol Fashion and ship shaped for the holidays. Now all I have to do is to get my baking done and relax until Christmas Day. I am going to do my turkey crown in the slow cooker. I tested one earlier this month and was super pleased with the results and that is how I am doing my bird this year. I went earlier this week and got all my veg in from M&S. All is ready to go. We are full steam ahead!
I have been going to church on Christmas Eve ever since I was a little girl, and weather permitting this year will be no different. I cannot wait for the Carol Service on Christmas Eve. I love the songs, and the excitement of the children. It is the closest I will get to being around children all hepped up for Christmas. I love it! There is always Mince Pies and Hot Chocolate for afters. Everyone is in a good mood. It just is one of my favourite church services. I can remember when I was a child the Pastor would always give an update on the travels of Santa's Sleigh. They used to do it on the telly also, showing a map of the world and just where his sleigh was throughout the evening on Christmas Eve. It was such an exciting night. Can't wait!
And those are some of my favourite things for this week. What are some of yours?
.° * 。 • ˚ ˚ ˛ ˚ ˛ •
•。★★ 。* 。
° 。 ° ˛˚˛ * _Π_____*。*˚
˚ ˛ •˛•˚ */______/~\。˚ ˚ ˛
˚ ˛ •˛• ˚ | 田田 |門 ★
*.˛.° ˛°. .
˛*
A thought to carry with you through today . . .
° 。 ° ˛˚˛ *
*.˛.° ˛°. .
We are like a snowflake,
all different in our own beautiful way
. . .
*。*˚
Spiritual Enlightenment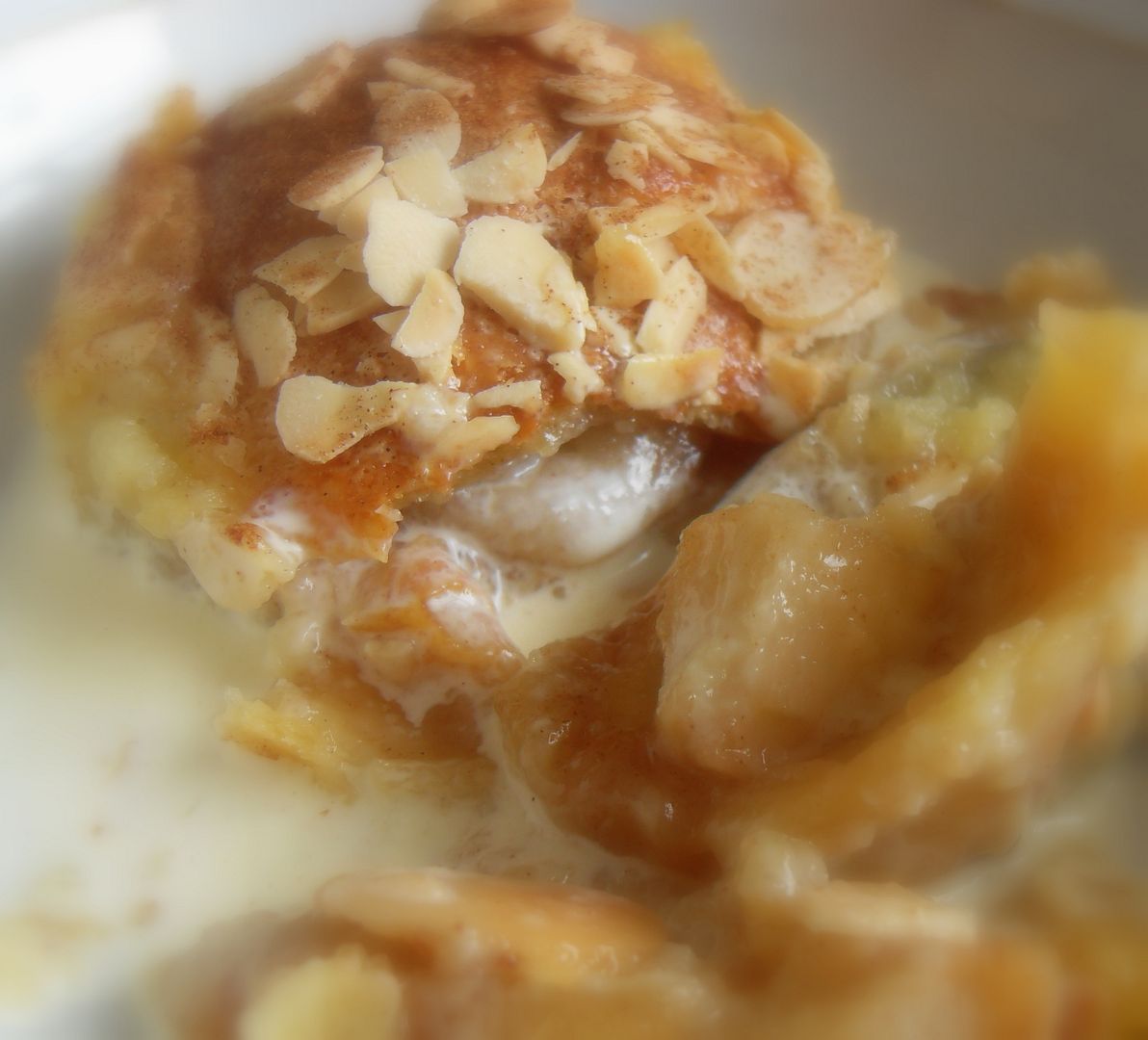 Baking in The English Kitchen today, one of Todd's favourites.
Baked Almond and Custard Apple Dumplings.
Have a great Thursday. Stay safe and stay happy, don't forget . . .
═══════════ ღೋƸ̵̡Ӝ̵̨̄Ʒღೋ ═══════════ ⊰✿░G░O░D⊰✿⊰L░O░V░E░S⊰✿⊰░Y░O░U░⊰✿
═══════════ ღೋƸ̵̡Ӝ̵̨̄Ʒღೋ ═══════════
And I do too!