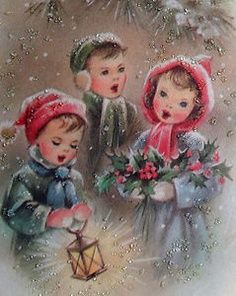 Todd and I were talking about the Christmas's of our childhoods last evening as we sat here admiring our Christmas Tree , , , they were both very different, some of that was due to the different times that we were children in and some of that was due to a difference in family traditions.
Todd was born just prior to World War 2, and so for the first 7 years of his life, his dad was not around. His mother and he lived with his maternal grandparents in their home just North of London. It was a suburb, where it was considered to be a lot safer from the Hun's bombs. He does have one memory of an incendiary bomb coming through the roof at one point, but mostly nothing happened at all. He thought it was an adventure to sleep in the bomb shelter in the back garden and he had a Micky Mouse gas mask which he took to school.
After the War things were quite different. He got a baby brother and they, of course, were not living with the Grandparents anymore. Todd's father was a window washer and so there wasn't a lot of money, but Christmas's for him were quite magical nonetheless. They awoke in the morning and found that Santa had been, and stockings were laying at the end of their beds. Only once everyone was awake were they allowed to venture into the lounge. Nothing was wrapped. All would have been laid out and put on view as if it were in a department store and on display. He said that his parents would have taken great pains to make the displays as magical as possible. A book, laying open . . . a fort set up and ready for play, etc. He remembers his father making him a wooden castle one year and it being his favourite gift of all. There were smaller gifts, wrapped and laying on the tree, and off and on during the day, he or his brother would be invited to go and get one and unwrap them. Nothing big or expensive, perhaps a small dinky car or some such . . . a very different Christmas to the ones I was brought up with, but . . . no less magical.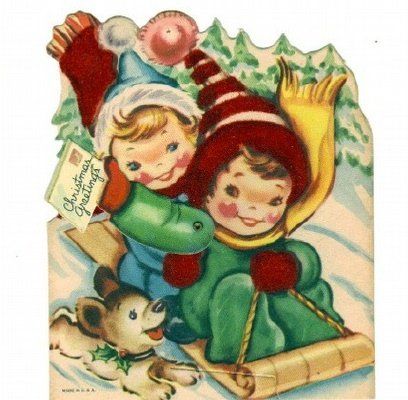 We did not have stockings when I was a child, although I always wished for one. Instead we had coloured melmac bowls, which were normally our Cereal bowls. (At Easter they became Easter Baskets) Each bowl would be set at our place on our dining room table. In them we would find a few hard candies, some nuts and a tangerine. We were always happy with them. Candy was not something we got very often back then. All of our gifts would be wrapped and sitting under the tree, each person's gathered in one pile. We were not allowed into the lounge to have a look until we were all up and had gone to the bathroom, brushed our teeth, etc. Only then would my father would go in and turn on the tree lights. We would be held back in the hall, our excitment so thick you could cut it with a knife. Once the go ahead was given, the three of us would rush into the room . . . mouths opened in awe at what we found beneath the tree. Each gift was wrapped and labeled. The next half hour or so would be a mix of the sounds of rustling paper, ooohs and ahhhs and look what I got's! We never got an awful lot. My parents were very modest in their expenditures, but then again, they never went into debt either. We were always happy, and that's what counted.
Some years we were treated to a red mesh stocking which was filled with little toys and candies. I always loved those stockings. They were bought already filled, and were the closest thing to a real stocking we ever had.
A bowl of candy and another of nuts would have magically appeared on the coffee table overnight. The candy bowl was a divided dish, with two halves joined together in the middle with a handle. It was made of pottery and one half was coloured pink and the other yellow. There were the traditional hard candies . . . little peppermint pillows and cut glass squares, vari-striped satins and rock candy slices, with little pictures in the centres . . . a piece of ribbon candy or two. On the other side there would be small pastel coloured creams, pink, green, yellow and white . . . soft centred, square ones and round ones, some rolled in sugar. None would be allowed past our lips until breakfast had been eaten. The nut bowl would be overflowing with walnuts, filberts and monkey toes to crack open throughout the day.
The rest of the day would pass quietly as we played with whatever Santa had brought, while my father dozed on the sofa . . . Christmas Carols playing softly over the radio. As the morning progressed, the smell of roasting turkey would soon fill the air along with the mouth watering anticipation of the Christmas dinner to come! I always loved my mother's turkey dinners. Her turkey was never dry and her gravy was always rich and delicious. As an adult I cannot for the life of me understand why, as children, we fought over who would get the drumsticks . . . but we did. I loved my mother's stuffing . . . it was made with bread and potatoes and onions and sage. No matter how many times I try to replicate it myself, it never tastes the same or as delicious as my memory of her's does. For dessert . . . mincemeat pie, fruit cake, my mother's war cake, her date or feather squares . . . not that any of us had much room for dessert.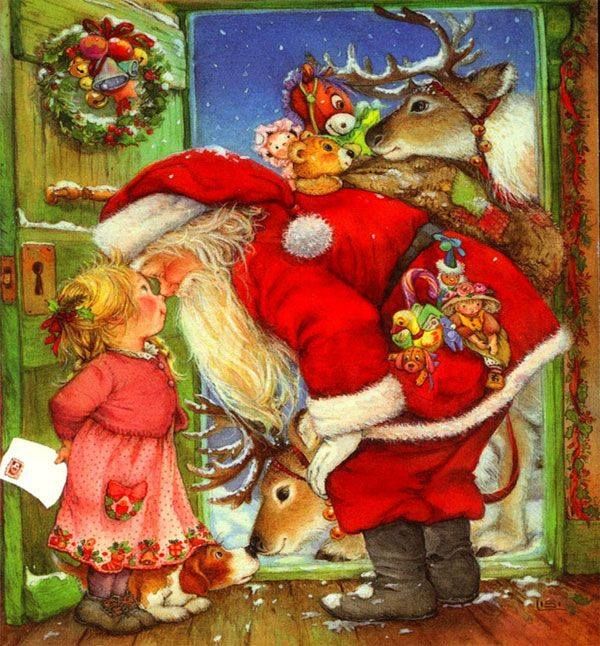 Those were simple times for both Todd and I. Our Christmas's were not filled with ostentatiousness or the latest gadgets. We got simple gifts and pleasures. As simple as they were, they were filled with wonderful memories for each of us. It didn't really matter what Santa had brought . . . what mattered most was the love of family and being together. Nothing has changed. We still feel the same today. We don't do presents for each other really. We already have what we want or need. The only thing I really want is to hear from each of my children. That would be the best Christmas gift ever. And of course I want my husband well, but I know that is a gift which will take months to receive. I am hopeful however. ☺ We will spend a quiet day. There is only the Sacrament meeting to go to for church in the morning, no Sunday School or Relief Society/Priesthood. It will be a real treat to see all the children's excited and happy faces! Can't wait for that! I am cooking a turkey breast in the slow cooker and will have all of the vegetables done the day before, ready to just heat up. We'll listen to Christmas music and talk to family and spend a nice day together with each other and with Mitzie. Its going to be great!
*.˛.° ˛°. .
˛*"Hope is like snow.. it beautifies all it covers。
˛ *˛° with magical possibilities."~.¸¸.☆ ❉
.° * 。 • ˚ ˚ ˛ ˚ ˛ •
•。★★ 。* 。
° 。 ° ˛˚˛ * _Π_____*。*˚
˚ ˛ •˛•˚ */______/~\。˚ ˚ ˛
˚ ˛ •˛• ˚ | 田田 |門 ★
A thought to carry with you through today . . .
⊰✿⊰⊰✿⊰⊰✿⊰⊰✿⊰⊰✿⊰
"Gifts of time and love
are surely the basic ingredients
of a truly Merry Christmas."
~Peg Bracken
⊰✿⊰⊰✿⊰⊰✿⊰⊰✿⊰⊰✿⊰
Today in The English Kitchen a delicious dish sized for just two.
Savoury Garlic Chicken
. You could easily multiply it to serve more if you wanted. The sauce is really scrumptious!
Have a beautiful Wednesday. Hope its filled with lots of lovelies and that you get all done that you want to get done. Whatever you get up to, don't forget . . .
═══════════ ღೋƸ̵̡Ӝ̵̨̄Ʒღೋ ═══════════ ⊰✿░G░O░D⊰✿⊰L░O░V░E░S⊰✿⊰░Y░O░U░⊰✿
═══════════ ღೋƸ̵̡Ӝ̵̨̄Ʒღೋ ═══════════
And I do too!