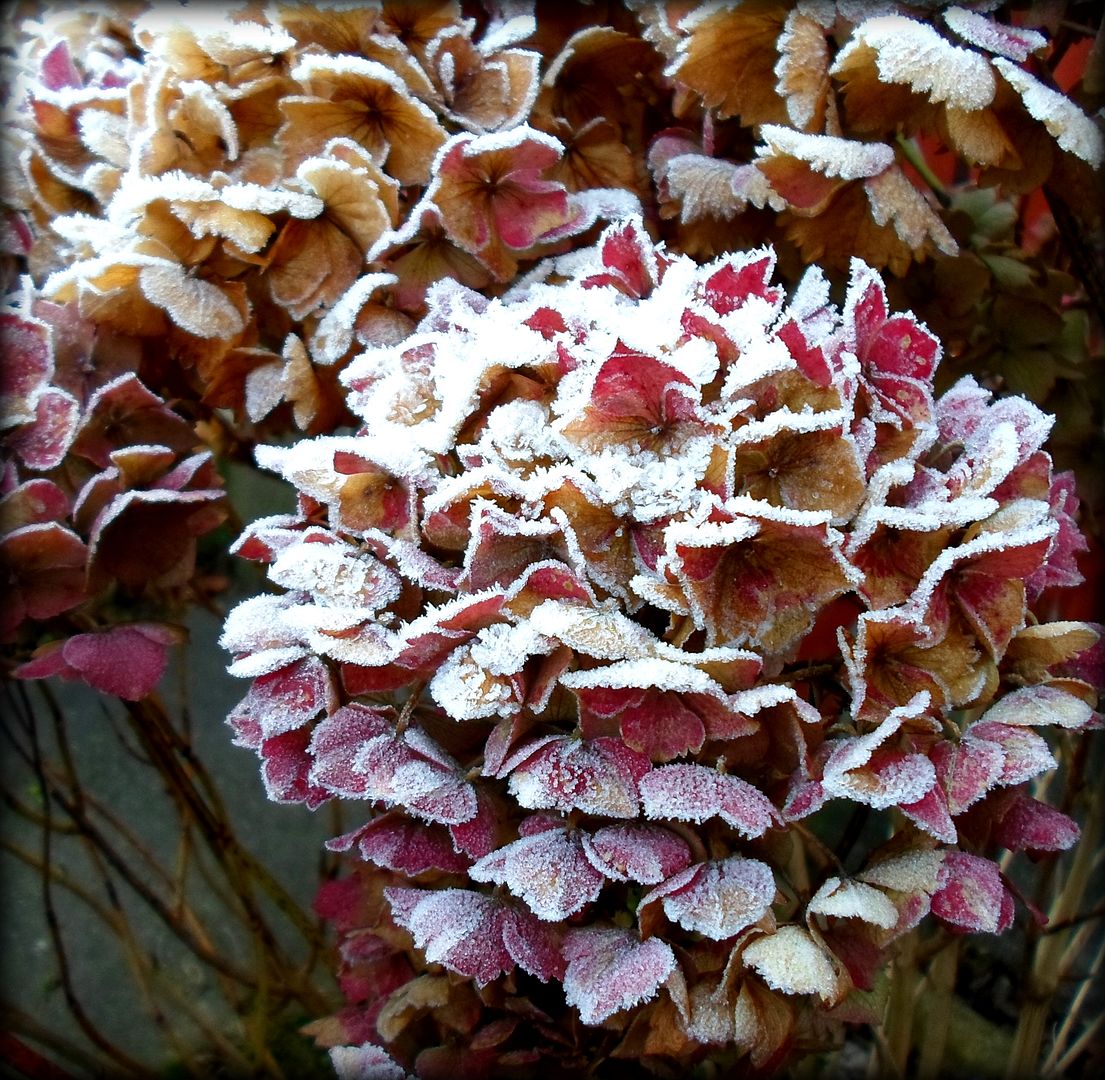 There is a heavy frost out there again this morning . . . every branch and spent blossom is etched in the glitter of it's icy blast. So beautiful. I am so glad that we picked up a new can of car window defroster spray yesterday when we were out and about. The frost is even thicker this morning than it was yesterday. We have not had snow . . . although many places have. Chester only ever very rarely gets snow and when we do it is not much, and great cause for exctement! At least that has been my experience.
This is the time of year that the garden catalogues begin to drop through the letter box onto the mat by our front door. There is nothing quite so inspiring as to sit and make your way through a garden catalogue, as you sit by the fire on a grey and dismal day in January.
It can be almost fatal to the budget. Those fabulous looking roses . . . monster sized delphiniums with their unbelievably tall steeples of beautiful blue blooms. Those fat and impossibly rich looking peonies . . . the tall as the side of a barn sunflowers with faces as big as dinner plates and their fairy story brightly coloured dwarf counterparts . . . you want to buy them all . . .
It's too late in the season to be thinking about daffodils or tulips, but the herbaceous border section . . . sigh . . . this is the area that almost makes you lose your head and reach for that order form.
But common sense must prevail.
(
Source
)
I have decided that this year, I will attempt one paper project each month, and this will be my first. I am so in love with the papers. I have begun to gather my supplies.
I am short a few so far, but doing well. I need to find a circle punch . . . and I don't have a die cutter, so will have to improvise those bits, but I am excited!
I wish I could afford to go on workshops, but alas . . . it's just not in the budget. However on the bright side I sold a print yesterday from my Etsy shop and I have begun scanning all of my black and white art to sell as digital stamp sets in the shop as well. We will see how that goes.
In the meantime I am looking forward to creating a lovely recipe book for myself. Perhaps (once all my recipes are in it) it will become an heirloom one day.
This is canoodling season . . . when you want to be indoors in the warmth, tucked in safe and sound. My neighbors were both in bed all day yesterday, under the blankets keeping warm. I could not do that myself, I like to be out and about if not outdoors then in the house, but the colder weather does give one the opportunity to do some indoors stuff you don't think of doing the rest of the year like crafting, knitting, crochet, embroidery and the like . . . the household arts . . .
I love them. I feel bad for Mitzie in the Winter time. I am almost tempted to get another dog for her to play with, but as Todd says . . . we would probably just end up with two dogs laying about all day with nothing to do. I got her a new toy yesterday, but the initial enthusiasm for it soon waned . . . we ended up playing "Go Find" for what seemed like hours. She loves that game. You put her in the kitchen and show her one of her toys, and then you make her stay while you go and hide it in the other room. Once it is hidden you tell her to go find it. She excells at this game. It doesn't matter where you hide the object, she will sniff it out. It's pretty amazing to see her at work, but then again . . . that is her job as an English Cocker . . . to sniff out game birds and flush them out of the wild.
We watched an excellent film on Amazon Prime last evening. The Water Diviner with Russell Crowe. We both really enjoyed it very much. I am not normally a fan of Russell Crowe, but he played a softer character in this and he did it very well. It is the story of a father's love for his family and the lengths they might go to show it. One of my favourite quotes from the film . . . it comes after the main character (Russell Crowe) Connor says to the turkish woman he meets in it that one of his jobs as a father was to steer his children to manhood and he has failed them. Her response . . .
"I measure a man by how much he loves his children, not by what the world has done to them."
I love it. So good.
I am sure you all remember when Baxter dressed up as a Banana for Halloween?
Well it is obvious that the law of sharing hand-me-downs amongst siblings is alive and well . . .
Lucy wears it well and appears to be enjoying it much more than Baxter did. Check out the tail wag. She's a delighful cutie pie. ☺
And that's all I have for today!
A thought to carry with you . . .
~•~♥♥♥~•.~•~♥♥♥~• ~
Reaching out to rescue one another,
under any condition,
is an eternal measure of love.
~Ronald A Rasband
~•~♥♥♥~•.~•~♥♥♥~• ~
Spiritual enlightenment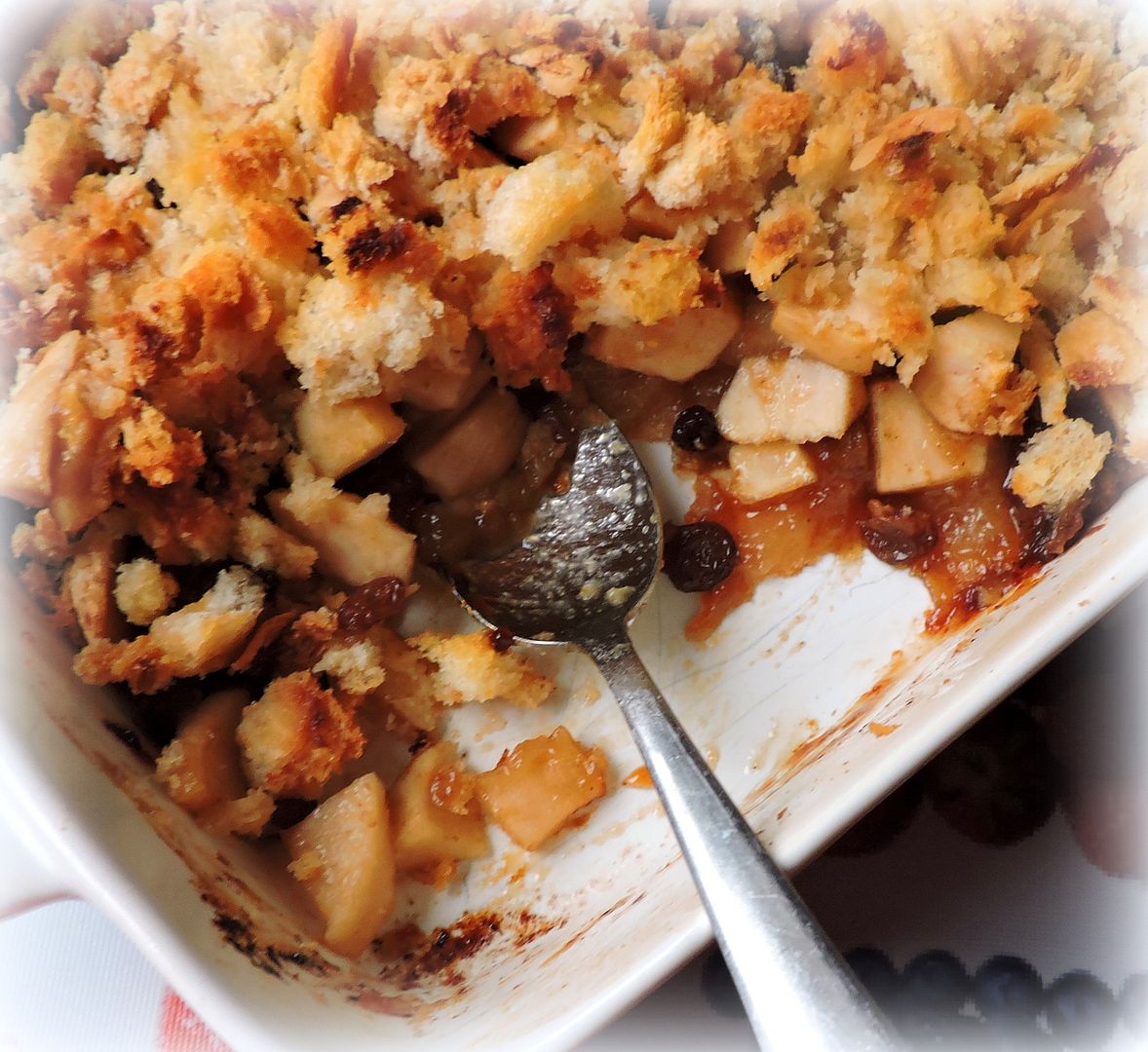 In The English Kitchen today . . .
Apple and Mincemeat Brown Betty
. Take care of leftovers.
May your Sunday Cup hold more blessings than it can hold. Don't forget!
═══════════ ღೋƸ̵̡Ӝ̵̨̄Ʒღೋ ═══════════ ⊰✿░G░O░D⊰✿⊰L░O░V░E░S⊰✿⊰░Y░O░U░⊰✿
═══════════ ღೋƸ̵̡Ӝ̵̨̄Ʒღೋ ═══════════
And I do too!