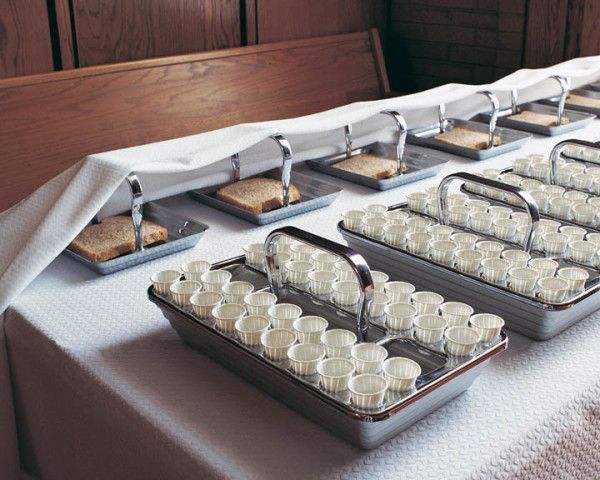 My weeks always get off to the best possible start with church and our Sacrament Meeting, where we get to partake of the sacrament. This is such a perfect beginning to the week.
"And as they were eating, Jesus took bread, and blessed it, and brake it, and gave it to the disciples, and said, Take, eat; this is my body. And he took the cup, and gave thanks, and gave it to them, saying, Drink ye all of it; For this is my blood of the new testament, which is shed for many for the remission of sins." ~Matthew 26: 26-28
The Sacrament is more than just partaking of the emblems . . . it is a re-enactment of that covenant which the Saviour instituted with his Disciples in the upper room on the last evening of His mortal life. When I take the Sacrament I am renewing the covenant I made with Him when I was Baptised. When done in the proper way and with the proper attitude, you can be filled with the Spirit and made anew, fit and ready to face the week to come. It is a covenant experience, a reminder and a renewal of the covenants the Lord has permitted us to enter into with Him.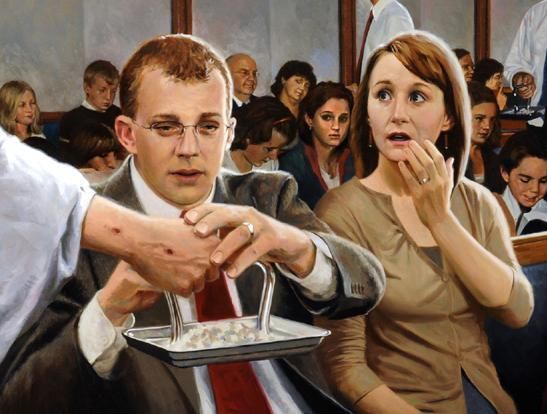 It is my favourite part of the week. I love the prayers. I love seeing the young men practicing their Priesthood in the blessing and passing. I love the sacredness of it all. I love the feelings of renewal which accompany it . . . and the tenderness of the Saviour's love for me which I feel when I partake of these sacred emblems, and divine covenants.
Ordinances and covenants are the building blocks we use to construct our lives upon the foundation of Christ and His Atonement. We are connected securely to and with the Savior as we worthily receive ordinances and enter into covenants, faithfully remember and honor those sacred commitments, and do our best to live in accordance with the obligations we have accepted. And that bond is the source of spiritual strength and stability in all of the seasons of our lives.~Elder David A Bednar
On Monday which should have been our prep day for the rest of the week, we travelled up to Manchester with Elder and Sister Johansen to attend a Senior Missionary Training Meeting, which was also a Pot Luck Lunch. It's always really nice to get together with the other Senior Missionary Couples and hear how they have been doing. I love seeing them and spending time with them. They are all such special people. I also learn a lot at these meetings. We had some IT training this week, which had a lot of us scratching our heads. IT comes so easily to young people, but when you get a bit grey and wrinkly, it's not so easy, so training is always welcome! I know that the young people who were teaching us probably had a good laugh at how inept a lot of us were, I know I sure did! What fun! Of course there was lots of tasty food to enjoy as well, ham and cheese sliders from Sister Hilam which were fabulous, a gorgeous salad from Sister Latham, Cheesy Potatoes from Sister Johansen (my three favouritest things of all that was there). It was all very good. You don't get to be our age without being a good cooker! We were exhausted by the end of the day with all of that travel and eating and learning. It was a great day.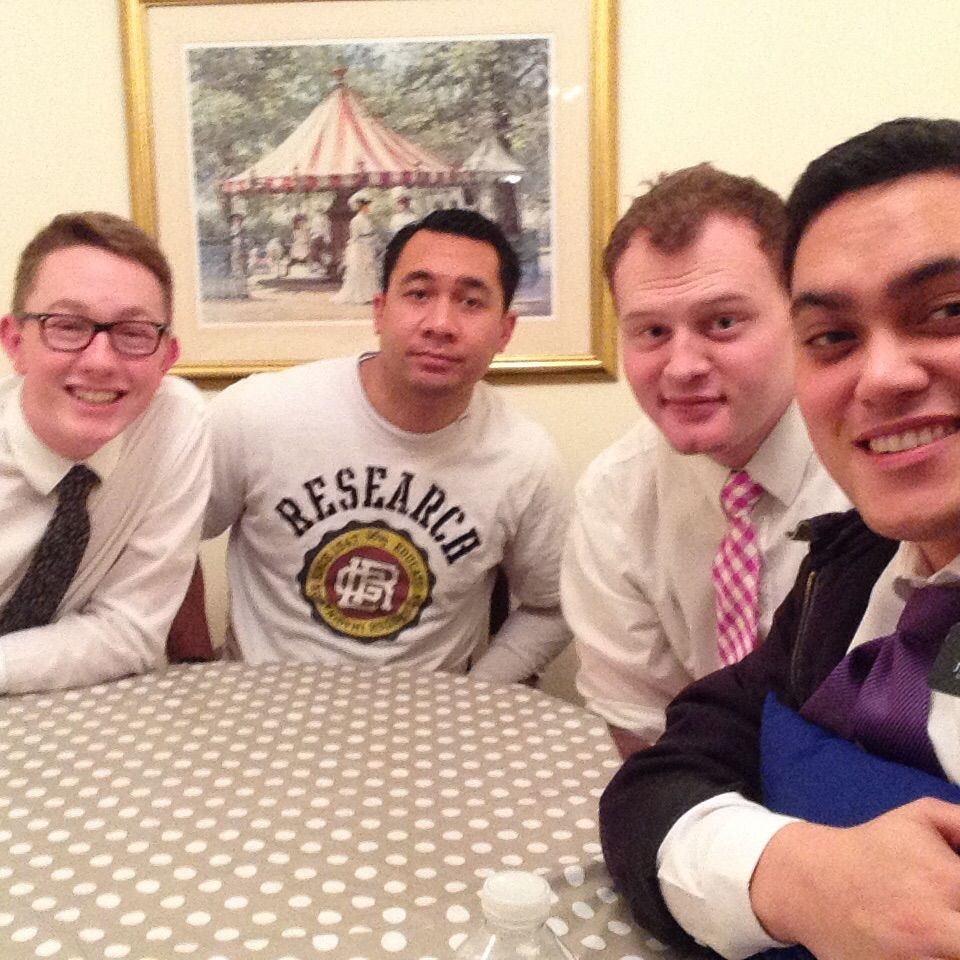 We had all of the Elders from our District coming for supper on Tuesday so I spent a goodly part of the day preparing for that. (Elder Judd, Elder Lolesei, Elder Hollingsworth, Elder Singsam.) We were going to be losing Elder Singsam on Wednesday to Southport so it was extra tender and special, this time we had together. I cooked a bang up meal for them of Beef Enchiladas, Baked Chicken Breasts, rice, broccoli, sweet potato/carrot mash, and for dessert, chocolate cake and banana fudge pudding cake. The nicest part of the evening was their singing to us accapella, which was just beautiful. We gave Elder Singsam a new suitcase as his was all beaten up and falling apart with broken handles, etc. I could not have him trying to struggle on and off of trains with a broken suitcase. He wrote in our book. We wrote in his book. Tears were shed. We will surely miss him.
Sister Gregson and Sister Holmes also popped over in the afternoon so that Sister Gregson could say goodbye to us, as she was off to Crosby Ward on Wednesday and a new Sister came in to replace her here. Again, she wrote in our book and we in hers, and photos were taken, tears shed. We will miss this feisty young woman, but know she will do well on the remainder of her mission and feel confident in knowing that our District gave her a great start and foundation to begin on.
Wednesday was transfers. They have now done away with the Transfer Meetings we used to have every six weeks. I will miss them. It was so much fun getting to see the Missionaries that were leaving to go home, welcoming the new Missionaries coming in, hearing the leaving Missionaries bear their testimonies, etc. They were such uplifting meetings. However they are now a thing of the past. Missionaries now have to go straight to their new areas and companions, etc. Since this was the first time this was being done here in recent years, there was lots of action and confusion. Many of the Senior Couples drove the Sister Missionaries to their new areas rather than have them struggle on and off of trains with all of the luggage (in many cases consisting of two heavy suitcases and a carry on bag). We were supposed to be meeting two new Sisters coming into our District to the Wrexham Ward, taking them to their flat in Wrexham, and then taking them to a Worldwide Missionary Broadcast in Rhyll for 5 pm. We did not make the Broadcast in Rhyll. They never even left the mission home until four pm, and then by the time they got to Chester, and then to Wrexham, it was gone 5:30 and we still had to lug all of their cases up stairs to their flat. Then we got into the flat to realise they had no electric and no gas, so no heating and no lights. Sister Wilcox had brought them a bag of groceries so that they would at least have something to eat, and some lanterns were found, etc. But it was a very long day of waiting and confusion. Hopefully the next transfer will pass a lot more smoothly!
After such a mixed up day on Wednesday we took Thursday morning off. Todd had to go into town to do some banking. Jose (Ariana's husband) came and took Mitzie for a walk and I did their laundry for them in exchange. In the afternoon I had my Cooking for Diabetes Class. I am really enjoying this class. I am getting to meet some really nice new people. There are only six of us in the class and our instructor, who is really lovely. She's Asian and so nice. This week we were talking about the different types of sugars and carbohydrates etc. A lot of people think that low carb is the way to go, but we need carbs. That is where we get our energy. We just need to choose low GI carbs wherever possible. Things such as whole grains, or natural sugars. Most things have small amounts of sugars in them, but they are natural sugars such as the ones in fruit. The more processed the fruit is however, the higher the sugar content, so it is best to have them in as raw a state as possible, and not pureed, etc. Juices, for instance, are very high in sugar. Better to eat a real apple or banana (on the less ripe side) than to drink the juice. We also baked some oatmeal cookies which were sweetened with banana, had very little fat in them, and were actually very tasty. Although not that good looking I will admit. Low fat things are not necessarily that great for you, especially in processed foods. They take out the fat and put sugar in to make them taste better. Reading labels is very important. Life changing actually. In any case I learned a lot.
Todd had some stuff to do in town yesterday morning, so I took advantage of his being out and I started working on my Home Sweet Home Recipe Album Project. I have gotten all of the outside cover done and three of the inside pages. It's working out really nicely! I will take some photos later if I get a chance.
I just love, LOVE these papers. They're fabulous.
We had bought two tall bookcases earlier in the week to use as shelving in the kitchen so that we could organize it better than it was and Todd spent some time putting them together and then we organized the kitchen and it is sooooooooo much better than it was. I will have to take some photos of that also! I am so amazed at the difference.
Then the Johansens stopped by in the afternoon for a visit and it was so nice to spend some time with them. I love Kathy so much. She has become a dear friend. We will really miss them when they have to go home in the Spring. *sniff *sniff* But I know we cannot keep them forever. Mitzie loves the Johansens. Well, Mitzie loves everyone.
Then we went out and got some groceries, and also we did some Missionary visits to some of the people in our care and fell into bed exhausted with good books at the end of it all.
Today we have a Missionary Street Display in Chester. Also Todd is going to help Billy (remember Billy, I was teaching him to read a few years ago). He had a car accident earlier this week. A hit and run, and he needs some help with the insurance, etc. We are not sure if we can do anything, but Todd will try. Billy did not report it on the day, but there should be CCTV footage of where it happened. We'll see. I just have to say there are some really rotten people about. This lady ran right into his car while he was in it, and just took off. Wrote Billy's car off completely. And of course, Billy being the way he is, and in shock, didn't get any details.
Plus we are having Tina and Tony over for supper. Tina goes in for her second knee replacement on Monday, so this will also be our meeting with them as Ward Mission Leaders for their Ward.
So another busy day is in the offing and I best get at it! A thought to carry with you through today . . .
✿¸.•*¨`*•..¸✿ ✿¸.•*¨`*•..¸✿
"Be obedient, remember the times
when you have felt the Spirit in the past,
and ask in faith. Your answer will come."
~James B Martino
✿¸.•*¨`*•..¸✿ ✿¸.•*¨`*•..¸✿
Spiritual Enlightenment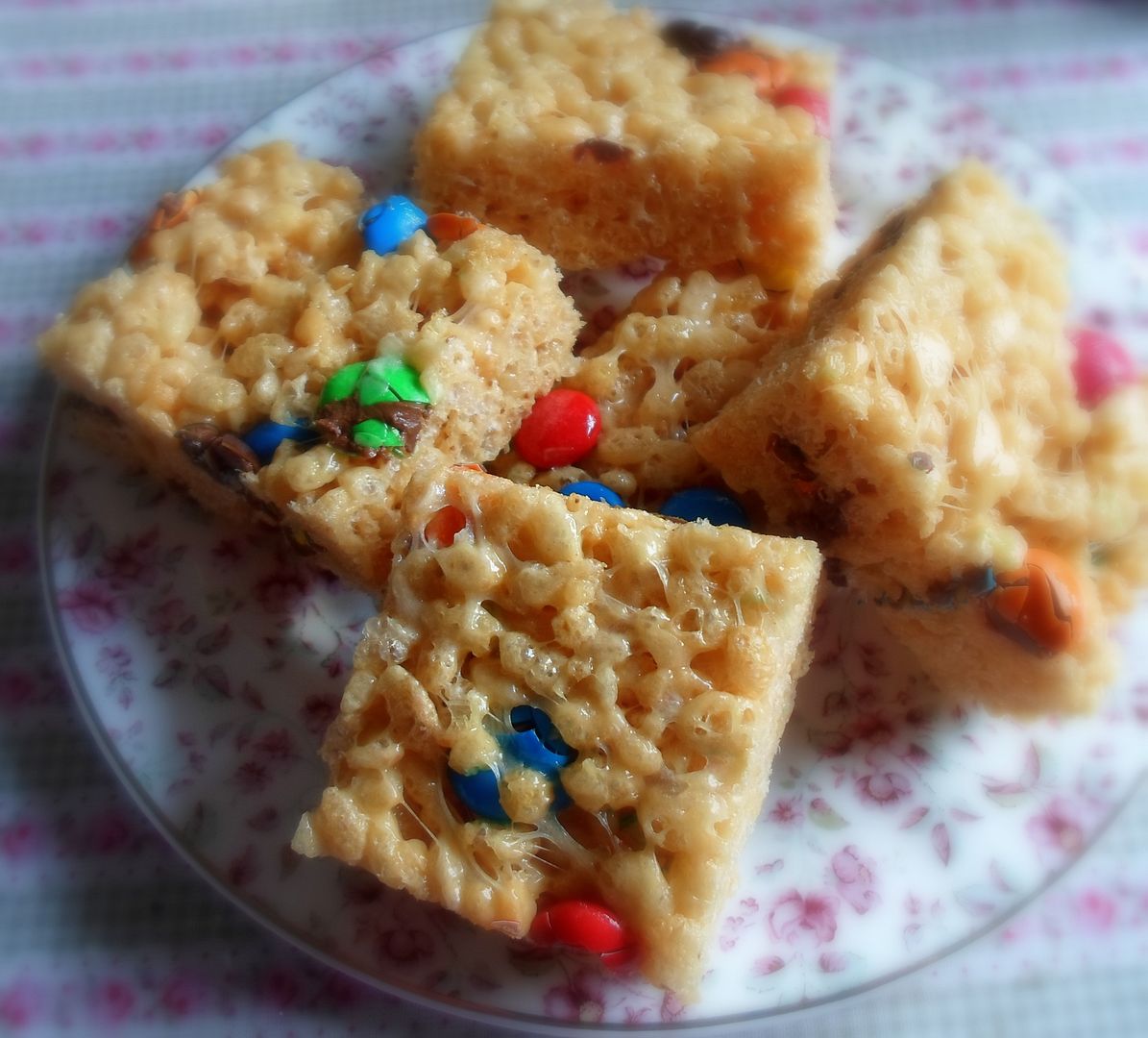 In The English Kitchen today . . .
Polka Dot Crispie Treats
. For the kiddies.
Hope your Saturday is as special as you are! Wherever you go and whatever you get up to, don't forget!
═══════════ ღೋƸ̵̡Ӝ̵̨̄Ʒღೋ ═══════════ ⊰✿░G░O░D⊰✿⊰L░O░V░E░S⊰✿⊰░Y░O░U░⊰✿
═══════════ ღೋƸ̵̡Ӝ̵̨̄Ʒღೋ ═══════════
And I do too!