A few of the things I find each week which strike my fancy and I hope that they strike yours also!
Raid the Craftroom and make something beautiful. What a lovely pillow cover. Created from a forgotten piece of needlework, some material scraps, etc. From
Living The Gentle Domestic Life
.
What a beautiful pillow cover. Simple embroidered bottom, nice trims. Buttons! Ricrac! All the things that I love rolled into one. Pattern from
Crabapple Hill Studio
. (And there's more to choose from! One for each season!)
No source, but if you can crochet using Japanese Symbols, this is a really sweet heart to create for a special Valentine or a pillow slip adornment, etc. I used to do all of my doilies using Japanese symbols. It wasn't that hard to do really.
From
Flamingo Toes
, a tutorial for a hand embroidered felt bookmark. Sweet!
A wreath made using family photos. I love this. I have a lot of family photos of the grandchildren I could use. By Heather Mann on
Dollar Store Crafts
.
Waffle Crochet Dish Cloths. Love these. From
Ravelry
. A free download.
From e-how
, make your own Sculpy Clay. Clay you can bake in the oven, no kiln needed. Use for jewelry, dolls, 3-D paintings, cars, animals, a hand or footprint keepsake and magnets, etc.
Something to make with the kids the next time you are babysitting, etc. Glow in the Dark Sand. From
Growing a Jeweled Rose
.
DIY Dollar Store Table Runner. No sewing involved. Cute! From
Kristin Pot Pie
.
Such a simple idea.
Origami Heart Invites. Now I want to have a party, lol These are so cute! Found on
Eat Drink Chic
.
And those are my Friday Finds for this week! I hope you found something of interest here!
Boy, was yesterday ever a long day! We went to Warrington in the morning, leaving bright and early. Thankfully the day was filled with sunshine, so no worries with driving. (Thank you God!) We found the missionary flats also with no problem. Two sweet Sisters and two Elders. We got back just in time for me to grab a quick bite to eat (I had a bowl of cereal) and then I dashed off to my Cooking for Diabetes Class. I think I am going to enjoy this class. We learned a lot about the four food groups, what Diabetes is, what causes it, etc. At the end she cooked a Leek and Potato Soup, and amazingly enough there was no cream or milk in it, and only 1 tsp of olive oil,
and
it was pretty tasty, as well as being thick and creamy. Secret ingredient was to add a can of drained cannelini beans at the end, which (when blitzed) thickened the soup and added that creaminess you get from milk or cream. Lesson Learned! I was in bed early last night and slept the whole night through like a baby. I hate that I get insomnia if I am out in the evening. It makes me not want to go out anywhere at night.
A thought to carry with you through today . . .
~•~♥♥♥~•.~•~♥♥♥~• ~
A woman is like a teabag
You never know how strong it is
until it is in hot water.
~Eleanor Roosevelt
~•~♥♥♥~•.~•~♥♥♥~• ~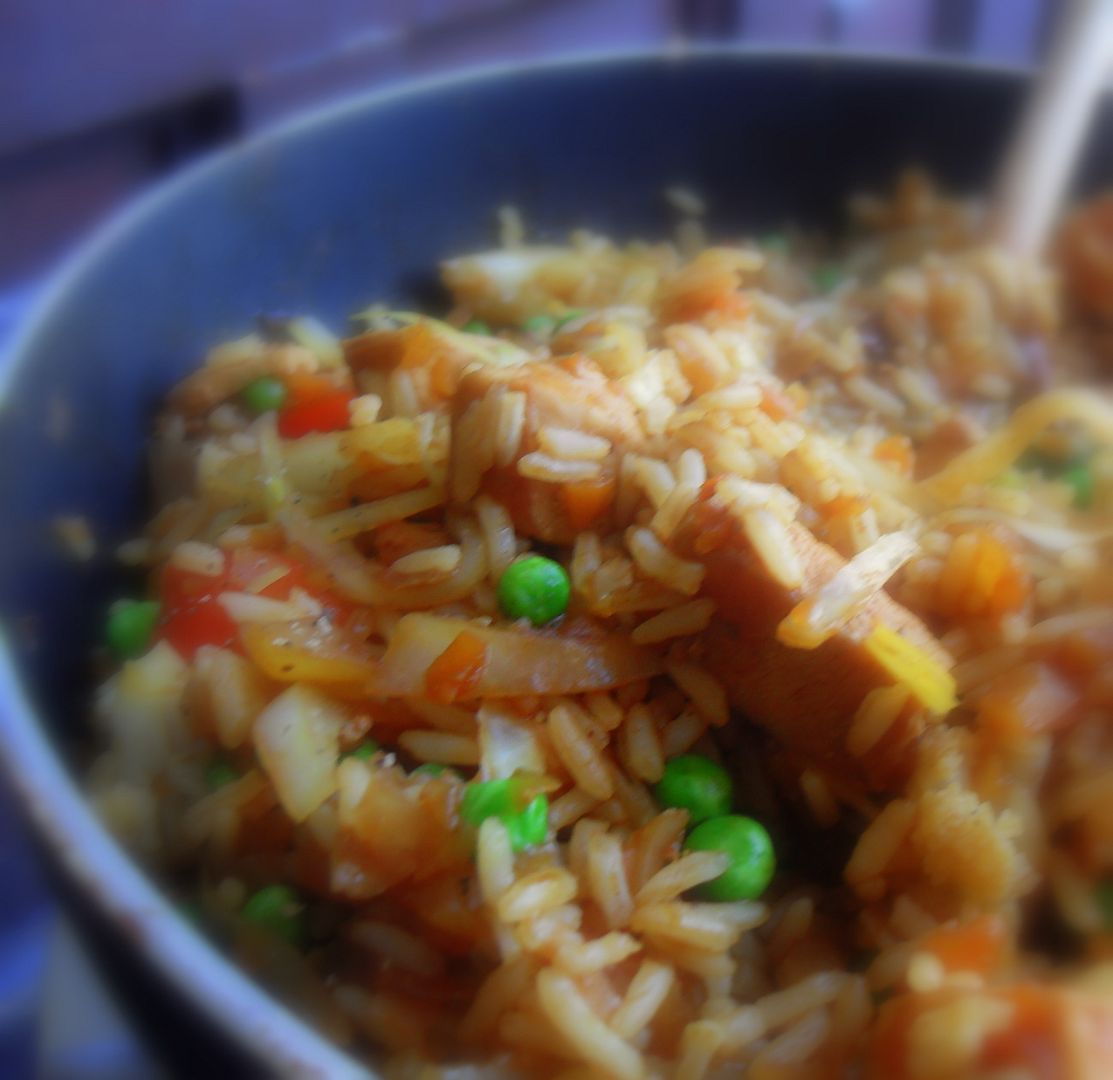 Cooking in The English Kitchen today . . .
Friday Fried Rice.
A great way to use up all the bits in your fridge before you go out for that weekly food shop!
Have a fabulous Friday. Wherever you go, whatever you do, don't forget!
═══════════ ღೋƸ̵̡Ӝ̵̨̄Ʒღೋ ═══════════ ⊰✿░G░O░D⊰✿⊰L░O░V░E░S⊰✿⊰░Y░O░U░⊰✿
═══════════ ღೋƸ̵̡Ӝ̵̨̄Ʒღೋ ═══════════
And I do too!