I got myself a new little book this week. I say little because it is only about 5 by 7 inches in size (about an inch and a half deep). Spark Joy, An Illustrated Guide to the Japanese Art of Tidying, by Marie Kendo promises to help me to organise and declutter every room of my house. Todd and I have been saying for several years now that we need to get rid . . . to downsize . . . just in case we get to a point where we really do have to move into a smaller space, etc. Ms Kendo's tidying method is to focus on what you want to keep, not on what you want to rid yourself of, which is quite a novel way of going about things . . .
Most declutter books focus on what you want to get rid of. That doesn't really work for me. I start to mourn things before I even begin to actually give them away. Her idea is to only hang on to things which spark joy in your heart. In other words, to keep only what you love and what brings you joy, as well as being useful.
The first step is to commit yourself to actually doing it. I think I am there. The second step is to visualize your home as you would like it to be. So that is what I am going to do this morning. Work my way through my home and visualize it the way I want it to be.
When I look at the types of things I am drawn to on Pinterest re home decoration/organization I seem to be most drawn to stuff with clean lines and minimalist in style. If you look at this photograph for instance, you see that there are no curtains on the windows . . . just a room filled with light, clear countertops, and not a lot of colour. I love the idea of a breakfast nook for eating. I have loved that idea for a very long time. And I adore wooden furniture which has been painted white, which is why I really love our bedroom.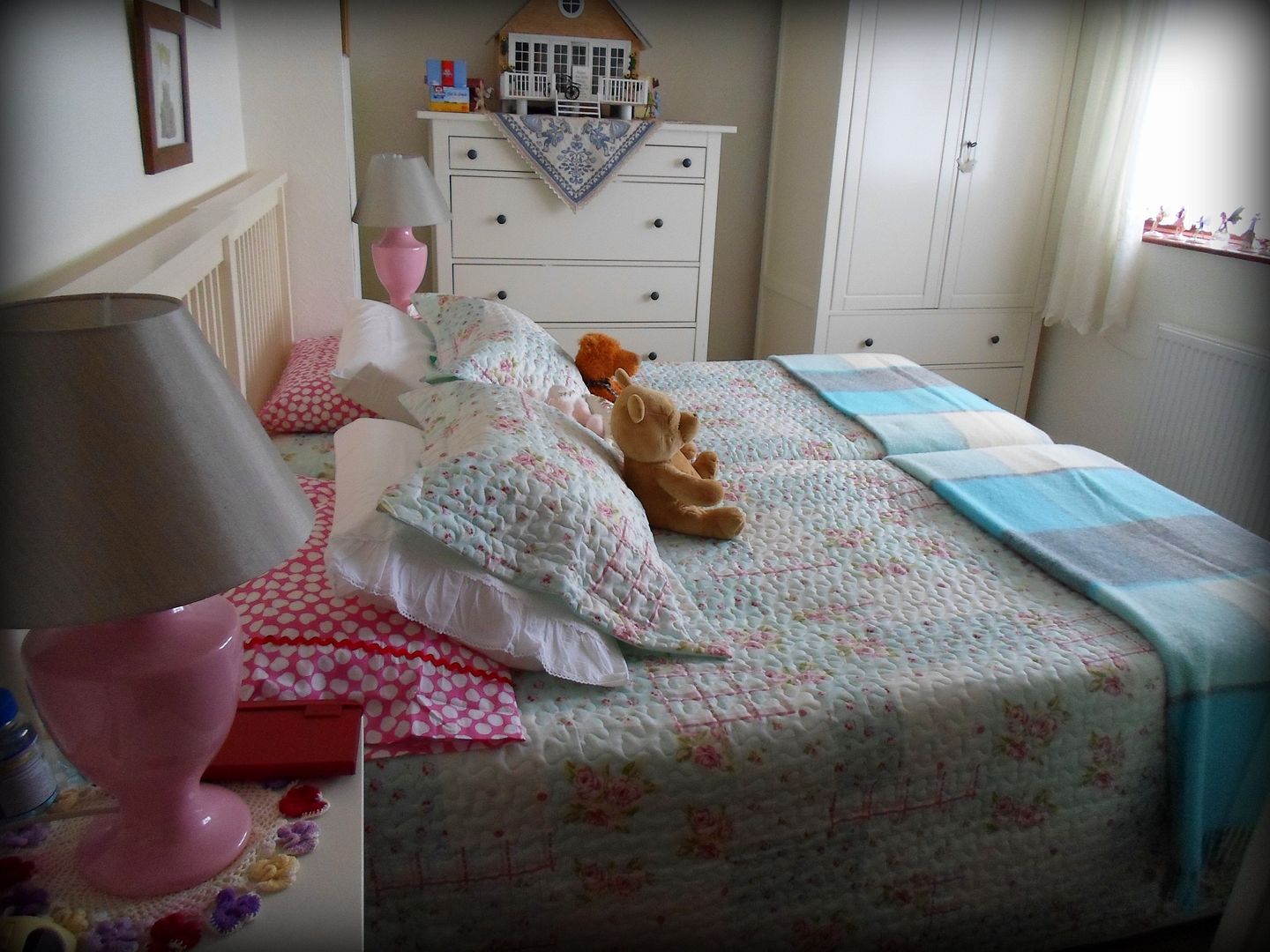 I love our twin beds and the white Ikea furniture we bought in that first year we moved back to Chester. That was the first time in my life that I had ever had a brand new bed and mattresses, and actually new furniture full stop. All through the years it had always been second or third hand.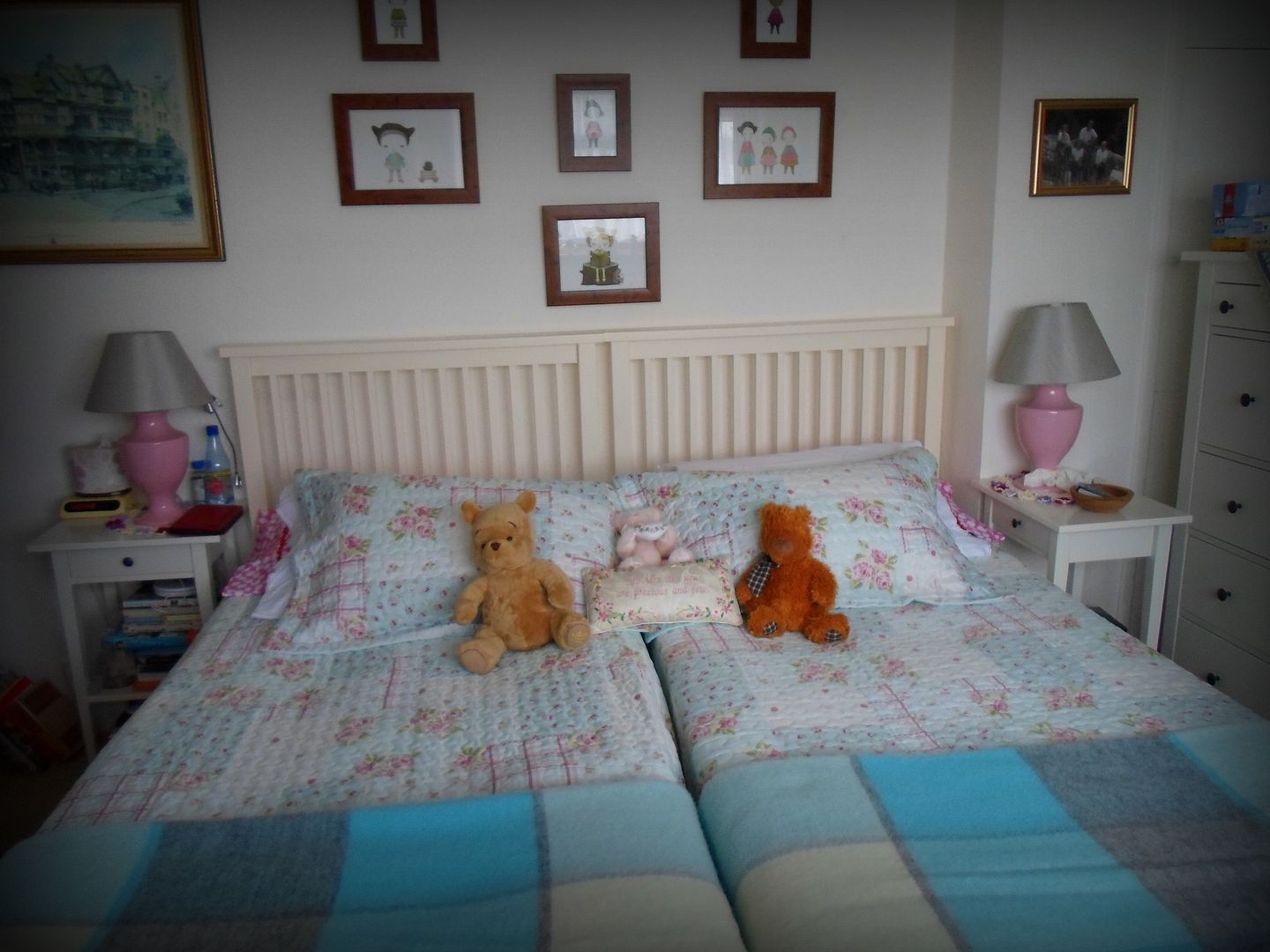 This is my absolute favourite room in the house. No doubt about it. Just looking at these photos of it brings me joy.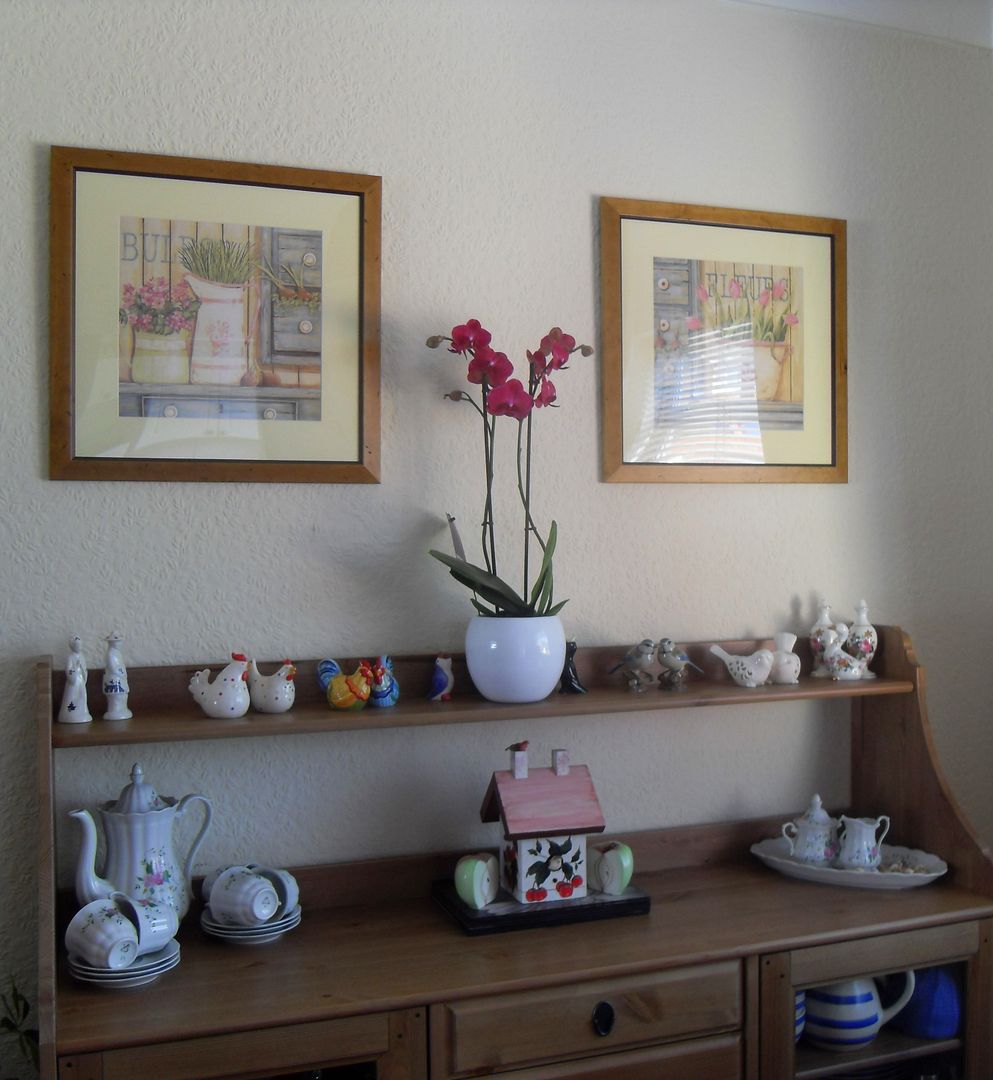 Then when I look at these old photos which were taken not too long after we moved in of the dining area of the house . . .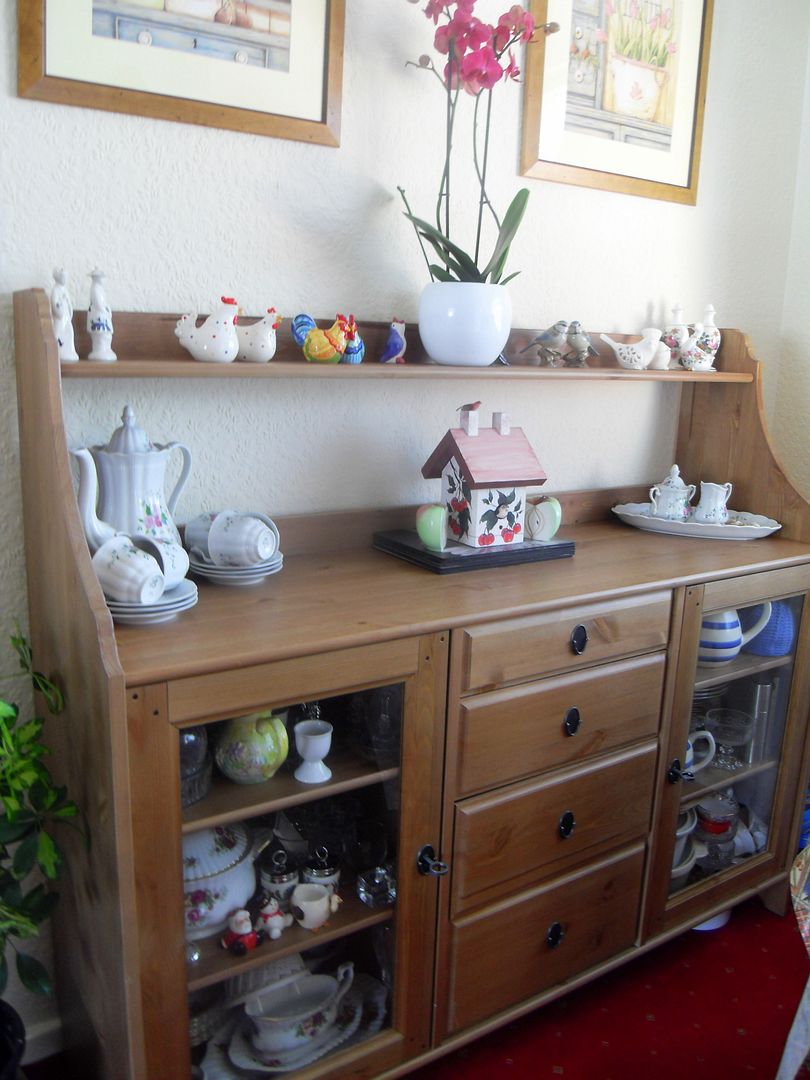 They bring me joy as well.
Everything is so tidy and uncluttered also. I don't know how we did it, but since then we seem to have accumulated far too much stuff. And it does not bring me joy. I don't love it. At all.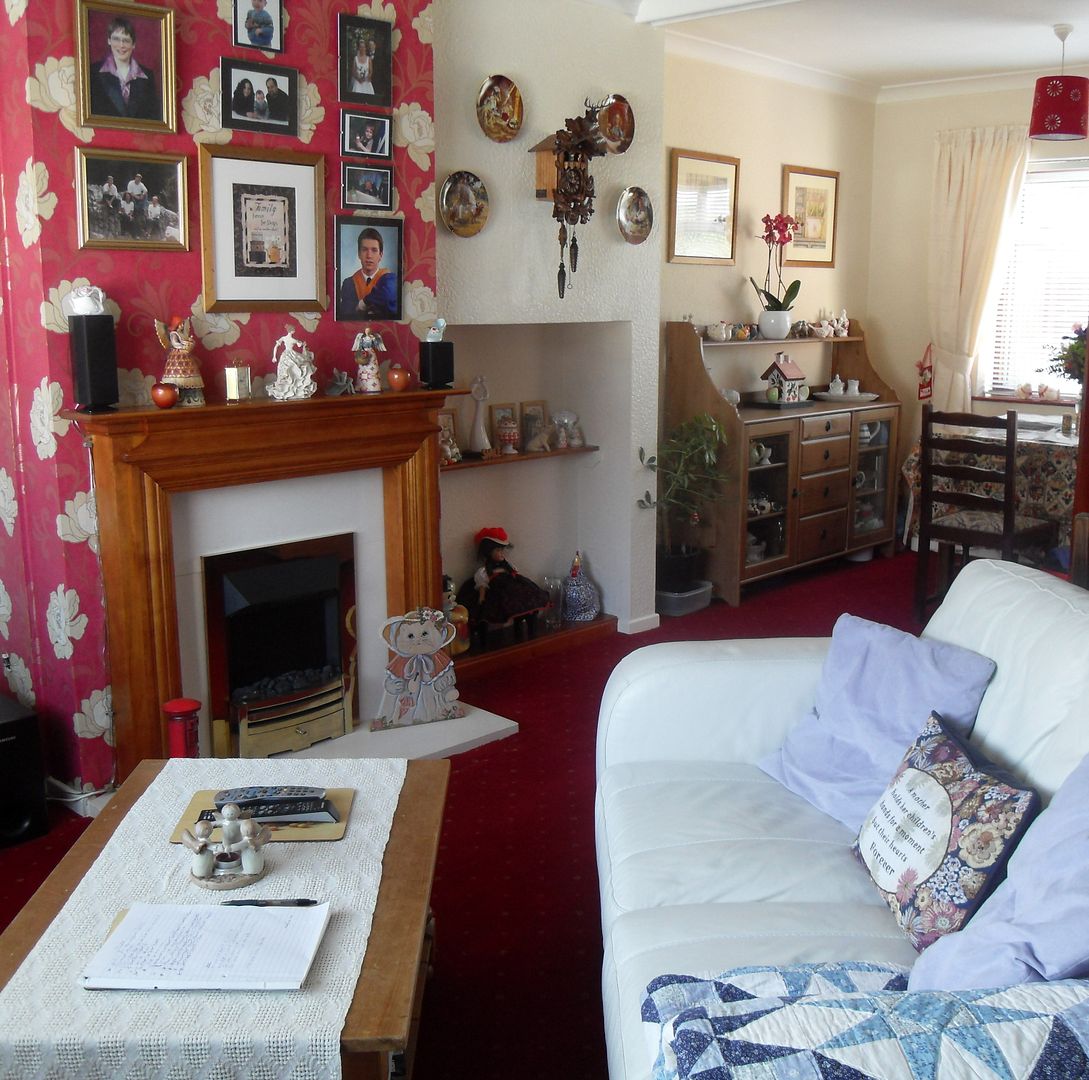 Even our lounge was clear and uncluttered. Lots of nicky nacs, but fairly uncluttered..
It's easier to keep a house clean when it is not cluttered up with lots of stuff.
I love this book. I think it's going to really help me to sort myself out. I am already realising that most of what I have I don't need, and it isn't really bringing me joy. If anything, it does the complete opposite. I know that the first thing I need to do is to give away or sell most of my books . . . and old magazines. I start to try to get rid of them . . . but then I make the mistake of looking through them and before I know it I am saying to myself, oh yes . . . I wanted to cook this or I wanted to cook that.
There are so many things like recipes available online these days. You can find recipes for literally everything Why keep all these books? Why not only keep, the ones I love and use a lot?
So that is my goal for February. To cut down on some of my cookery books, and only keep the ones I love. Maybe I will do it one bookcase at a time. Wish me luck!
This is going to be painful.☺
I really, really,
really
love this beaded curtain. I wonder where I could find one? The last time we went up to the Horseshoe Pass (Tatiana was here), Todd bought me a crystal hanging window pendant in the gift shop up there. I love it. When the sun is shining it makes rainbows all through our lounge on the ceiling and walls. They make me happy. It reminds me of the film Pollyana where Pollyana takes the crystals from that old man's lamps and gives them to the people in the village to make them happy. Crystals make me happy. Especially when they make rainbows.
A thought to carry with you through today . . .
⊰✿⊰⊰✿⊰⊰✿⊰⊰✿⊰⊰✿⊰⊰✿⊰
"Dissonance in the home
is like darkness in a room. …
We must displace the darkness
by introducing light."
~Wilford W. Andersen
⊰✿⊰⊰✿⊰⊰✿⊰⊰✿⊰⊰✿⊰⊰✿⊰
Spiritual Enlightenment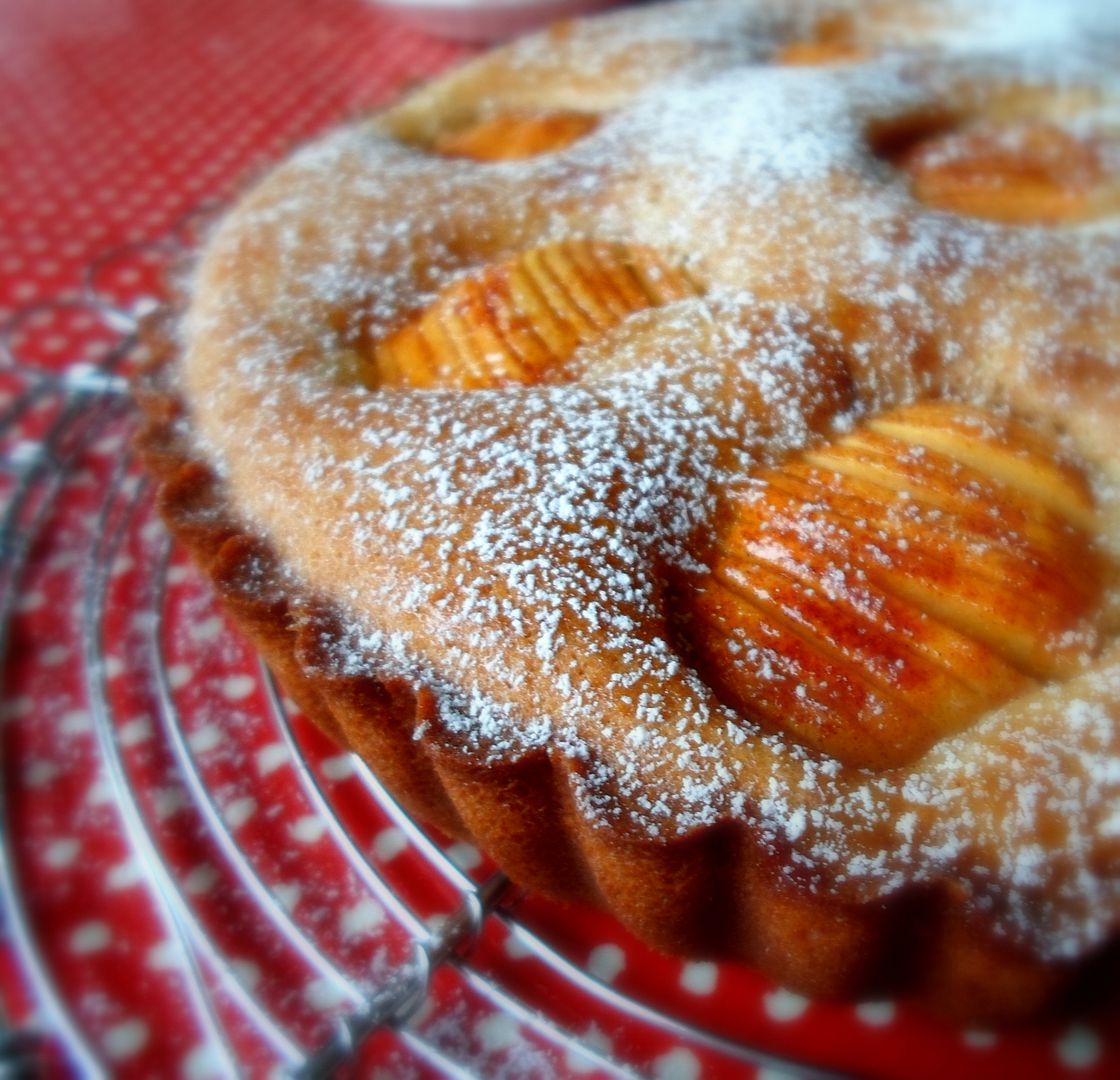 In The English Kitchen today . . .
Apple Cinnamon Teacake
.
Have a great Thursday. I have a very busy one ahead of me, with my Visiting Teaching and Home Teaching with Todd this morning and then my Cooking for Diabetes Class this afternoon. Whatever you get up to today, don't forget, no matter what . . .
═══════════ ღೋƸ̵̡Ӝ̵̨̄Ʒღೋ ═══════════ ⊰✿░G░O░D⊰✿⊰L░O░V░E░S⊰✿⊰░Y░O░U░⊰✿
═══════════ ღೋƸ̵̡Ӝ̵̨̄Ʒღೋ ═══════════
And I do too.