When I was thirteen I learned how to play the clarinet. I largely taught myself, beginning several months into the school year. When school had started in September I had really wanted to join band and learn to play an instrument, but was afraid to ask my parents because I knew they didn't have a lot of money as they were buying a house. Finally I screwed up enough courage and my dad (who already played the clarinet) arranged to borrow one from the station band. I was thrilled. At first the band master at school kept me in a side room while he was working with the others where I could practice getting sounds out of it, etc. I spent many hours practicing at home. (My poor family!) I practiced and I practiced and I practiced. By the end of the year I was playing second clarinet in the high school band. All of my hard work had paid off and I was really quite good. I LOVED it. Nobody had to push me to practice. My father got me some really complicated music books and I loved playing the pieces in them . . . the harder, more challenging, the better. My father and I used to play duets together. It was fun having something in common like that. We didn't do much together as a family, so this was really special to me.
And that is thing number one on a Five Things About Me post! Hang on to your hats coz here we go!
My mother began working outside the home when I was ten years old. At first we had housekeepers, but then after a while my parents decided that I was mature and old enough to do their job and so I did. I didn't so much like the cleaning bits, but I didn't mind the cooking bits. Mostly at first it was just eating up things which my mother had already prepared. I wasn't allowed to do anything from scratch until I had had cooking lessons in Home Economics at school. I can remember practicing from an old cookbook one day at home and getting into trouble for making a couple of really inedible things. One was creamed vegetables in toast cups. The other was cream puffs. The cream sauce with the vegetables was lumpy and very badly flavoured. The cream puffs were pancakes. I can remember my mother being very annoyed with me for wasting ingredients. It didn't put me off however because I eventually became a very competent cook. I have always loved food, cooking and (unfortunately) eating!
I attended my very first girl/boy party when I was ten. I remember the boy's name was Maurice Rio and it was held in his parent's garage. It was a really big deal! I had only ever seen boy/girl parties on Leave it to Beaver! (A television sitcom) It was exciting. The garage was all decorated with balloons and streamers. Everyone was dressed up nicely . . . the boys in suits, the girls in dresses and crinolines. There was dancing and good and it was a lot of fun. That same boy Maurice had the hots for my best friend. I can remember being with the two of them different times and him asking her to get rid of me, which I didn't exactly understand why at the time (I was incredibly naive), but I understand why now. DUH! It's probably good I was thick because I probably helped to preserve her innocence for a little bit longer!
I went to my very first girl/boy school dance in 1966/67. I remember wearing a dress borrowed from my mother. It was a turquoise stretch acrylic sheath dress with a white lace overlay. Sleeveless. I probably looked a real geek with my aliceband in my hair and my black hornrimmed glasses. I can remember I didn't dance much. It was held in the school gymnasium. I don't think I went to another highschool dance until a few years later. I once followed my dad around the house and garden all day begging him to let me go to a dance at school. I was probably in Grade 8 or Grade 9 by then (14 or 15). He would
not
give in, no matter how many times I asked or begged. When I was finally truly allowed to go to school dances I was never allowed to stay to the end of the dance. I always had to come home halfway through the dance. My father would pick me up. I had to be outside and waiting for him or else he would come in and get me, which would have been the horror of all horrors! Heaven forbid!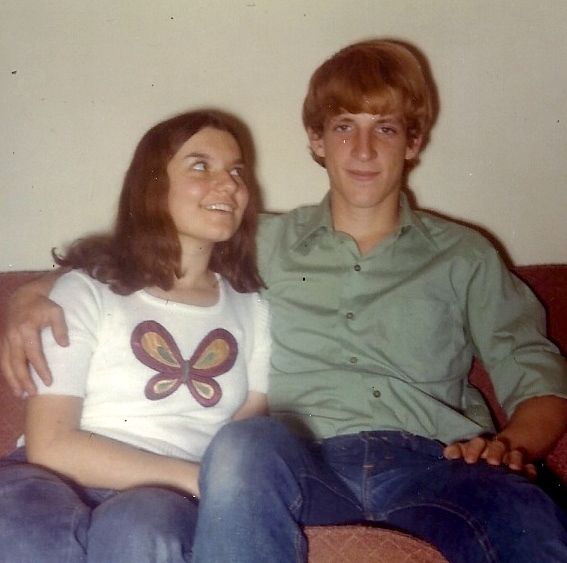 I was not allowed to date officially until I was 16. My first official boyfriend was my ex husband. I adored him. (That is pretty apparent from this photograph I think!) I thought he was really cute and charming and funny and kind. He had been our paper boy. I had known him since I was ten and in grade 6 at school, although back then I had a crush on his older brother, not him. From day one we used to dream about getting married one day. He was everything to me. Sometimes love is just not enough. I have only ever had three
steady
boyfriends in my life (although I did kiss a lot of frogs) and I married all three of them. (Not at the same time, lol) They say the third time is the charm and it was the charm for me.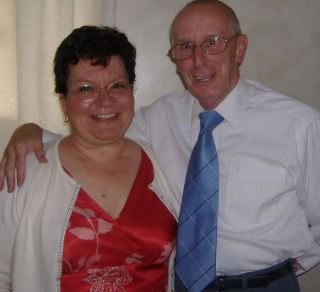 This is my happily ever after.
And that's my Five Things About Me for this week! I hope I didn't bore you too much!
Great news that my mother is now home from the hospital! They let her go home yesterday. Thank you all so very much for your prayers and happy thoughts. They surely helped and we were all most appreciative of them!
A thought to carry with you through today . . .
❥✻❥.¸¸.✿¨¯`❥✻❥¸¸.✿¨¯`❥✻❥.¸¸.✿¨¯`❥✻❥
"Real tears are not those that fall from the eyes
and cover the face . . .
but those that flow from the heart and
cover the soul."
~anonymous
❥✻❥.¸¸.✿¨¯`❥✻❥¸¸.✿¨¯`❥✻❥.¸¸.✿¨¯`❥✻❥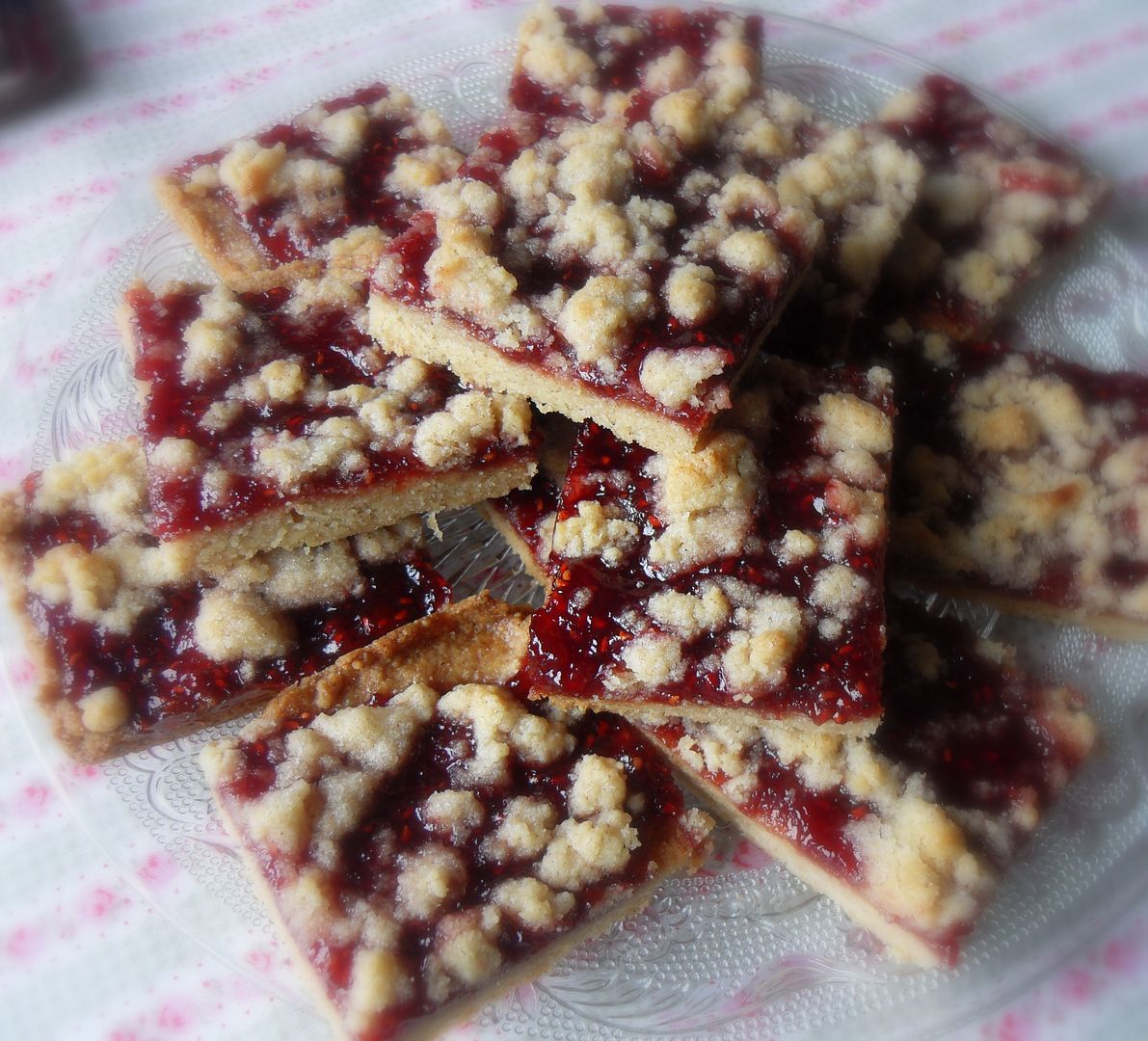 Baking in The English Kitchen today . . .
Raspberry Lintzer Slices
. Scrumptious!
Have a great Thursday . . . . Don't forget . . .
═══════════ ღೋƸ̵̡Ӝ̵̨̄Ʒღೋ ═══════════ ⊰✿░G░O░D⊰✿⊰L░O░V░E░S⊰✿⊰░Y░O░U░⊰✿
═══════════ ღೋƸ̵̡Ӝ̵̨̄Ʒღೋ ═══════════
And I do too!