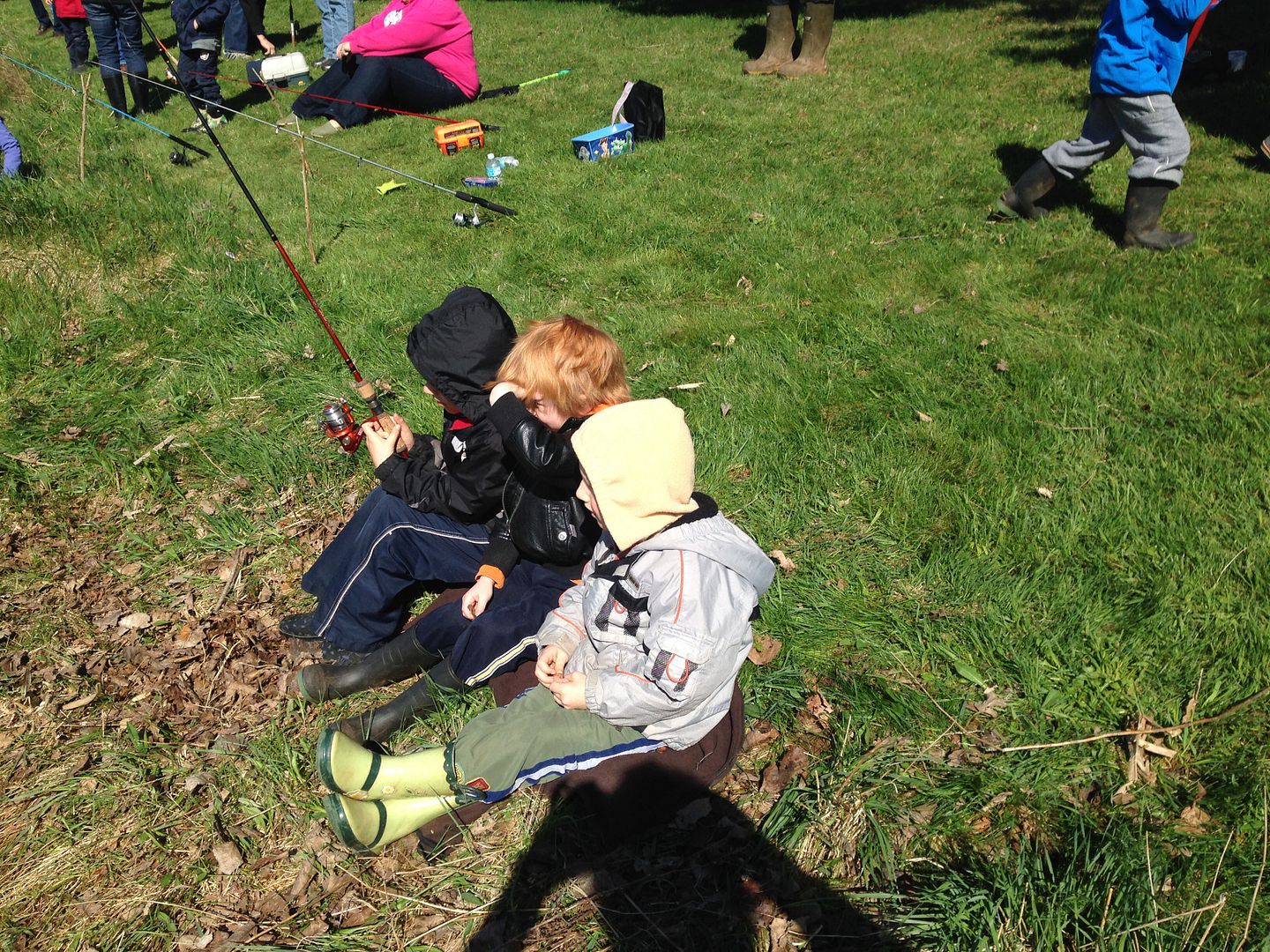 That's three little grandsons at the fishing derby, catching nothing. But they did come home with a fishing pole that Jon won in the raffle. He is one very lucky person. Over the past few years he has won two bicycles, a barbeque and a fishing pole. I told him that the next time I want a lottery ticket I want him to buy it!! haha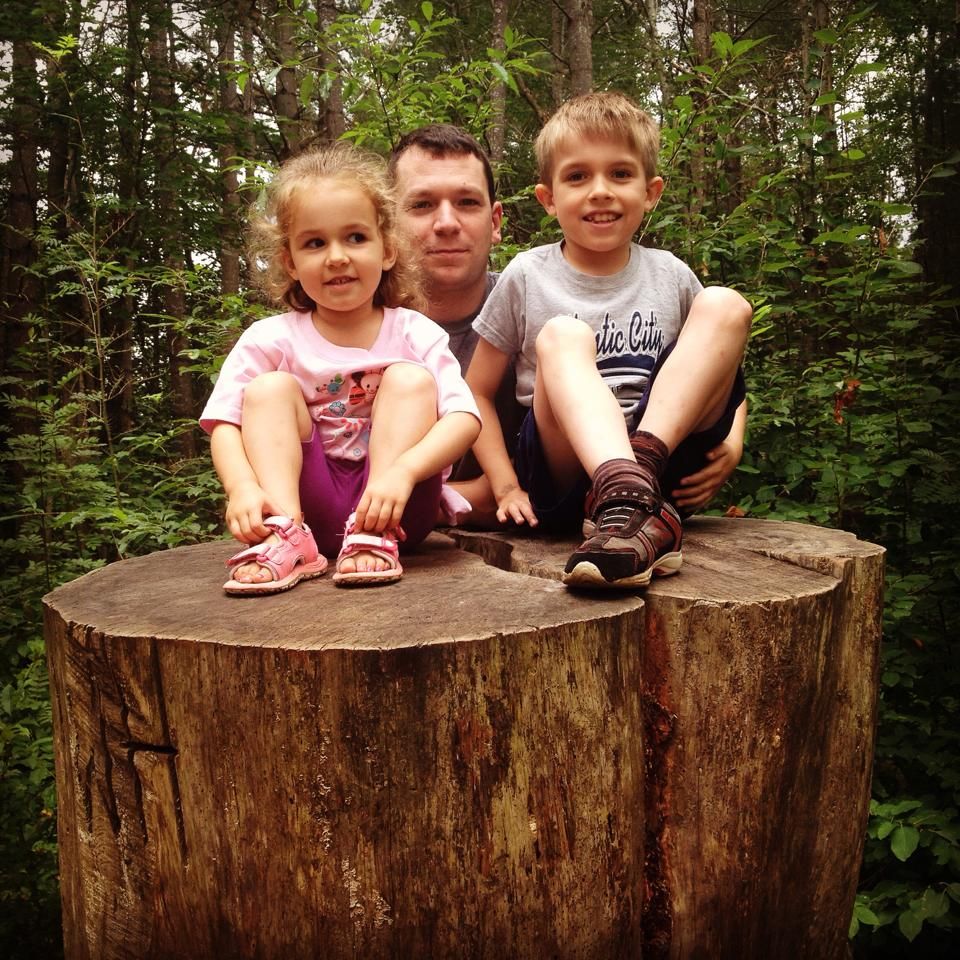 This is Jon with Uncle Bruce and Maryn, a photo taken last summer. Jon is a bit camera shy I think as I don't have that many photos of him, but lots of his two brothers. He just turned 9 a couple of weeks ago. I am so proud of him. He saved up his money and was able to buy (with a bit of help from mom and dad) his own tablet. It's an iPad of some sort. Not sure the model, but yesterday he facetimed me on it! Colour me chuffed! That was so special to have a grandson facetime me on is own. Okay . . . he did have some help from dad, but the mere fact that he wanted to call me made my day!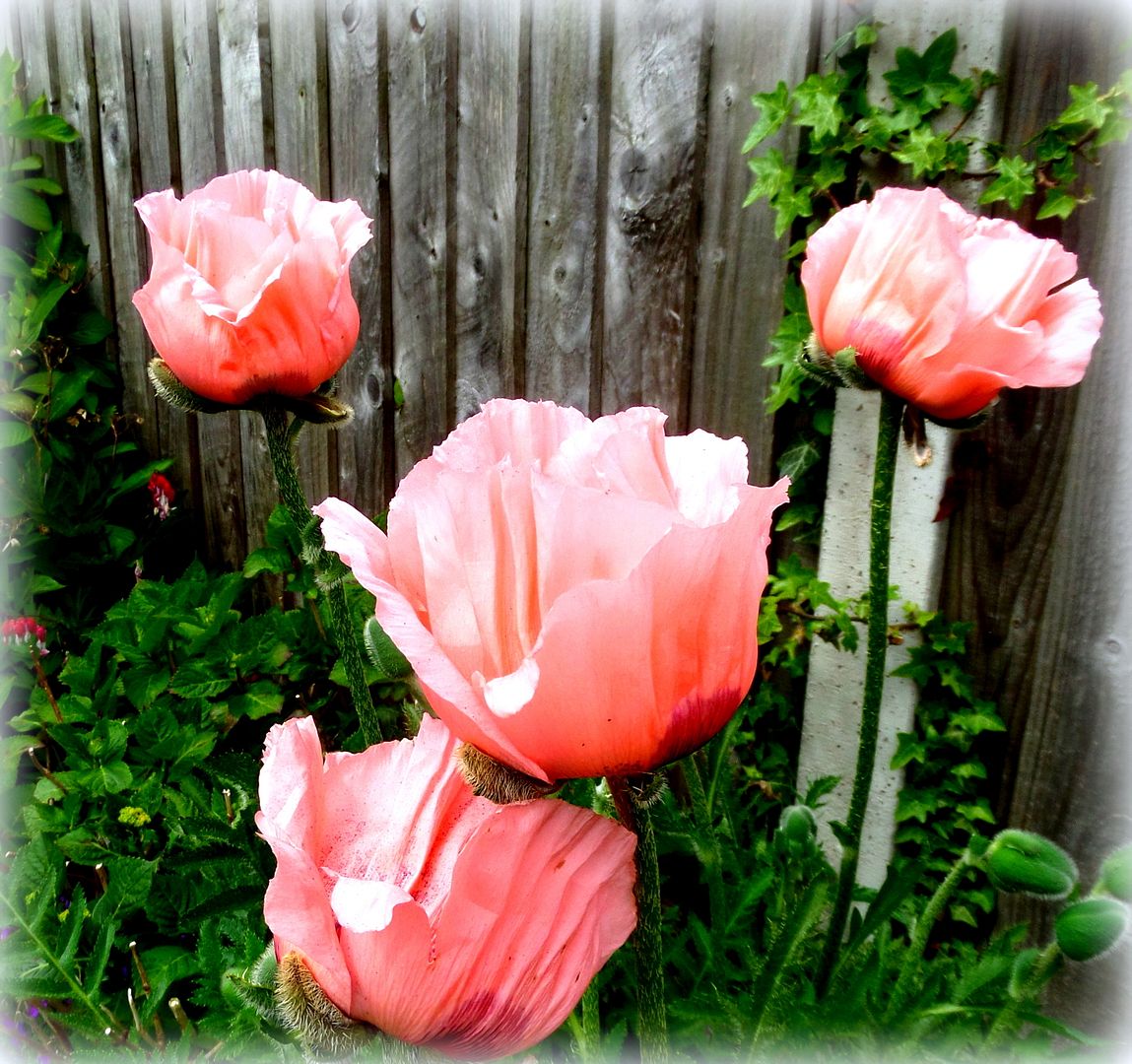 I dug my old camera out and took some photos of the flowers, etc. in the garden. I really wanted to be able to show you how very pretty they are at the moment. These are the oriental poppies out front, with more to come. They are just gorgeous at the moment. Todd buried some seed pods elsewhere in the garden last year, but we haven't seen any more anyplace else, so the seeds must not have worked. Maybe that isn't even the way you propagate them. I don't know!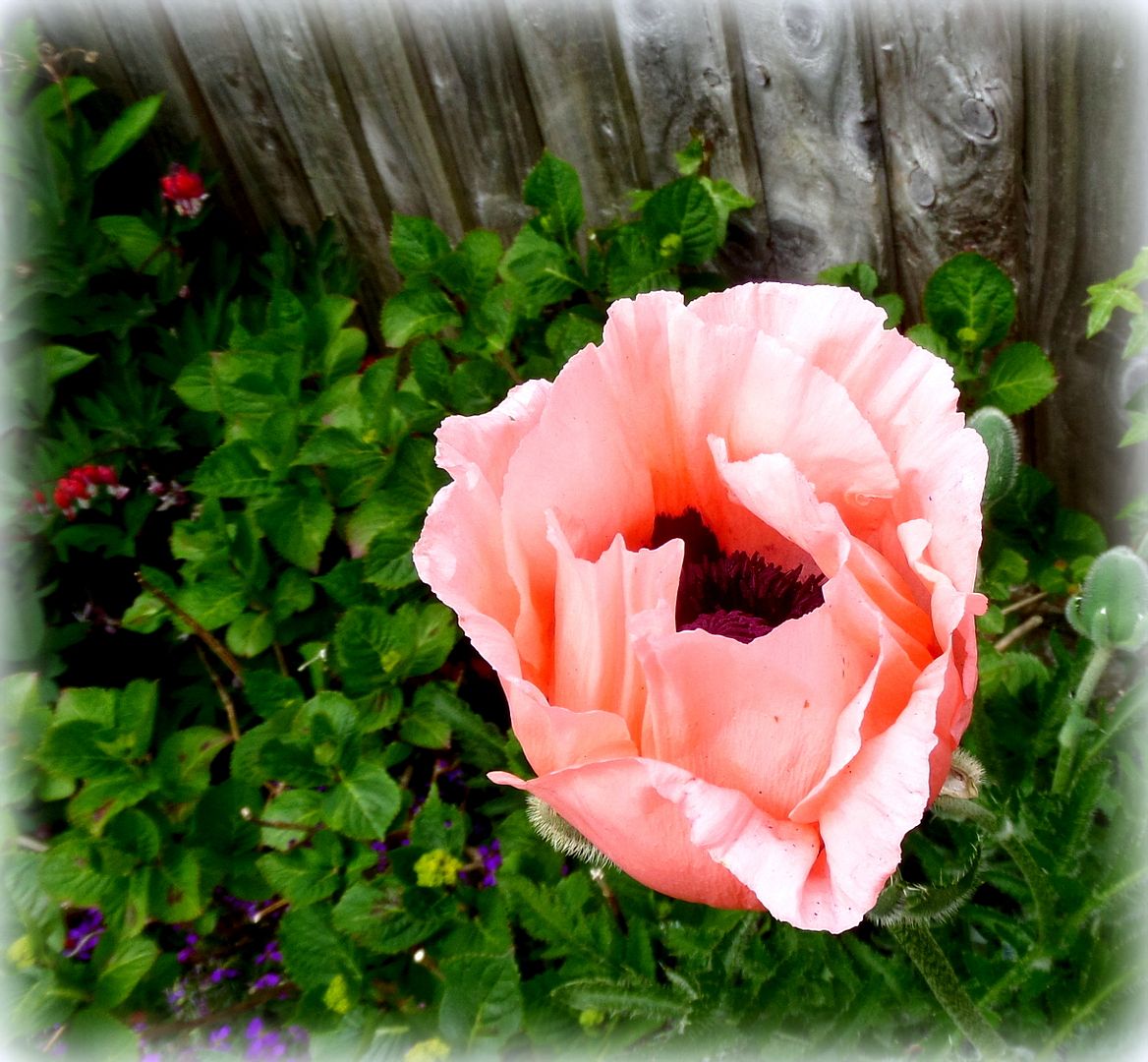 They're so beautiful and they don't last for too long. I wanted to capture them before they were gone. You can just barely see the bleeding hearts in the background and the purple lobelia below in this photo. Just gorgeous.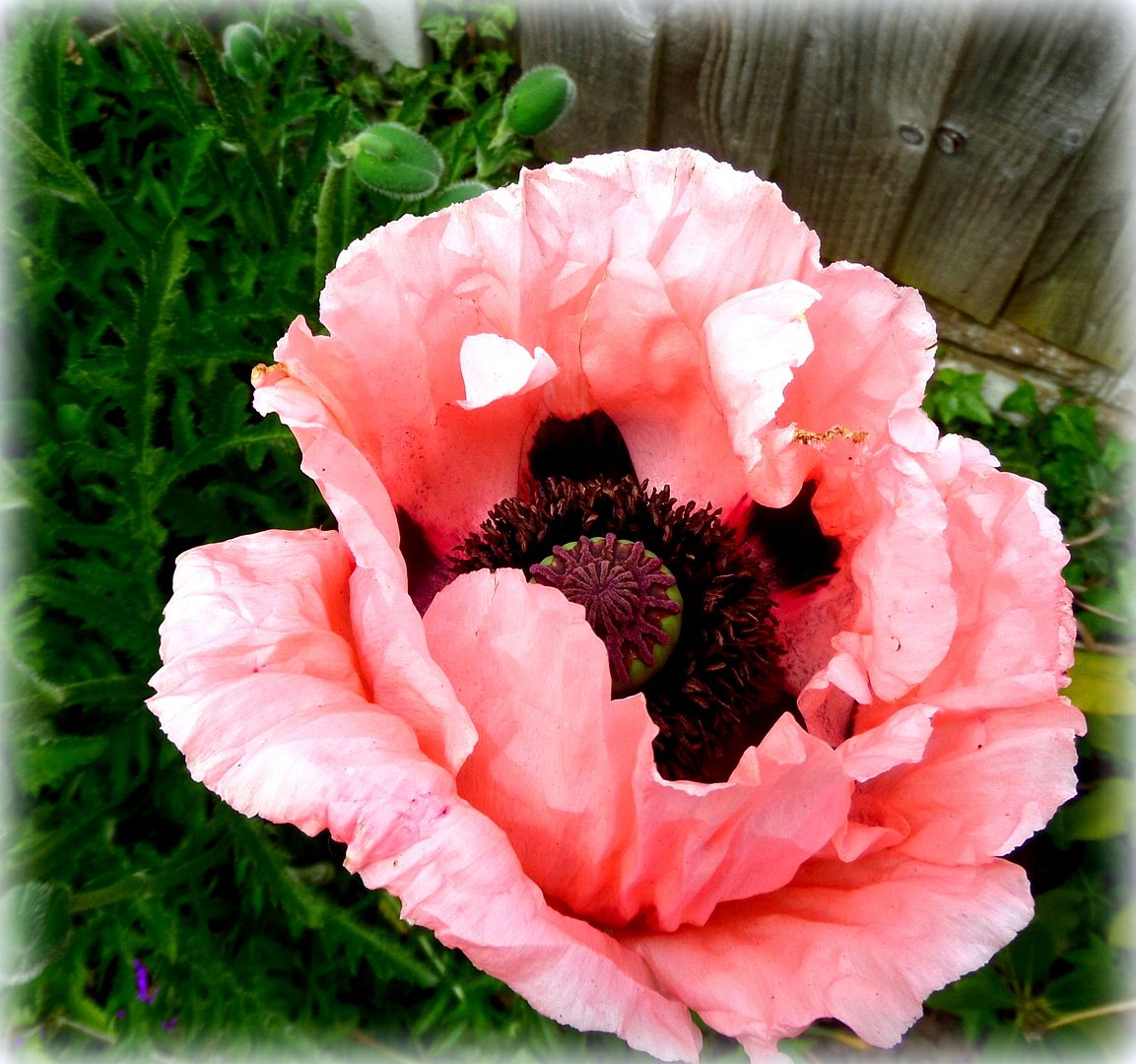 This was the first bloom, and it is on it's way out. You can see the big green seed pod inside in this photo. I just love these flowers.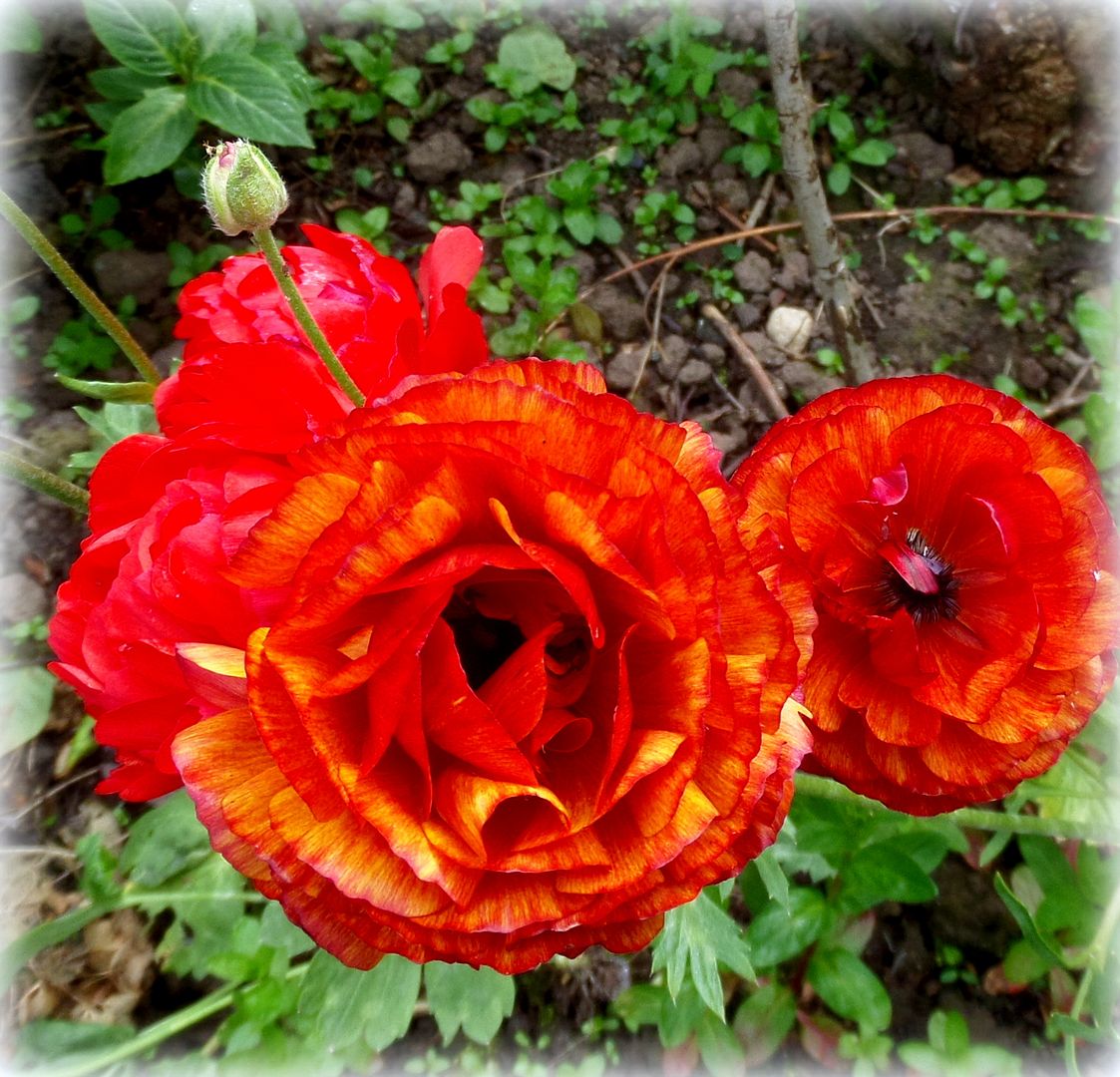 These are some of the double peonies we planted. This colour is just gorgeous. A varigated red and yellow . . .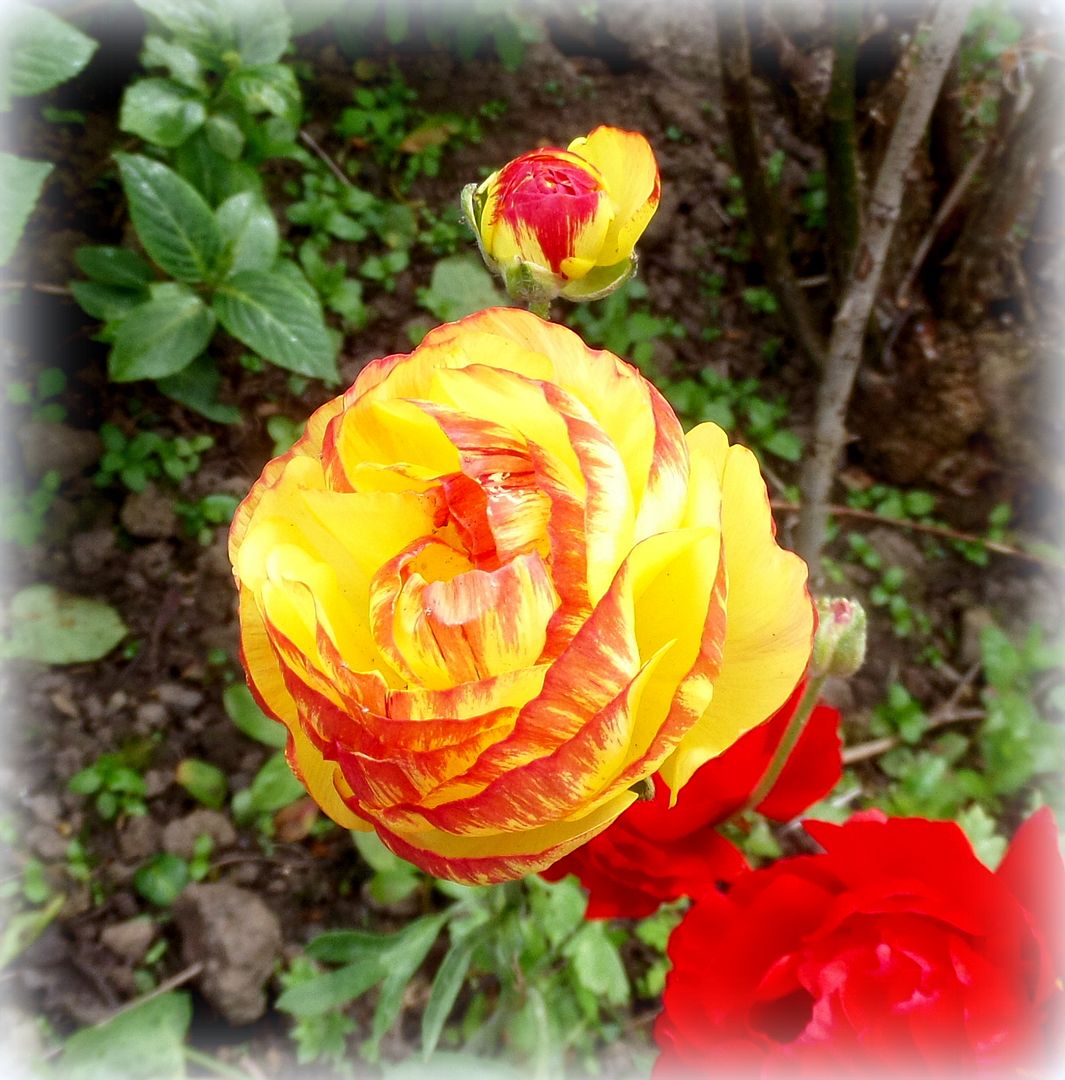 And we have some that are more yellow than red . . .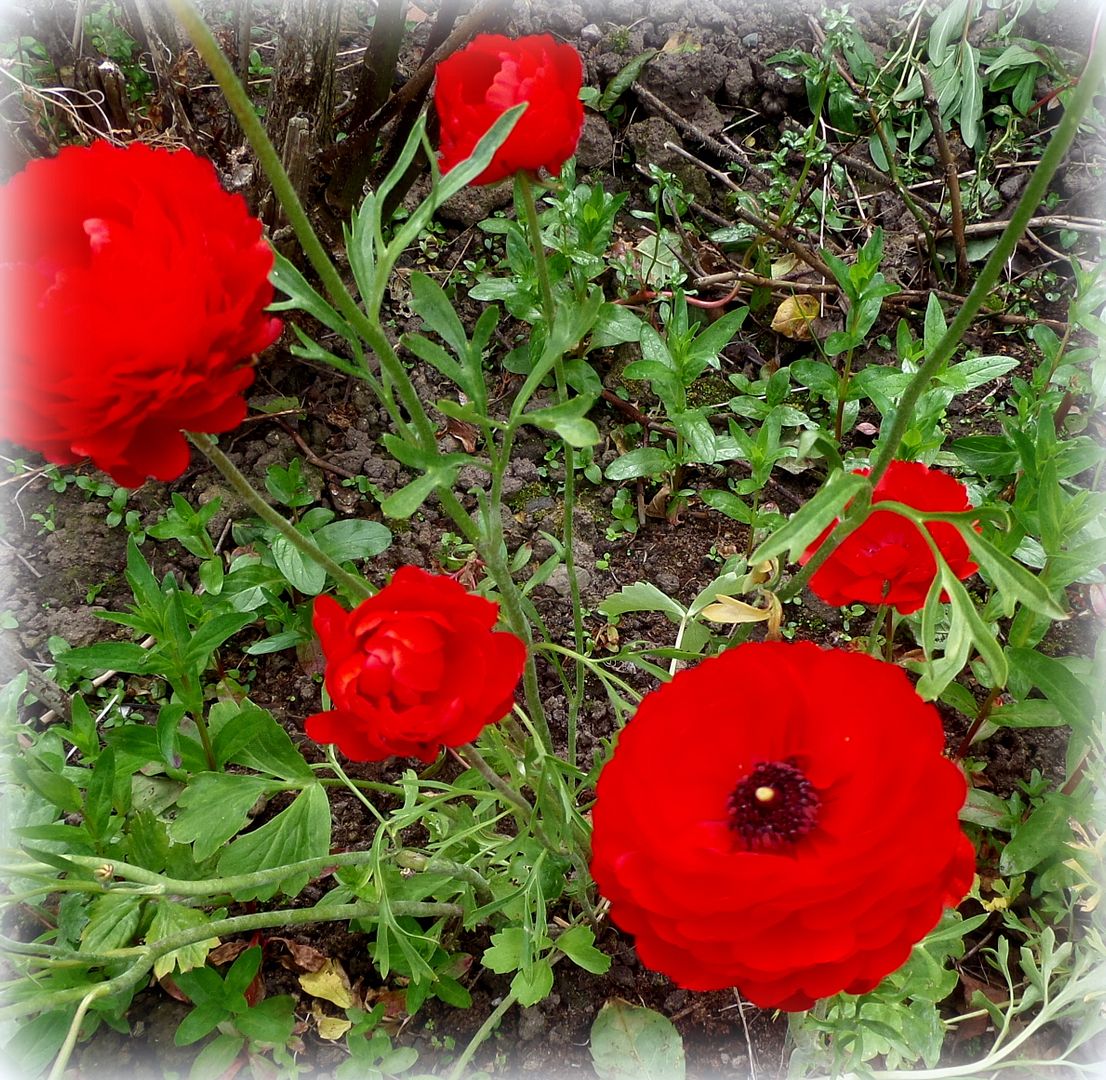 And some that are totally red. They are just beautiful!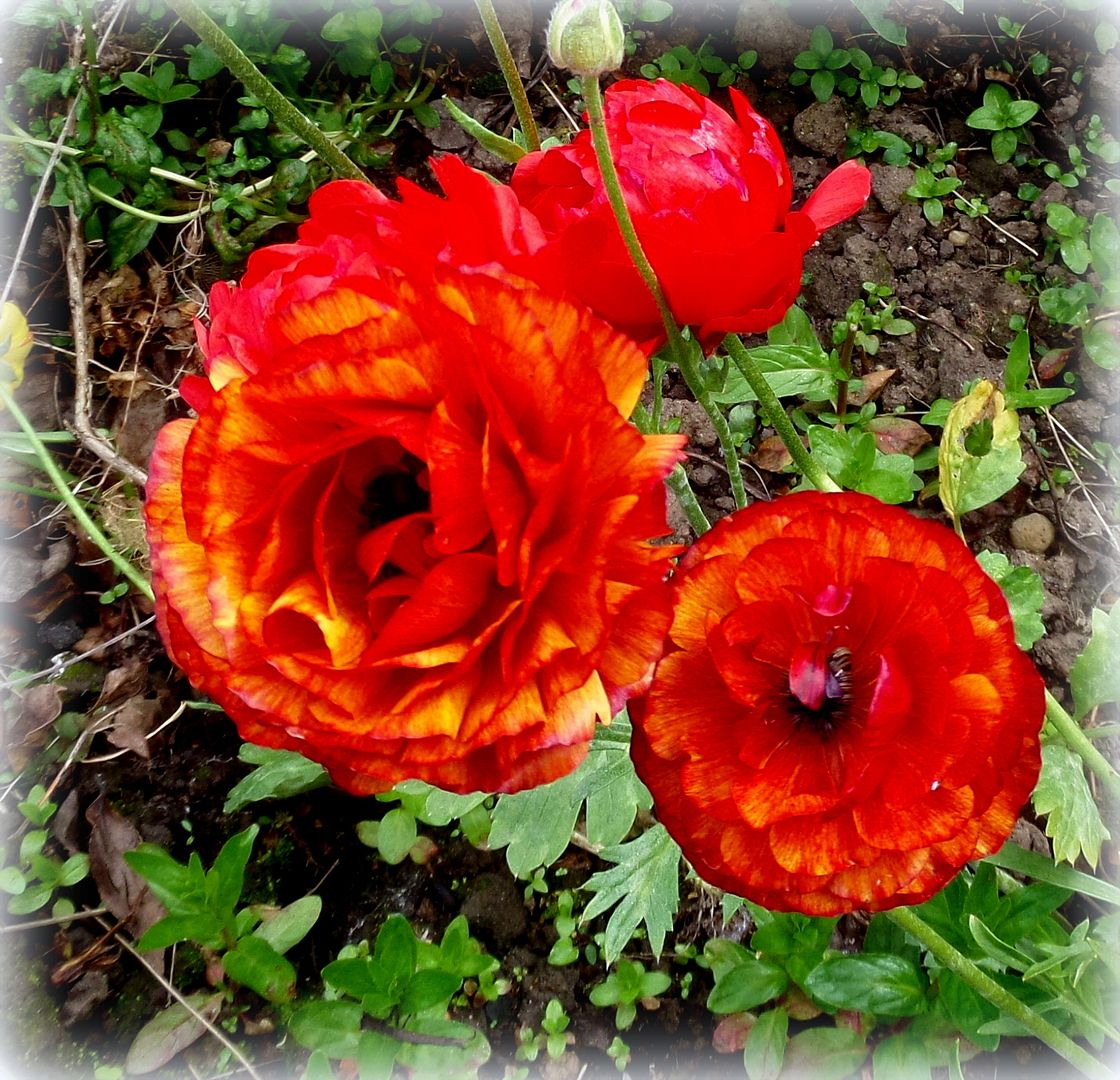 I think the plants will get larger each year. This was their first year. I hope I am correct in assuming that. Does anyone know?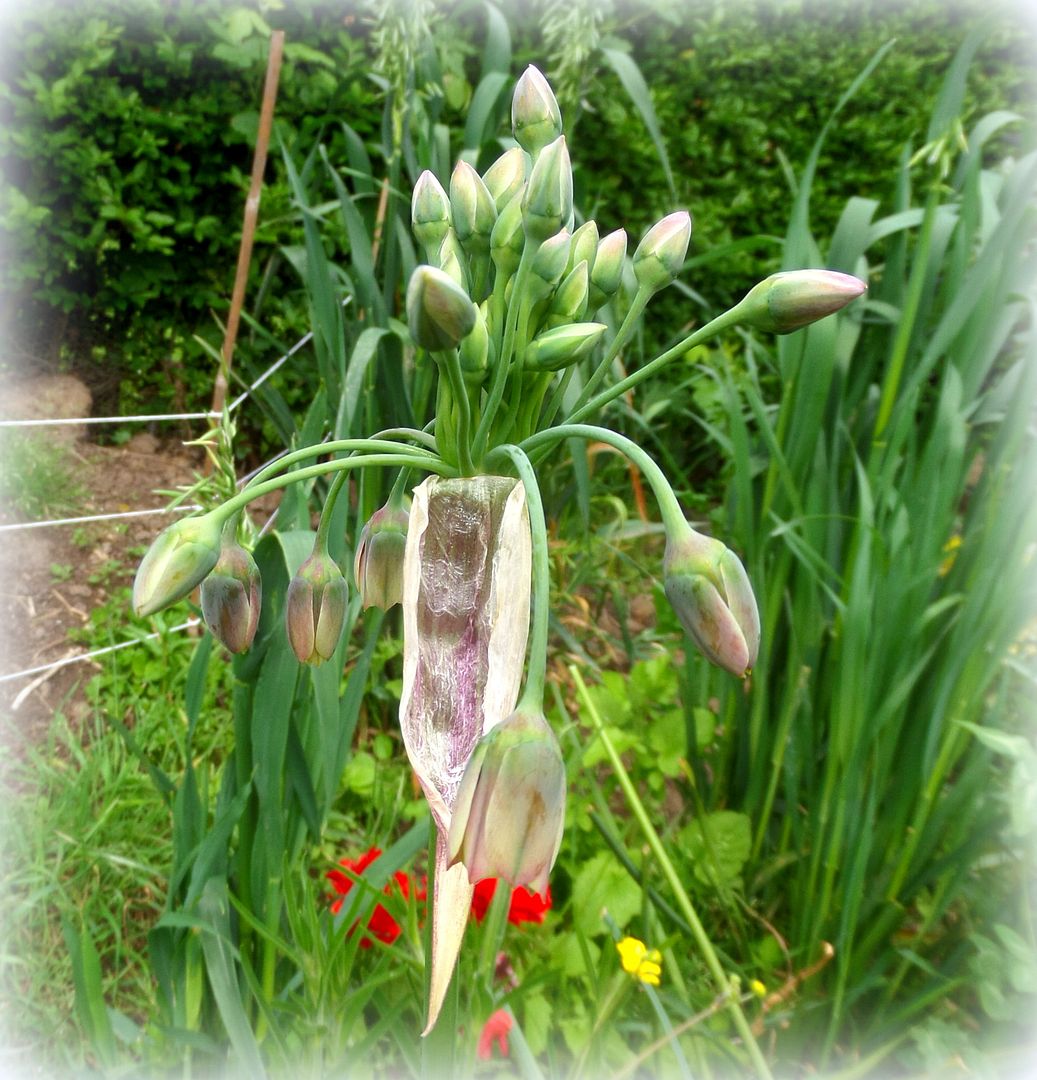 This is a surprise in the back garden. There are quite a few of them. I know we must have planted them. They came up and had an allium type of pod at the top, very tall plants and the pods have burst open and inside are all these small blooms, waiting to open. I have no idea at all of what they are. Once again . . . can anyone enlighten me?
I am such a bad gardener.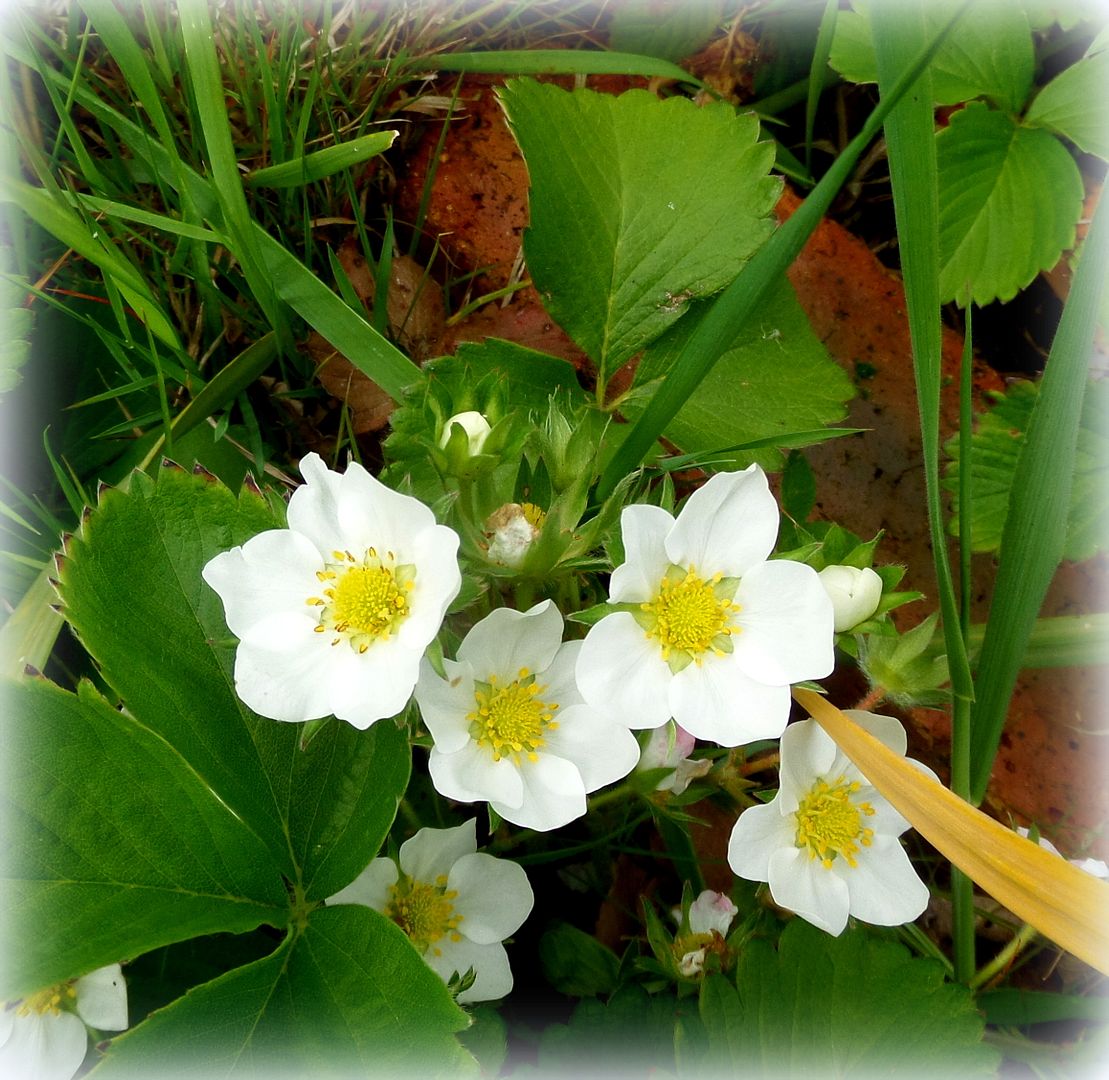 We are going to have lots and lots and lots of strawberries this year! This is the blooms on just one of our plants! I am so excited about these. The trick will be to get them all before the slugs do!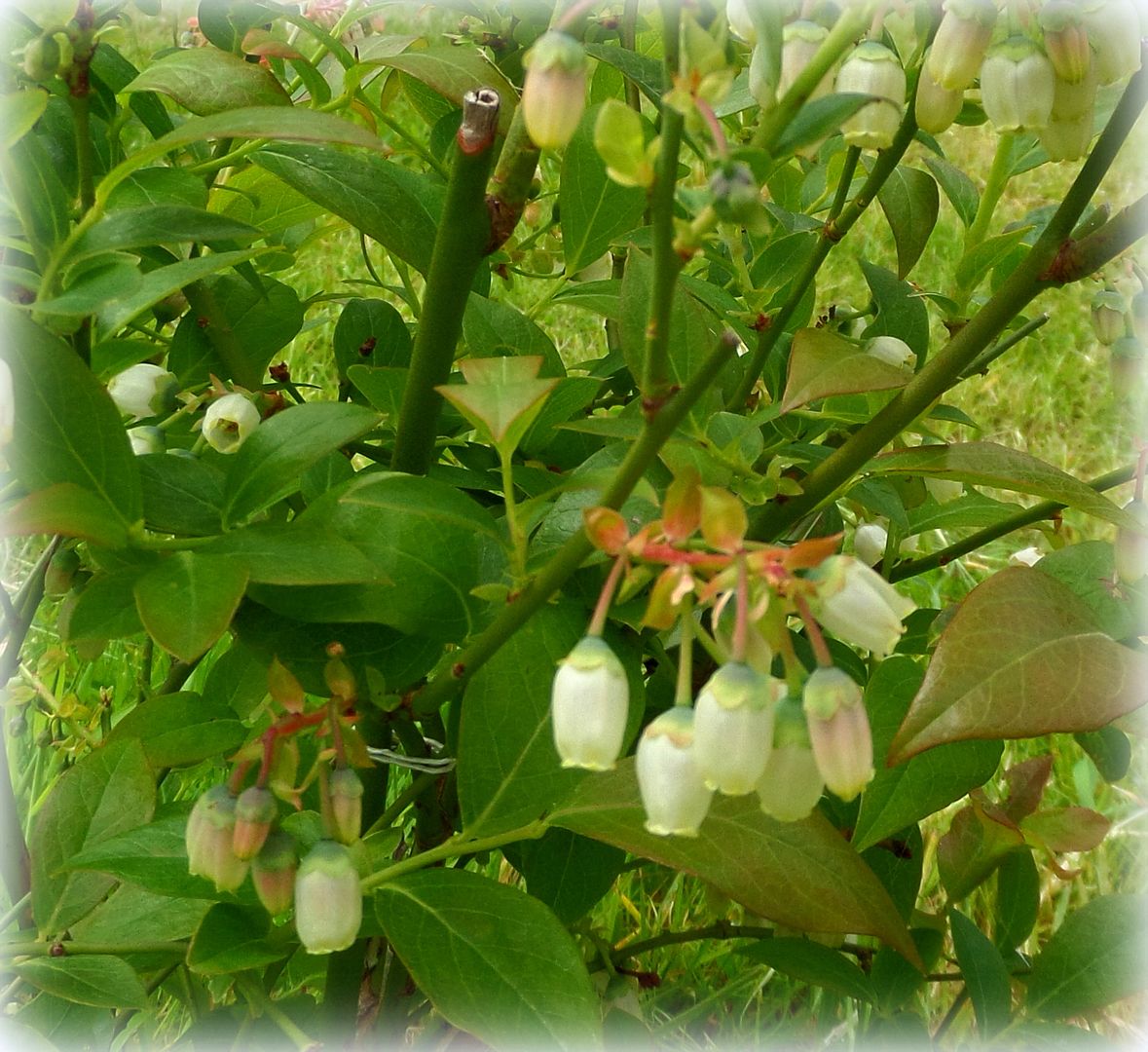 This is just one of our blueberry bushes. We are going to be well blessed here as well!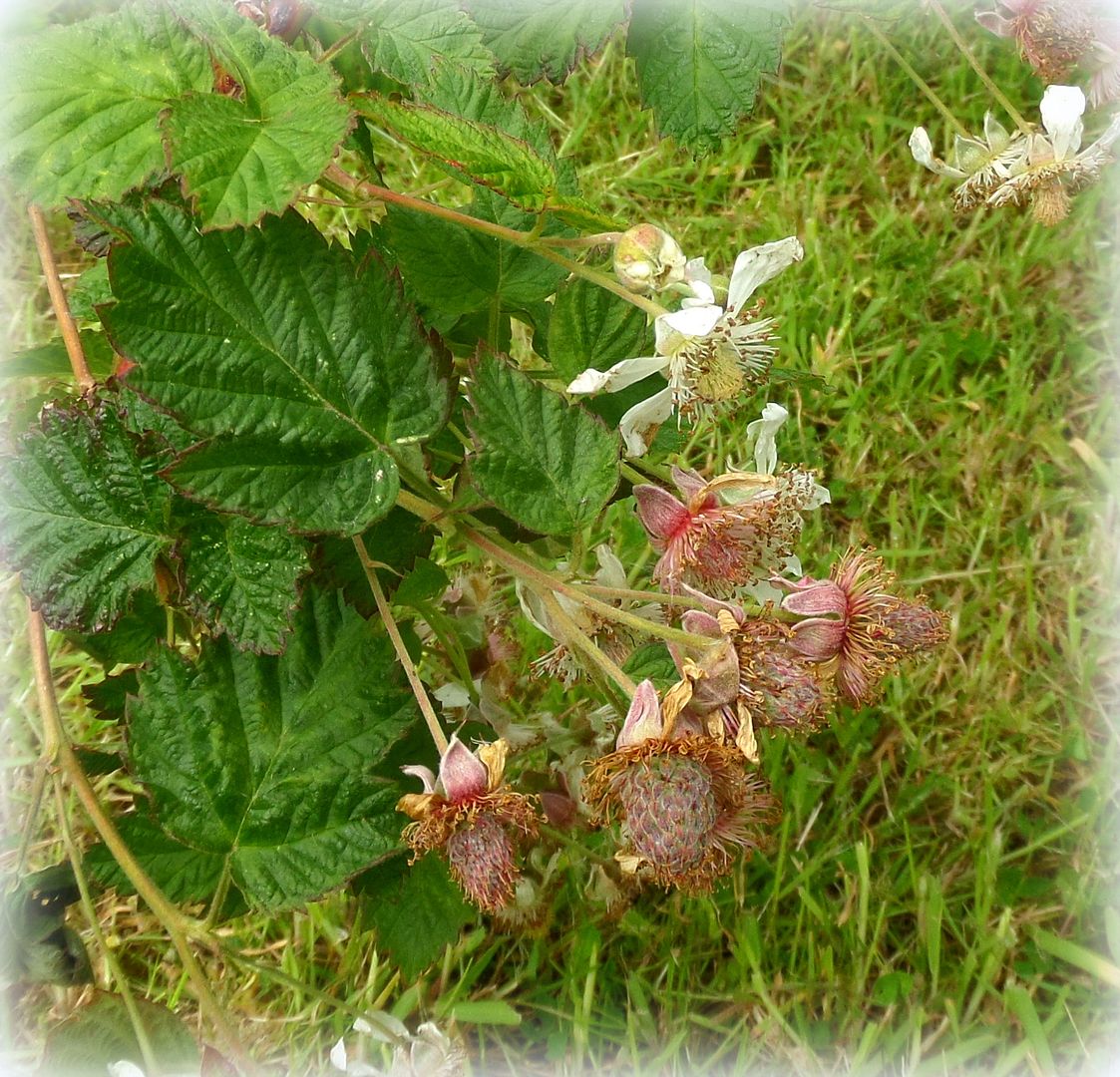 And we already have lots of berries ripening and many more to come on our loganberry bush. A loganberry is a cross between a raspberry and a blackberry. They're really good and grow like weeds!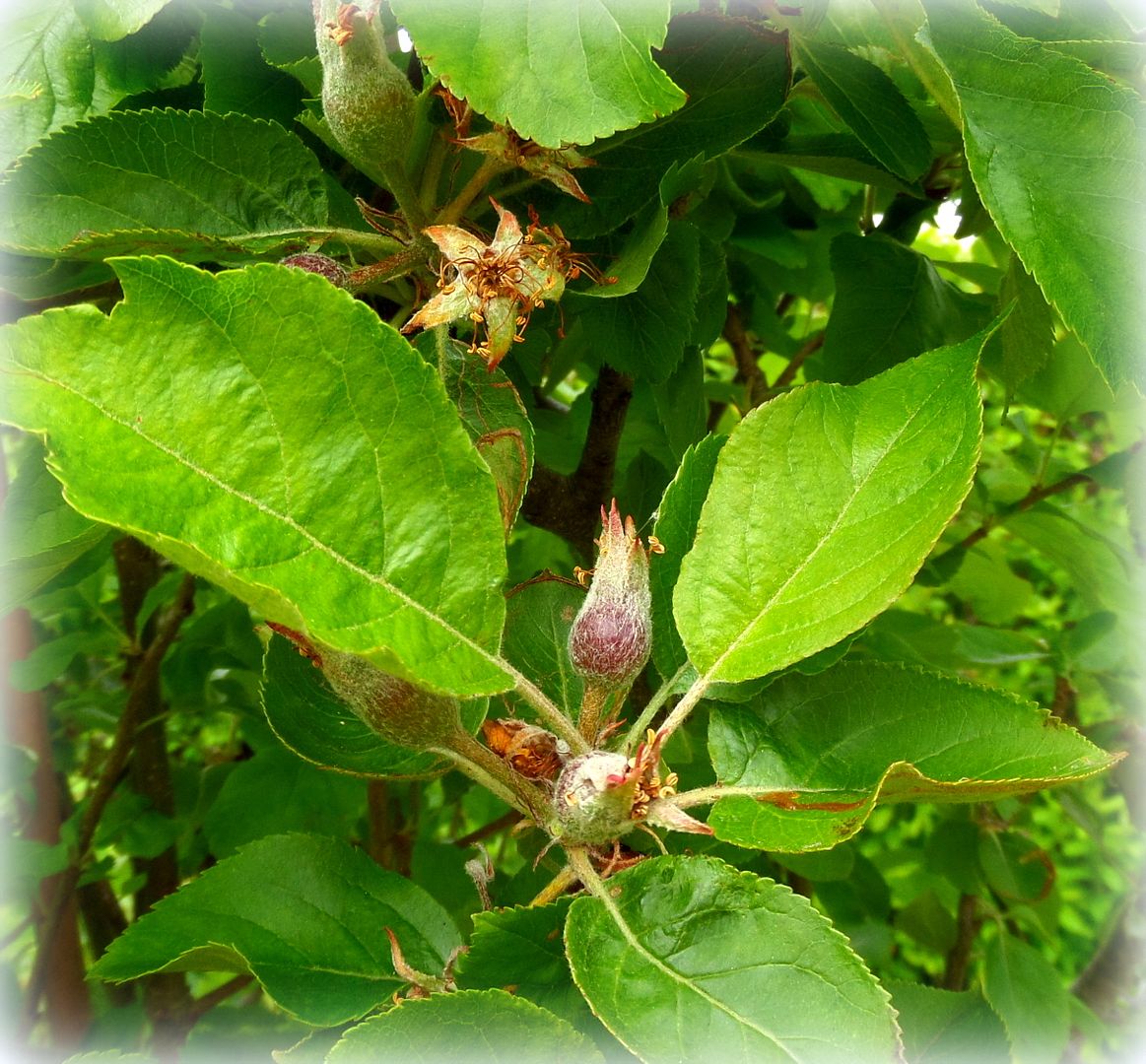 Apples growing on the apple tree. They are a red eating apple. I forget the variety. They grow about mid sized. We have lots of promise on this tree this year. Also the pear and plum, but they are just green so it is hard to see the baby fruit buds. All of our fruit trees have grown a lot this year.
Of course I was being carefully watched as I wandered around the garden . . . I think she thinks I am a bit crazy taking photos of all of these plants, etc.
Black Currants ripening . . . .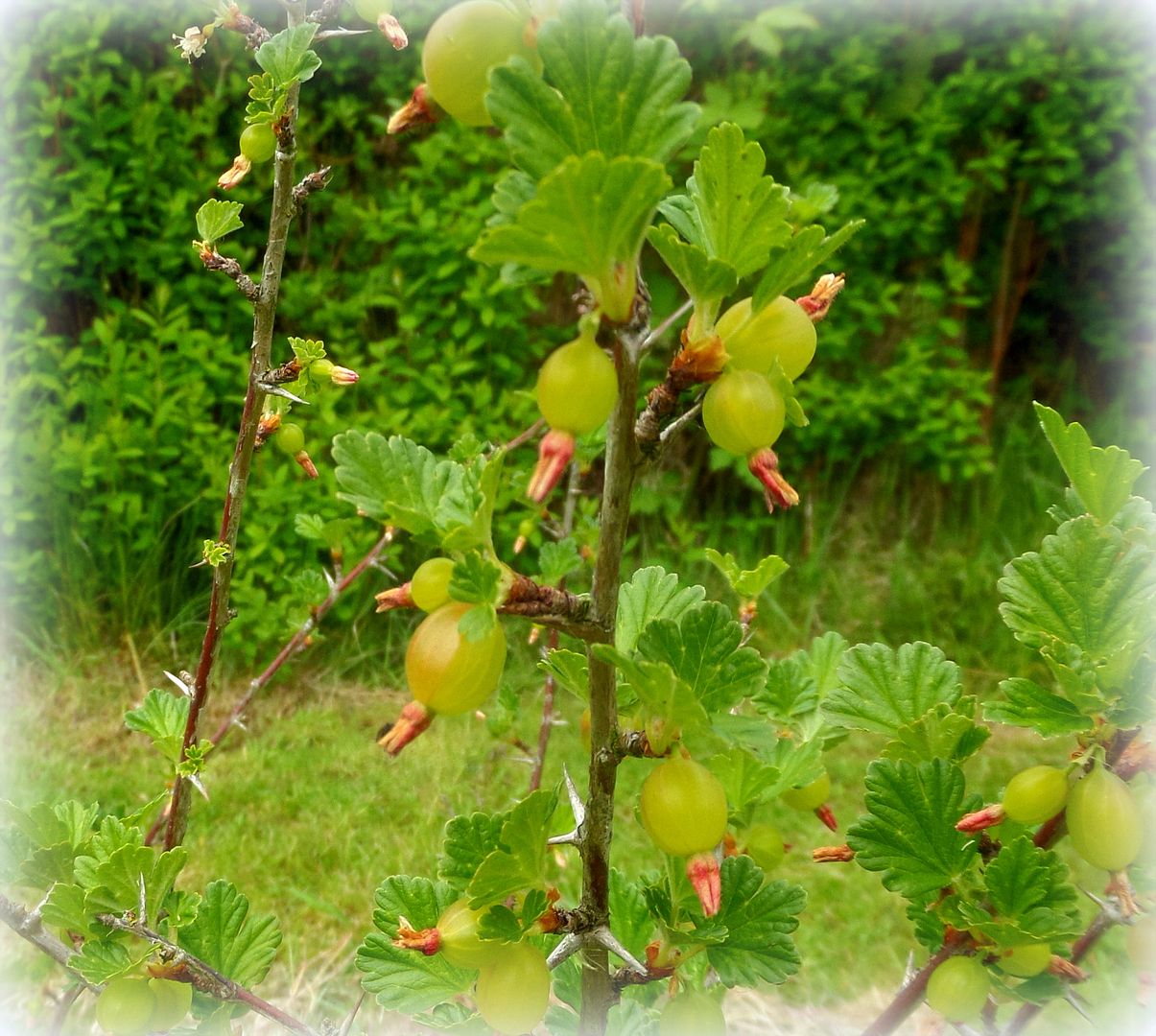 Likewise Gooseberries . . .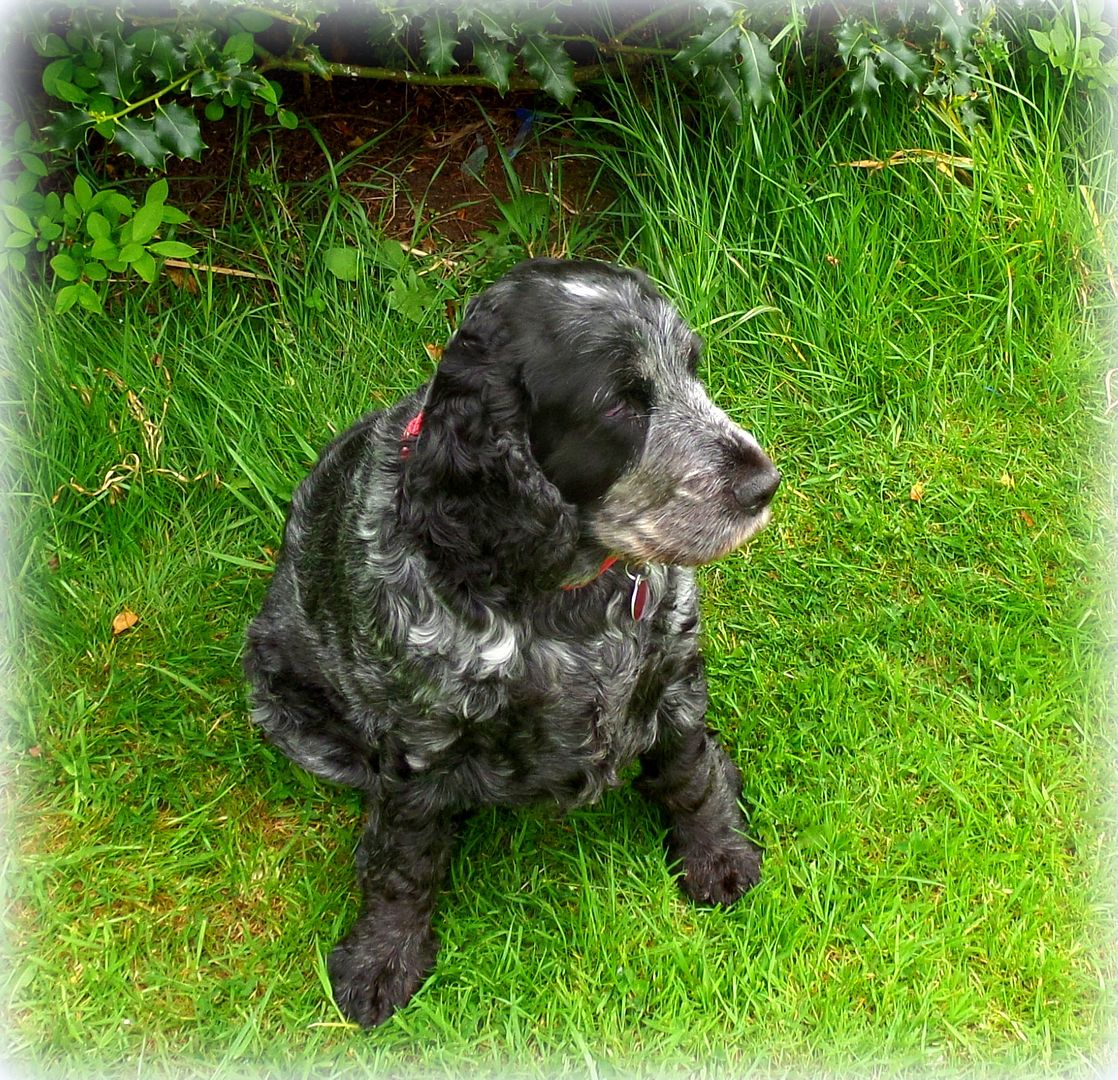 And once again my faithful companion. She loves being out of doors and in the grassed area of our back garden. When we get lots of rain she isn't allowed back there as it is too muddy, but we have had lots of dry weather so far this year and she's been enjoying lots of time in the grassed area. You can almost see the pink in her muzzle in this photo. Her brothers were all brown and white spaniels, and a bit of it comes through on her muzzle and on her lower belly. If we let all of her coat grow out she would be mostly white . . . but she hates us fussing on her and being brushed and so we keep her fairly short.
And THIS is why we avoid going anywhere on a Bank Holiday weekend. The motorways turn into huge parking lots. Seriously . . . streams and streams of traffic . . . crawling and sitting . . . crawling and sitting . . .
We had to go to the chapel yesterday morning to attend a Baptism and it was like this the whole way there. (Our chapel is in North Wales)
It's enough to make anyone groan and grumble . . . and tomorrow it will be the same thing in reverse . . . going back the other direction.
And with that I will leave you with a thought for today . . .
❥✻❥.¸¸.✿¨¯`❥✻❥¸¸.✿¨¯`❥✻❥.¸¸.✿¨¯`❥✻❥
"No misfortune is so bad that whining
about it won't make it worse"
~Jeffrey R Holland
❥✻❥.¸¸.✿¨¯`❥✻❥¸¸.✿¨¯`❥✻❥.¸¸.✿¨¯`❥✻❥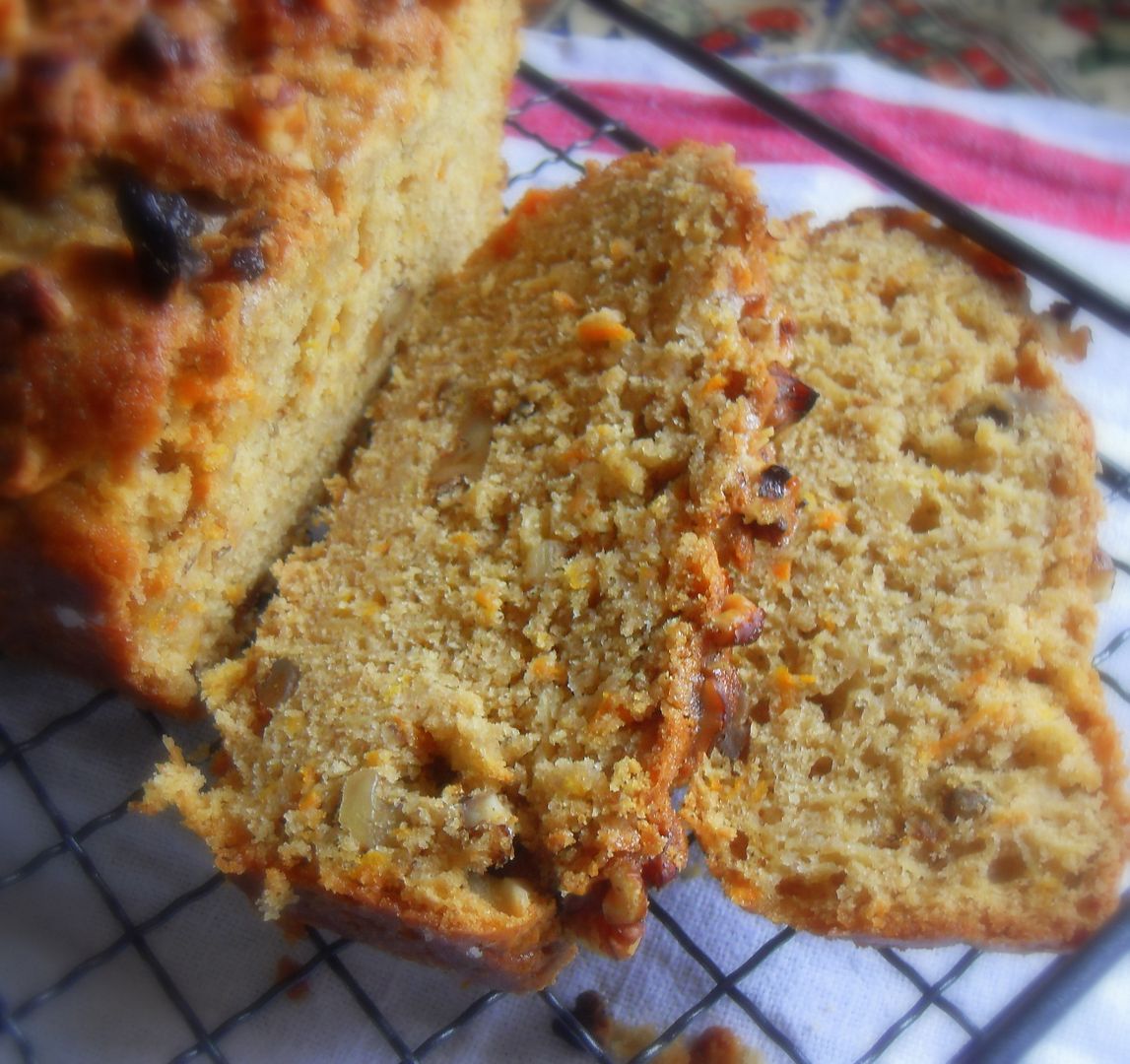 In The English Kitchen today . . . a delicious
Glazed Apple, Carrot and Walnut Bread
.
May your Sunday be truly blessed. Don't forget . .
═══════════ ღೋƸ̵̡Ӝ̵̨̄Ʒღೋ ═══════════ ⊰✿░G░O░D⊰✿⊰L░O░V░E░S⊰✿⊰░Y░O░U░⊰✿
═══════════ ღೋƸ̵̡Ӝ̵̨̄Ʒღೋ ═══════════
And I do too!