A few of the things I find each week which strike my fancy. I hope that they strike yours as well. I can't believe we are already at the end of April! This month has flown by. It feels more like February, but that's Spring for you!
Paint your own Brick Book
Library for outdoors! What a fab yard/garden decoration. From
Kalumni
.
Fish for Friday, but in the form of a knitted hat. How utterly unusual. Found on
Ravelry
. Talk about a conversation starter!
An apron pocket fashioned from a shirt sleeve. Cute! I love it! I found this on
Cutie Pinwheel.
Here is the full length view.
Talk about adorable pastry. I don't think I've ever seen anything sweeter. Can you imagine a lemon meringue dressed up in this? Found on
Handmade Charlotte
. A complete tutorial from start to finish along with a video.
A sweet country table topper. Love the pattern, using calico prints and whites. Found on
American Patchwork and Quilting.
Make your own toothpaste from scratch, and it is supposed to taste good. I might give this a go. Although it wouldn't have flouride in it or stuff for sensitive gums. From
Live Simply
.
Using Washi Tape for the edges of your journal pages. What a unique and pretty idea. Found on
Flickr
. Photo by Kelly n Warren.
How to use transparent tape to pick up printed words for collage types of art. From
Birgit Kerr
.
No pattern. Just inspiration. From
Dottie Angel
. She has a book entitled, Granny Chic.
I love, Love, LOVE the colours in this blanket. On my wish list. From
Posie Gets Cosie.
And those are my finds for this week. I hope there was something here to pique your interest!
We had a fantastic day at the Zone Meeting yesterday in Crewe. It was so fantastic to see some missionaries I had not seen in a while, like Elder Judd and Congie, Elder Thomas, Sister Walker, Elder Hollingsworth! We had some wonderful trainings and the spirit was there in abundance. I enjoyed it so very much. We had to leave early to come home because of Mitzie, but for the four hours we were there it was great. We left in beautiful sunshine to go, picking up the Chester Sister Missionaries at the chapel, but by the time we left to come home, it was bucketing down, and of course . . . . very cold! Brrr!
A thought to carry with you through today . . .
~•~♥♥♥~•.~•~♥♥♥~• ~
The greatness of a man
is not how much wealth he acquires,
but in his integrity and in his ability
to affect those around him positively.
~Bob Marley
~•~♥♥♥~•.~•~♥♥♥~• ~
Spiritual Enlightenment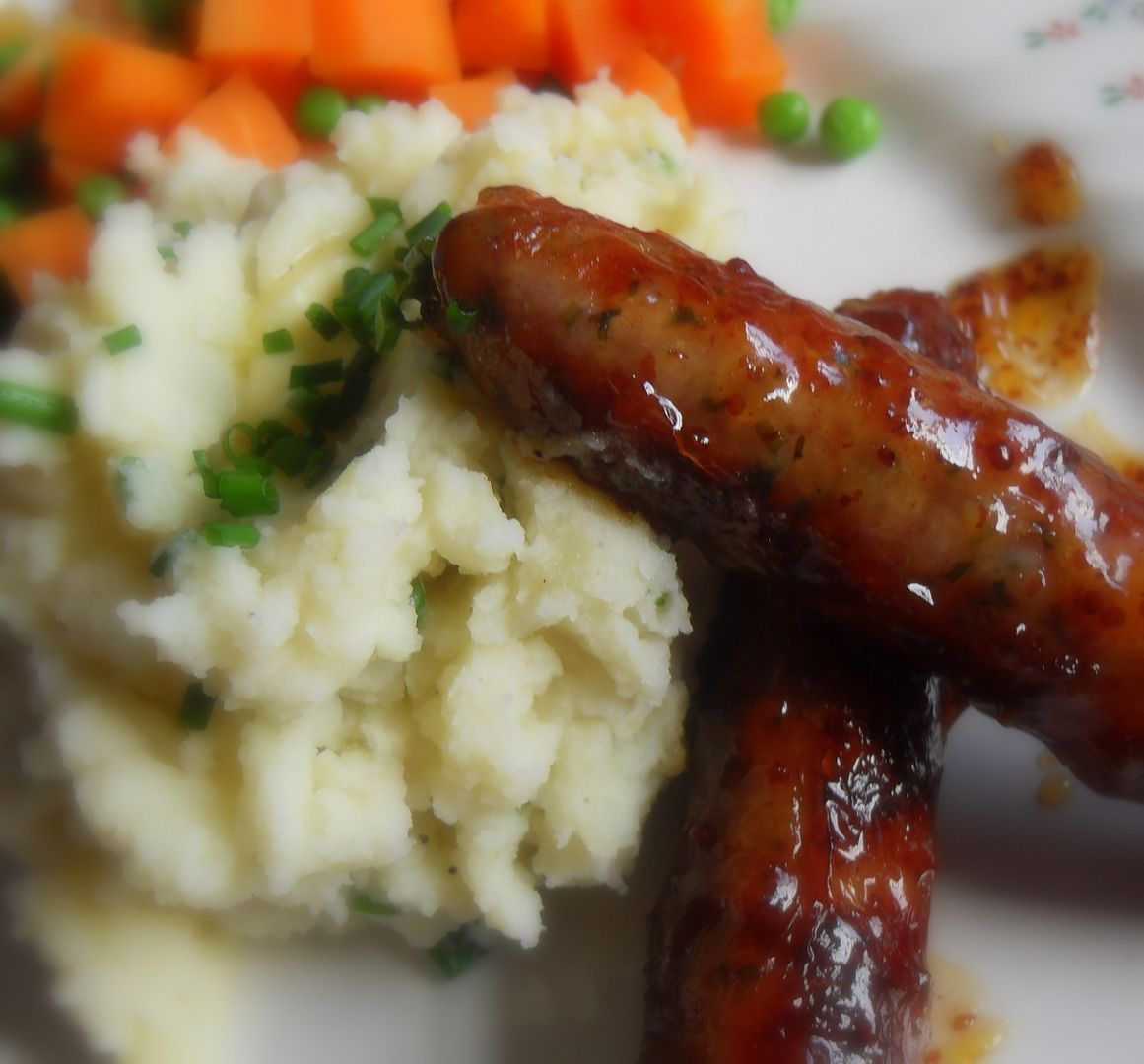 In The English Kitchen today . . .
Sticky Glazed Sausages and Buttermilk Chive Mash
.
I hope that you have a lovely Friday! Wherever you go and whatever you do, may you always know that . . .
═══════════ ღೋƸ̵̡Ӝ̵̨̄Ʒღೋ ═══════════ ⊰✿░G░O░D⊰✿⊰L░O░V░E░S⊰✿⊰░Y░O░U░⊰✿
═══════════ ღೋƸ̵̡Ӝ̵̨̄Ʒღೋ ═══════════
And I do too!
PS - I almost forgot to tell you but will do so now Practico Goods interviewed me for their online page a while back and the interview is now live.
You can find it here.
You might enjoy the read!