I think a lot at night, do you? When I get into bed and after I have read a while, turned out the light, said my prayers . . . all these random thoughts come into my head. Last night I was thinking about Birthday Parties from when I was a child. My mother organised Birthday Parties for me up until I was about ten years old, but after that age they stopped. I am not sure how long she did them for my brother and sister, but I know for sure I had my last one when I was ten.
I remember one year when she made ice cream clowns for us all. And there would be soda pop and hot dogs . . . potato chips . . . and a Birthday Cake of course!
I have always appreciated all the work she put into them for us . . . the food, the games, etc. Knowing her as I do now, I am sure it was a real sacrifice on her part as she was a person who didn't really like entertaining or having other people in the house. I think this was mostly due to the fact that my father didn't really help with anything at home and it always ended up being a lot of work for her. She went out to work full time when I was 11 and so this would have meant that her work load doubled.
I did love to get invites to other people's Birthday parties and each was accompanied with a great deal of excitement!
This was a chance to wear your Sunday Clothes on another day of the week! And you got to take a present to someone, and with any luck it might have even been something that you got to pick out yourself. I don't believe I ever got to do that really . . . I think I would have chosen something really expensive. I have expensive taste when it comes to things like that, lol. Nothing changes! I have always felt that if you want to get someone a nice gift you buy them something which you would really love to have yourself, but wouldn't quite splurge on for yourself.
Birthday parties were always so very exciting. Filled with lots of giggles and smiles. Everyone all dressed up. An air of anticipation. I must have been fairly popular because I don't remember ever not being invited to parties. It must have been sad for those who were not invited. I am sure they felt very left out. My birthday always fell in the middle of August, so leaving people out was never a problem. I was lucky if there were enough people around to invite that weren't away on holidays!
I loved playing Birthday Party Games . . . frozen tag, blind man's bluff, pin the tail on the donkey, etc. I remember one game in particular where my friends mother brought in a tray with an assortment of items on it covered with a handkerchief. She removed the handkerchief for a few minutes so we could observe, and then the handkerchief was replaced and we would have to try to remember everything that was on the tray.
Some of my friends had really well off parents and I remember being taken to the movies and everyone having popcorn and a drink. I remember one party where the meal was a roast beef dinner with all the trimmings. My mother would never have been able to afford cooking a roast dinner for that many people. I remember yet another Birthday Party where we watched Disney Cartoons on the television, also a real novelty.
The culmination of every party however would have been the cake . . . all nicely decorated and candled up. There was a great deal of anticipation when it came to the blowing out of candles. Would they be able to do it all in one blow and get their wish??? Only a really crass person would help to blow out another's candles . . . but I do remember some people doing just that. Some
really
lucky kids had little bits of money buried in the cake for the guests to find. Small dimes or nickles, wrapped carefully in waxed paper and tucked in here and there. You could buy a lot with a nickle or a dime back then!
I don't remember being given treat bags at the ends of any party, but do remember little treat baskets at each place setting at the table. Little plastic baskets filled with an assortment of candies. That would have been your party favour. And probably a balloon. And party hats.
They were simple times, but as simple as they were, they left a great impression on me as a child and lots of lovely memories.
I was invited to my very first boy/girl dance birthday party when I was ten and that was a whole different kettle of fish! It was held in someones father's garage. There was dance music and balloons hanging from the rafters of the garage and it was darkish. It smelt of gasoline and rubber and aftershave. The boy's name was Maurice. Thinking back on it now . . . it was probably a bit too much for a bunch of ten year olds. I was still playing with my Barbies. Then again, if my memory serves me correct, Maurice had older brothers and so he was probably a lot more sophisticated than I was. This is the same boy who, one day when I was with my friend Janice and him, told her to ditch me because he wanted to be alone with her. I couldn't imagine why they would ever possibly want to be alone.
Oh boy . . . was I ever naive . . . but I am glad that I was!!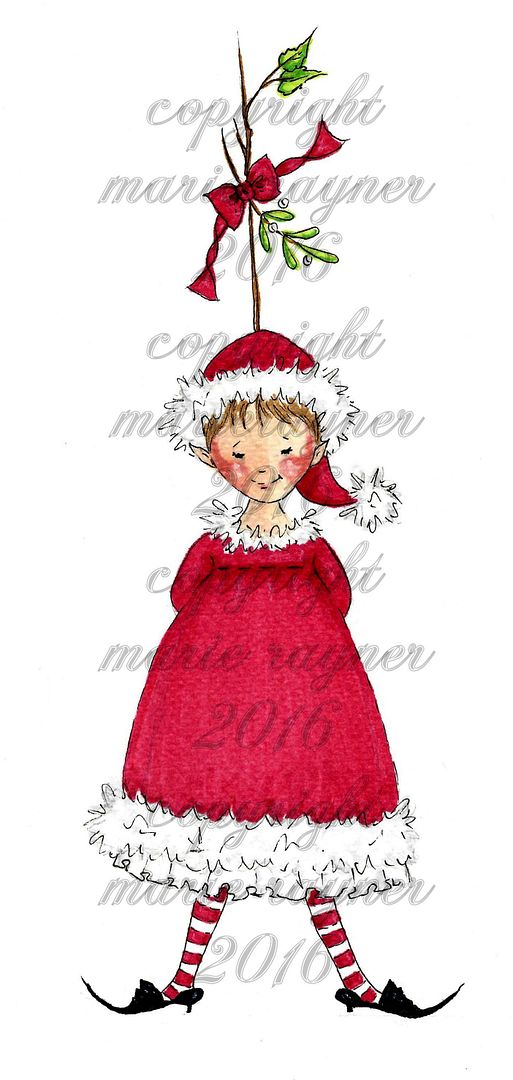 I did a few little bits yesterday for the show in NYC yesterday. They had asked for some Christmas stuff. Not sure if it is any good or not but here it is . . . a mistletoe elf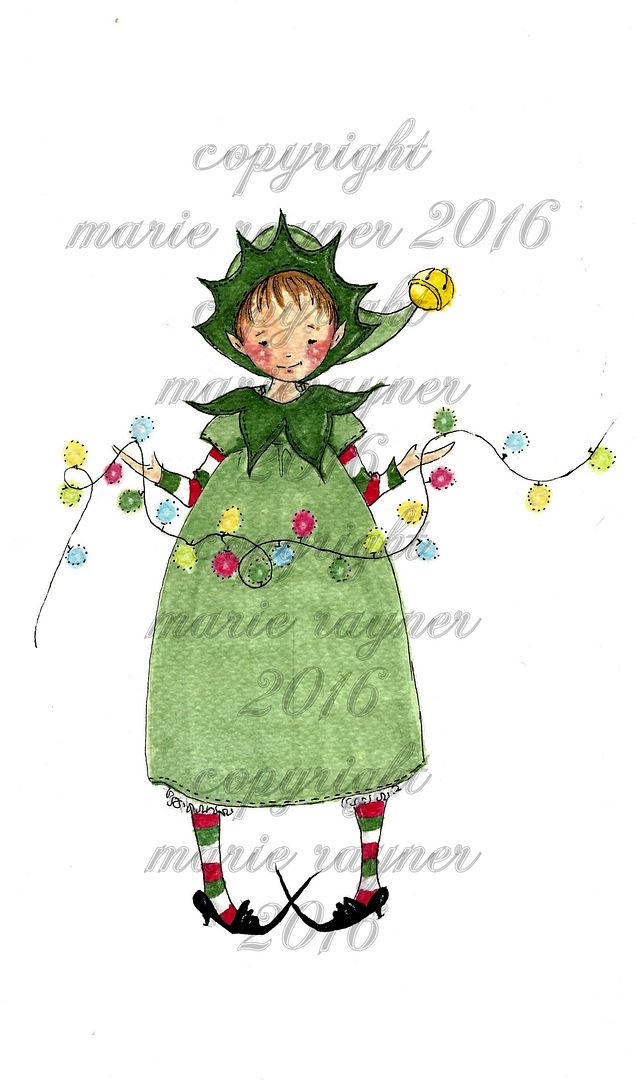 A christmas light elf . . .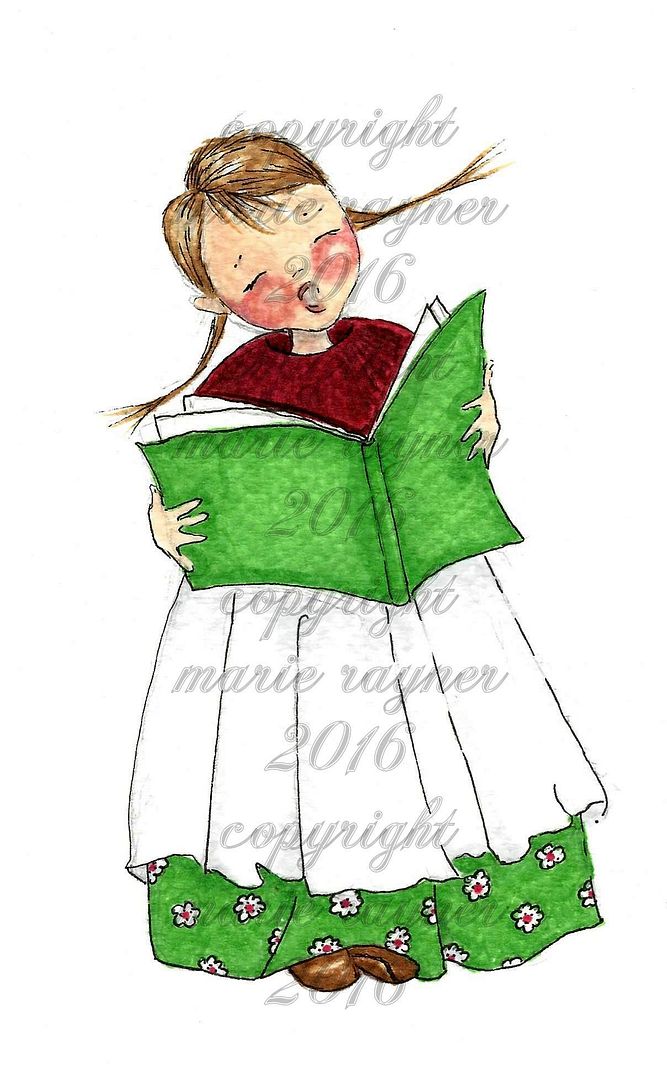 A little caroler . . .
We will see how it goes. I have other things I need to be working on as I was asked to make something a week or so ago and haven't started it yet. Life has gotten very busy!
A thought to carry with you through the day . . .
ღೋƸ̵̡Ӝ̵̨̄Ʒღೋ
You can never cross the ocean
unless you have the courage
to lose sight of the shore . . .
~Unknown
ღೋƸ̵̡Ӝ̵̨̄Ʒღೋ
Spiritual Enlightenment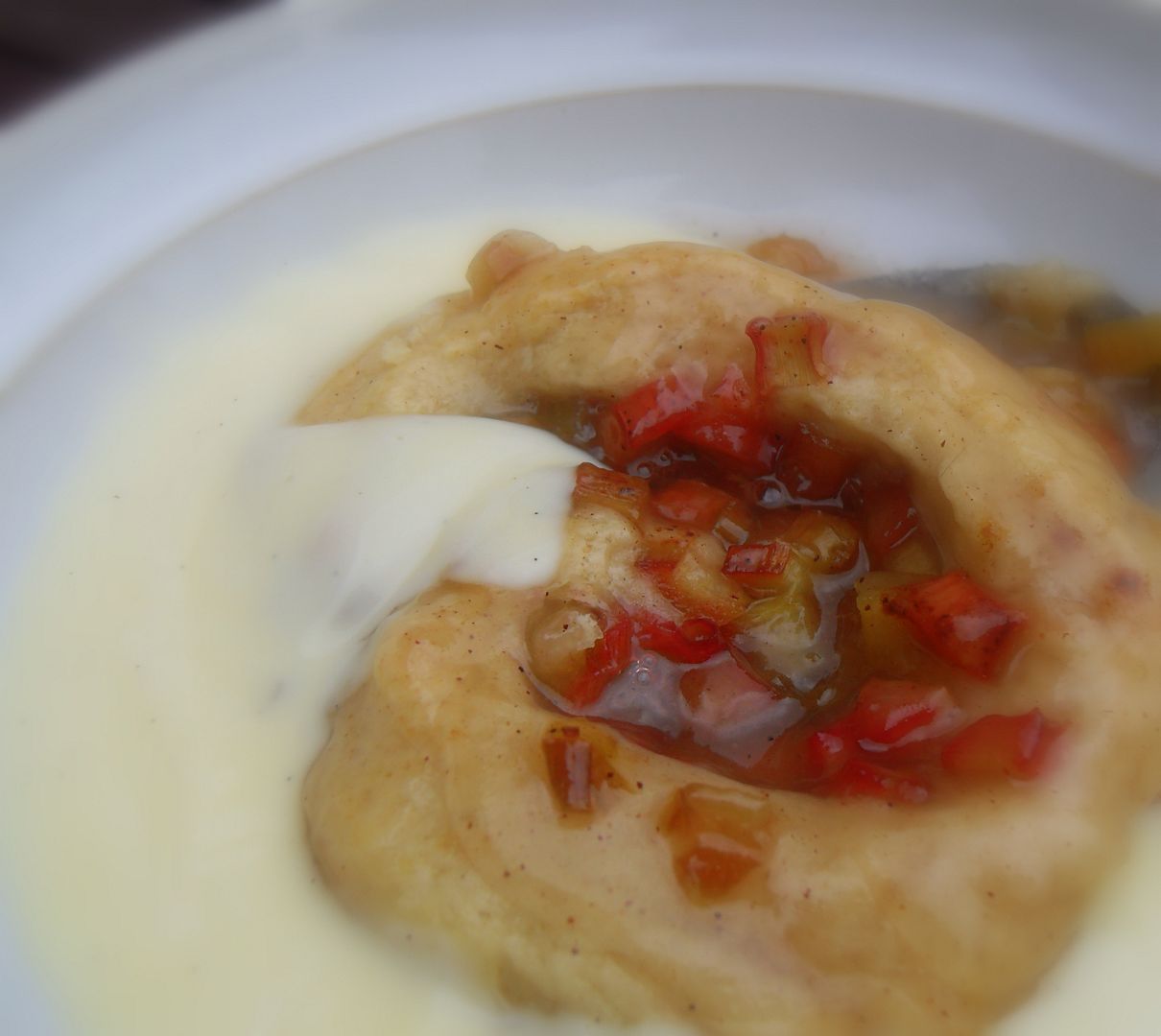 In The English Kitchen today . . .
Rhubarb Dumplings
.
I wish for you a wonderful Sunday! Don't forget!
═══════════ ღೋƸ̵̡Ӝ̵̨̄Ʒღೋ ═══════════ ⊰✿░G░O░D⊰✿⊰L░O░V░E░S⊰✿⊰░Y░O░U░⊰✿
═══════════ ღೋƸ̵̡Ӝ̵̨̄Ʒღೋ ═══════════
And I do too!