These are a few of my favourite things . . . .
I love the movie Grease. I can't tell you how many times I have watched it through the years. The very first time I saw it was at the Drive Inn in Calgary Alberta. We sat there and watched it as a family. My oldest son was about 3 years old and my oldest daughter only an infant, sleeping in her car cot in the back seat. (Those were the days before mandatory car seats for kiddies.) I remember my son asking me to turn the tv off now because he wanted to go to sleep. I love the music. I love the costumes. I love the characters. I love all of it. I know all the words to all of the songs, and it is a musical I never ever get tired of. I never did cotton on to the sequel. Nothing for me will ever come up to the quality of the first film . . . plain old Grease. It's the word!
Vintage Greeting Cards. I love Greeting Cards anyways, but I love the Vintage ones best of all. I think it is because they are so sweet and innocent. I don't have any for real, except on Pinterest.
They speak to my old fashioned soul. I know . . . I shoulda been born 20 years sooner, but I am glad I wasn't because I would probably be dead by now!
Little Golden Books. I had lots of them when I was a child. Most of them having been illustrated by Eloise Wilkin. My favourite one was Heidi though.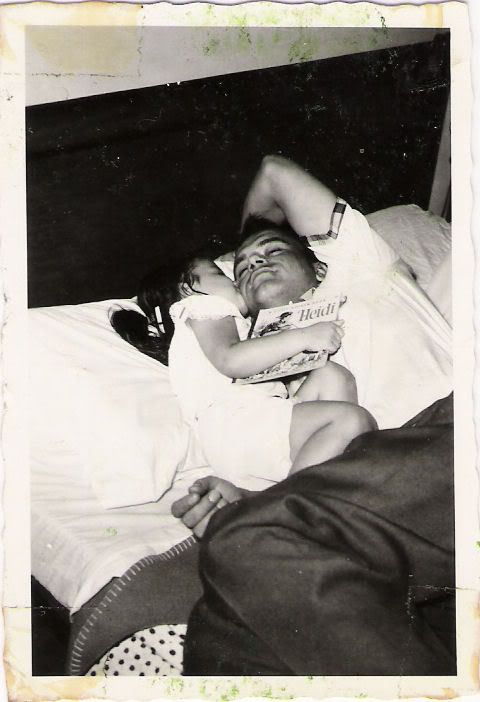 That is the book I am holding in this photograph of me napping with my father. I love this photo, but you know that. Heidi was a story I have always loved, and the film of the same name . . . it touches my tender heart . . . this story of a little girl's love which is able to transform an ornery old man into a man with a very tender heart himself.
I have a deep fascination for and love for ancient oriental culture . . . Japanese or Chinese . . . they both pique my interest and curiosity. I love reading books and watching films about them. The Last Sumarai, Snowflower and the Secret Fan . . . just two examples . . . these were very intelligent people who were eons ahead of other people in the world culturally speaking, and yet at the same time very macabre and holding a very distinct code of honor. Fascinating.
source
I love papier mache. I keep telling myself that I am going to do a papier mache model of one of my little girls. An art doll, but I just never seem to have the time. A very long time ago I did a papier mache Humpty Dumpty in American Folk Art Style and reds, whites and blues. I wonder what happened to it now. I will probably never know!
Blue and white anything . . . bone buttons . . . natural fabrics. This combines all of my loves . . . and forget me nots . . .
Moss . . . . it makes me think of fairies and unseen worlds . . . hobbits and gnomes and elves . . .
Wisteria . . . I love it. A number of years back, the very first trip that Todd and I took to Germany, we went to Freiberg and there was this street there . . . totally draped in Wisteria. It was so beautiful. I have never forgotten it or Germany. I think Germany is my favourite place to visit in Europe. But then again, I have never been to Paris as an adult . . .
Unusual door knockers and door knobs. I especially love glass door knobs. I think these things are quaint and interesting. If I ever had my own home and some money to spend, it would have a fascinating door knocker on the front door and glass door knobs throughout the house!
And that's it for this week. We are off to the Temple today so I will leave you with a thought for the day . . .
Ƹ̵̡Ӝ̵̨̄ƷღೋღೋƸ̵̡Ӝ̵̨̄ƷƸ̵̡Ӝ̵̨̄ƷღೋღೋƸ̵̡Ӝ̵̨̄Ʒ
"Remember ...
What is impossible for you
is possible with God's help in His service."
~Henry B Eyring
Ƹ̵̡Ӝ̵̨̄ƷღೋღೋƸ̵̡Ӝ̵̨̄ƷƸ̵̡Ӝ̵̨̄ƷღೋღೋƸ̵̡Ӝ̵̨̄Ʒ
Spiritual Enlightenment
In the
English Kitchen
today . . . Lassy Buns, and Hotdog and Bean Casserole. Today you get two for the price of one!
Have a great day! Don't forget!
═══════════ ღೋƸ̵̡Ӝ̵̨̄Ʒღೋ ═══════════ ⊰✿░G░O░D⊰✿⊰L░O░V░E░S⊰✿⊰░Y░O░U░⊰✿
═══════════ ღೋƸ̵̡Ӝ̵̨̄Ʒღೋ ═══════════
And I do too!!