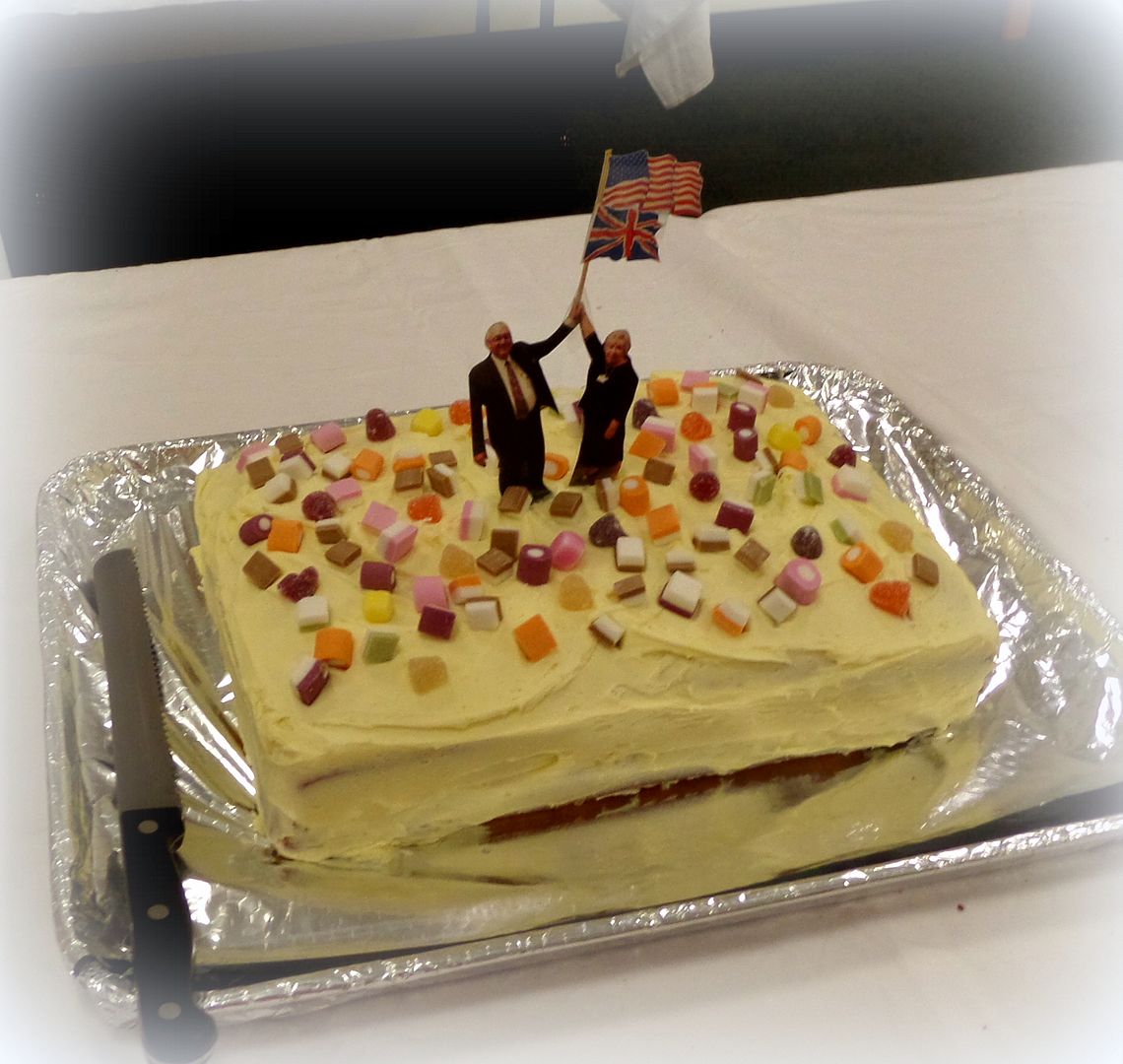 What a great gathering we had last night for our "Farewell to the Johansens" fireside at the chapel. I think it was the most people I have seen at a fireside yet. They have really touched a lot of people's lives since they have been here in the UK. They are such loving and caring individuals, and they are clearly very loved in return. This is the cake I made for the occasion. I am so not a cake decorator, but I managed to put some mini them's on top of the cake holding both flags and I figured if you threw candy all over the top nobody would complain!
Lesley had done such a fabulous job of putting up several displays filled with photos of their stay here in the UK and all of the younger missionaries they had helped during this past year and a half, with a guest book for signing, etc.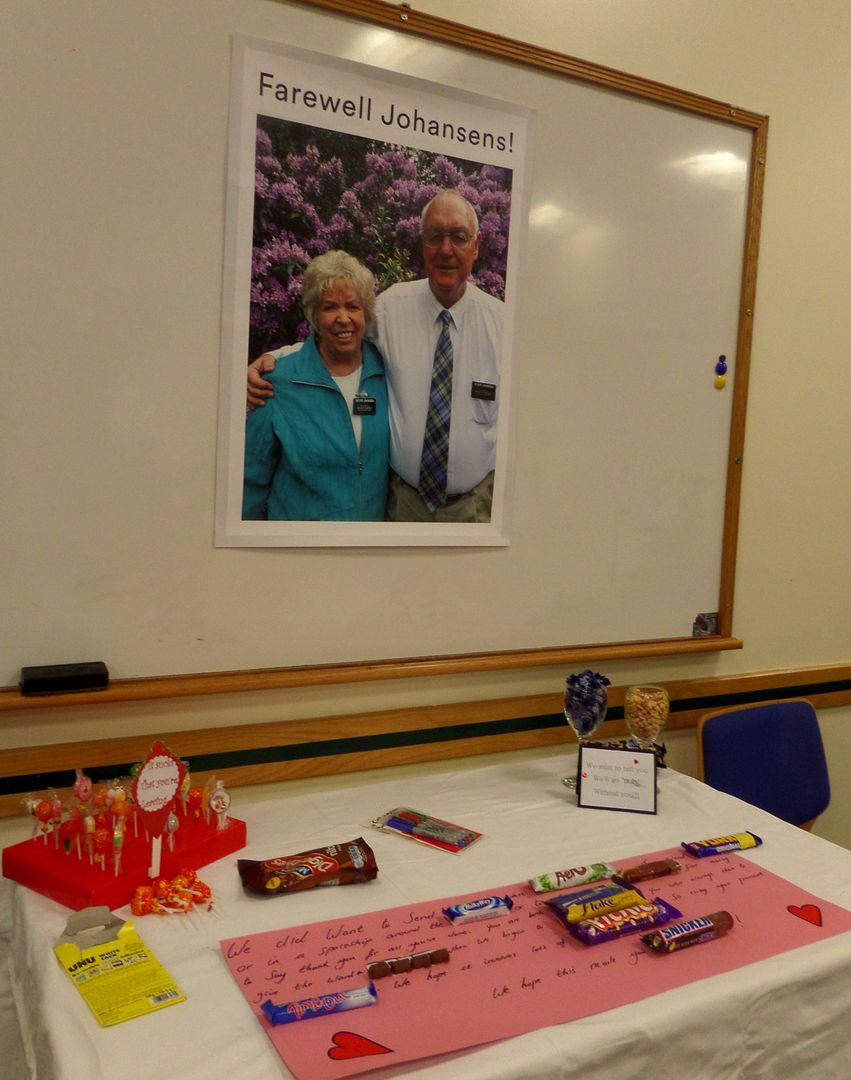 These little displays were really cute also. It was like a poem made with chocolate bars. I'll try to put the two halves together so you can see. Just a sec . . .
Not sure now if you can read it or not, maybe if you click on the photo it will get bigger. But just in case this is what it says . . .
"We did want to send you on an "Aero" plane to New "York" or in a spaceship around the "Milky Way", or to orbit a "Galaxy" far away to say thank you for all you've done, you are "Marvellous!. You were always there to give the ward a "Boost" when we began to "Flake" ! So, enjoy your "Time Out". We hope it involves lots of "Picnics". We hope this made you "Snicker!"
Very cute and inventive use of the different candies!
Some of the families which they had taught while they were here gave some very touching testimonies of the time they had spent with the Johansens. One family even sent a video, as they are on holiday and there was a short video of one of their grandchildren saying how much they were looking forward to welcoming them home
Not a dry eye in the house. Especially Sister Jo.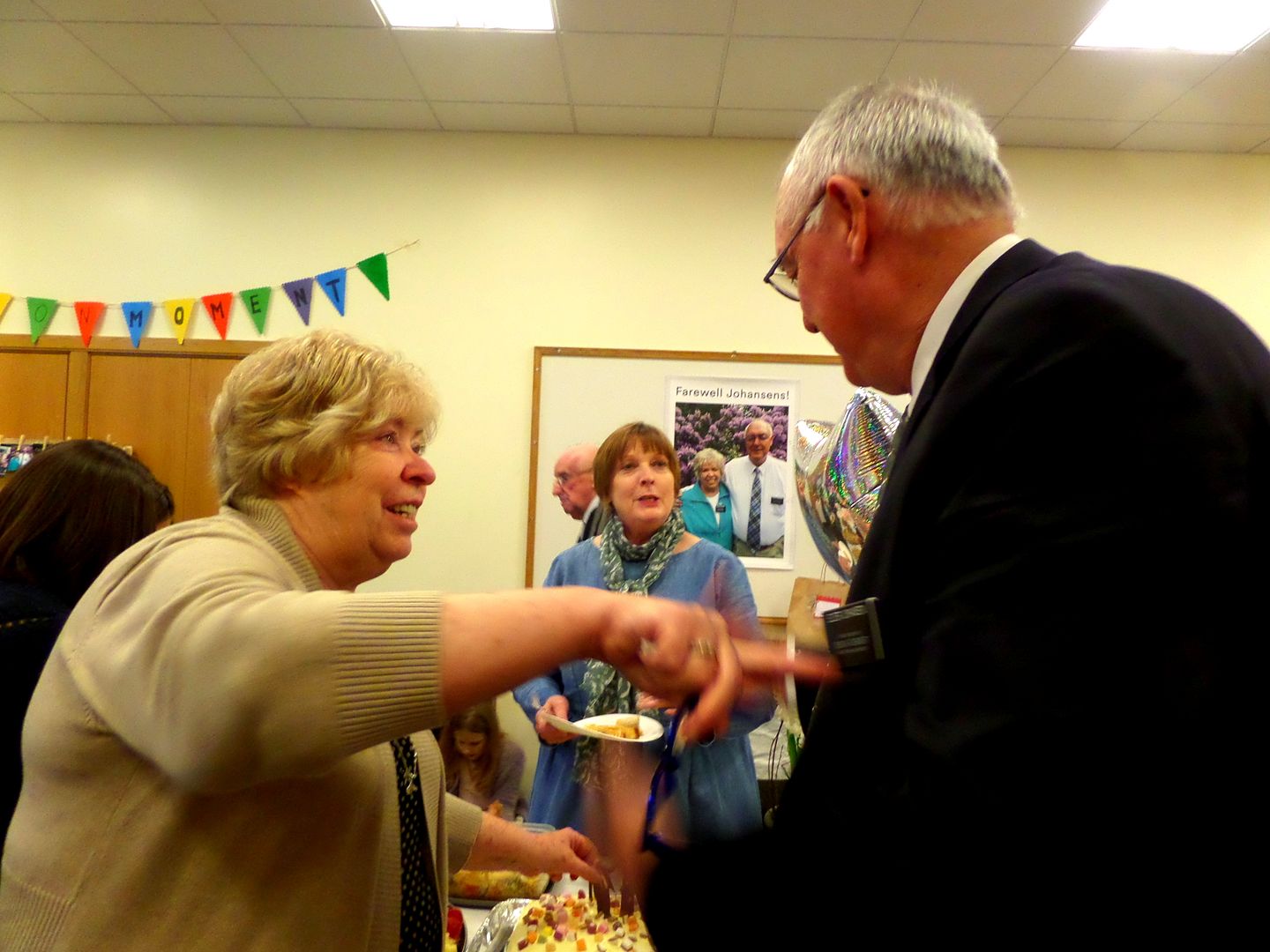 They both gave their testimonies of how much it had meant to them to be able to serve here in the Chester Ward and England Manchester Mission. Poor Sister Jo was blubbering away through hers, and so were all of us gals. We have such tender hearts. It's a "girl" thing, I think.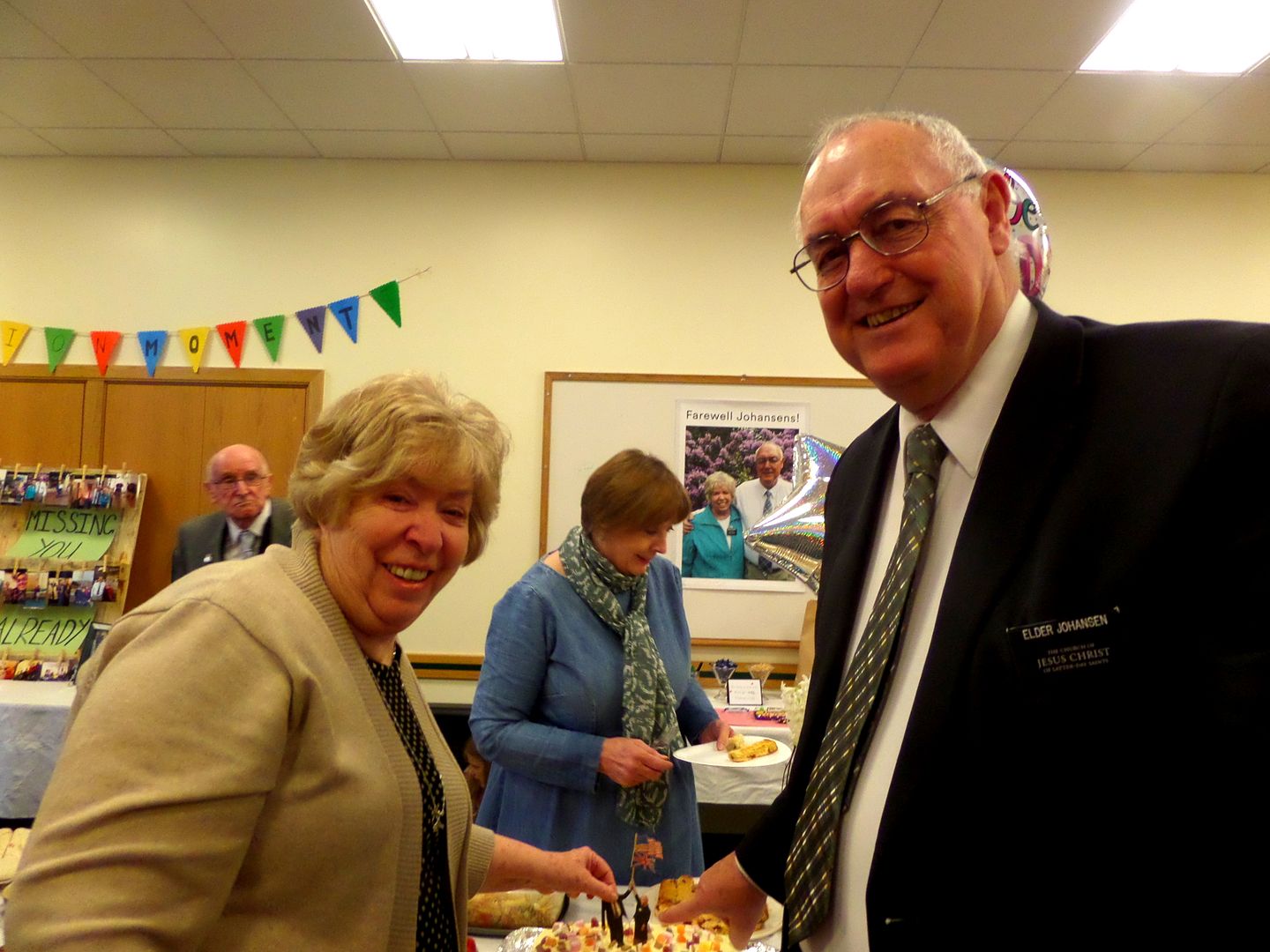 They loved their cake. We will sure miss these two very special individuals.
They have a couple of very long days ahead of them now. Off to Manchester Airport tomorrow to check into a hotel, then to the Mission home to turn in their car and have a special evening there with the Mission President and his wife, then back to the airport, and then they fly out on Tuesday morning . . . . all the way across the Atlantic and America to Utah and Salt Lake City. Their family must be on pins and needles waiting for them to return.
They have a bazillion kids and grandkiddies waiting for them, not to mention other extended family members. (This is just a fraction of them!) We, here in Chester, were so blessed to have been able to have them while we did, and we wish them all of the luck and happiness in the world as they move onto this next phase of their lives together. ♥
In the meantime, Tom (Elder Dadd) is here now and we are enjoying having him with us. Such a nice young lad. It is not often you get one of the Missionary Elders who comes back and then actually has the opportunity to say with you. So we are very blessed to have him. Of course he is only from Weymouth, so it wasn't such a bad journey for him to get up here, but it still took him six hours train journey with all of the changeovers and stuff. The most interesting thing is that he knows the MacDonalds too! Remember that American Missionary Couple that served in our church when we were living down South? When they left Tunbridge Wells, they went to Portsmouth, and then back to the US from there.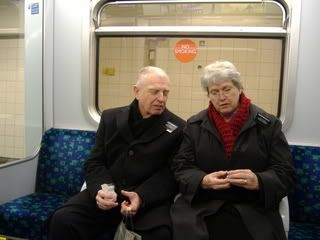 We went into London with them on the train just before Christmas the year they were in our Ward, and then when I went out to Utah and Idaho . . .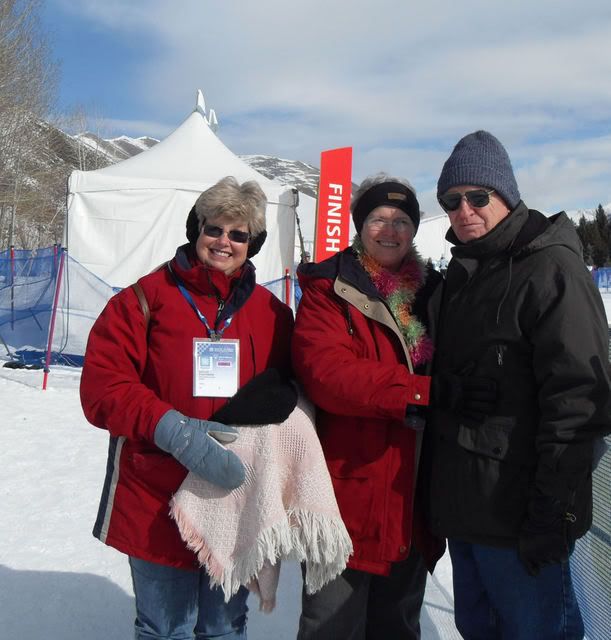 They drove Lura and I up to Idaho. Such lovely people. I also got to spend some time in their home before I left to come back to the UK. She makes a fabulous baked pancake! I am hoping that one day I will get to go over to Utah again and take Todd the next time and hopefully we can see Dick and Lenis again, and Kathy and Ron, and a whole bunch of other people that we know there and love.
Thats one thing I love about my church . . . is that you have family wherever you go in the world.
And it is the same with blogging. I have never ever met anyone through this medium that I didn't come to like or love. And that means YOU! We are a small bunch of people, but we are a great bunch of people. I think so at any rate!
A thought to carry with you through today . . .
Ƹ̵̡Ӝ̵̨̄ƷღೋღೋƸ̵̡Ӝ̵̨̄Ʒ
If I had a flower for
everytime you made me smile,
I'd walk in a garden forever.
Ƹ̵̡Ӝ̵̨̄ƷღೋღೋƸ̵̡Ӝ̵̨̄Ʒ
Spiritual Enlightenment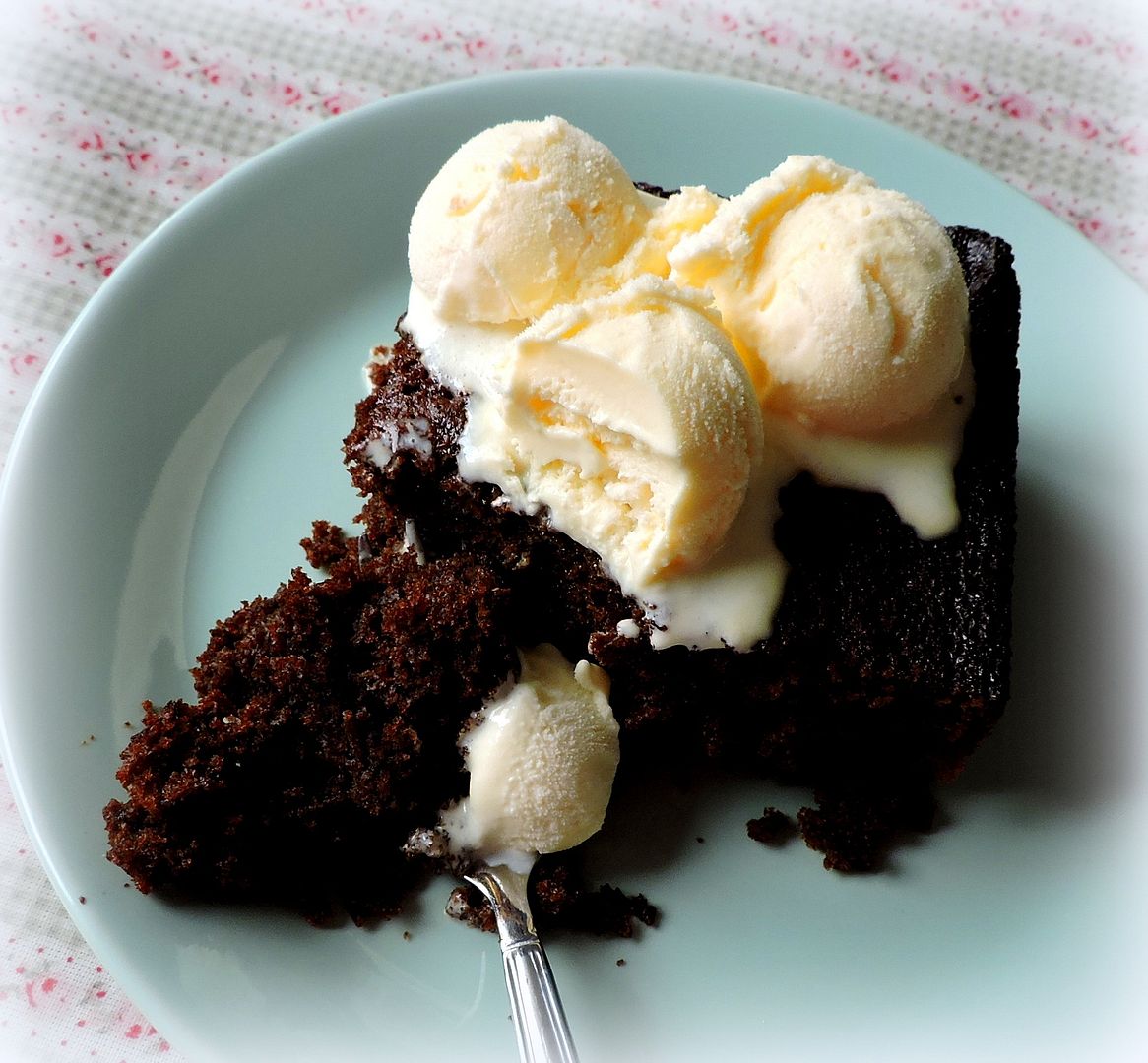 In The English Kitchen today . . .
Mrs Keller's Gingerbread
.
I hope you have a fabulous Sunday. Be blessed and don't forget . . .
═══════════ ღೋƸ̵̡Ӝ̵̨̄Ʒღೋ ═══════════ ⊰✿░G░O░D⊰✿⊰L░O░V░E░S⊰✿⊰░Y░O░U░⊰✿
═══════════ ღೋƸ̵̡Ӝ̵̨̄Ʒღೋ ═══════════
And I do too!!