A wave of green has broken upon the shores of the countryside of Britain . . . sweeping round woodlands and hedges like a rising tide. Left behind are the footprints of March . . . seen in damson blossoms and the dancing daffodils . . .
(
source
free printable)
Springtime crashes on shores about the world with a mounting wave of living green, rolling in as on twig and bough and branch . . . tender new leaves unfurling and making their presence known. A green renewal . . .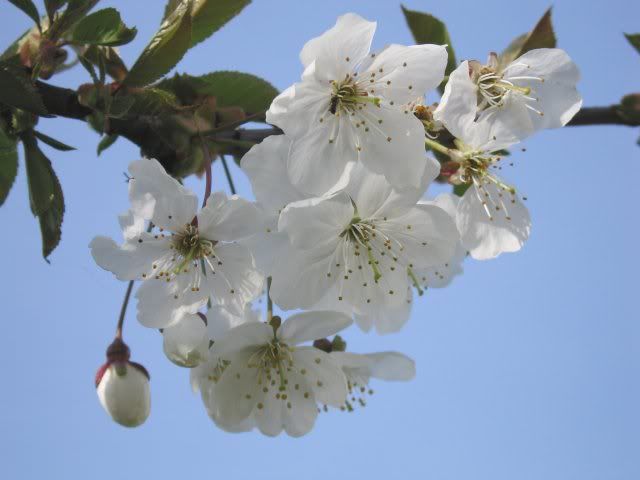 Soon now the cherry tree will bloom . . . like a white-sailed galleon upon the rolling seas . . . adrift before the winds, fair and graceful, riding in upon the full green waters of the tides of Spring. Tis a glorious time of year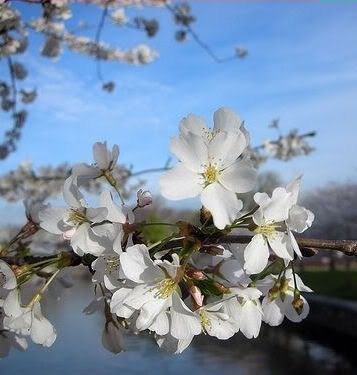 All winter long the tree has lay dormant . . . it's branches dark and bare and then . . . with the increasing hours of daylight and the warming rays of the spring sunshine they come alive and little green buds quicken and grow . . . and then it seems that overnight the branches are suddenly filled to overflowing with that ruffled pink and white sweetness. The air scented with the fragrance of a million blooms and full of the buzz of a hundred bumbly bees flitting from blossom to blossom . . .
Oh I do so love Spring . . . with all of it's April showers and such. It is a beautiful time of renewal and hope.
I had a little while to play yesterday. I had done the pencil drawing a few days back and yesterday I was able to find time to take out my brushes . . . a water colour. No words this time . . . just feeling. A little girl flys . . . with flowers in her hair. Todd thought it was sweet. She is for sale.
I have begun the bottom half of the back of my Hot Water Bottle Cover. I am really liking how it is shaping up. It's so easy to do, just sitting and knitting while the telly is on in the evenings. I hate to sit and do nothing . . .
I have to be doing something . . . anything but just sit and watch . . . it has been ever so . . .
And look what arrived in the post . . . my baby boy . . . getting married, less than a hundred days now. Tis quite exciting an exciting time for them . . .
A thought to carry with you through today . . .
¸.❀⁀ ⋱‿✿"` * "`✿⁀ ⋱‿¸.❀ ¸.
Joy is what happens to us
when we allow ourselves to recognise
how good things really are.
~Marianne Williamson
¸.❀⁀ ⋱‿✿"` * "`✿⁀ ⋱‿¸.❀ ¸.
Spiritual Enlightenment
Baking in The English Kitchen today . . .
Sour Cherry Drops.
Have a great Saturday. We will be listening to and watching our General
Conference
later today. Can't wait! Whatever you get up to don't forget . . .
═══════════ ღೋƸ̵̡Ӝ̵̨̄Ʒღೋ ═══════════ ⊰✿░G░O░D⊰✿⊰L░O░V░E░S⊰✿⊰░Y░O░U░⊰✿
═══════════ ღೋƸ̵̡Ӝ̵̨̄Ʒღೋ ═══════════
And I do too!