Two men trod the way of life;
The first, wth downcast eye;
The second with an eager face
Uplifted to the sky.
He who gazed upon the ground
said, "Life is dull and gray,"
Bue he who looked into the stars
Went singing on his way . . .
~Unknown
We've had a busy old week this week, and the weather seems to have turned for the good finally, giving us several warmer sunnier days in a row with no rain. (Dare I say that out loud?) Its been so nice with all the sunshine and being able to hang out the wash for drying and having the garden dry up a bit.
This little lady has been really enjoying the drier garden also, after having been kept out of it for the past six months or so.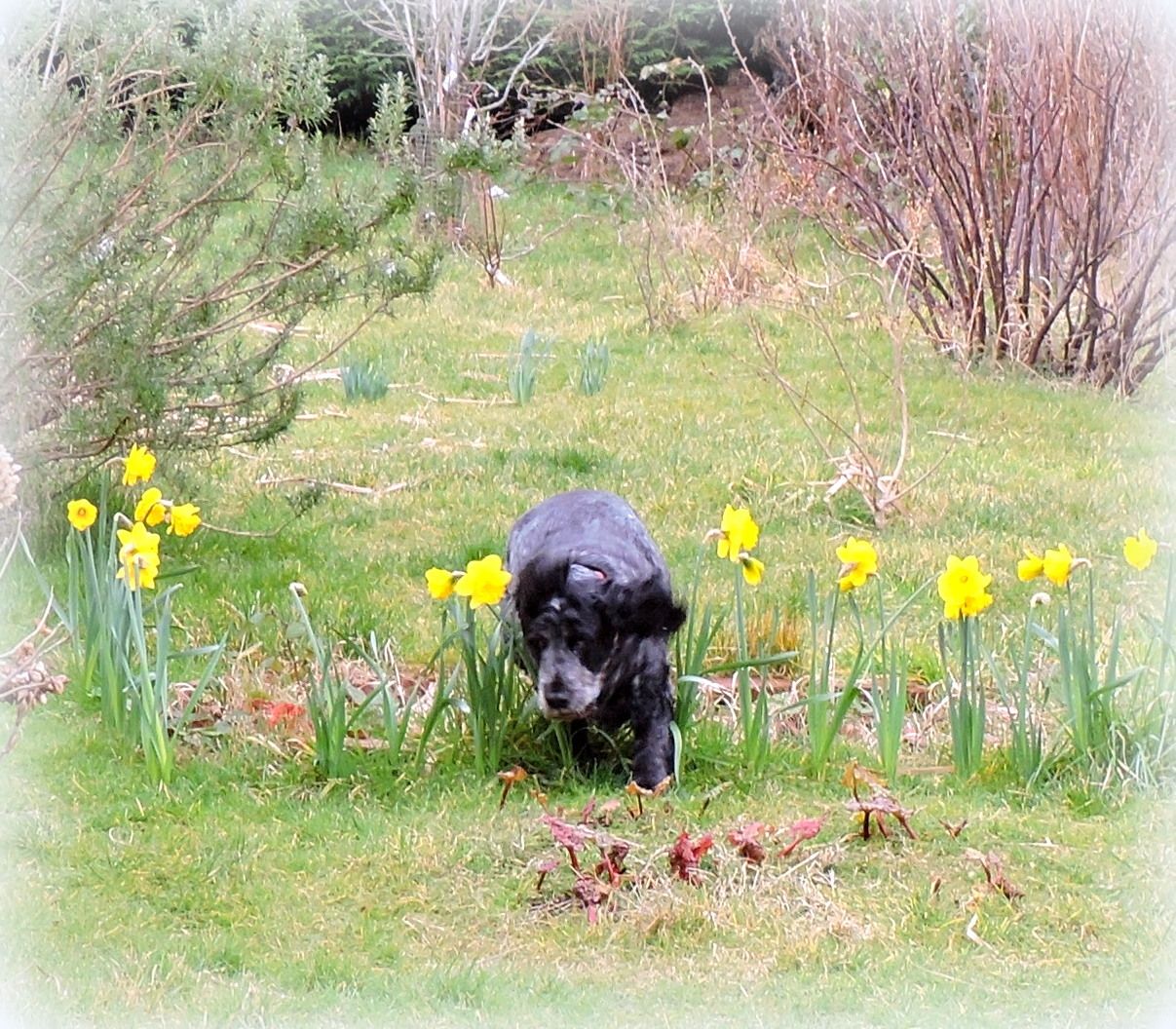 She's been enjoying the freedom to run about and sniff to her heart's content. It makes her so happy and when she is happy we are happy!
It's been a week of great celebration here in the UK with the Queen's 90th Birthday celebrations taking place. I have always been a Royalist and looked up to the Queen. When we were children, my brother, sister and I thought that the photograph of the Queen on our money was our mother. There was a very strong resemblance between the two when they were both younger, and of course my mother did nothing to dispell our fantasies, lol.
It is nice to see that even Royals celebrate the generations with this fabulous photograph of not only four generations of family but also one reigning monarch and three reigning monarchs to come! What a fabulous photograph!
Almost as good as our generational photograph which was taken four years ago as my daughter Eileen's wedding. I just wish it had been clearer. Maryn looks so young there, but then again . . . she was only two. And mom was only 80! As blurry as this photograph is I am glad that someone took it as this will probably be the only time we will ever get all four generations of this family together in one photograph.
Of course there has been a lot on the television to celebrate this most auspicious occasion, although Todd and I have missed most of it. There have been many comings and goings this week. We knew the missionary work would really take off once the Johansen's left and it has.
That's a good thing because we finally now feel like we are doing what we are supposed to be doing, and what we have wanted to be doing all along.
We have had meetings and done visits and helped out the younger Missionaries a lot this week. It's been great! We've really enjoyed it. Yesterday we were able to bring a lady to the chapel to give her a tour of it and we shared a film together, along with popcorn. I think she enjoyed it!
We share our happiness with each other . . .
and it becomes greater.
We share our troubles with each other . . .
and they become smaller.
We share one another's griefs and burdens . . .
and their weight becomes
possible to bear.
~unknown
We even managed to squeeze in a lunch with friends. We had Tony and Tina over on Thursday and had a wonderful visit together. They always come bearing gifts . . . this time a bar of milky chocolate with toasted coconut flakes (had never tasted that before), some mango flavoured jelly (I love mango), and a decorative tin because Tina knows I love to use these things as props! (So thoughtful!) I had done some chicken for our lunch but it didn't turn out like I wanted it to (never use your friends as guinea pigs) so Todd had to run down to the KFC at the last minute to grab a bucket! They thought the chicken was delicious so I had to confess. I told Tina it was a recipe using 14 different secret herbs and spices from the Colonel. We did have a great laugh over that!
Oh, and I finally heard from my Art Licenser. They are taking my work to the big Surtex show in NYC in a couple of weeks time. Keep your fingers crossed for me. I could really use a break in this area! I have everything crossed . . . fingers, toes, ankles, eyes, lol
So all in all its been a great week filled with lots of comings and goings, lots of sunshine, plenty of smiles, lots of caring, and plenty of love and joy.
I'm planning on taking today off to finish up a few bits. I'll let you know how I get on with that idea, lol.
In the meantime here is a thought for today . . .
ღೋƸ̵̡Ӝ̵̨̄Ʒღೋ
Laughter is the sun
that drives winter
from the human face.
~Victor Hugo
ღೋƸ̵̡Ӝ̵̨̄Ʒღೋ
Spiritual Enlightenment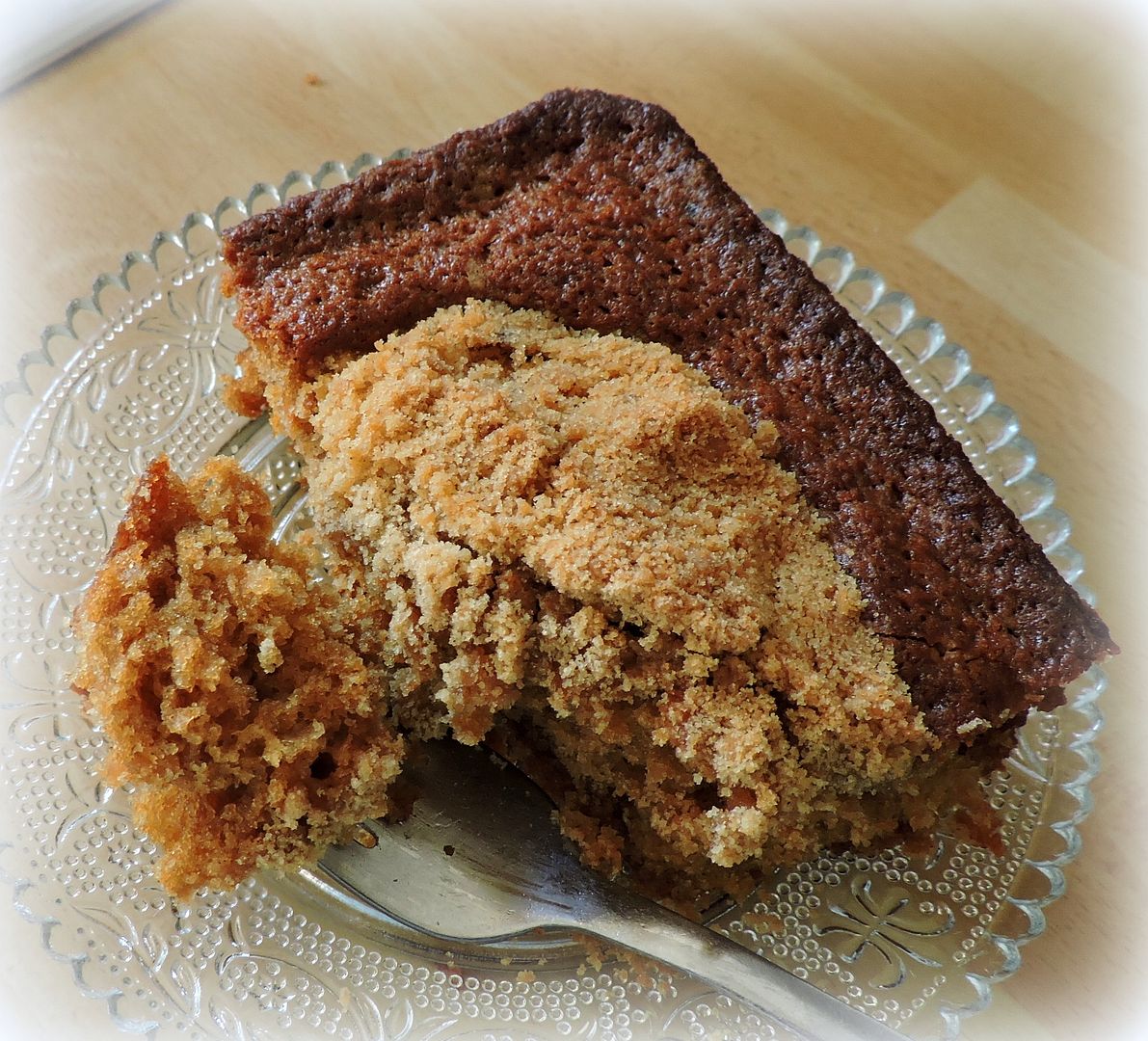 In The English Kitchen today . . .
Leona's Crumb Cake
. This is really good.
I hope your Saturday is filled with lots of sunshine, laughter, love and happiness! Don't forget!
═══════════ ღೋƸ̵̡Ӝ̵̨̄Ʒღೋ ═══════════ ⊰✿░G░O░D⊰✿⊰L░O░V░E░S⊰✿⊰░Y░O░U░⊰✿
═══════════ ღೋƸ̵̡Ӝ̵̨̄Ʒღೋ ═══════════
And I do too!