Silver dust lifted from the earth,
higher than my arms reach,
you have mounted.
O silver, higher than my arms reach
you front us with great mass;
no flower ever opened
so staunch a white leaf,
no flower ever parted
silver from such rare silver;
O white pear,
your flower-tufts,
thick on the branch,
bring summer and ripe
fruits in their purple hearts.
~H. D., 1886 - 1961, Pear Tree
Our pear tree is chocker block full of blooms at the moment, looking like a bundle of white froth down at the end of the garden. It appears to be eons ahead of the plum and apple trees on either side of it. What a gift it brings to us each spring. If each flower were to represent one pear, or even if only every second flower did, we will have pears in abundance come autumn-tide.
Todd and I had to go to Ward Council last night. One of the first items on the agenda was family councils. Elder Russel M Ballard gave a
fabulous talk
on them at the recent church General Conference. I remember as we watched the talk thinking that if only every family embraced such a concept what a difference it would make to the families involved.
A family council, when conducted with love and with Christlike attributes, will counter the impact of modern technology that often distracts us from spending quality time with each other and also tends to bring evil right into our homes.
What a difference it might have made to mine. Family is at the very core of the Gospel of Jesus Christ and God's plan of happiness for His children. I wish that my family knew and understood that . . .
I got myself a knitting book. I bought it second hand so it didn't cost very much. I am hoping it will help me in my quest to become a better knitter. Who knows . . . maybe I will knit myself a sweater yet! I've been pinning some lovely examples on Pinterest . . . thinking to myself, perhaps this could be in my future . . .
I quite like this one which I found
here.
I also really, really like
this one
. . .
We will see what happens. I may only be dreaming on this one . . .
What happens when you send someone my age a Filofax iPad Case and cover thingie? Hmmm . . . I am supposed to write about them, but am having a hard time figuring out how to use them. The black case thing is fairly easy to sort out. You just clip it onto the back and it works kind of like an easel, which is really cool and it has an arm that swings about so you can have it either straight up and down or sideways. It's that Pear Green Filofax case which has me stumped . . .
This is the inside of it. That smaller flap open up and there are spaces inside to put things like notebooks etc. I think these two things are meant to be used together . . . the black easel case and the filofax notebook thing, but for the life of me I cannot work out how . . . sigh . . .
This is a giveaway I won before Christmas. It a box of photos from Cheerz. I used all photos of the children and grandchildren. I want to turn them into an album of some sort. I've been saving examples of albums for a while now . . . there are so many styles to choose from. I need help. Tatiana! I know she would know the perfect thing to do with them. It's too bad she lives in Greece . . . another sigh . . .
Wanting one of these this morning . . . minus the mouse of course. Small worlds. They have always fascinated me. Maybe I will play with my doll house today . . . or maybe not.
I am very tired this morning. We didn't get home from our meeting last night until 9:30 and the we watched a bit of telly for about an hour as Mitzie had been on her own for a couple of hours and we don't like to go to bed straight away, and then of course when we did go to bed it was after 2:00 am before I could fall asleep and then it was only dreamy sleep . . . so surface sleep . . . no deep sleep and I was up at 6:00 am which was a full hour later than I normally wake up, but still not enough, so I will be dragging my butt around all day today feeling sorry for myself, lol.
I do wish I was not like that. It makes me not want to go anywhere at night.
Shall I leave you with a thought for the day?? Why not . . .
*´¯`.¸¸.☆*´¯`.¸¸.☆*´¯`.¸¸.☆
If hope grew on a bush,
And joy grew on a tree.
What a nosegay for the plucking
there would be.
~Christina Rossetti
*´¯`.¸¸.☆*´¯`.¸¸.☆*´¯`.¸¸.☆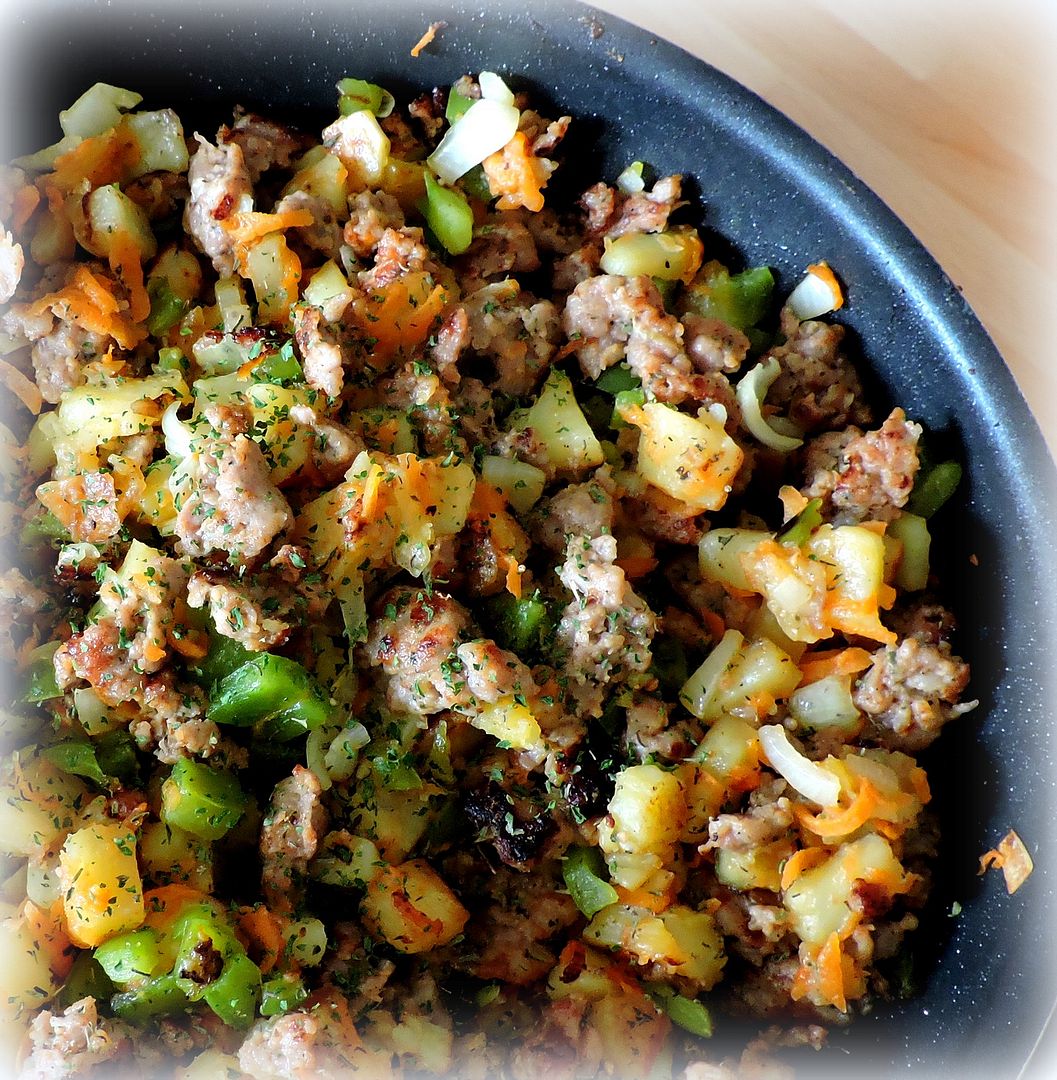 Cooking in The English Kitchen today . . .
Sausage Hash
. Simple and delicious.
All day yesterday I kept thinking it was Wednesday . . . I thougt the week was going by rather quickly! I wonder what day I will think today is? I hope your Wednesday is a good one! Don't forget!
═══════════ ღೋƸ̵̡Ӝ̵̨̄Ʒღೋ ═══════════ ⊰✿░G░O░D⊰✿⊰L░O░V░E░S⊰✿⊰░Y░O░U░⊰✿
═══════════ ღೋƸ̵̡Ӝ̵̨̄Ʒღೋ ═══════════
And I do too!!