By the mill . . . the little stream, goes peacefully upon its way.
Willows swoop upon the bank . . .
where swallows skim and children play.
Through the cool dusk of the leaves,
the dappled sunlight falls . . .
where the swan glides in the shadow of the ivy-covered walls.
Once . . . the stream rushed loud and busy
past this lattice window pane . . .
full of froth and self-importance,
turning wheels and grinding grain . . .
Now, unhurriedly it flows where
green boughs trail amongst the reeds . . .
softly . . . slowly
slipping out into the quiet water-meads . . .
One thing I love about the UK is that it preserves a lot of these older buildings, so that you can now . . . in modern days . . . go to see them and get a real sense of what life used to be like long, long ago. There is a water mill not that far from us, the Stretton Water Mill, which dates back to 1351 and is one of the country's best preserved demonstration water powered corn mills, set in beautiful, rural Cheshire.
We've been there several times through the years. It's a beautiful spot on a sunny day. You can stand by the idyllic pond and watch dragon and damselflies skip upon its glassine surface feasting upon what they catch . . . its so very peaceful . . .unless the mill is working . . . with only the odd squawk of a water bird breaking upon the silence . . . or the plop of a frog as it enters the water . . . or hum of crystaline wings in the air . . .
I did an art comission yesterday in the afternoon. I am quite happy with how it turned out. The most difficult part of these for me is the lettering, which is all done by hand. And of course you are on pins and needles until you hear back from the person you are doing it for, having no idea of whether it will please them or not, or if you will have to go back to the drawing board and begin again . . .
I do enjoy the creation process very much however, and am lost in another world while I muse and sketch and colour. I have my special music that I like to listen to in the process and by the end my desk is a mess of coloured markers and such. I keep all the ones I am using out so that I don't forget which colours I have used here or used there.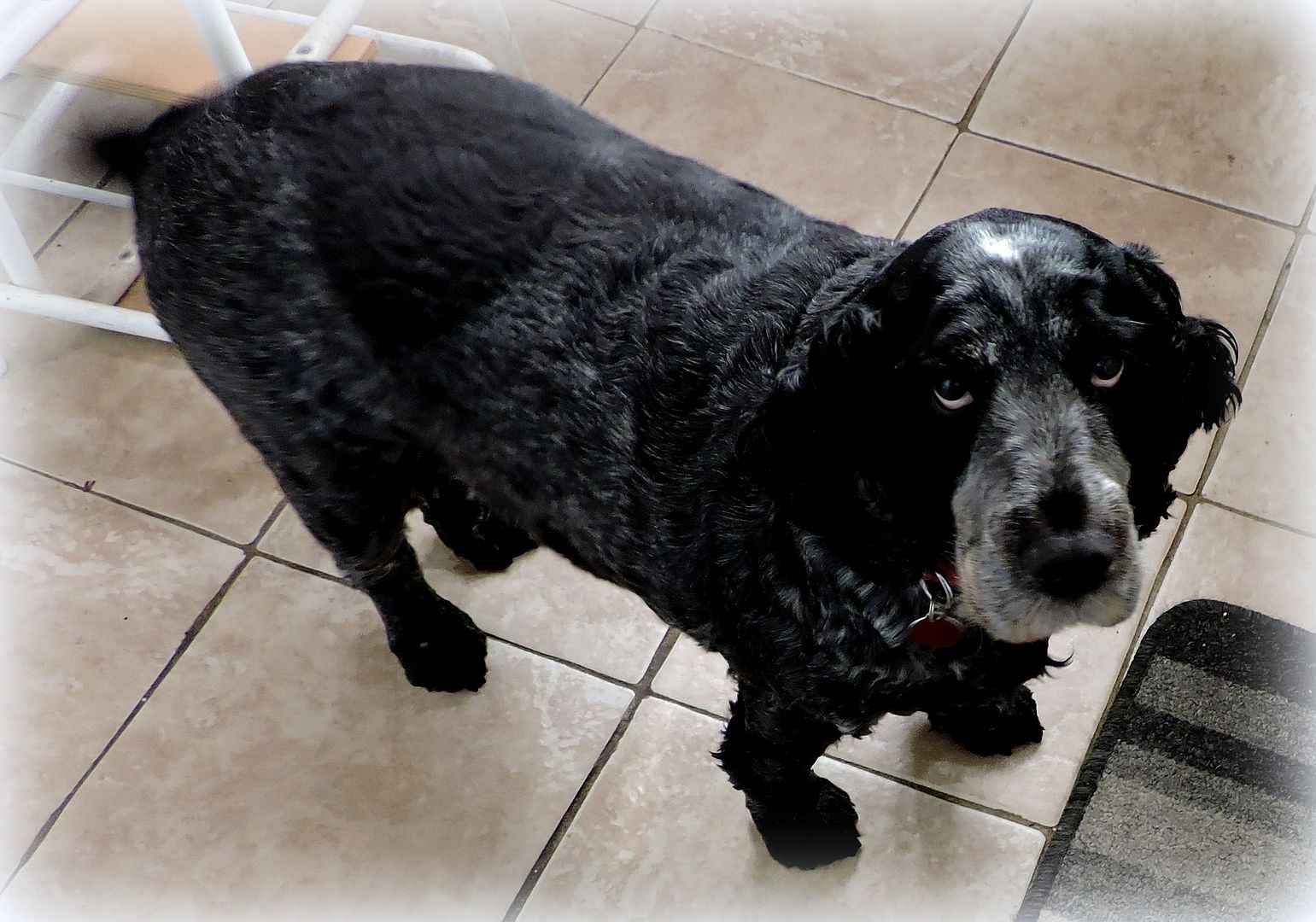 And then when I come back down stairs after having completed what I am doing, this little madame is waiting for me, tail wagging in a frenzy. You would think I have been gone forever and forever . . . such a loving greeting is given. But no . . .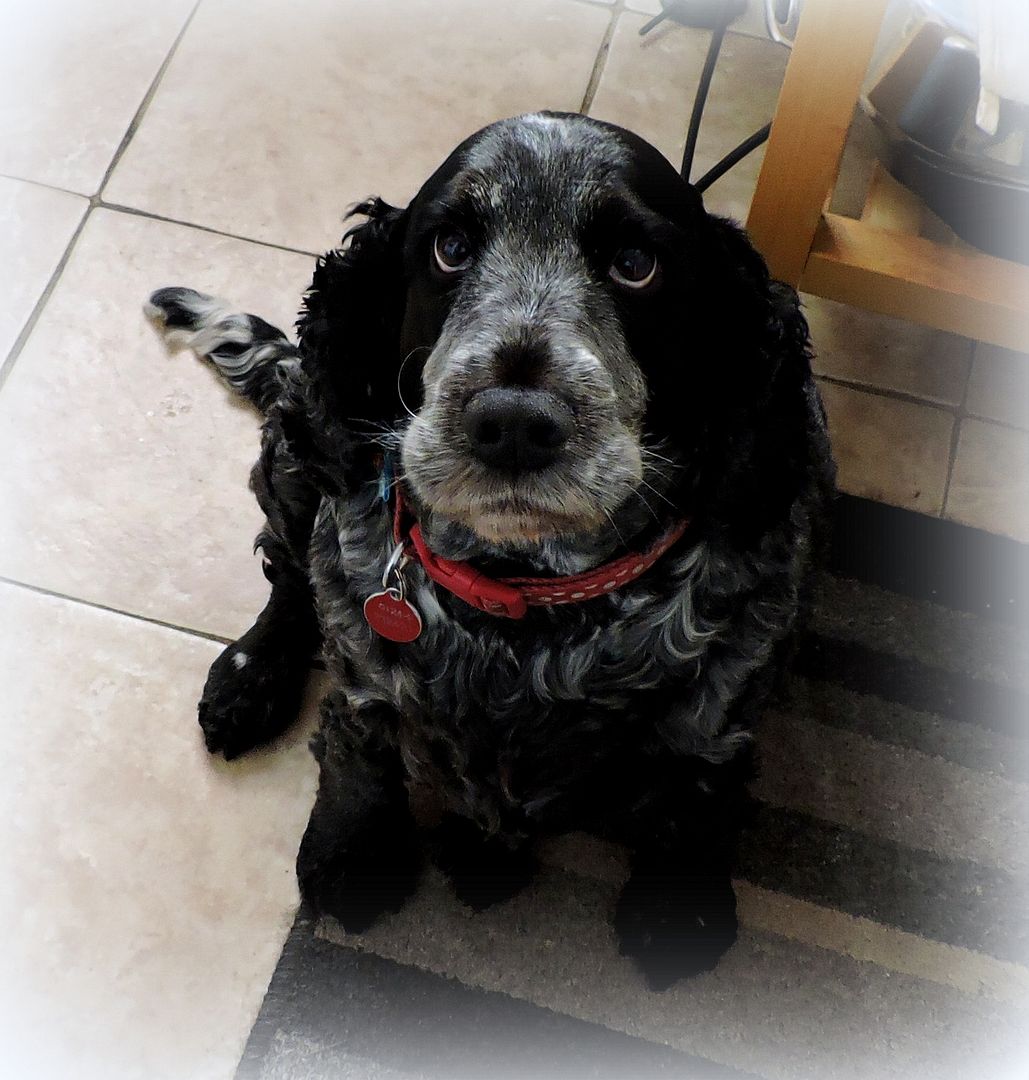 I haven't been gone that long . . . its just close to mealtime, and I am the feeder. Oh she does make me laugh. I love her so very much. She sure enjoyed having Tom with us these past few days. He's gone back home now, and goodbyes were said with much tail wagging and pleas of come back soon.
She does that you know . . . when someone is leaving . . . she has a lot to say about it. They get as enthusiastic a farewell as they get a hello. Personality plus is our Mitzie!
And that's about it for today . . . not a lot on really. We have some Missionary visits to do, and the Missionary Sisters are coming for their tea at 5:30, and then we are all off to Missionary Correlation tonight. We have a new Sister who arrived yesterday. She is new to the field so we are looking forward to meeting her.
A thought to carry with you through today . . .
⊰✿⊰✿⊰✿⊰✿⊰✿⊰✿⊰✿⊰✿⊰
I shall be telling this with a sigh
Somewhere ages and ages hence:
Two roads diverged in a wood, and I ...
I took the one less traveled by,
And that has made all the difference
~Robert Frost
⊰✿⊰✿⊰✿⊰✿⊰✿⊰✿⊰✿⊰✿⊰
Spiritual Enlightenment
In The English Kitchen today we are eating leftovers . . . delicious leftovers in the tasty form of
Mom's Beef Pot Pie.
Have a fabulous Wednesday! Whatever you get up to stay safe and don't forget!
═══════════ ღೋƸ̵̡Ӝ̵̨̄Ʒღೋ ═══════════ ⊰✿░G░O░D⊰✿⊰L░O░V░E░S⊰✿⊰░Y░O░U░⊰✿
═══════════ ღೋƸ̵̡Ӝ̵̨̄Ʒღೋ ═══════════
And I do too!!
PS- My e-mail doesn't seem to be working today. Is anyone else on AOL?? Can you get in??