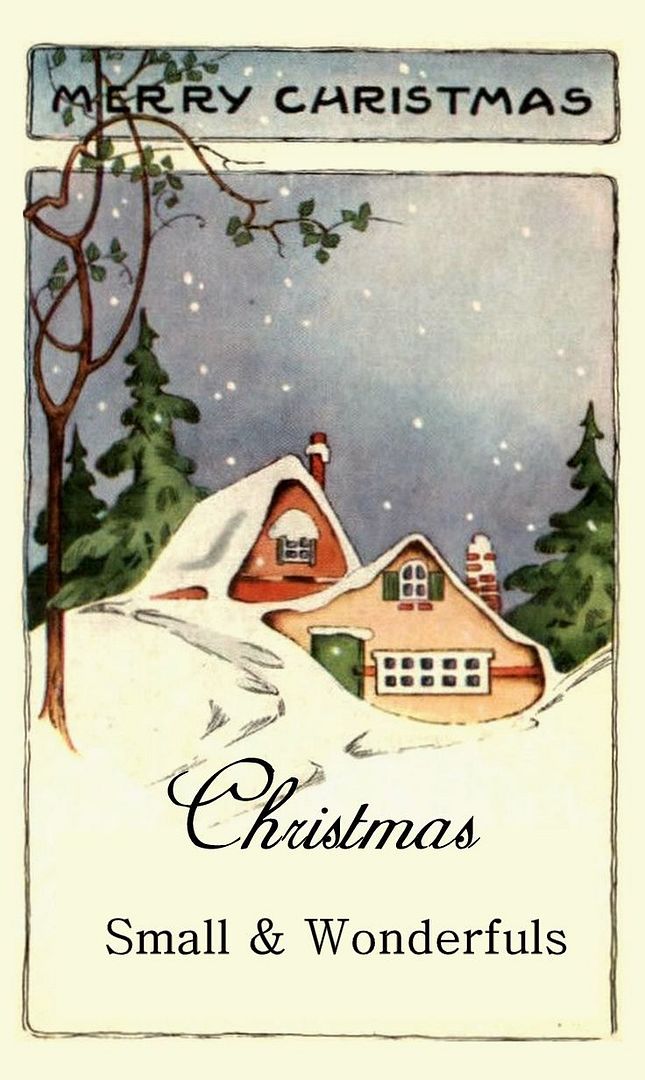 "The world is fairly studded and strewn with pennies cast broadside from a generous hand. But who gets excited by a mere penny?...It is dire poverty indeed when a man is so malnourished and fatigued that he won't stoop to pick up a penny. But if you cultivate a healthy poverty and simplicity, so that finding a penny will literally make your day, then, since the world is in fact planted with pennies, you have with your poverty bought a lifetime of days. It is that simple. what you see is what you get." ~Anne Dillard
A few of the small and wonderful things which bring untold joy into my life. It's the small things in life which truly mean the most. Simple abundance . . . it's the best.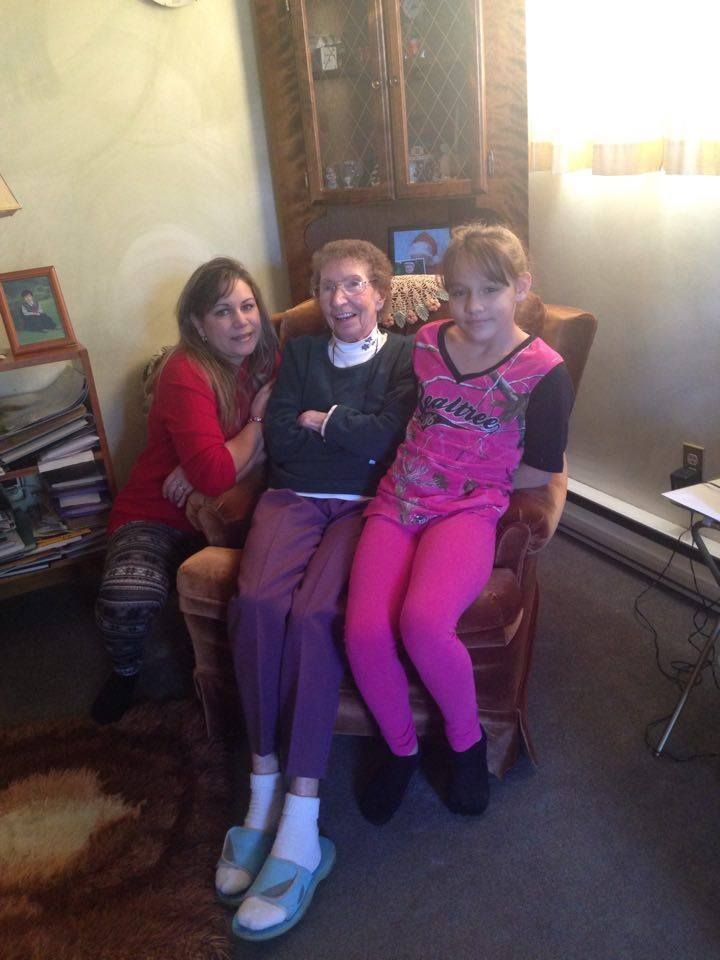 My cousin Maria shared this photo with me on FB of my mother that she had taken yesterday. Maria (in the red. Isn't she gorgeous) and Odessa (named after my Grandmother) had gone to visit my mom and they snapped this photo. It is the best Christmas present ever to see my mom looking so content and happy. She is very thin, but that is nothing new. I know her happiness is largely due to these two people . . .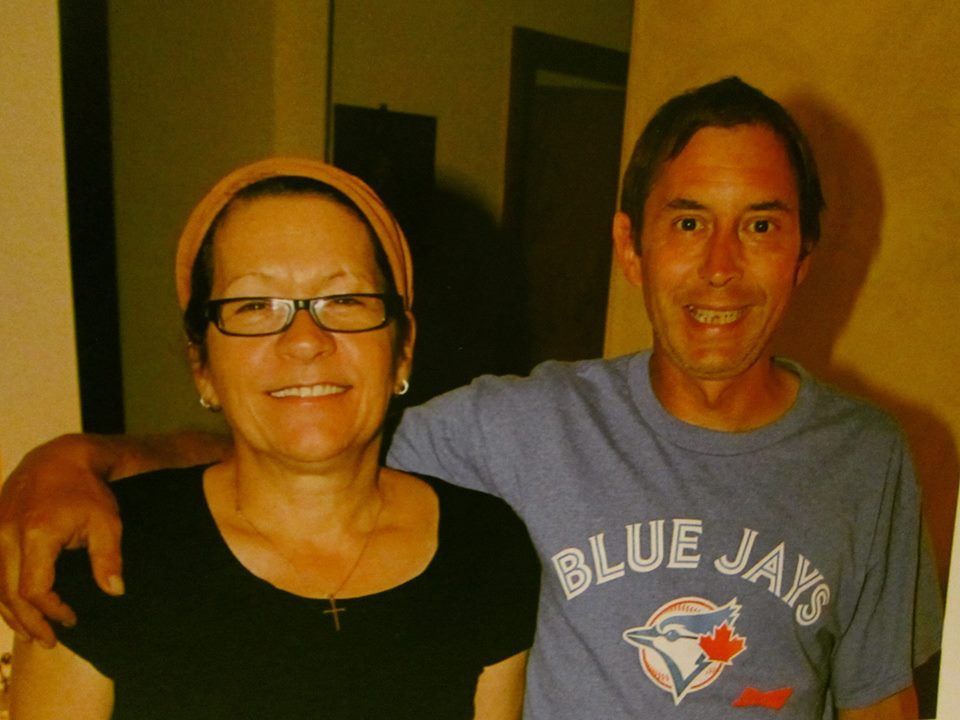 My sister Cindy and her partner Dan. I hope my sister knows how very grateful I am for all that she and Dan do for my mom, and in doing so do for my brother and I. It is not an easy thing to take care of someone who is fiercely independent and who doesn't think they need taking care of. I give thanks to God every day for my sister and all that she does. It means the world to me to know that my mom is well cared for, safe, happy, not on her own, etc. I had always thought I would be the one doing that, but life has a funny way of turning out totally opposite to the way you think it will turn out. I wish I could do more for my Sister. Maybe one day . . . .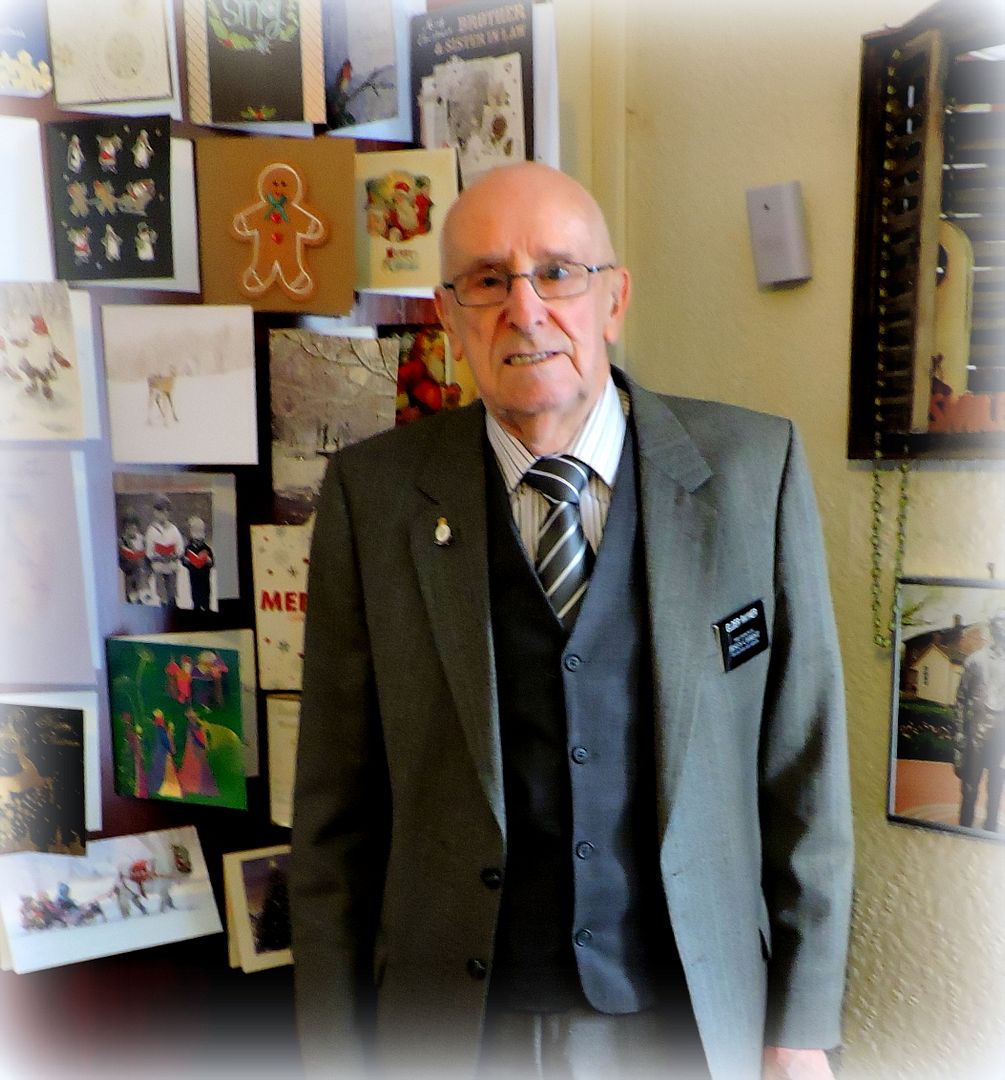 This is a photo I took of Todd next to our Christmas Cards yesterday morning before he left for church. I did not go to church yesterday. I got the feeling on Saturday night that people would rather I not be around them when I have the shingles and I can't say that I blame them, and so I am not going anywhere publicly until they are gone. They are well covered and all, but I just got the feeling people were uncomfortable in my presence and so I gave church a miss. Not that I felt like going to church (So not like me, but I am exhausted.) Anyways, Todd looked so nice in his suit with his new tie, and freshly cut hair, and all and so I took a photo of him. He would have stayed at home with me, but we had promised he would drive Ariana and Jose to church, and I had some things I wanted him to give to people from me. I love my husband very much. He brings much joy into my life.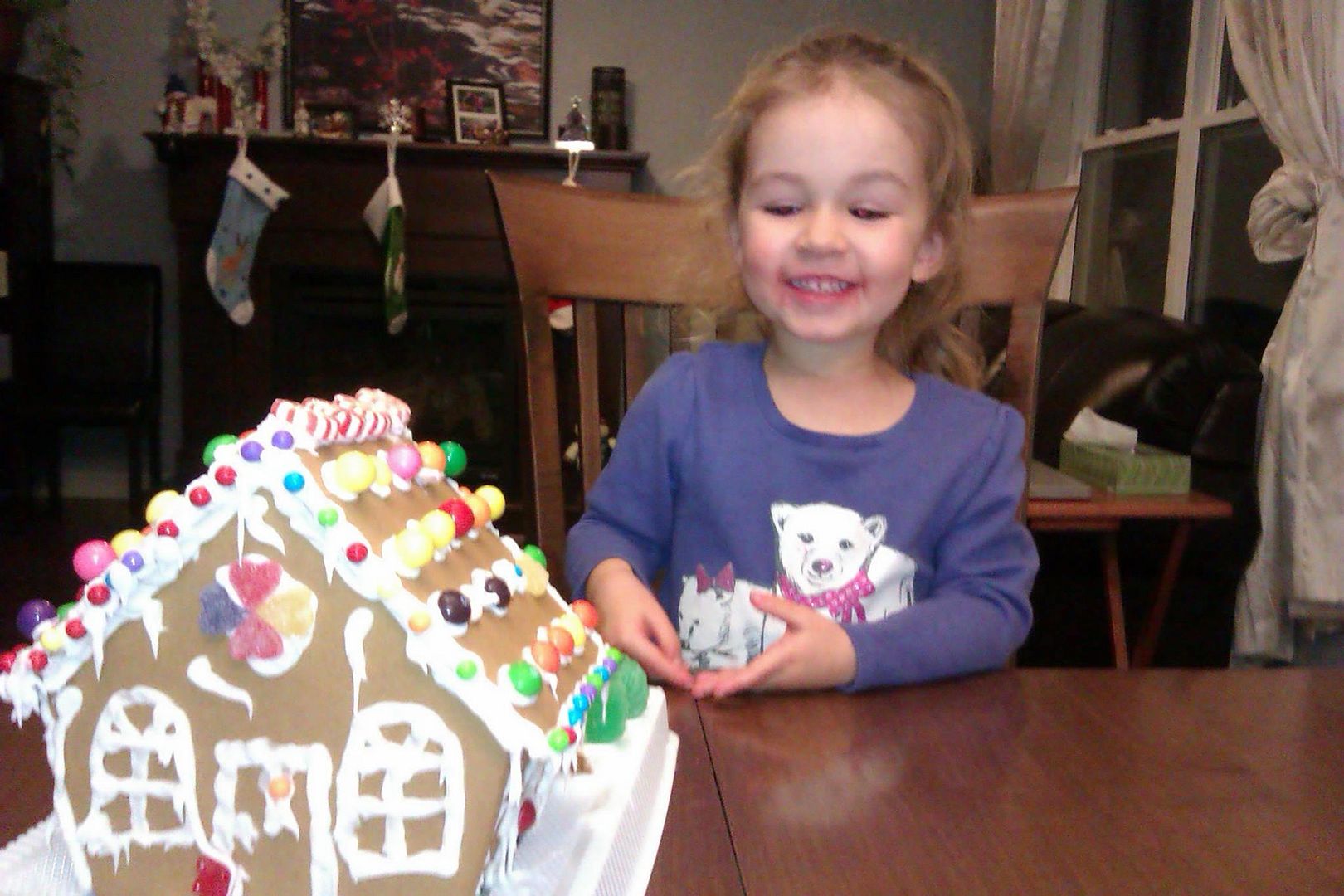 My daughter posted this picture of Maryn on FB yesterday of a couple of years ago. Maryn would have only been three then. It is hard to believe she will be five in February. It is sad for me to be so far away from my family at holiday times like this. There is a huge space in my heart which longs to be with them, but life is what it is and I try hard not to dwell on the things which are not to be. Instead I take joy in little snippets such as this photograph and think to myself one day . . .
I am grateful for my son Doug and the extra efforts he makes to contact me on facetime so that I can spend some time with him and his three boys. At least I feel like we have a connection, and my other son Anthony does sometimes also, and his two boys know who I am as well. This means the world to me.
My soon to be DIL Sara posted this photograph of Baxter on FB yesterday with the caption, "Whatcha reading?" It made me laugh out loud, literally. What a bundle of personality this little guy is. Pictures of him always make me smile. He is so cute. Personality plus. My son, his dad, my son in law, etc. are down in Boston this weekend to go to a Hockey game, and then I expect it will be all hands on deck for Christmas.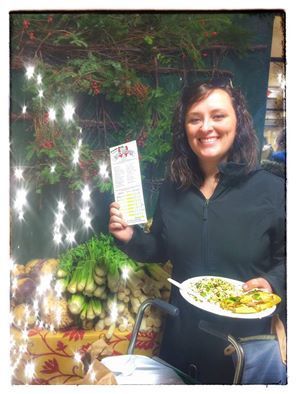 Speaking of Sara, she had an incredibly lucky day this weekend. She won a draw from the local farmer's market in Wolfeville where she works at the Uni there worth over $300, AND she won a Make Up and Photo Session, all on the same day! I hope she bought a lottery ticket, because this girl is on fire!
We watched The Sound Of Music Live on ITV last night and thoroughly enjoyed it. Seriously. The songs were a bit out of order, but it was so well done we didn't mind in the least. It was lovely to see actors that we are used to seeing in other things doing something like this, a musical. I had no idea that they were so talented musically. This was really good and I found myself bouncing around the sofa singing along with all of the songs. The Vocals were amazing. Got the holiday viewing season off to a great start for me!
I had a lovely phone call from a much beloved friend who lives in Colorado this week. It cheered my day to no end. It was so nice to hear her voice and set the world to rights together. Best gift ever!
My shingles are slowly getting better, although I am still in a lot of pain, they are not spreading any further on my body and the ones I have are scabbing over (tmi I know) and I am not getting any new blisters. They feel pretty horrible though. Alternately with stabbing pain, prickling and feeling like I have loose hairs tickling my body. I did sleep a lot better last night, at least for a part of the night, which is a great improvement!
And that's my small and wonderfuls for this week!
A thought to carry with you through today . . .
✿¨`*•..¸¸.•*¨`✿¨`*•..¸¸.•*¨`✿
Exhaust the little moment,
Soon it dies,
And be it gash or gold,
It will not come again,
In this disguise.
~Gwendolyn Brooks
✿¨`*•..¸¸.•*¨`✿¨`*•..¸¸.•*¨`✿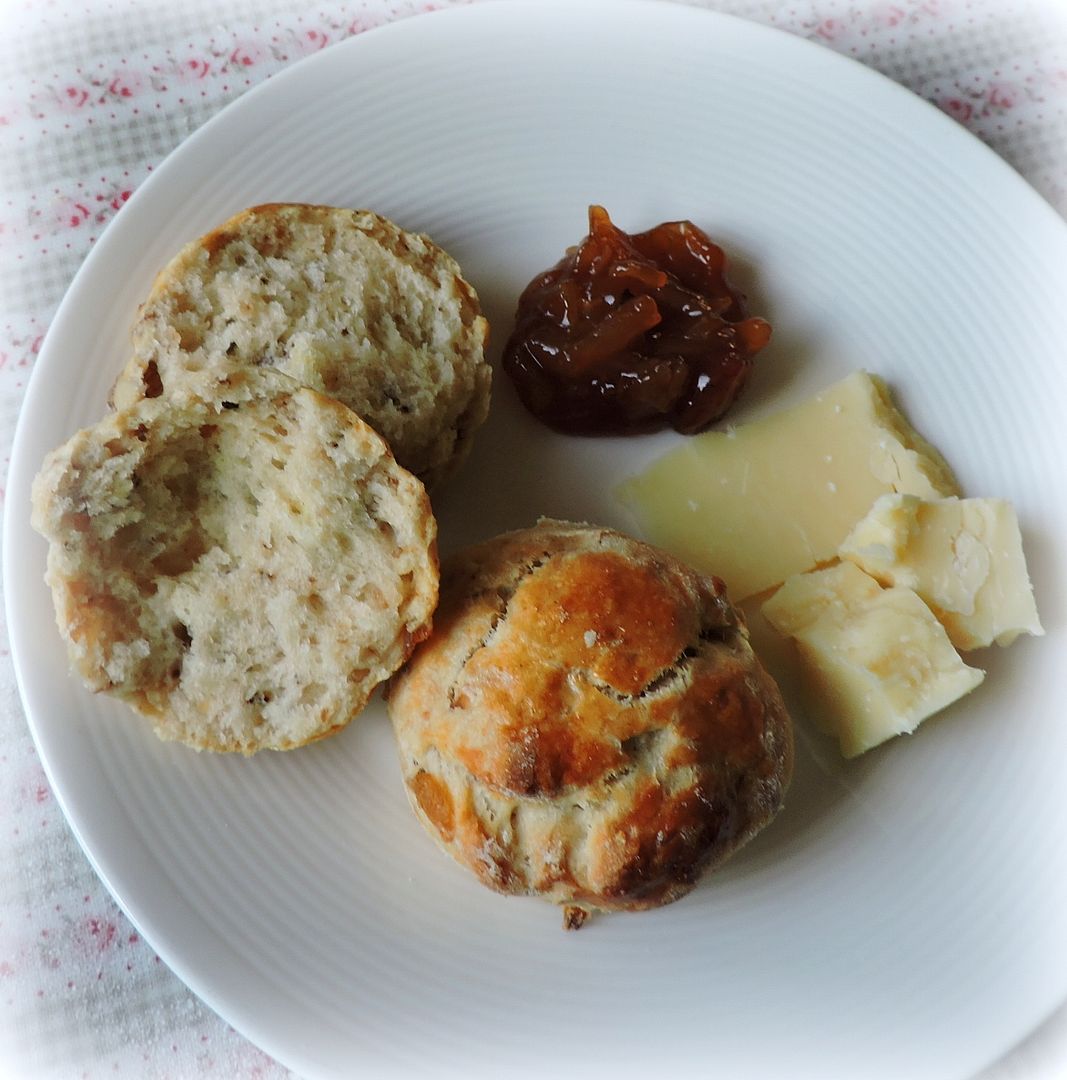 Baking in The English Kitchen today . . .
Orchard Fruit Chutney and Walnut Scones
.
May the week ahead of you be filled with loads of small and wonderful things! Don't forget . . .
═══════════ ღೋƸ̵̡Ӝ̵̨̄Ʒღೋ ═══════════ ⊰✿░G░O░D⊰✿⊰L░O░V░E░S⊰✿⊰░Y░O░U░⊰✿
═══════════ ღೋƸ̵̡Ӝ̵̨̄Ʒღೋ ═══════════
And I do too!